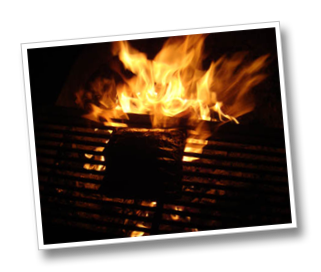 It was another weekend camping trip to Stagecoach Lake in Steamboat Springs, Colorado. The truck was packed and we got on the road early. Then 30 minutes down the road we realized we forgot to bring the food. Doh!
So we stopped at a supermarket and bought another weekend's worth of groceries. Since it was getting late and we knew traffic was going to be rough (there was an accident up ahead on I-70) we planned to get the kids fed during a potty break at the Target in Silverthorne. The grownups would eat later.
We decided to treat ourselves to a nice salmon fillet. Big Bad Dad grabbed a bottle of lemon pepper marinade. I picked out some sliced mushrooms, an onion, and a package of green, yellow and red peppers. I was going to make grilled salmon in foil with veggies.
Grilled Salmon in Foil Over a Campfire
1 bottle of fish marinade
OR
olive oil, lemon juice, salt, pepper, and dill
1 large salmon fillet – enough for 2 people
veggies – peppers, onions and mushrooms
aluminum foil
one roaring campfire under a fire ring grill
Place a couple of large sheets of aluminum foil on table. Fold up the sides so the marinade doesn't run off the sheets.
Place salmon fillet on top of it.
Cover with 1/2 bottle of marinade (I used a full bottle and it was too much).
OR
Drizzle olive oil on fish to coat both sides. Season with salt, pepper and dill to your personal preference. Then squeeze the juice of one lemon over the fish.
Chop up veggies into slices or strips. Use enough peppers, mushrooms and onions to make a good sized side dish for one person.
Cover fish with veggies.
Carefully wrap fish in foil to make a packet. Use more foil if necessary. Cinch up the edges so the marinade doesn't leak out.
Place on grill over roaring fire or hot coals.
Turn packet over every 10 minutes or so.
Depending on the size and thickness of the fish – and how hot your fire is - I would cook the fish at least 20 minutes.
Remove packet from grill. Carefully peel or slice it open. Remove fish and veggies and dish onto plates.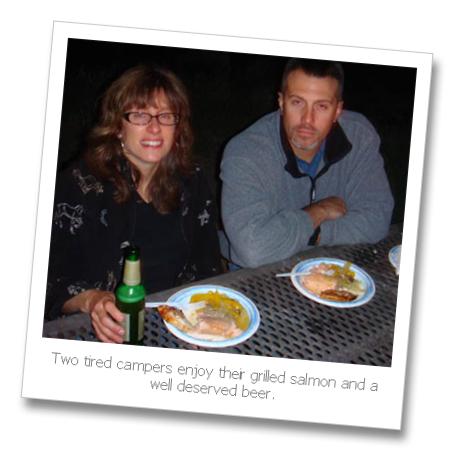 Get Grillin' with Family Fresh Cooking and Cookin' Canuck, sponsored by Ile de France Cheese, Rösle, Emile Henry, ManPans and Rouxbe.