Last Updated on April 18, 2022 by Anne-Marie
This grilled salmon in foil recipe is easy to do! To cook salmon in foil on the grill, all you need is marinade, fish, and vegetables.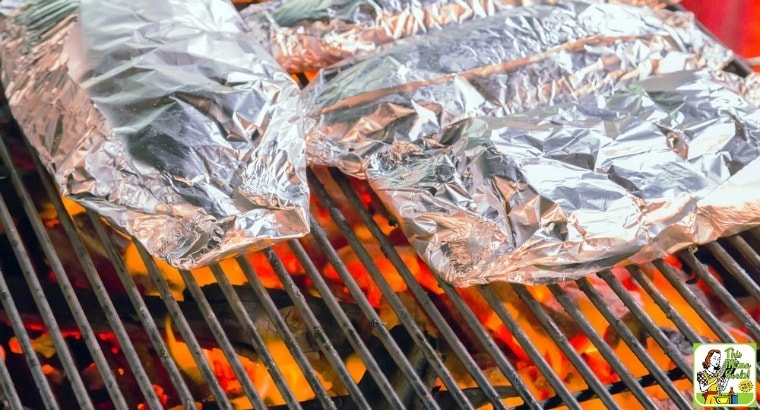 Why this recipe works
How I came up with this Grilled Salmon in Foil recipe was totally by accident.
We were on our way to go camping. I was in a rush trying to get everything packed, trying to get the kids and supplies into the truck.
About 30 minutes into the road trip, we realized we forgot to pack our food! It was still in the refrigerator back home. I couldn't believe it.
So we stopped at a supermarket and bought a weekend's worth of groceries.
As I quickly a wandered the store aisles, I came up with with a salmon in foil recipe. I hoped it would work.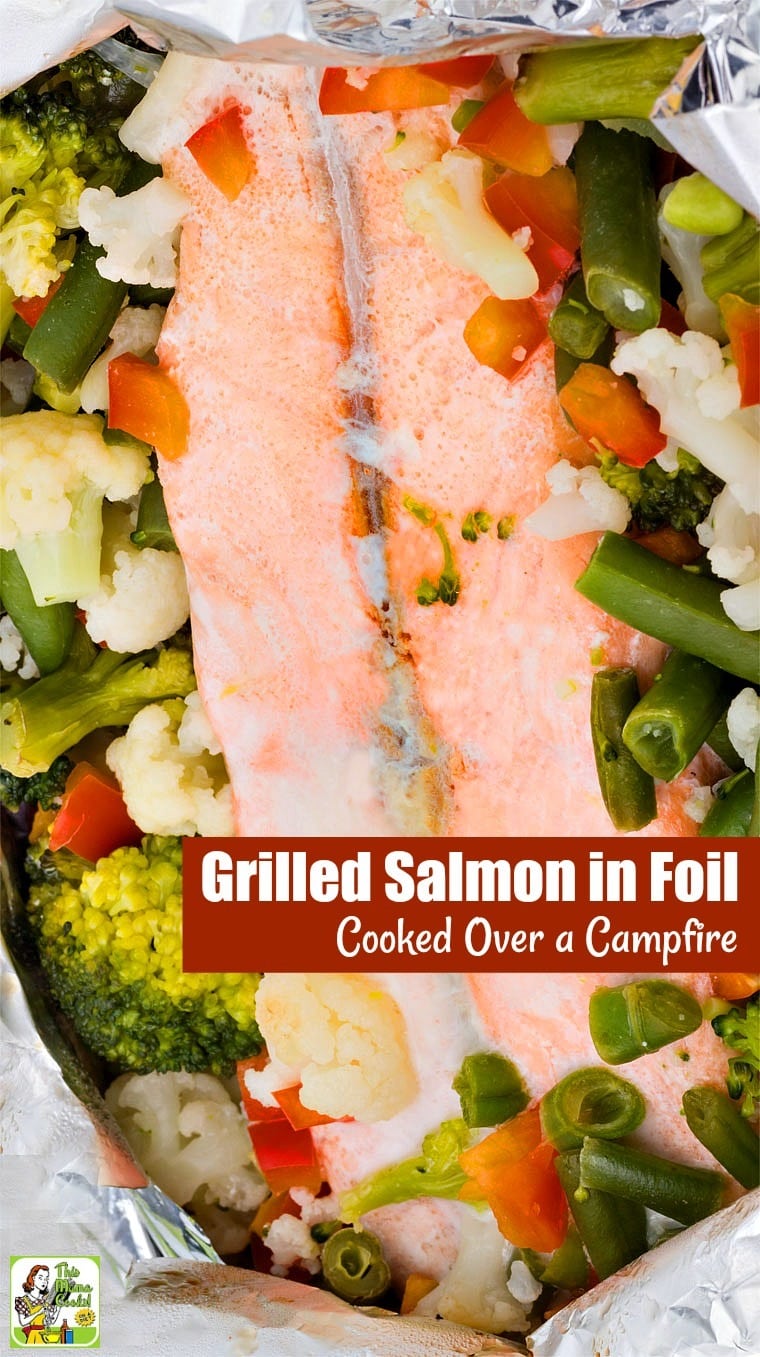 How to cook salmon in foil on the grill
Since we weren't going to eat until after we set up camp, I thought we could cook the fish on the campsite fire pits, since they're covered with grills. I didn't want to bother trying to set up our own grill.
I also didn't want to cook the salmon directly on the grill as I thought the fish would stick to it.
So, I came up with the idea of cooking salmon in foil on the grill. For seasoning, I used a store bought fish marinade.
Adding some sliced veggies to the packet as a side dish would be easy to do, too. My thinking was as I grilled salmon in foil, the vegetables would cook at the same time.
The marinade would flavor both the salmon and the vegetables and keep everything nice and moist. One pot cooking – except it wasn't a pot but a foil pouch!
While we were shopping, my husband grabbed a bottle of lemon pepper marinade.
I picked out some pre-sliced mushrooms, an onion, and a package of green, yellow and red peppers. We already had foil in our camper. All set and ready to grill salmon in foil!
Our Grilled Salmon in Foil was delicious. The salmon and vegetables were perfectly cooked, moist, and flavorful.
Not bad for a last minute campfire salmon recipe!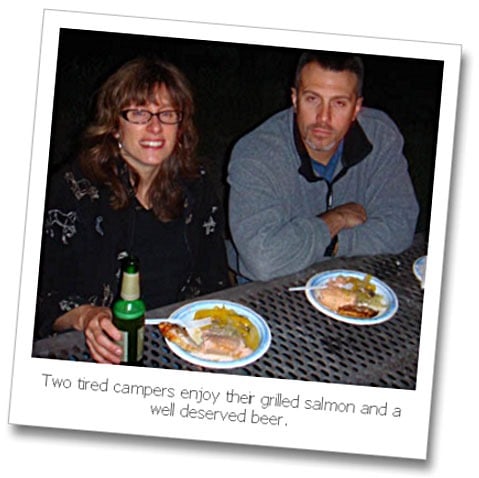 Tips for cooking salmon in foil on the grill
You can make this recipe with any kind of fish – mahi mahi, catfish or freshly caught fish from a nearby lake!
Do you have a favorite bottled marinade for your salmon in foil recipe? If not, how about trying a bottle of good quality Italian vinaigrette?
If you don't have marinade or vinaigrette on hand, you can use olive oil, salt, pepper, juice of one lemon, plus some dill or some Old Bay.
If you don't like peppers for your grilled salmon foil pouches, try other vegetables like summer squash, zucchini, and tomatoes.
Or bring a pack or two of frozen veggies along camping to make this grilled salmon in foil recipe.
I like bringing frozen foods along when camping to help keep food cold in the cooler. The food usually thaws in time for dinner in a day or two.
Use heavy duty aluminum foil to make the salmon foil packets. If you don't have any, fold over regular foil to make a double layer – then use two double layers.
You don't want the salmon foil pouch to spring a leak and lose all that yummy moisture (which steams the fish) during the cooking process. So make sure your foil packet is wrapped well.
Cooking time for salmon foil packets can be hard to judge. I cooked our thick salmon fillet for 20 minutes and it was perfect. However, it was cold out and the fire wasn't all that big.
If your campfire is roaring or your fish fillet is on the thin side, you may want to cut down the grilled salmon cooking time.
If you have any, you can add some lemon slices or herb sprigs on top of your fish.
Serve this with some Homemade Tartar Sauce or this easy, 5-minute Alabama White BBQ Sauce Recipe.
Awesome drinks to serve with grilled salmon in foil
Looking for refreshing drinks to serve with your fish?
Try these:
● Peach Whiskey Cocktail
● Fruit Stand Watermelon Cocktail
Yield: 2 SERVINGS
Grilled Salmon in Foil Recipe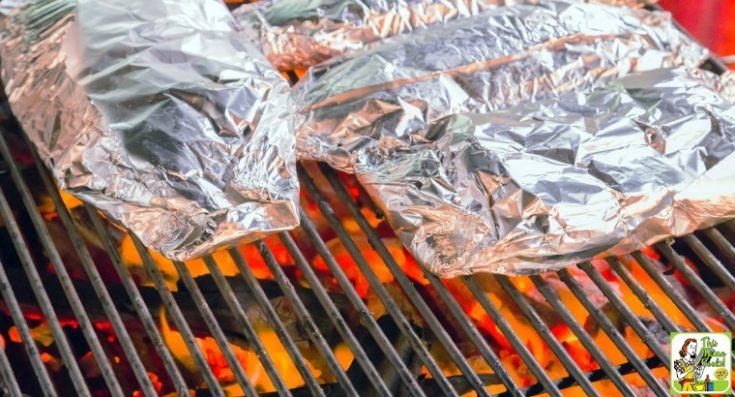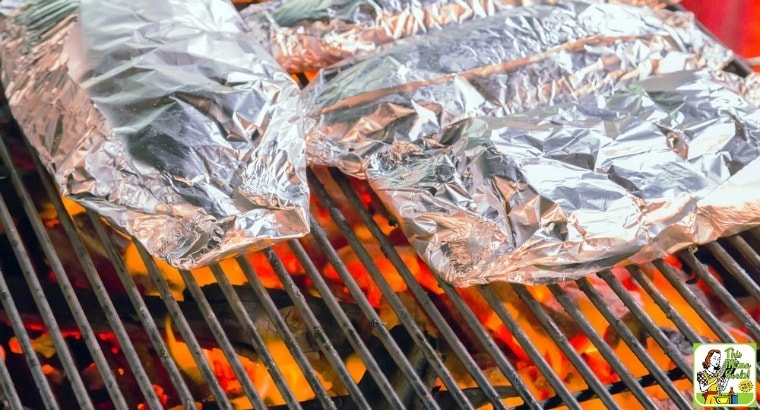 This Grilled Salmon in Foil recipe is easy to do! To cook salmon in foil on the grill, all you need is marinade, fish, and vegetables.
Ingredients
1/2 bottle good quality Italian vinaigrette or fish marinade
1 large salmon fillet – enough for 2 people
Vegetables – peppers, onions, and mushrooms – enough for 2 people
Instructions
Cut salmon into two pieces to make it easier for serving later.
Chop up vegetables into slices or strips. Use enough peppers, mushrooms, and onions to make a good-sized side dish for two people.
Place two large sheets of heavy-duty aluminum foil on the table. Fold up the sides so the marinade doesn't run off the sheets.
Place salmon fillet on top of the foil. Cover fish with marinade. Then cover fish with vegetables.
Carefully wrap fish and vegetables in foil to make a packet. Use more foil if necessary. Pinch the edges of the foil packet so the marinade doesn't leak out.
Place foil packet on grill over roaring fire or hot coals.
Turn the packet over every 10 minutes or so.
Depending on the size and thickness of the fish – and how hot your fire is – cook the fish at least 20 minutes.
Remove packet from grill. Carefully peel or slice it open. Remove fish and vegetables and serve on plates.
Nutrition Information:
Yield:
2
Serving Size:
1
Amount Per Serving:
Calories:

734
Total Fat:

44g
Saturated Fat:

7g
Trans Fat:

0g
Unsaturated Fat:

34g
Cholesterol:

120mg
Sodium:

2769mg
Carbohydrates:

30g
Fiber:

4g
Sugar:

15g
Protein:

54g
Nutritional information is automatically calculated per the ingredients list. Serving size may not be accurate. Please double-check with your preferred nutritional app for the most accurate information.
Originally published on June 21, 2016. Updated with new pictures and information.