Last Updated on October 11, 2021 by Anne-Marie
Do you make skillet potatoes for your weekend breakfast? You'll love this baked eggs recipe.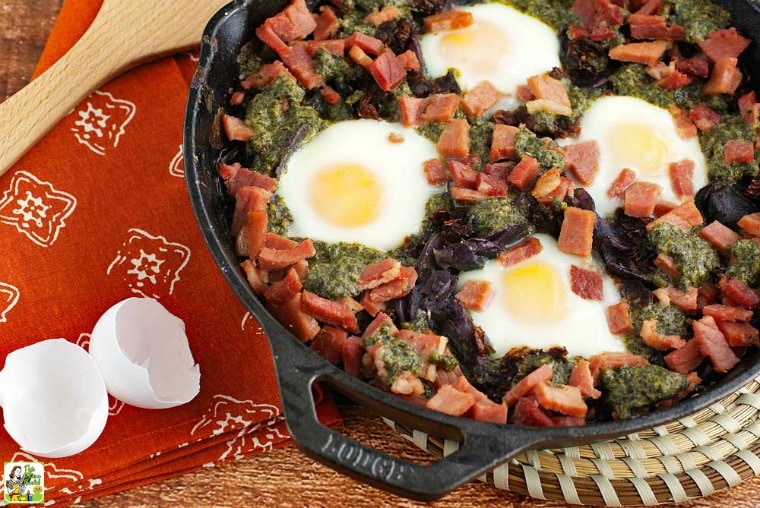 Why this recipe works
You'll love flavors of this Baked Eggs with Skillet Potatoes in Pesto recipe.
Ham, eggs, potatoes, sun dried tomatoes, and pesto – it's breakfast perfection, especially if you love skillet potatoes.
Best of all, it's easy to make on a weekend morning when you're half asleep and want something special.
Why make Baked Eggs with Skillet Potatoes in Pesto
As part of a blogger recipe challenge, I picked Skillet Baked Pesto & Tomato Taters, a baked eggs entrée, from Andrea at Adventures in All Things Food.
Her skillet potatoes recipe combines foods that I love to use when making pasta and grilling chicken, such as pesto and sun dried tomatoes.
So I knew this baked eggs and skillet potatoes was going to be awesome!
Cooking with a cast iron skillet
I love that this recipe gives me an excuse to use my favorite 10" Lodge cast iron skillet!
I enjoy cooking with cast iron knowing that it's an easy way to get a little iron into our diets.
This is especially important for anyone, like my daughter, Lucie, who is slightly anemic.
Cast iron also is ideal for anyone with an induction cooktop stove.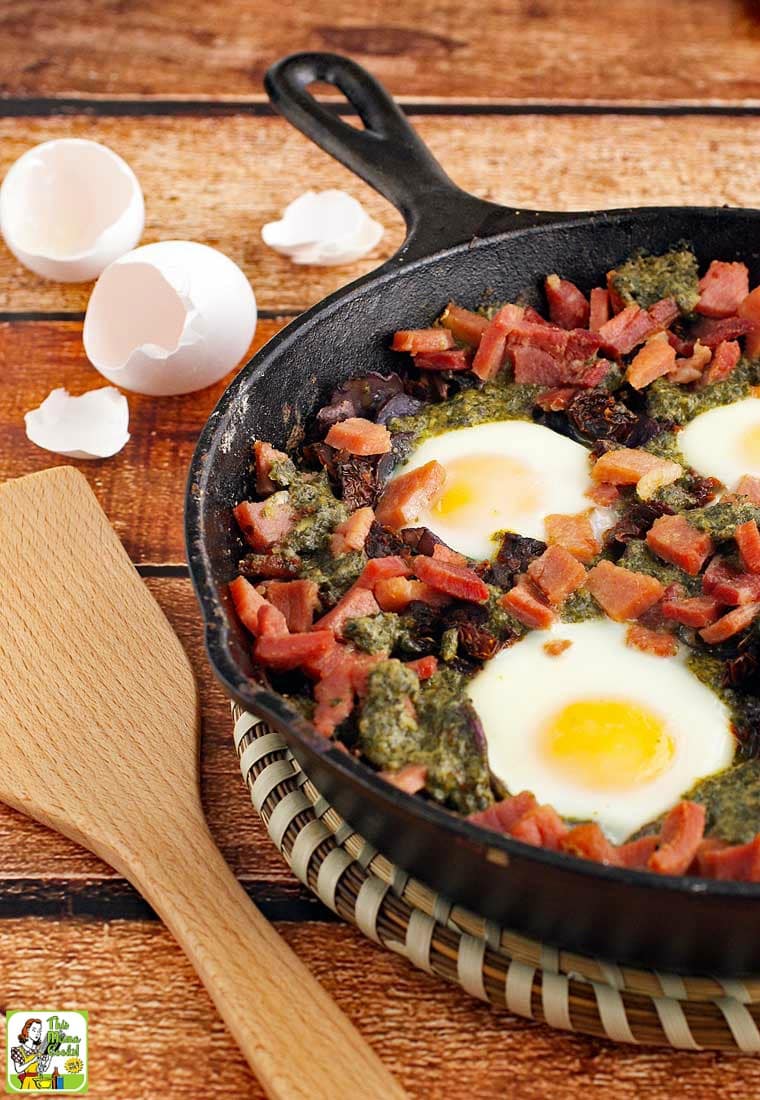 How to cook potatoes in a skillet
What type of potatoes: For fun, I used baby purple potatoes instead for my baked eggs and skillet potatoes recipe. Don't you love the color?
If you can't find purple, go ahead and red, purple, gold or whatever variety of baby potatoes that suits your fancy since you don't have to peel them. (Just remember to wash them!)
How to slice potatoes: Make sure your potatoes are thinly sliced so they cook quickly and evenly.
I used a food processor to slice the potatoes as this was the easiest way to get super thin slices. It's worth getting your it out of the cupboard!
What type of ham: I fried the potatoes up in the grease from cooking up the country ham, which is a staple in parts of the southern US.
However, if you can't find country ham because you don't live in the South or prefer bacon, make sure to use enough to cover your skillet. (Andrea used 4 pieces in her recipe.)
You can also use Canadian bacon or thick ham (perfect if you have leftover Crockpot Spiral Ham) and a little oil, butter or leftover bacon grease.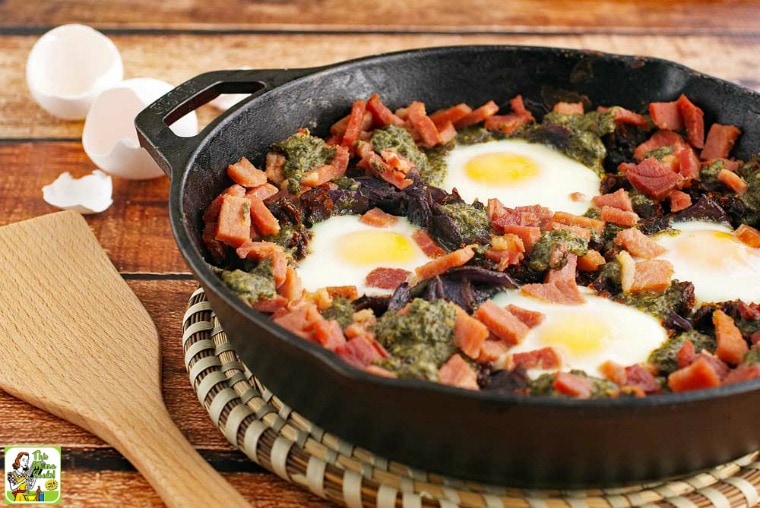 Tips for making baked eggs & skillet potatoes
When I served this baked eggs dish for a late breakfast in my 10" skillet, I found that one egg was plenty of food for me.
However, my husband wanted more. (He and my daughter, Lucie, shared another portion between the two of them.)
How to serve: Next time, I'll serve this with some crusty bread or gluten free toast, so everyone feels satisfied.
If you have a 12" skillet, increase the amount of ingredients a bit and you should have room for an extra egg or two.
Pesto: Have you ever made homemade pesto? Sometimes I make my own when we have bunches of basil growing in the garden.
I prefer making pesto from scratch since many store brands contain nuts and my daughter has a nut allergy. Instead, I use pine nuts, which are actually seeds and not nuts.
You can also use jarred pesto from the store, of course.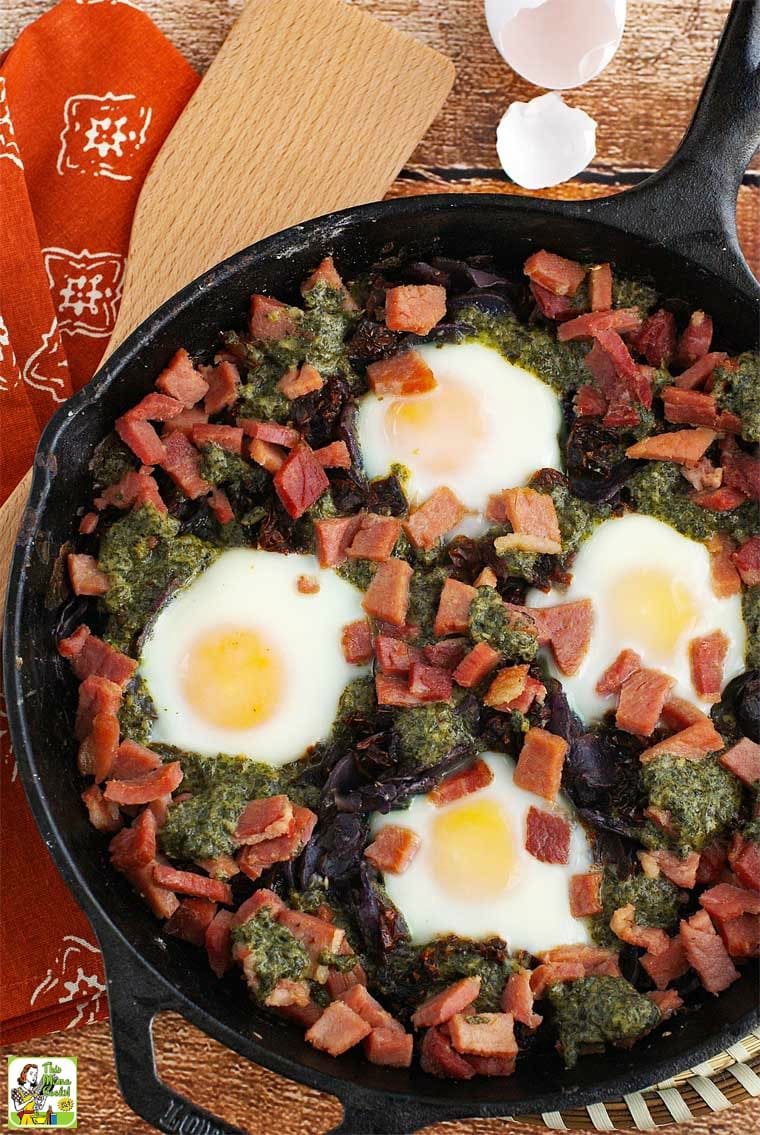 Make Baked Eggs with Skillet Potatoes for dinner
Baked Eggs with Skillet Potatoes in Pesto would also make a terrific brinner (breakfast for dinner) dish.
Serve it with a side salad and toast.
Try these one pot skillet dishes
If you want to use your cast iron skillet more often, try these recipes:
Pulled Pork Skillet with Cornbread Recipe and Sweet Potato Pork Hash recipe are both terrific for dinner.
This Easy Nachos Recipe is also made in a skillet. Serve it as a party appetizer or for a fun, family style dinner.
For a Mexican style breakfast, try this Easy Breakfast Chilaquiles Recipe.
If you love Middle Eastern food, try Shakshuka with Feta for brunch or dinner.
You can also make Easy Gluten Free Skillet Cornbread for your next BBQ cookout.
For dessert, make a Easy Bread Pudding with Bourbon Sauce in a skillet.
Best thing about using your skillet is that one pot cooking makes for easier clean up!
Yield: 4 SERVINGS
Baked Eggs with Skillet Potatoes in Pesto Recipe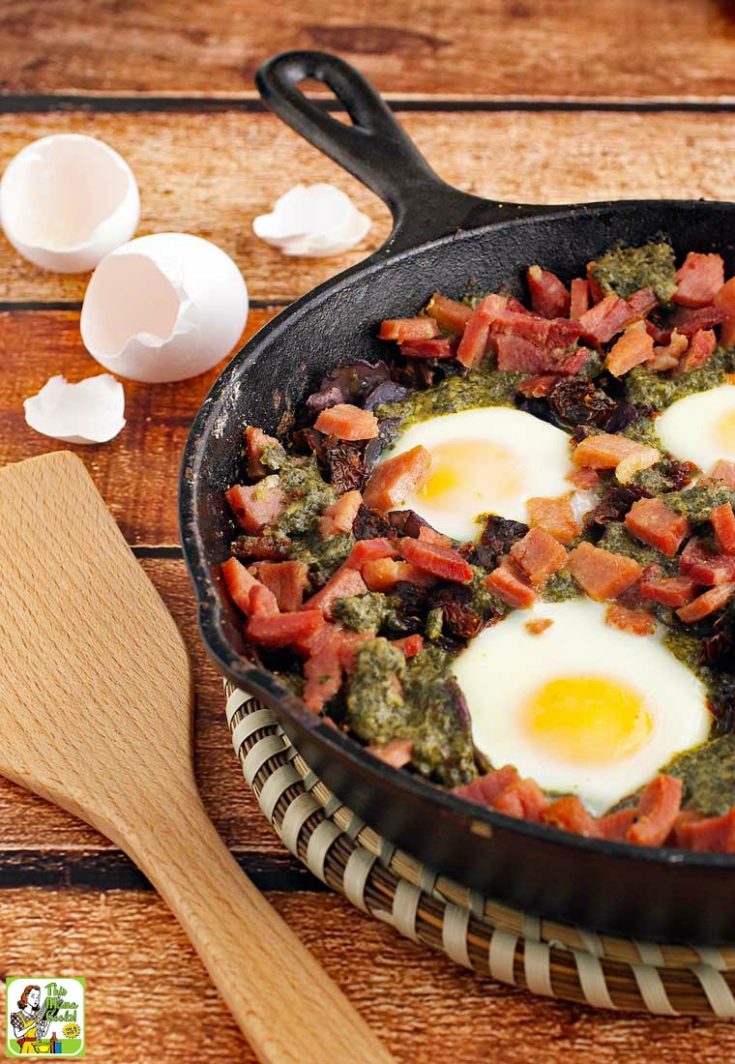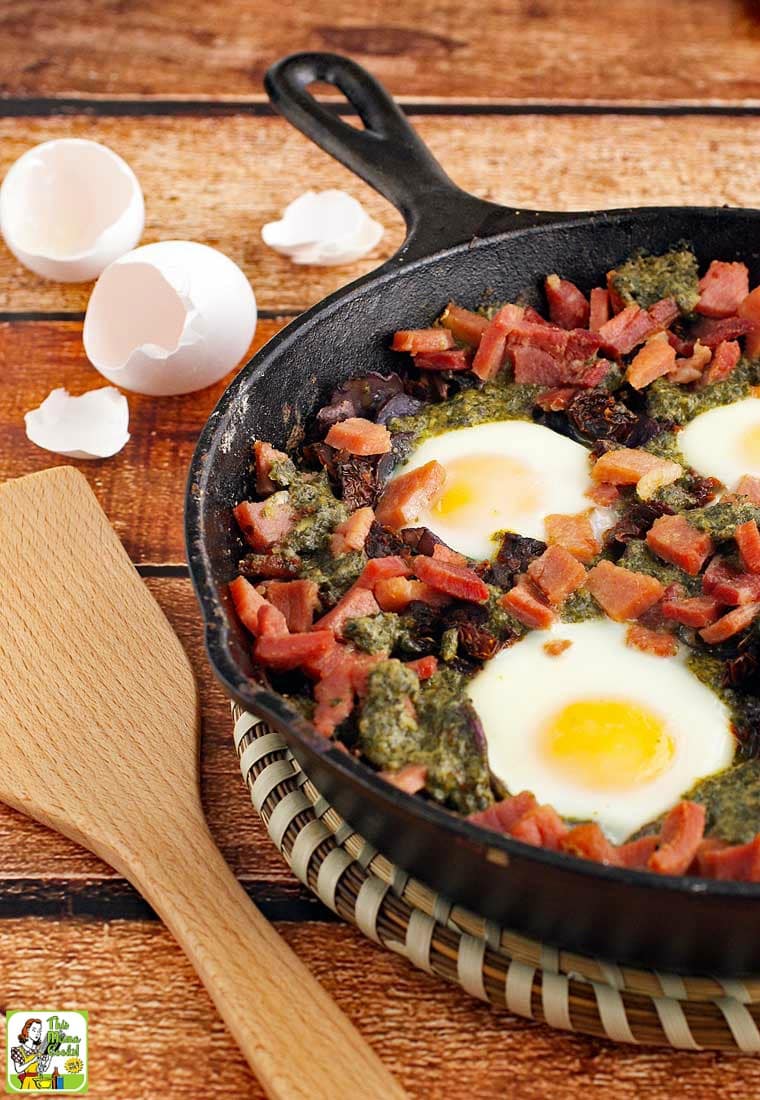 Do you make skillet potatoes for your weekend breakfast? You'll love this baked eggs recipe.
Ingredients
1 large slice country ham (a piece or pieces big enough to cover entire 10" skillet) or bacon
16 baby purple potatoes
2 garlic cloves, minced
1/3 cup sun dried tomatoes, diced
1/2 cup prepared basil pesto
4 eggs
Instructions
Preheat oven to 350 degrees.
If the sun-dried tomatoes are dried, soften them in very hot water for 10 to 15 minutes.
Heat 10" cast iron skillet or oven-safe frying pan over medium heat. Place a slice of country ham and heat until ham starts to render and curl at the edges.
While country ham is cooking, thinly slice baby purple potatoes in a food processor.
Remove country ham from the pan and place it on the cutting board. Trim fat from edges and set aside. Dice ham and set aside.
Place sliced potatoes in skillet. Cook on medium heat until potatoes are soft, stirring occasionally. If you feel there isn't enough grease in the skillet leftover from cooking the country ham, place some of the trimmed fat back into the skillet. (This can be removed later.)
Once the potatoes are soft, turn up the heat to medium-high to brown. Add the minced garlic.
When potatoes are browned, turn off the heat and remove the skillet from the burner.
Evenly sprinkle the top with sun-dried tomatoes. Then spoon the pesto over the top in evenly distributed dollops.
Using a spoon, create 4 small wells in the potatoes. Break 1 egg into each well.
Sprinkle the top with diced ham.
Place the skillet in the oven till the eggs have set – 9-12 minutes depending on how firm you like your eggs.
Serve straight from the oven.
Recommended Products
As an Amazon Associate Affiliate and member of other affiliate programs, I earn from qualifying purchases.
Nutrition Information:
Yield:
4
Serving Size:
1
Amount Per Serving:
Calories:

801
Total Fat:

25g
Saturated Fat:

6g
Trans Fat:

0g
Unsaturated Fat:

17g
Cholesterol:

202mg
Sodium:

434mg
Carbohydrates:

123g
Fiber:

13g
Sugar:

9g
Protein:

27g
Nutritional information is automatically calculated per the ingredients list. Serving size may not be accurate. Please double-check with your preferred nutritional app for the most accurate information.
Published on February 10, 2014. Updated with new pictures and information.