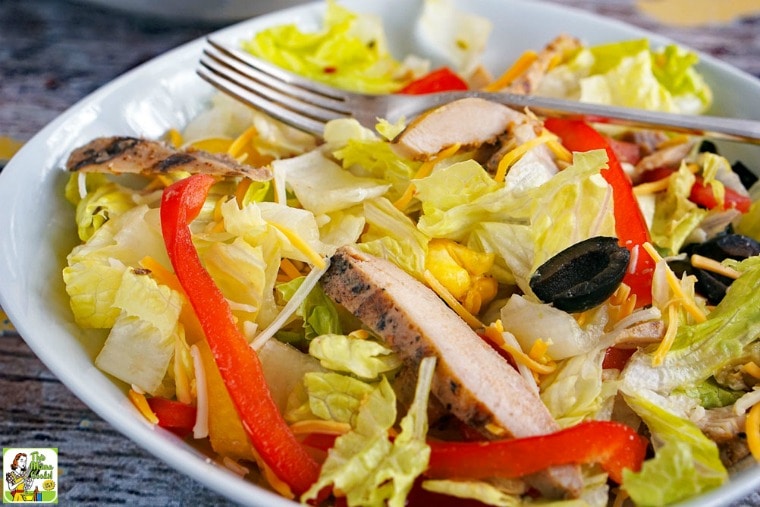 This recipe for chicken fajita salad is an easy weeknight dinner recipe the whole family can enjoy. On purpose I've made it with a few extra helpings so you can have leftovers the next day to take to lunch. Roll the chicken fajita salad recipe into tortillas for a chicken fajita salad wrap.
Or if you want, you can serve this Easy Chicken Fajita Salad as a dinner time wrap for the kids. I don't know about you, but my kids won't eat salad, but they're eat wraps even if it contains exactly the same ingredients. It's all about the presentation, right?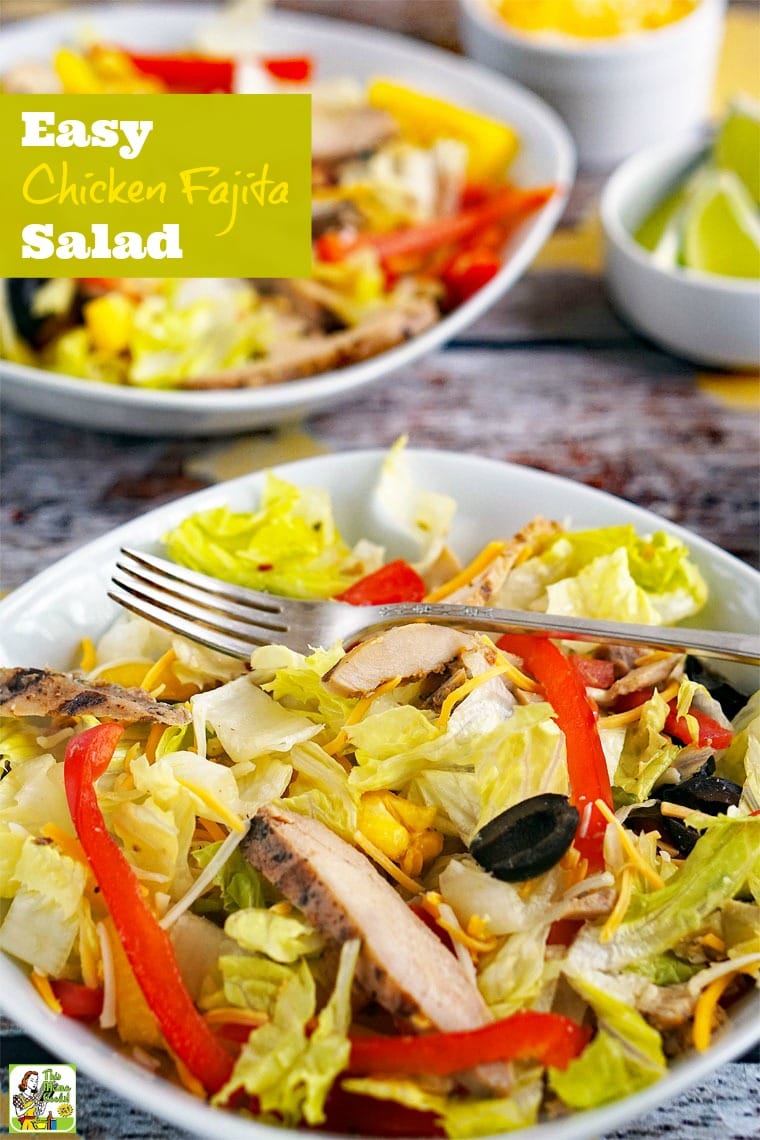 In my chicken fajita salad recipe, I've used red and yellow bell peppers, tomato, avocados, and olives. Don't like olives or prefer green bell peppers, feel free to make substitutions! You can also add sliced green onions, black beans, or corn. Experiment!
Use your favorite store bought salad dressing on this Easy Chicken Fajita Salad. A spicy vinaigrette or a cool ranch dressing would work. If you're watching your calories, a few spoonfuls of salsa would also make a delicious – and wholesome – dressing.
Serve Easy Chicken Fajita Salad with slices of lime for a zesty spritz of citrus.

Making Easy Chicken Fajita Salad even easier with Johnsonville
What makes preparing this recipe chicken fajita salad even easier is Johnsonville's new fully-cooked chicken product, Flame Grilled Chicken. It's perfect for using in salads, wraps, soups, and main dishes.
I thought the Southwestern variety was ideal for using in my chicken fajita salad recipe since it was such a time saver. First, I didn't have to marinate or season the chicken since it's seasoned with dry rubs.
Since the whole-muscle, chicken breast (no rib meat) is already cooked, I could skip that step, too, and not have to wait for the meat to cool before adding it to the salad. And unlike canned chicken, it was full of flavor. (You can taste that each portion is flame-grilled over open flame to sear the meat.)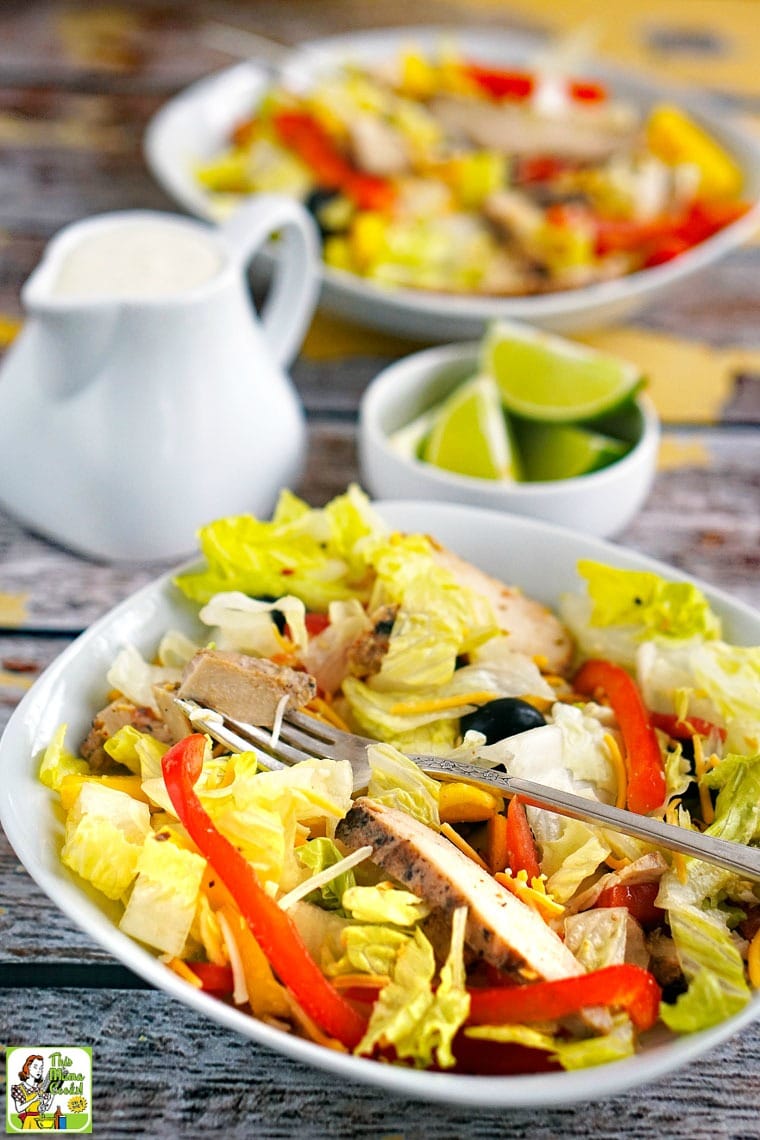 I also like Johnsonville's Flame Grilled Chicken because it's free of fillers, added MSG, artificial preservatives, flavors and colors. They're also gluten free!
Each chicken breast is 80-130 calories and offers 18 grams or more of protein. The chicken is sourced from U.S.-based poultry farms with the product manufactured in the Midwest.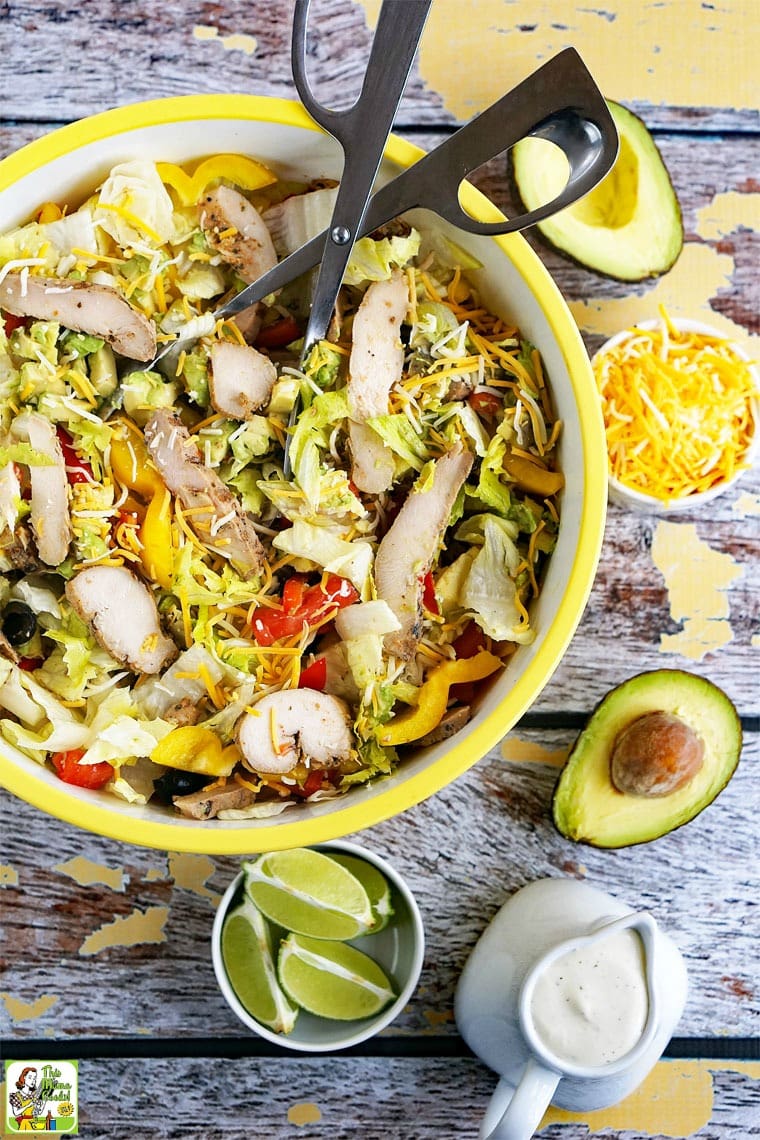 Available in five varieties: Garlic & Herb, Teriyaki, Black Pepper & Sea Salt, Southwestern, and Honey Mustard, you can find Johnsonville Flame Grilled Chicken in the refrigerated meat section at your grocery store.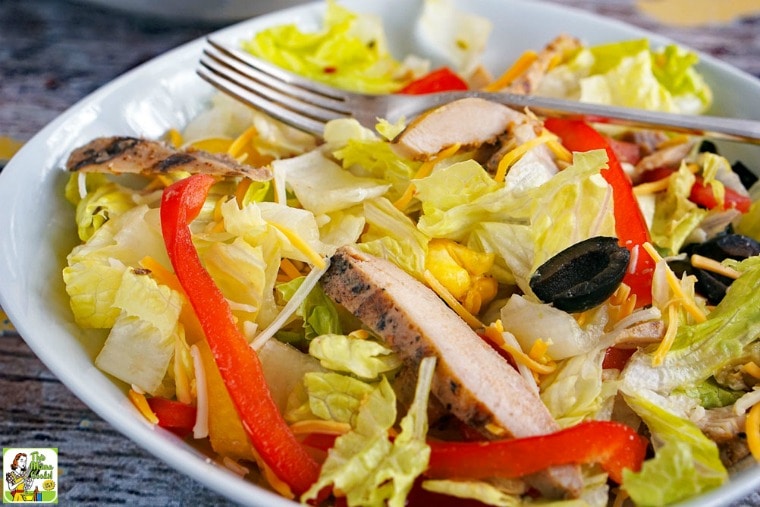 Easy Chicken Fajita Salad
Ingredients
2

hearts of romaine lettuce, chopped (8 cups)

2

packages Southwestern Johnsonville Flame Grilled Chicken (6 servings) sliced

1

red bell pepper, cut into thin strips

1

yellow bell pepper, cut into thin strips

1

large tomato, diced

1 cup

medium black olives, sliced into halves

1

avocado, diced

1/4 cup

shredded Mexican style blend cheese

1/2 cup

your favorite salad dressing, served on the side

1

lime, sliced - for serving
Directions
Place lettuce in a large bowl. Add sliced chicken breasts, bell peppers, corn, olives, avocadoes, and onions. Toss. Sprinkle with cheese.
Serve with slices of lime and dressing on the side.
Serving size:

1/6 of recipe