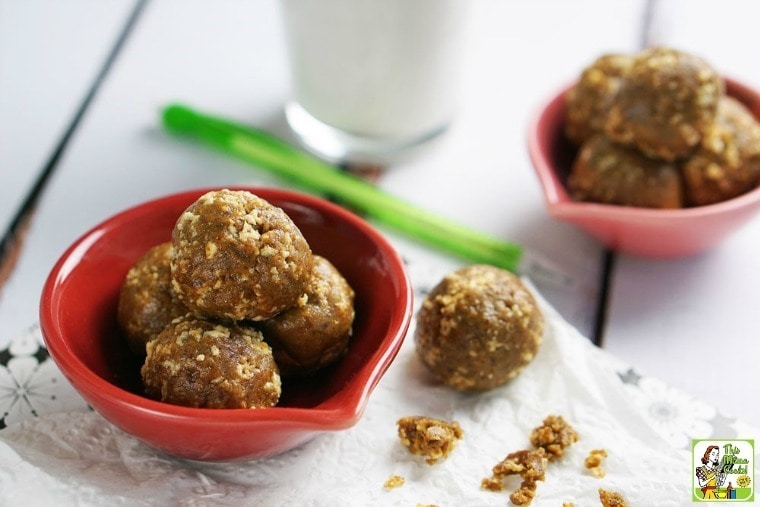 When it comes to Back to School classroom snacks, these Gluten Free Crunchy Energy Bites aim to please the pickiest kids since they're fun to eat – and easy to make.
You can smoosh them with your hand like a pancake. Or smash two together and make bigger healthy energy bites. (Not too big!)
Gluten Free Crunchy Energy Bites are delicious because they're crunchy bite-sized bursts of pureed raisins, sunflower butter, vanilla, and gluten free Cinnamon Chex cereal. That's it! No additional sugary stuff needed.
These Gluten Free Crunchy Energy Bites are O.K. for kids who are gluten free, dairy free, and nut free, too. Plus, did you know that kids who eat cereal are more likely to meet daily requirements for key nutrients?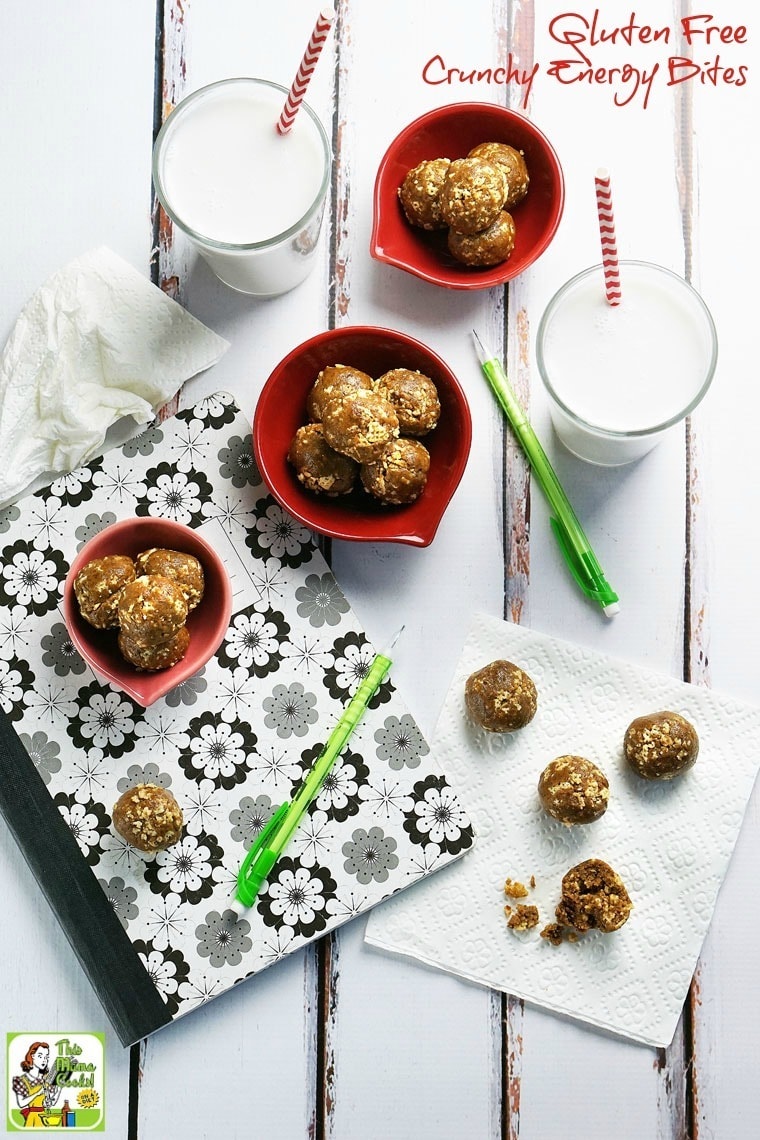 How to make Gluten Free Crunchy Energy Bites
Why I make my Gluten Free Crunchy Energy Bites with Chex cereal
I used Cinnamon Chex in my energy bites recipe, because its terrific flavor goes well with raisins and sunflower butter and it provides just the right amount of crunch. I also like Chex cereal because it has vitamins and minerals kids need, like vitamin D and calcium.
I also appreciate that General Mills reduced the sugar in their cereals, and took out ingredients many parents didn't like such as artificial flavorings and colors.
Instead, they're using ingredients like extracts from turmeric, blueberry and purple carrots for color, and natural flavors like vanilla, cinnamon, honey and more. In all, 90 percent of their cereals are free of artificial flavors and colors from artificial sources.
I also love that Chex is a gluten free cereal that's sold in the cereal aisle at regular cereal prices. That way people like my mother-in-law, who has celiacs but can't afford fancy health food store prices, can buy all the gluten free cereal she wants.
Plus, Chex cereal doesn't "taste gluten free" (meaning weird and cardboard like). Even my non-gluten free kids love it!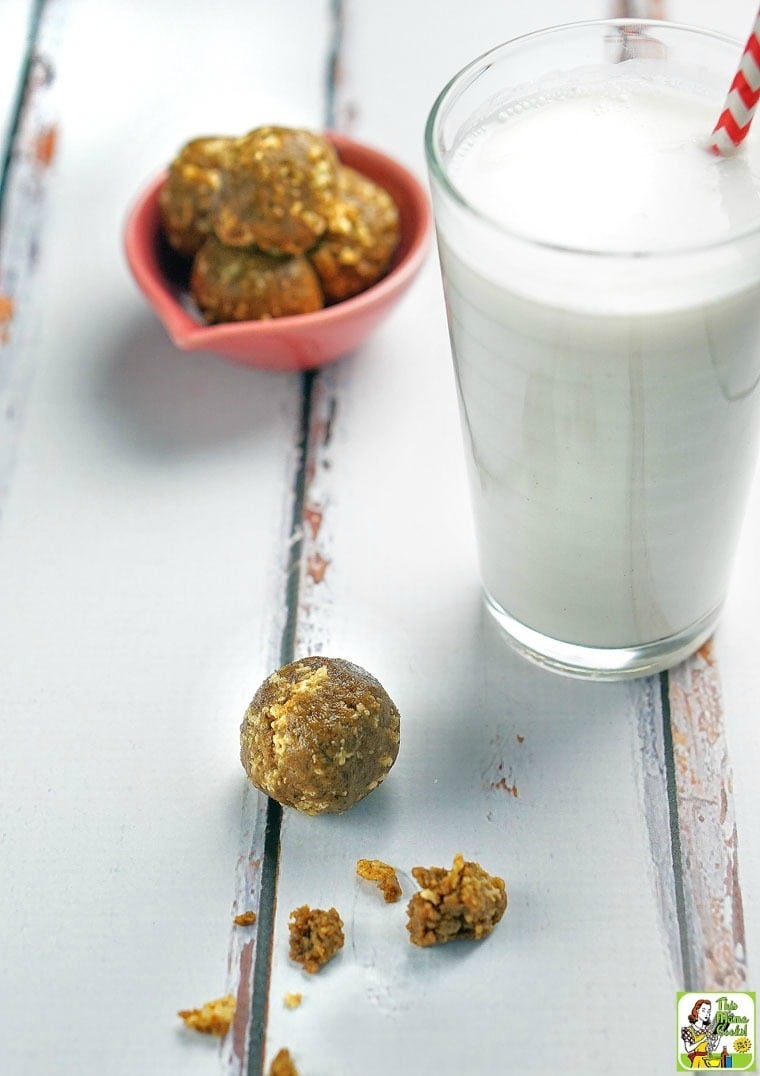 Healthy snacking on the go with easy no bake energy bites
Gluten Free Crunchy Energy Bites aren't just for classroom snacking. They're also terrific for breakfast or for taking to after school activities, especially if you're on the go!
Just grab a few energy bites on the way out the door for you and the kids to snack on in the car.
These homemade energy bites are terrific for refueling after playing sports. Serve them with some fruit such as a banana (for the potassium) and a carton of milk (or a milk substitute, if your child is dairy free).
Love yogurt? Smash up and sprinkle a Gluten Free Crunchy Energy Bite or two in a cup of plain no-fat Greek yogurt. Yum!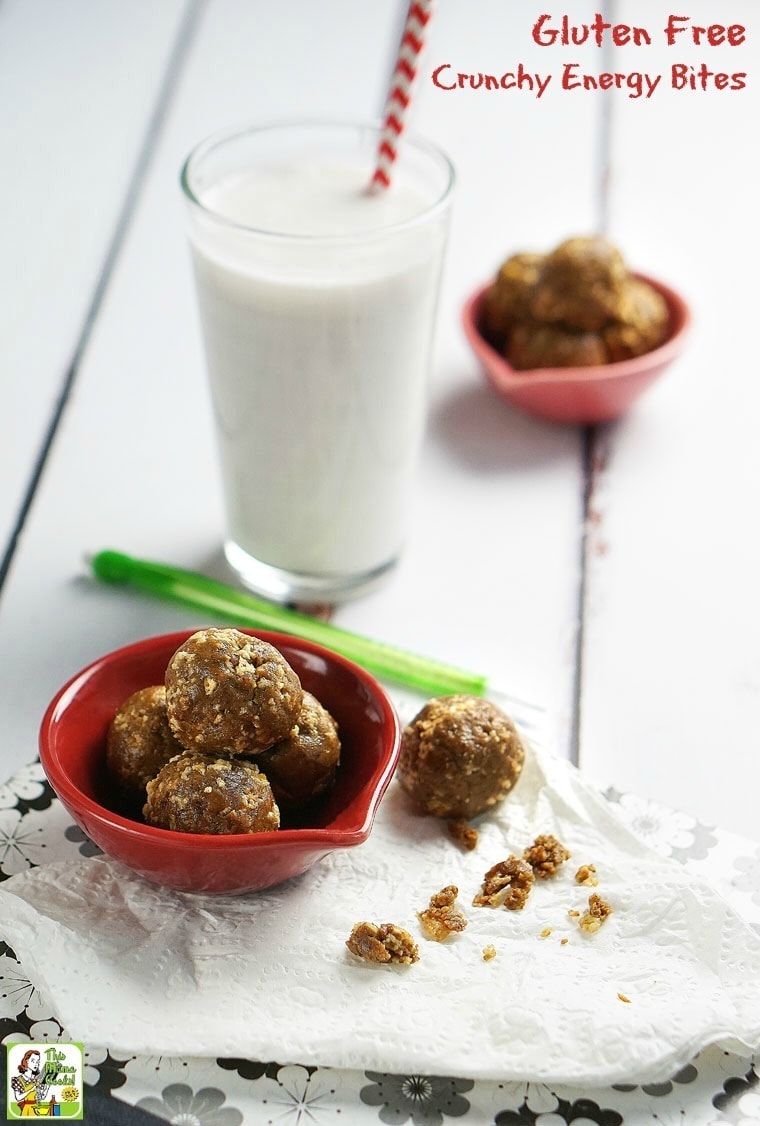 This Mama's tips for making Gluten Free Crunchy Energy Bites
If you don't have a food processor, you can make these healthy energy bites in a high speed blender.
If possible, use a new box of raisins when making this energy bite recipe as you want your raisins to be fresh. If you find that your raisins in your pantry are dried out, try adding a tablespoon or two of water or coconut oil during the puréeing process.
Make sure to thoroughly mix your jar sunflower butter before measuring.
You can also use different types of Chex cereals. While I used Cinnamon Chex in these easy no bake energy bites, you can use Vanilla Chex or Chocolate Chex in your Gluten Free Crunchy Energy Bites. Or use a combination of Chex cereals!
So you always have a supply of Gluten Free Crunchy Energy Bites, freeze up a double batch (or several batches of different Chex cereal flavors). Place the energy bites on a cookie sheet and freeze overnight. Store frozen energy bites in ziplock bags in the freezer (label with flavor and date).
Defrost energy bites in the refrigerator. Or just place the frozen bites in lunchboxes that morning as they'll defrost by lunchtime.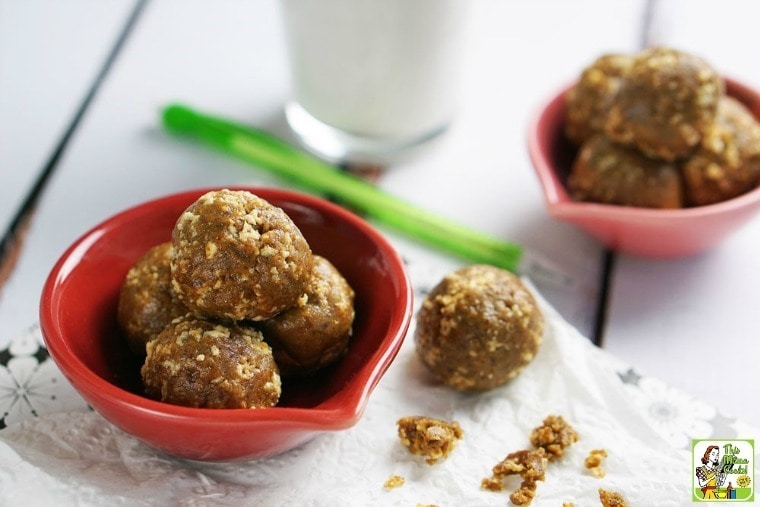 Gluten Free Crunchy Energy Bites
Ingredients
1 cup

raisins

1 teaspoon

gluten free vanilla extract

3/4 cup

sunflower butter (smooth)

1 1/4 cups

Cinnamon Chex cereal, divided
Directions
Place raisins and vanilla in food processor and pulse until the raisins have been completely puréed. You may need to scrape sides of processor bowl down with a spatula.
Add sunflower butter and pulse until the mixture resembles cookie dough. You may need to scrape sides of processor bowl down with a spatula a couple of times. The mixture should be crumbly, but should form a ball or pancake when pressed together. If you find the mixture is too dry, add water or coconut oil by the tablespoon until you get the right consistency.
Add 1/2 cup of cereal. Pulse until the cereal is slightly broken up and mixed into mixture.
Place remaining 3/4 cup of cereal into a large baggie. Partially crush cereal with a rolling pin. Then pour cereal on to a dinner plate.
Use a small cookie scoop (2 teaspoons), measure out mixture. Form it into a pancake. Then press both sides of pancake into the crushed cereal. Form the pancake into a ball and place it on a lined cookie sheet.
Keep balls refrigerated until serving time.