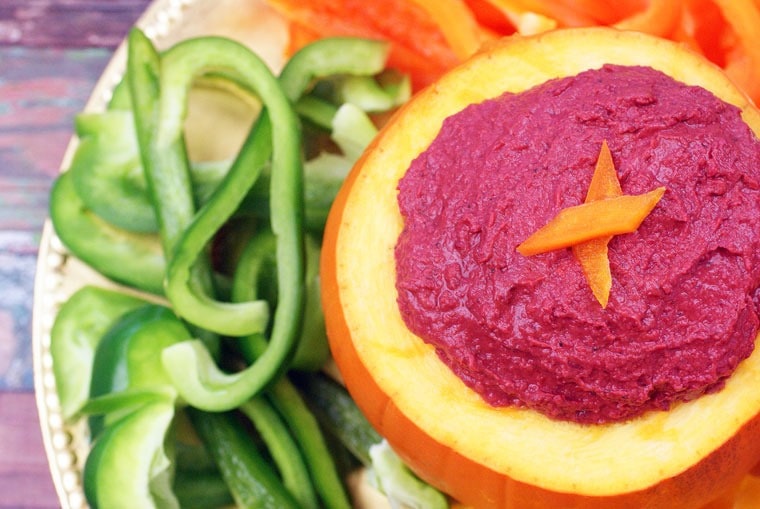 I participated in an Influencer Activation on behalf of Influence Central for Calphalon. I received product samples and a promotional item to thank me for my participation.
When it comes to cooking, my philosophy can be summed up in with a couple of word: QUICK and EASY. I look for recipes like Spicy Chipotle Cranberry Hummus that can be made 20 minutes from Thanksgiving meal leftovers and items I normally keep in my pantry.
I also believe in keeping my kitchen stocked with tools that make cooking quick and easy such as the high speed blender that I made this cranberry hummus recipe in. Of course, no kitchen is properly equipped unless it has a good set of knives. This Spicy Chipotle Cranberry Hummus recipe calls for finely chopped parsley, chopped chipotle peppers, minced shallots, and to be served with slices of bell pepper. No way I could make this hummus recipe with dull knives!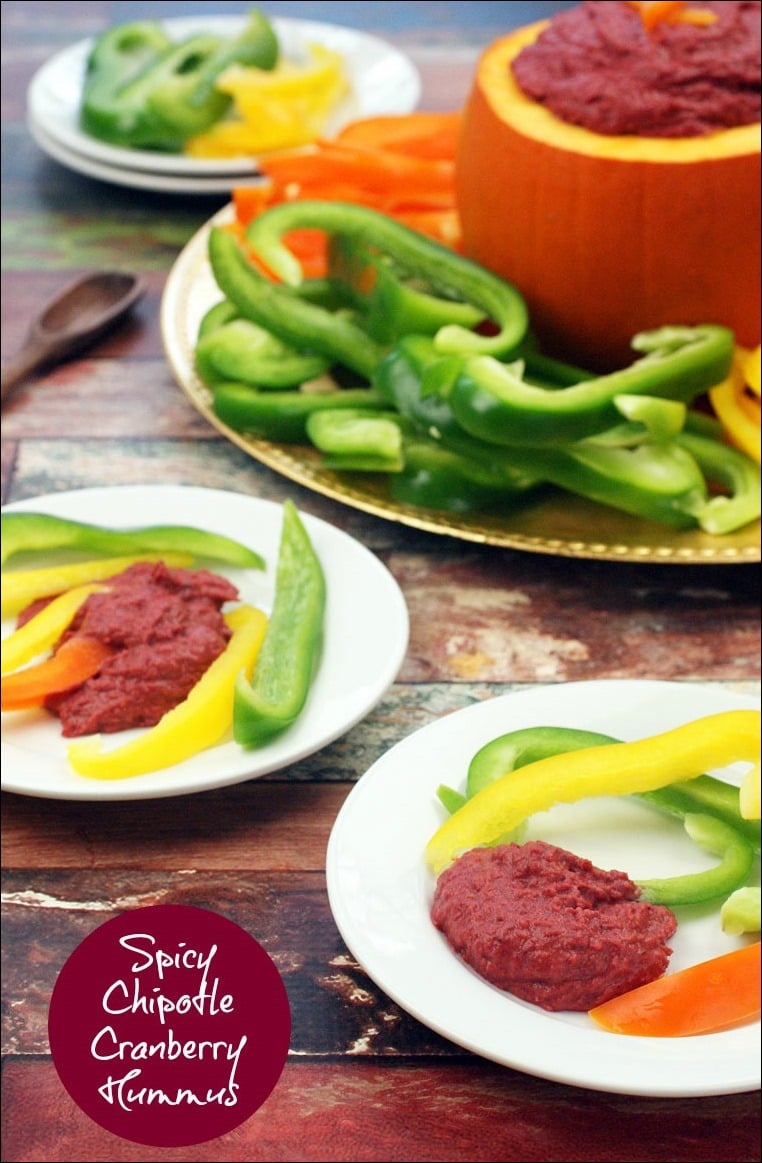 Keeping knives sharp with Calphalon Self-Sharpening Cutlery Sets
For years, I've had a set of Calphalon knives that I've loved. When I lived in Colorado, I used to take my knives to be sharpened at a place at the mall about once a year for a tune up. Now that I've moved cross country, I use a little countertop knife sharpener, which works so-so. However, it's never convenient to use. Usually I find that my knife is too dull after I start cutting some food. Then I have to wash off the knife, dry it and sharpen it. Not very quick and easy!
So when I learned that Calphalon came out with Self-Sharpening Cutlery Sets, I wondered why they hadn't thought of it sooner – sheer genius! I received the Calphalon Classic Self-Sharpening Cutlery (15 piece set) to try out. It sells for $219.99 on the Calphalon website. There is also a Self-Sharpening 20-pc. Cutlery Set that sells for $299.95 and a Self-Sharpening 14-pc. Cutlery Set that sells for $209.95. All would make amazing gifts for any person who loves to cook.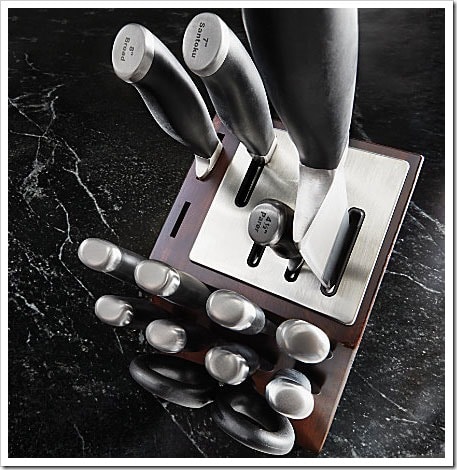 What a pleasure it was to mince the shallot, chop the parsley, and slice up the peppers for the Spicy Chipotle Cranberry Hummus! The Calphalon knives performed brilliantly as expected. No surprise because they were brand new. So I did an experiment. I switched out some of my old Calphalon knives with the new ones since I have a few duplicates like the 7" Santoku.
I noticed that the performance of my old knives improved dramatically with just a few "swipes" of being placed into the self-sharpening block. It didn't require me to do much but put the straight edge knives into a slot. (Serrated knives like steak, bread and tomato knives do not go into the sharpener slots.) Also, there is no need to apply any pressure to sharpen knives since the sharpener is designed to work with the natural motion of putting the knife back into the slot.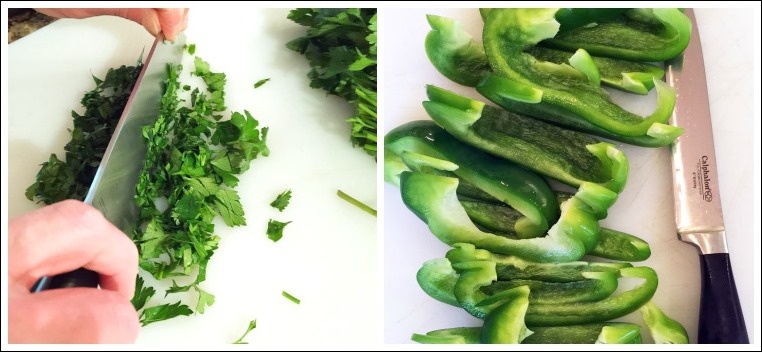 I wish that Calphalon sold just the self-sharpening blocks, because I'd replace my old wood one in a heartbeat.
Making Spicy Chipotle Cranberry Hummus
Calphalon is more than just cookware, bakeware, and knives! It's also a resource for knife skills videos that you can check out at knifeskills.com. Here's a video on cutting up bell peppers that will help you when make up a batch of Spicy Chipotle Cranberry Hummus.
The Calphalon knife skills video on garlic will show you the proper way to mince the shallot, too. I personally prefer shallots to garlic in hummus as they aren't quite so strong and don't leave you with nasty garlic breath.
My Spicy Chipotle Cranberry Hummus recipe is designed to use leftovers from Thanksgiving meal prep like shallots and parsley and cranberry sauce from the Thanksgiving meal.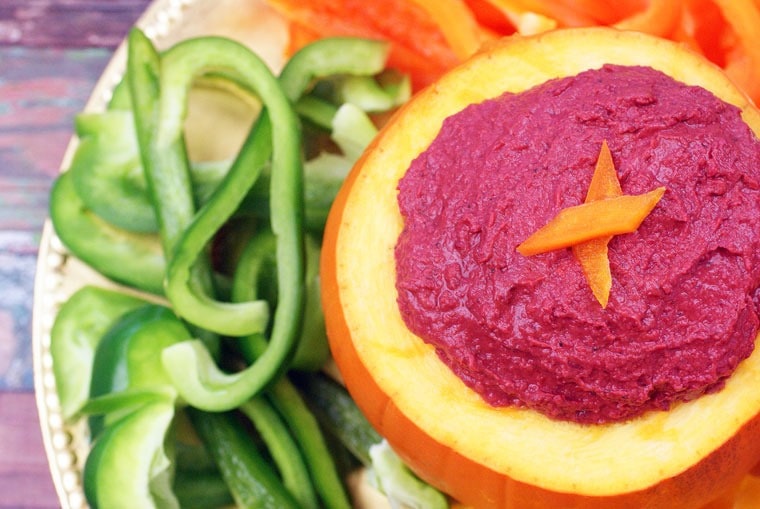 Spicy Chipotle Cranberry Hummus
Have leftover cranberry sauce after the Thanksgiving feast? Make cranberry hummus! You can make this more or less spicy depending on how many chipotle peppers you use.
Ingredients
1 (15 ounce) can

chickpeas, drained and rinsed

1 cup

cranberry sauce

2 tablespoons

tahini

1/2

large shallot, minced

1 to 3

chipotle peppers in adobo sauce, finely chopped

1 tablespoon

olive oil

1 tablespoon

lemon juice

1/2 teaspoon

sea salt

3

large bell peppers, cut into strips for serving
Directions
Place all ingredients except bell pepper strips, into a high speed blender or food processor. Blend until smooth and creamy.
Spoon hummus into a bowl and serve with bell pepper strips.
Win a Calphalon Self-Sharpening Cutlery Set ($219 value)!
I'm giving away one Calphalon Classic Self-Sharpening Cutlery 15 piece set – a $219 value, to one lucky reader! To enter comment below on what recipe you'd tackle first with your new Calphalon set of knives!
a Rafflecopter giveaway
Note: Contest entrants are only eligible to win once per sweepstake, per household as part of a campaign sponsored by Influence Central.