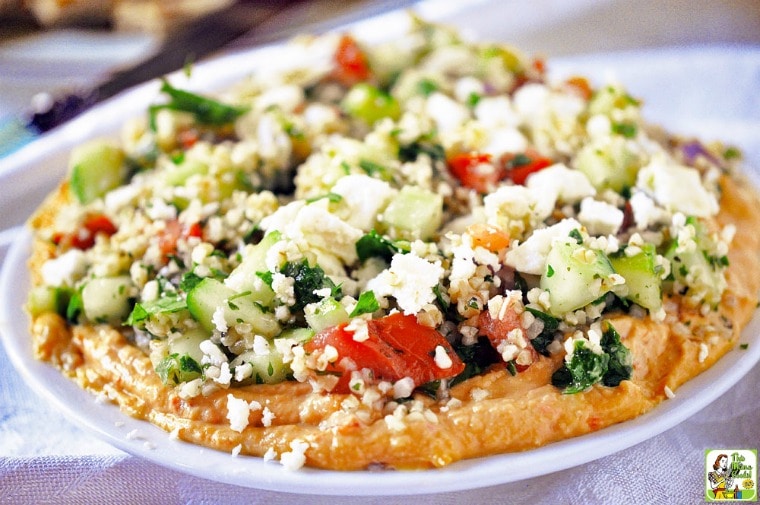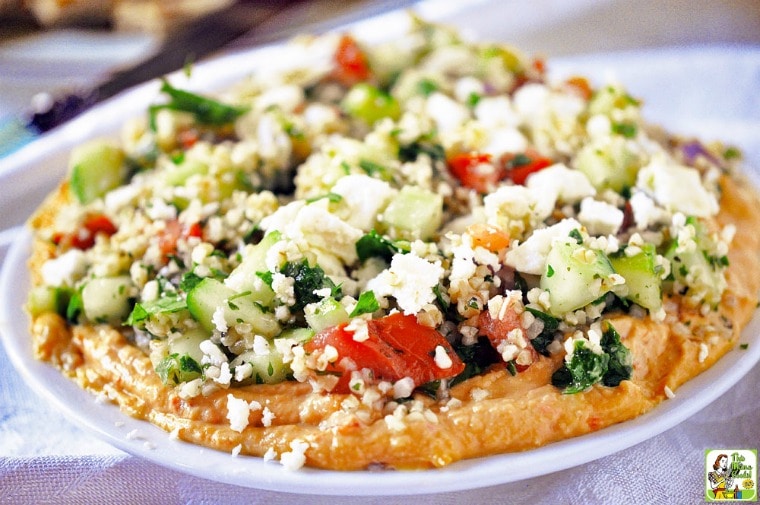 If you're looking for a tabbouleh salad recipe with a twist, you should try this Hummus & Tabbouleh Salad. It's from my contributor, Holly Clegg's cookbook, Eating Well To Fight Arthritis: 200 Easy Recipes and Practical Tips to Help Reduce Inflammation and Ease Symptoms.
Holly Clegg's trim&TERRIFIC EATING WELL TO FIGHT ARTHRITIS
This layered mound of fantastic flavors makes a splendid Mediterranean tabbouleh salad. I know my family LOVES hummus especially when topped with feta cheese.
Serve this easy to make hummis & tabbouleh salad recipe as an appetizer with toasted pita bread, pita chips or bagel chips. That's Holly's recommendation. She told me when she made this for a party, everyone was raving about it.
Did you know that parsley is a good source of plant iron? One cup contains about 20% of your recommended daily allowance.
You can find more of Holly Clegg's trim& TERRIFIC® recipes at The Healthy Cooking Blog. Check out Holly's trim & TERRIFIC™ cookbooks on Amazon, too!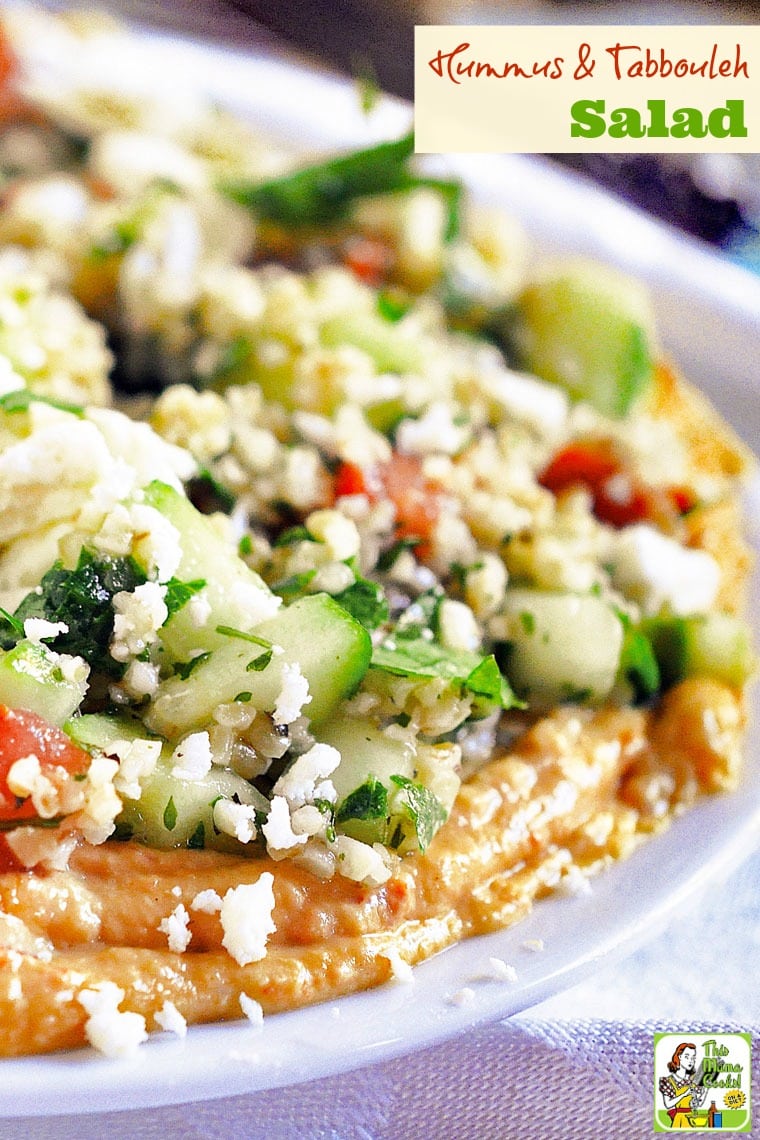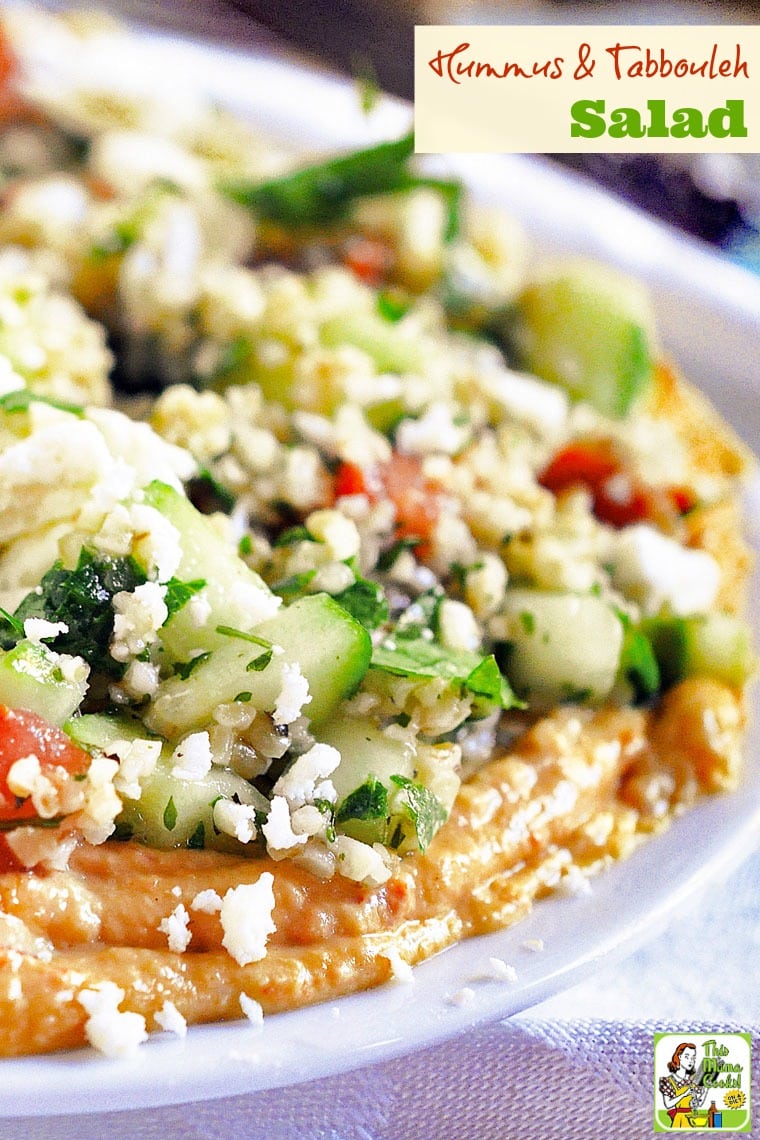 This Mama's tips for making Hummus & Tabbouleh Salad
If you're gluten free, turn this into a quinoa tabbouleh salad recipe. Just substitute cooked and cooled quinoa for the tabbouleh.
Then you can serve the Hummus & Tabbouleh Salad on brown rice tortillas or gluten free bread. If you make it into a hummus and feta dip, serve it with corn tortilla chips. (I know it mixed Greek and Mexican cuisines, but it works to keep it all GF!)
I think this recipe for tabbouleh salad would make a wonderful vegetarian sandwich spread, don't you? Serve it on gluten free bread or in a sandwich wrap with a few lettuce leaves. Mmmmmmm.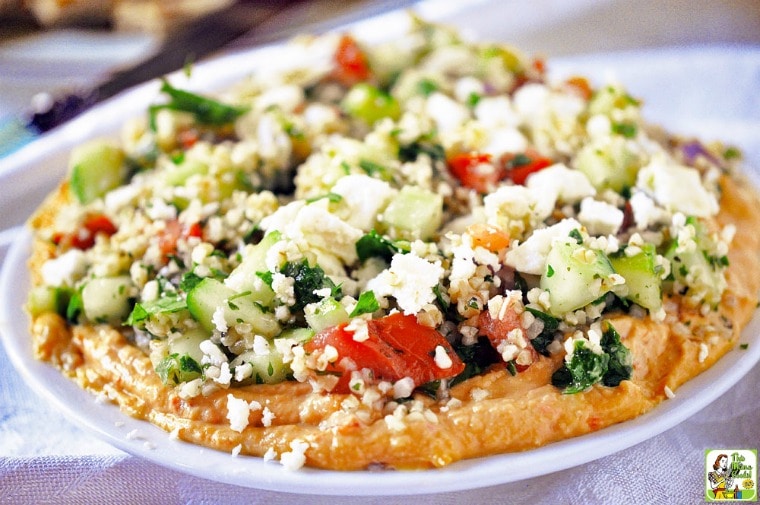 Ingredients
1 (5.25-ounce) box

Tabbouleh mix wheat salad (makes 2 1/2 cups)

1 tablespoon

olive oil

1/2 cup

chopped red onion

1 cup

chopped tomatoes

1 cup

finely chopped cucumber

1/3 cup

chopped fresh parsley (flat leaf preferred)

2 tablespoons

lemon juice

Salt and pepper to taste

1 (10-ounce) container

roasted red pepper hummus

1/4 cup

crumbled reduced-fat feta cheese
Directions
In bowl, prepare tabbouleh mix according to package instructions. After water is absorbed, fluff with fork and add olive oil, mixing well.
To tabbouleh, add red onion, tomatoes, cucumber, parsley, lemon juice and season to taste.
On large serving plate, spread hummus, top with tabbouleh salad and sprinkle with feta. Cover in plastic wrap and refrigerate for 20 minutes before serving.
Servings
:
Makes 4 servings
Serving size:

1 cup

Calories:

308

Calories from Fat:

103 (34%)

Total Fat:

12g

Saturated fat:

1g

Unsaturated fat:

11g

Sodium:

909mg

Total Carbohydrates:

47g

Sugar:

7g

Fiber:

11g

Protein:

9g

Cholesterol:

3mg
Dietary Exchanges: 3 starch, 2 fat
Recipe and photo used with permission of the author.
Originally published on June 7, 2013. Republished with new pictures and information.