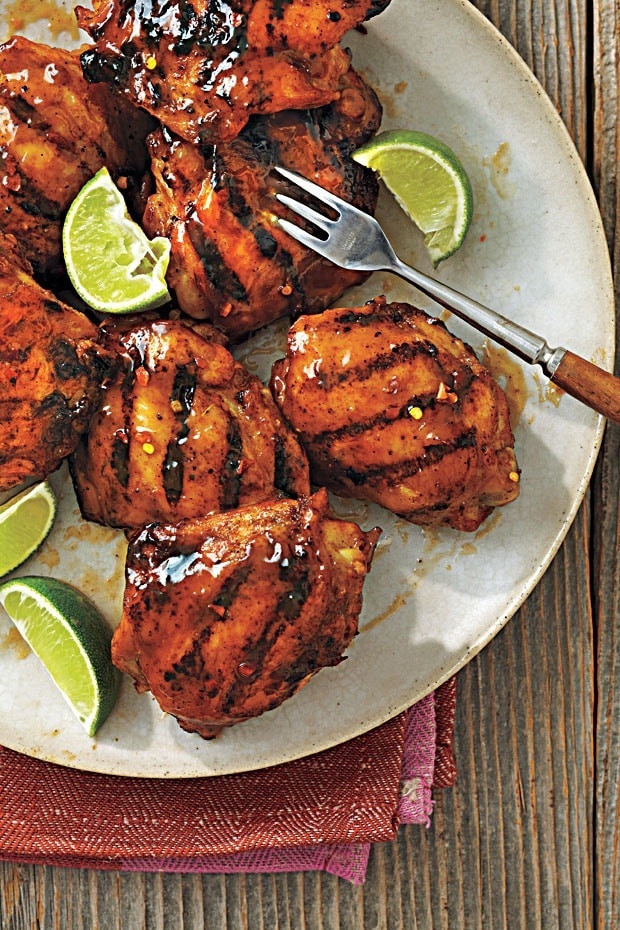 Even though school has started for many of us, that doesn't mean that grilling season is over – especially with Labor Day just around the corner! That's why you should check out Cooking Light Way To Cook: Grilling.
This cookbook features more than 400 full-color how-to images illustrating a variety of healthy grilling techniques and over 125 recipes. I'm sure you'll find some that are perfect for parties, weekend or even school night grilling.
Start the grilling over direct heat to get good grill marks and charred bits, and then move to indirect heat to gently finish the cooking. Serve with lime wedges.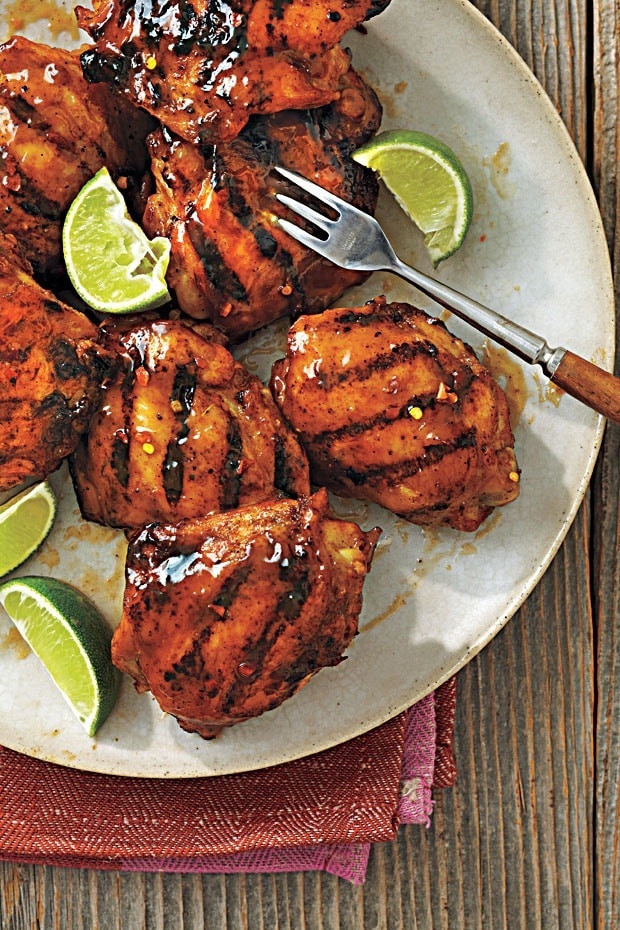 Ingredients
1 1⁄2 teaspoons

ground cumin

1 teaspoon

chili powder

3⁄4 teaspoon

kosher salt

1⁄4 teaspoon

chipotle chile powder

6

bone-in chicken thighs (about 2 pounds), skinned

3⁄4 cup

pineapple juice

1⁄3 cup

tequila

1⁄4 cup

honey

2 teaspoons

cornstarch

2 teaspoons

water

2 teaspoons

grated lime rind

3 tablespoons

fresh lime juice

1⁄4 teaspoon

crushed red pepper

Cooking spray
Directions
Preheat grill to medium-high heat using the burners on both sides of your grill. After preheating, turn the left burners off and leave the right burners on.
Combine first 4 ingredients in a small bowl. Rub evenly over chicken.
Combine pineapple juice, tequila, and honey in a small saucepan; bring to a boil. Cook until reduced to 3⁄4 cup (about 10 minutes). Combine cornstarch and 2 teaspoons water in a small bowl, and stir well. Add cornstarch mixture to juice mixture, stirring constantly with a whisk. Bring to a boil, and cook 1 minute, stirring constantly. Remove from heat, and stir in lime rind, 3 tablespoons lime juice, and red pepper.
Place chicken on grill rack coated with cooking spray over right burners (direct heat). Cover and grill 5 minutes on each side, basting occasionally with juice mixture. Move chicken to grill rack over left burners (indirect heat). Cover and grill an additional 5 minutes on each side or until done, basting occasionally.
Serving size:

1 thigh

Calories:

241

Calories from Fat:

7.6g

Saturated fat:

2.1g

Sodium:

374mg

Total Carbohydrates:

17.2g

Fiber:

0.4g

Protein:

18g

Cholesterol:

64mg
Recipe and picture used with permission.
_______________
Disclosure: Amazon links are affiliate links. A commission may be earned from a referred sale to their website.