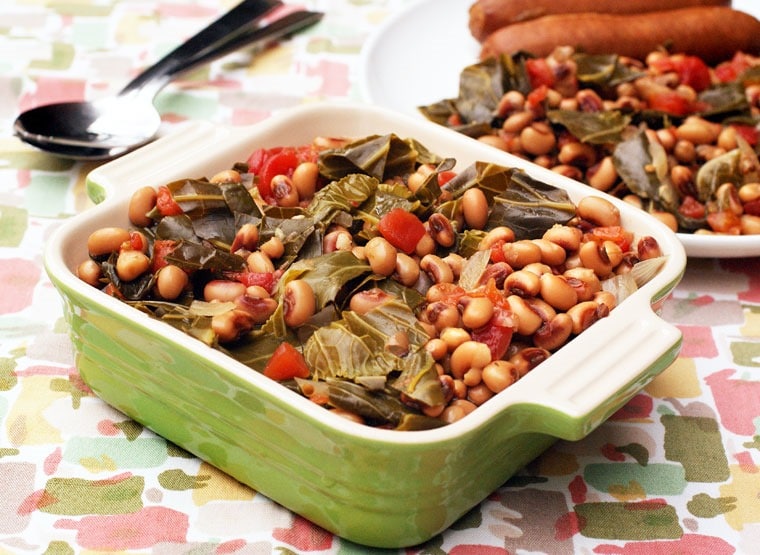 I recently came back from a trip to house hunt in the Athens, Georgia are. While I was in there, I discovered a dish called Hoppin' John. It's a combination of two staples of Southern food – black eyed peas and collard greens.
Hoppin' John is packed with nutrition. According to Self Nutrition Data, black eyed peas are low in saturated fat, cholesterol and sodium and a good source of fiber, protein, folate, thiamin, iron, magnesium, phosphorus and copper. Collard greens are low in saturated fat, very low in cholesterol, and a good source of fiber, protein, and many vitamins and minerals.
Traditionally, Hoppin' John is served on New Year's Day to bring you fortune in the year to come. It's a shame that people only eat Hoppin' John on the first day of the year, because it should be enjoyed year 'round since it's delicious and can be healthy, too, if you just change a few things in the recipe as I demonstrate below!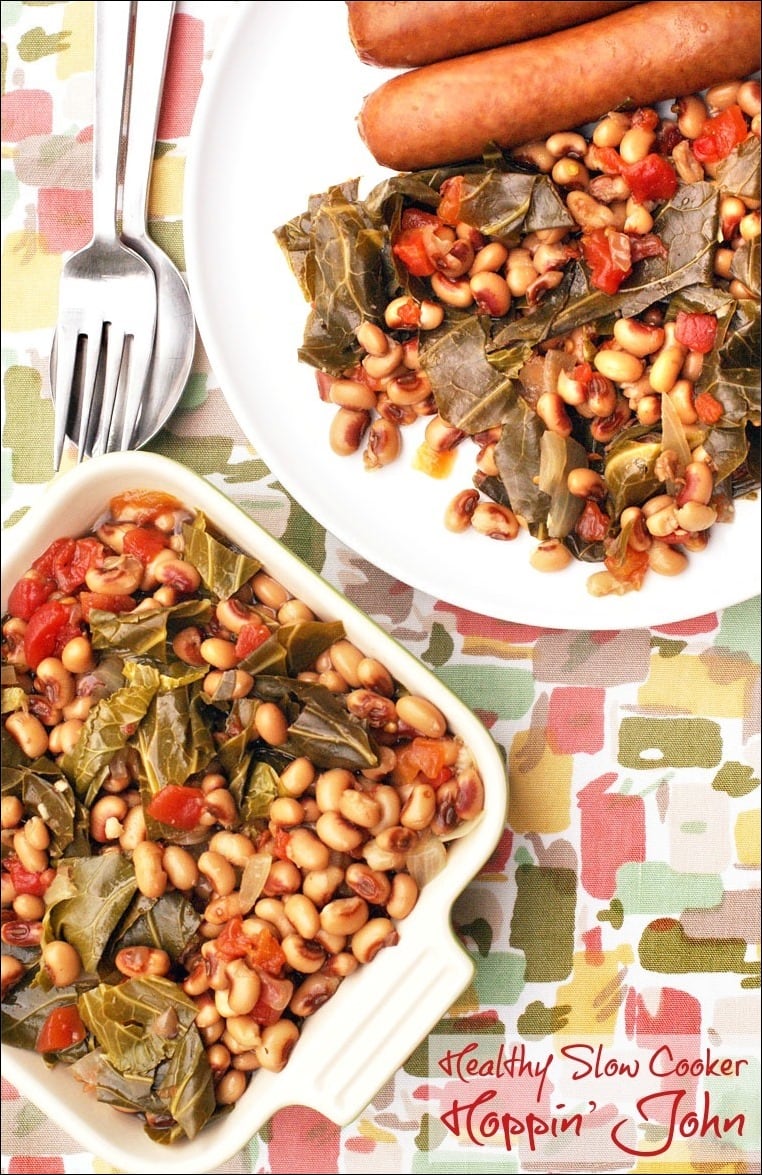 How I made Hoppin' John into Healthy Slow Cooker Hoppin' John
Hoppin' John can be high in calories since traditionally it's cooked up with a lot of pork and pork fat. So I was looking for a way to make a recipe for Hoppin' John that was not only easier to make but lower in calories and healthier, too. That's why I was so excited to find a recipe for Hoppin John Vegetarian Black Eyed Peas that was cooked in a slow cooker at Kristi Arnold's blog Veggie Converter, my assigned blog for this month's Secret Recipe Club post.
Kristi's recipe for Hoppin' John is very healthy already, but since I'm not a vegetarian, I decided to add smoked turkey sausage to her recipe after consulting Kristi's original sources. (Traditionally, smoked ham hocks are used.) I kept the sausage whole instead of chopping them up, so you can decide how much sausage you want to eat and can keep a better eye on portion size. Also, I used canned black eyed peas instead of dried to make the recipe even more convenient for busy folks. I served it on quinoa, but feel free to use rice – brown, of course – which is more traditional.
The Bacon Salt that Kristi recommends? Awesome stuff! I love how it added bacon flavor – and no calories and saturated fat – to my Healthy Slow Cooker Hoppin' John. Enjoy!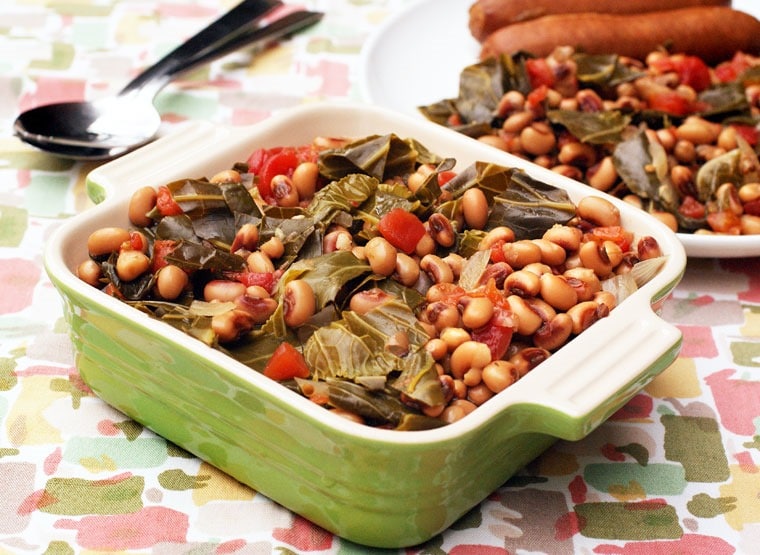 Healthy Crockpot Hoppin' John
Note: you can health up this recipe even more by using vegetable broth, cutting back on the sea salt, and adding more tomatoes, onions and collard greens. While I loved the addition of quinoa, it can be eliminated, too, if you're watching your calorie count. And the sausage? Feed it to your skinny friends or the dog!
Ingredients
4 (15.5 ounce) cans

black eyed peas, drained and rinsed

4 cups

chicken broth

1 (13.5 ounce) package

smoked turkey sausage, keep whole

1 (14.5 ounce) can

diced petite tomatoes and diced green chilies

1

medium onion, chopped (about 3/4 cup)

1

bunch collard greens, rinsed chopped and ribbed

1/2 teaspoon

sea salt

1/2 teaspoon

Bacon Salt

1/4 teaspoon

black pepper

2 cups

cooked quinoa
Directions
Empty the cans of black eyed peas into a colander place in the sink. Drain and rinse until the water runs clear.
Place black eyed peas, chicken broth and turkey sausage in the six quart slow cooker.
Stir in tomatoes with chilies, chopped onion, and collard greens.
Add sea salt, Bacon salt and black pepper. Stir thoroughly.
Cover and cook on low for 8-10 hours until sausage is cooked through.
Serve over quinoa.
Total Time:
8 Hours 20 Minutes
Serving size:

1/10 of recipe

Calories:

646

Calories from Fat:

56

Total Fat:

6.2g

Saturated fat:

1.3g

Unsaturated fat:

4.9g

Sodium:

1115mg

Total Carbohydrates:

136.6g

Sugar:

8.4g

Fiber:

51.2g

Protein:

56.4g

Cholesterol:

27mg
More from the Secret Recipe Club!