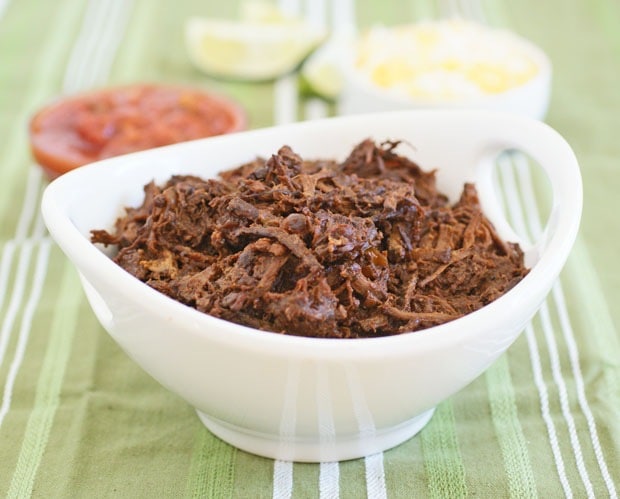 Yes, you read that right – I'm slow cooking mountain goat meat. As I found out when I made carne asada, mountain goat is so tough it's practically inedible unless made into sausages or cooked in a crockpot.
So for this month's Secret Recipe Club recipe I went to Jen from Bean Town Baker's blog for a little crockpot inspiration. I found her slow cooker recipe for Crockpot Pulled Chicken that looked perfect, as mountain goat (as opposed to domestic goat) tastes just as mild as chicken. Not only that, I had all the ingredients on hand except for the tomato paste, which I omitted and didn't miss.
OTHER MEATS: If you're using chicken, slow cook this recipe for five to six hours. However, if you're slow cooking mountain goat, plan to cook it up to a full day. (I cooked up my batch for 20 hours, believe it or not.) You could try this with venison, beef or pork, too. (Slow cook those meats around six to eight hours.)
This slow cooker recipe gives a nice, smoky taste to your meat of choice. Serve your shredded goat, chicken beef or pork on rice or make it into a burrito, tostado or taco.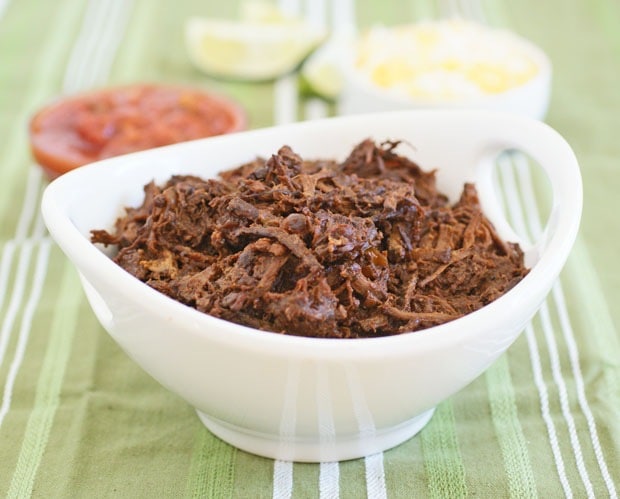 Ingredients
1 14 ounce can

tomato sauce

3

chipotle chiles in adobo, finely minced

1/2 cup

cider vinegar

1/4 cup

agave nectar

1 tablespoon plus 2 teaspoon

smoked or regular paprika

2 tablespoons

Worcestershire sauce

3 teaspoons

dry mustard

1 tablespoon

chili powder

1 teaspoon

salt

3 pounds

mountain goat meat – chops, steaks, roast, etc.

1

medium onion, chopped

3

cloves garlic, minced
Directions
Stir tomato sauce, chiles, vinegar, agave nectar, paprika, Worcestershire sauce, mustard, chili powder and salt in a 6-quart slow cooker to combine.
Add mountain goat, onion and garlic and stir to cover meat thoroughly.
Put the lid on and cook on low until the mountain can be pulled apart – at least over night if not nearly a full 24 hours. Check often to make sure it's not getting dried out. If the liquid levels are getting low add some water, broth or more tomato sauce.
When done, shred mountain goat with a fork right in the crock. Stir well then serve.
If you're using chicken, slow cook this recipe for five to six hours. With venison, beef or pork, slow cook those meats around six to eight hours.
Total Time:
18 Hours 15 Minutes
Servings:
Serving size:

6

Calories:

344

Calories from Fat:

31

Total Fat:

3.4g

Saturated fat:

0g

Unsaturated fat:

0g

Sodium:

816mg

Total Carbohydrates:

21.7g

Sugar:

15.9g

Fiber:

3.7g

Protein:

52.4g

Cholesterol:

0mg
More from the Secret Recipe Club!