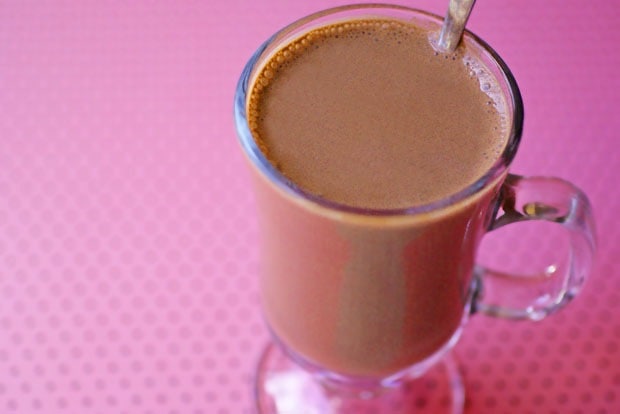 With warmer weather here – or nearly so – my thoughts turn to cooling down with a yummy chocolate shake. However, like other people with food sensitivities to dairy and sugar, I have to forgo ice cream shakes.
So I created this chocolate shake made with tofu and sweetened with stevia for those who want some creamy, cool chocolaty goodness, but who also want to avoid dairy and sugar-sweetened alternative ice creams.
Chocolate tofu shake
Makes four chocolate shakes
Ingredients:
2 cups unsweetened soy* or unsweetened coconut milk*
2 tablespoons Stevia Extract in the Raw
7 ounces soft tofu, preferably made from organic non-GMO soybeans
1/2 cup soy unsweetened soy or unsweetened coconut milk
2 large handfuls, ice cubes
Directions to make chocolate paste:
Combine 2 cups of milk, cocoa powder and stevia in a small bowl.
Stir until combined into a paste-like substance.
Directions to make chocolate shake:
Combine paste, tofu and 1/2 cup milk in a blender. Pulse until blended.
Add ice cubes to blender. Mix on high until ice is completely crushed.
Pour into two tall glasses and serve.
Nutritional information
Calories 129
Calories from Fat 49
Total Fat 5.5g
Saturated Fat 1.1g
Trans Fat 0g
Cholesterol 0mg
Sodium 83mg
Total Carbohydrates 14.4g
Dietary Fiber 3.2g
Sugars 6.6g
Protein 9.6g
Calcium 10%
Iron 15%
Nutrition Grade A from CalorieCount 
Weight Watchers POINTS = 2
This Mama's tips
Use RICE DREAM Enriched Chocolate milk for an extra chocolaty shake!
Feel free to sprinkle on a little more stevia if the shake isn't sweet enough.
Experiment adding almond, mint or raspberry extracts to your chocolate shake. Or how about some Triple Sec orange liqueur for a more grownup version?