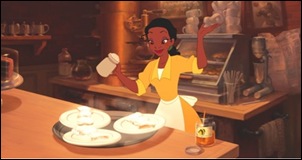 My daughter, Lucie and I loved Princess and the Frog when it came out in movie theaters. Lucie loved Tiana, the princess story and funny characters like Louis the trumpet playing gator. I enjoyed the animation, Randy Newman's music, and references to the culture and food of New Orleans.
Most of all I loved how Tiana's dream was about cooking and opening up the restaurant her father and her had planned together. Not since Ratatouille has a Disney movie appealed to the cook in me. (Bet you foodies didn't know that Emeril Lagasse voiced the part of Marlon the Gator!)
With the March 16th release of Disney's Princess and the Frog on Blu-ray and DVD and the companion cookbook, The Princess and the Frog: Tiana's Cookbook it's time to get your kids cooking Cajun style!
Tiana's Famous Beignets
We love having beignets at Lucille's, a Cajun style restaurant chain here in Colorado. They're an occasional special treat that you might want to try making at home. Put on some Louis Armstrong music and dance around with the kids to work off those calories!
Recipe from The Princess and The Frog - Tiana's Cookbook Recipes for Kids
Makes 14 to 16
Ingredients:
3 cups flour
1/3 cup sugar
2 teaspoons baking powder
1/2 teaspoon baking soda
1/2 teaspoon salt
1/2 teaspoon nutmeg
1 cup buttermilk
1/3 cup water
1 egg, beaten
1/2 teaspoon vanilla extract
Vegetable oil, for frying
Confectioners' sugar, for dusting
Directions:
In a medium bowl, combine 2 3/4 cups of the flour with the sugar, baking powder, baking soda, salt, and nutmeg. Whisk everything together.
In a large bowl, whisk together the buttermilk, water, egg, and vanilla extract. Stir in the flour mixture from Step 1.
Use some of the remaining flour to dust your work surface. Place the dough on it and pat it into a large 1/2 -inch-thick square. Dust the top with more flour if it gets sticky. Next, slice the dough into 2 1/2 -inch squares.
Now it's time to fry the beignets—be sure to ask an adult to help you! Heat 2 inches of vegetable oil in a heavy saucepan on the stove top until the temperature reaches 325° on a deep-fat thermometer. Check the temperature every so often while cooking. If it gets too hot, temporarily turn the heat down, or off.
Carefully drop 3 dough squares at a time into the hot oil. Fry them for 3 minutes, turn them over, and continue frying for 3 more minutes. Use a slotted spoon to transfer the beignets to a wire rack set atop paper towels to drain. Dust the beignets with confectioners' sugar, and enjoy!

Healthier Cajun food
Traditionally Cajun food isn't the healthiest, but I've found several recipes that do their best to lessen the culinary damage:
From Holly Clegg
_______________
Disclosure: I received a review copy of the Princess and the Frog DVD.