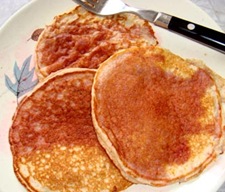 Stonyfield Farm's new line of Oikos Organic Greek Yogurt recently made its appearance at my local grocery store. I love Greek yogurt for its taste and thickness as much as its health benefits. Oikos Organic Greek Yogurt has 0% fat, just 90 calories per 5.3 oz.-serving (for plain), twice the protein of regular yogurt, fewer carbohydrates, and its lower in lactose than regular yogurt.
Inspired by a recipe Fitness Surfer sent me for Eating For Life oatmeal pancakes, I thought I'd try a yogurt version. Note that Quaker Oats are the same nutritionally. They roll the oats thinner to make them faster cooking, so steel cut isn't better than old fashioned or instant.
High Protein Yogurt Oatcakes
Makes four servings of three pancakes (3-4")
These high protein oatmeal pancakes taste great covered with a shmear of Oikos Greek yogurt (plain, vanilla, blueberry, or honey) or drizzled with with maple syrup, honey, fruit syrup, or agave nectar. I used Top Chef winner, Stephanie Izard's recipe for Pomegranate Syrup for my pancakes.
Ingredients:
1 cup instant, one-minute, old fashioned, or steel cut Quaker oats*
6 egg whites
1 cup fat-free Stonyfield yogurt or Oikos Greek Style yogurt
1/4 teaspoon vanilla extract
1/4 teaspoon ground cinnamon
1 tablespoon agave nectar, honey, maple syrup or sugar
1/2 teaspoon baking powder
Directions:
Put all the ingredients in a blender and puree.
Coat a hot pancake griddle or frying pan with a little butter, oil or a non-stick spray. (I like PAM All Natural Original Canola Oil No-Stick Cooking Spray since it doesn't gunk up my pans.)
Pour approximate 1/4 cup of batter to make a 3-4" pancake. Flip over once the batter starts to bubble.
Nutritional information
Approximate nutritional Information for 3 pancakes (1 serving)
Calories – 136
Fat – 12 calories, 2g
Fiber – 1g
Protein – 11g
Carbs – 21g
Sugars – 9g
Pomegranate Syrup
Recipe by Stephanie Izard
If you don't have pomegranate juice on hand, try orange, cranberry or acai berry juice instead. If the juice you're using is bitter (like black currant juice) use more sweetener or add some apple juice.
Ingredients:
1 cup 100% pomegranate juice
2 tablespoon honey or agave nectar
Directions:
In non-reactive sauce pan, reduce liquid over medium high heat until thickened. The sauce will still be thin, but delicious!