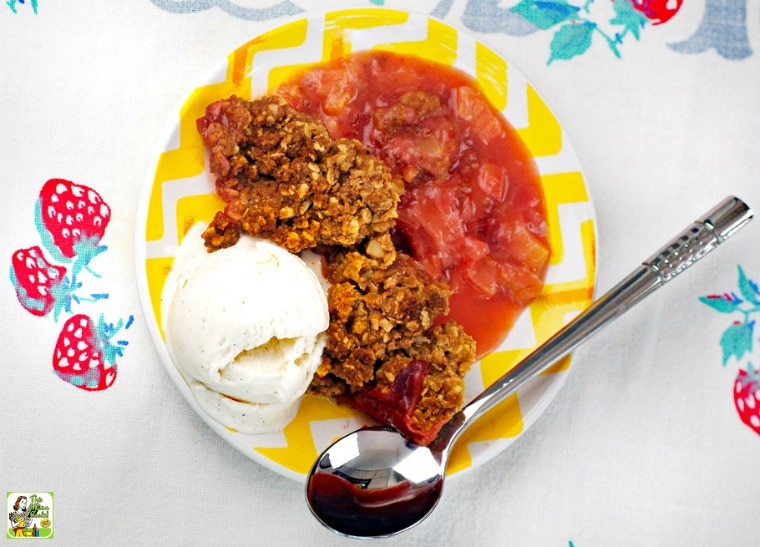 If you love baking rhubarb recipes for dessert, you must try this Rhubarb Crisp with Strawberries.
My rhubarb crisp recipe is based on a strawberry rhubarb crisp from Little Bit of Everything. I created this gluten free rhubarb crisp as part of a recipe challenge where we recreate other blogger's recipes. (With permission, of course!)
I love a good rhubarb crisp and remember having an amazing one at my sister's friends house. At the time, I was pregnant with my daughter, Lucie. I felt lousy and almost all foods grossed me out.
The rhubarb crisp served at my sister's baby shower was so good that another pregnant woman and I ate several bowls. It was life saving!
Ever since then, I've wanted to make a rhubarb crisp recipe. So when I saw the one from a Little Bit of Everything that Julie adapted from Food & Wine, I had to try it!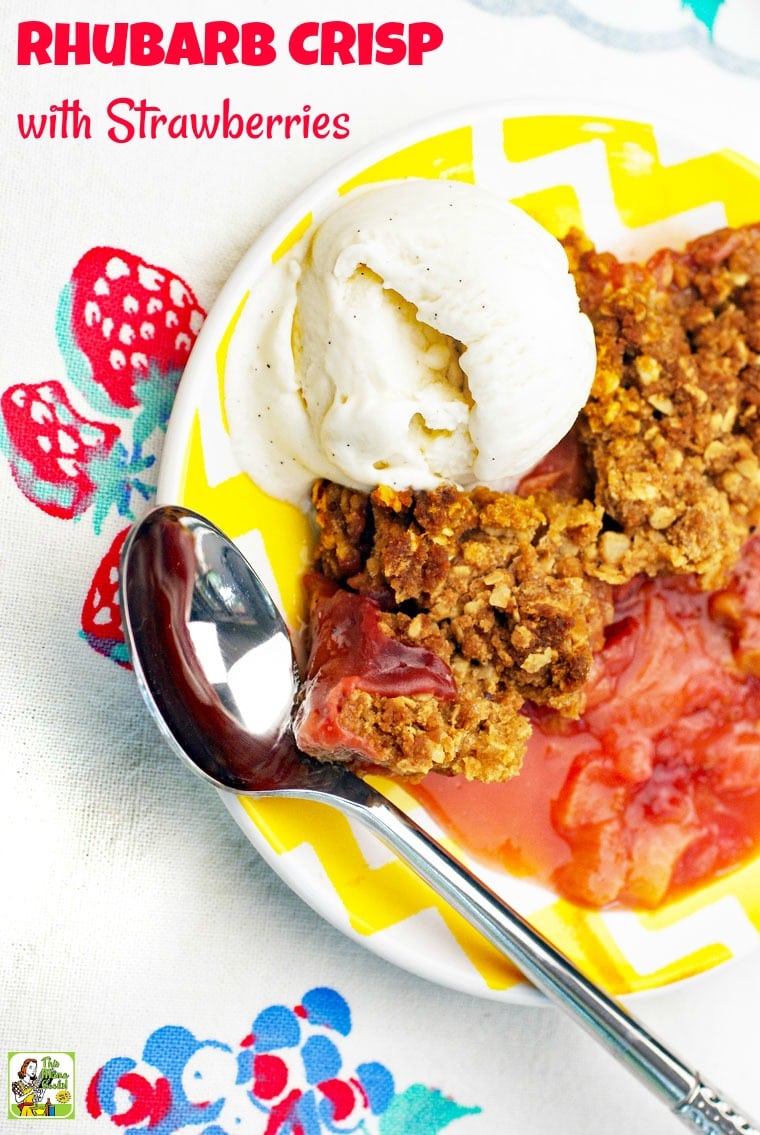 Making a gluten free rhubarb crisp with strawberries
Making the Rhubarb Crisp with Strawberries gluten free was easy to do.
First, I used an all purpose gluten free flour like Bob's Red Mill Gluten-Free 1-to-1 Baking Flour. I love this product because it cooks up just like regular flour.
Check out my Best Gluten Free Products List for more terrific gluten free baking products!
I also used gluten free quick cooking oats. While oats are naturally gluten free, not all oats are certified to be gluten free due to cross-contamination issues either in the growing fields, during shipping or while being processed. So check product labels!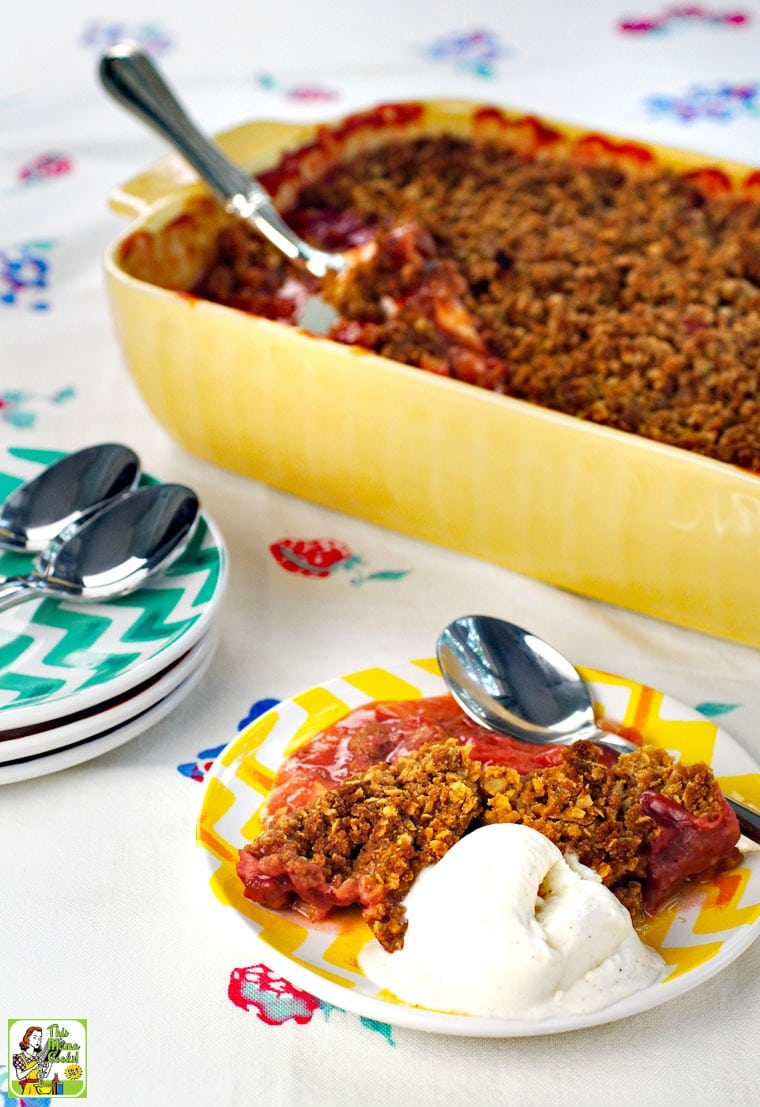 Making low sugar rhubarb crisp
Rhubarb can be bitter, which is why it's paired with sweet fruits like strawberries. And that's why rhubarb recipes feature oodles of sugar.
Wanting to cut back on the sugar, I added some pineapple. I just did it for fun since I had leftover pineapple from making pancakes that morning.
My kids supposedly hate pineapple, so after they raved how good the rhubarb crisp was, I'm told them it had pineapple in it. They were shocked!
(Honestly, what kind of child hates pineapple?)
I also used natural, no calorie Swerve Sweetener and molasses in the crisp instead of brown sugar.
However, you could use powered monk fruit sweetener instead of the Swerve. Or try Splenda Brown Sugar Blend instead of both. All are terrific products.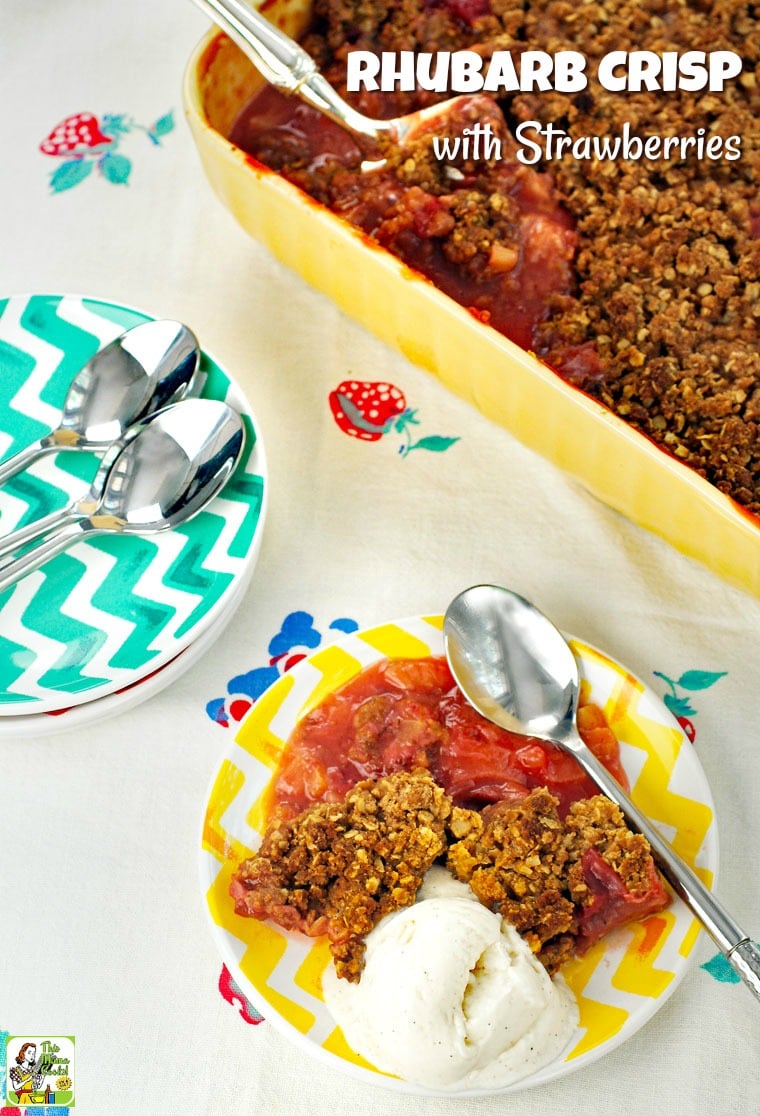 Making a dairy free strawberry rhubarb crisp recipe
To make the Strawberry Rhubarb Crisp dairy free, I used a dairy free or vegan buttery spread like Earth Balance.
Finally, you must serve the crisp warm with a scoop of vanilla ice cream. It elevates the dessert to the sublime. Serve it with a scoop of your favorite soy or coconut vanilla frozen "ice cream."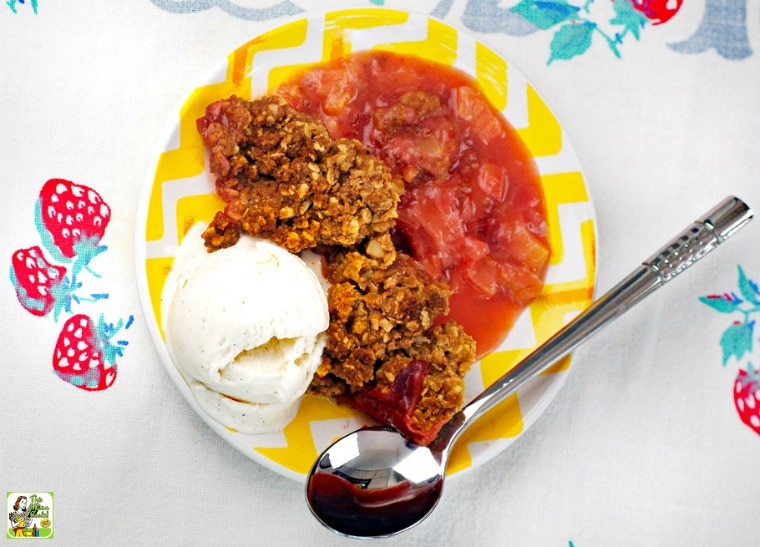 Rhubarb Crisp with Strawberries
Ingredients
For filling:
2 pounds

rhubarb stalks, sliced into 1/2 inch pieces

1/3 cup

crushed pineapple

1 1/4 cups

Swerve Sweetener, divided

1 pound

strawberries, hulled, quartered and cut into 1/2 inch pieces

3 tablespoons

cornstarch or rice starch

2 teaspoons

lemon juice

2 teaspoons

gluten free pure vanilla extract
For topping:
1/2 cup

buttery spread, softened

1 1/4 cups

Swerve Sweetener

1/4 cup

unsulfured molasses

1 1/2 cups

all-purpose gluten free flour

1 1/4 cups

quick-cooking gluten free oats

3 tablespoons

canola oil

1 1/2 teaspoons

cinnamon

1/2 teaspoon

nutmeg

1/2 teaspoon

salt
Directions
Preheat the oven to 375 degrees F.
For filling:
In a bowl, toss the rhubarb and pineapple with 3/4 cup of the Swerve Sweetener. Let stand for 15 minutes, stirring occasionally.
In a larger bowl, toss the strawberries with the remaining 1/2 Swerve Sweetener. Let stand for 10 minutes, stirring occasionally.
Using a slotted spoon, transfer the rhubarb and pineapple to the strawberry bowl. Discard any juice.
Add the cornstarch (or rice starch), lemon juice and vanilla to the fruit and stir well. Transfer fruit mixture to a 9-by-13-inch baking dish.
For topping:
Combine topping ingredients in a medium bowl. Using a pastry blender or your fingers, mix the ingredients together until large crumbs form.
Sprinkle the topping evenly over the filling. Do not pat down, but let topping rest loosely over fruit layer.
Bake for 30 minutes. Reduce the oven temperature to 325 degrees F and continue baking for 30 minutes longer or until the fruit filling is bubbling and the topping is nicely browned.
Remove from oven and let the crisp rest for 15 minutes before serving. Serve with vanilla ice cream.
Total Time:
1 Hour 30 Minutes
Serving size:

1/8 to 1/10 of recipe
Originally published on May 12, 2014. Updated with new pictures and information.