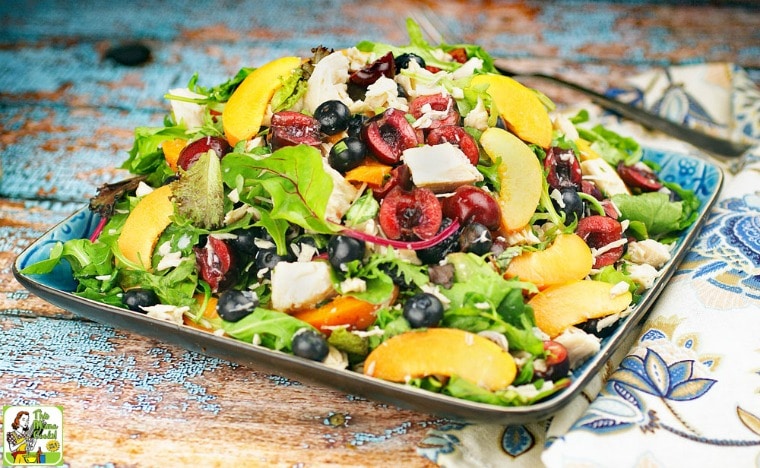 This Easy Mixed Green Salad with Chicken recipe helps you avoid turning on the grill or stove when it's too hot to cook. That's because you can use canned chicken that requires no cooking.
This salad recipe with chicken makes a satisfying weeknight meal that takes under 20 minutes to make. Plus, it's easy to prepare and uses seasonal fruits!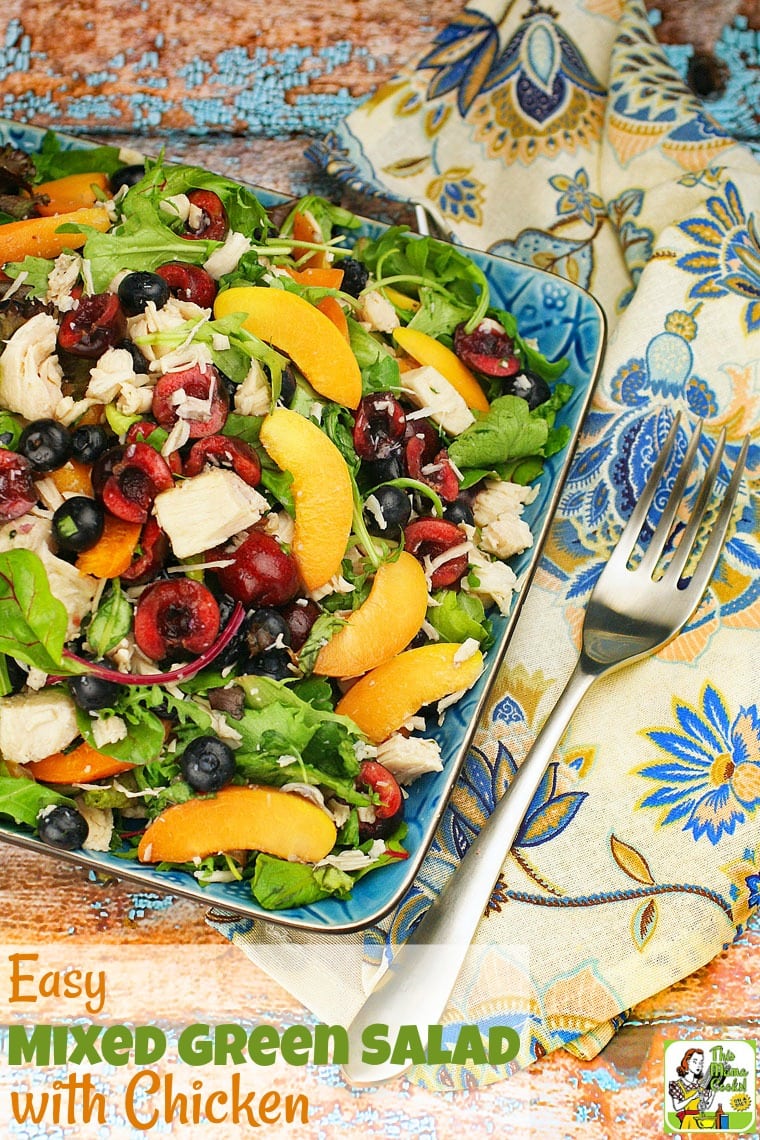 Mixed green salad with chicken is easy to make
Instead of grilling chicken breasts for this salad with chicken recipe, I avoid having to cook by using canned chicken breast. Since the chicken is packed in water, it's moist and tender. I find canned chicken breast just as tasty as rotisserie chicken.
Best of all, the canned chicken breast is super convenient since the cans are sitting in your pantry waiting to be turned into anything from soups and casseroles to healthy chicken salad recipes.
Sure you can use rotisserie chicken. But if you're like me and do your grocery shopping late at night or early in the morning, you'll find that rotisserie chickens aren't available. (Or sold out!)
This way, with canned chicken breast, you have a super convenient option that requires no cooking.
Going seasonal with a mixed greens salad
This Easy Mixed Green Salad with Chicken uses some of my favorite fruits such as apricots and cherries. You can try a different combination if you wish depending on the season and what's on sale at your grocery store.
Another delicious combination could be strawberries, raspberries and peaches.
In this mixed greens salad recipe, try using different varieties of lettuce. I chose spring lettuce, baby kale, and a little arugula. Baby spinach or chopped romaine would also work well.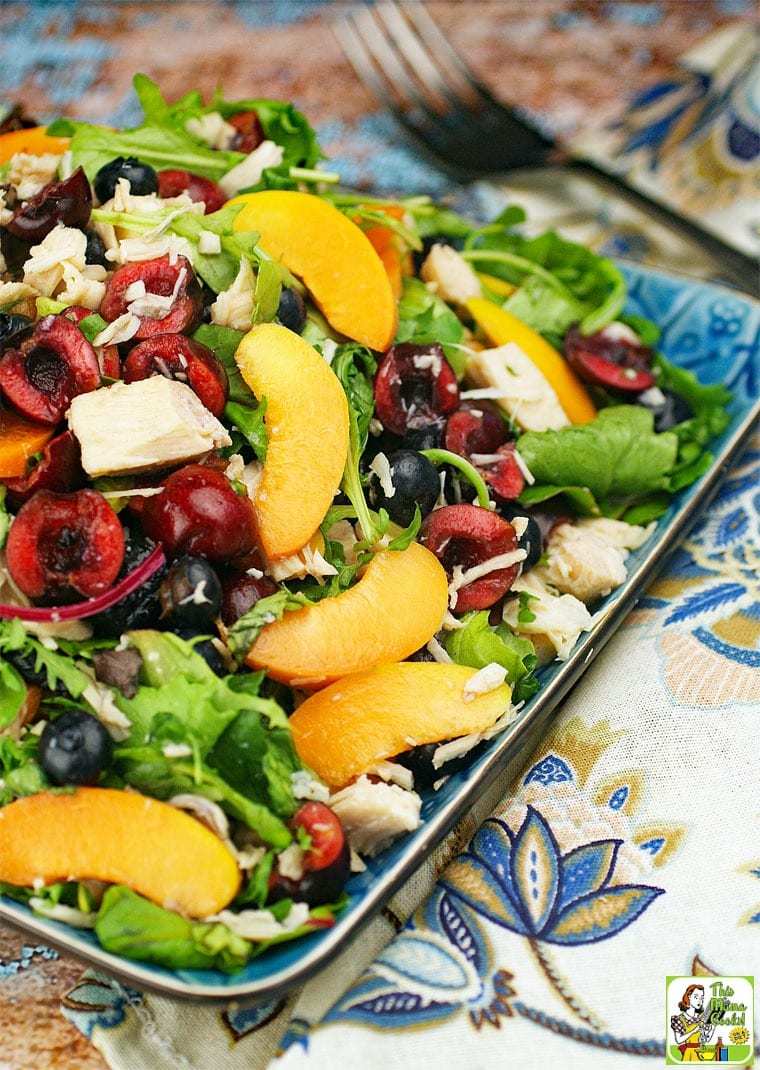 Serving up a yummy salad recipe with chicken
You can put a variety of dressings on your mixed green salad recipes. I tried Green Goddess and my husband ate his with Catalina. (We love our classic '70s salad dressings!)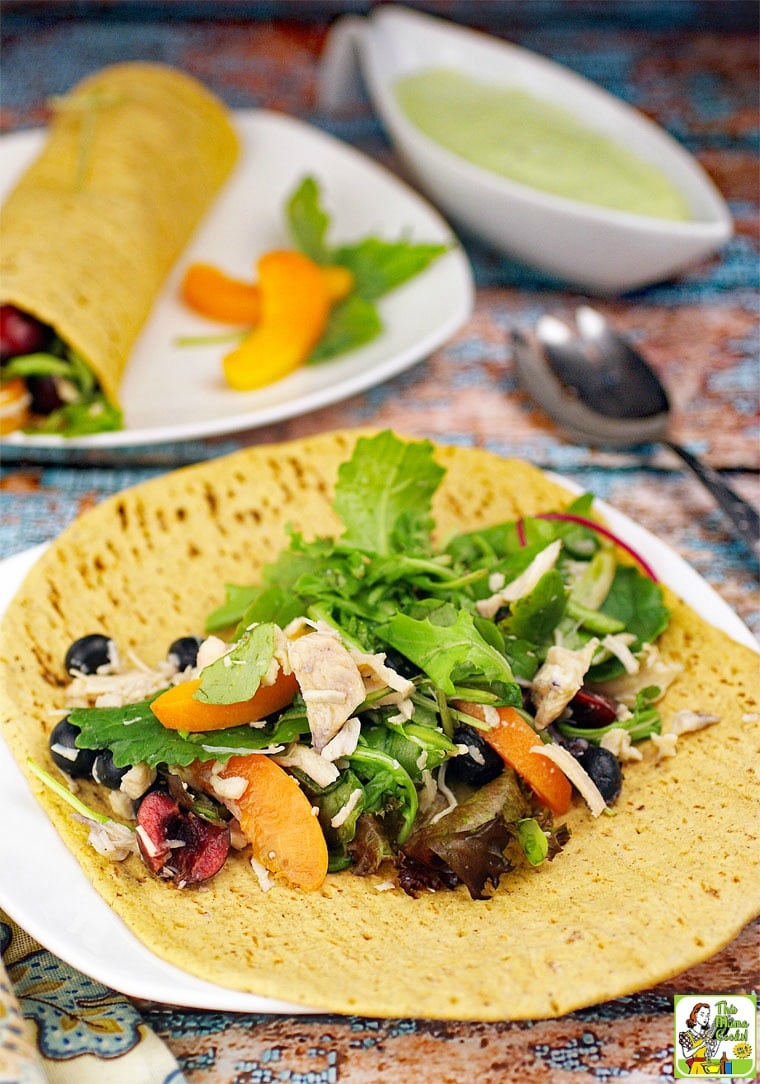 Leftover Easy Mixed Green Salad with Chicken can be rolled into sandwich wraps or pita pockets the next day for lunch.
(I made sure that the recipe below gives you plenty of leftovers for lunch!)
Add a little salad dressing or mayonnaise, if you like.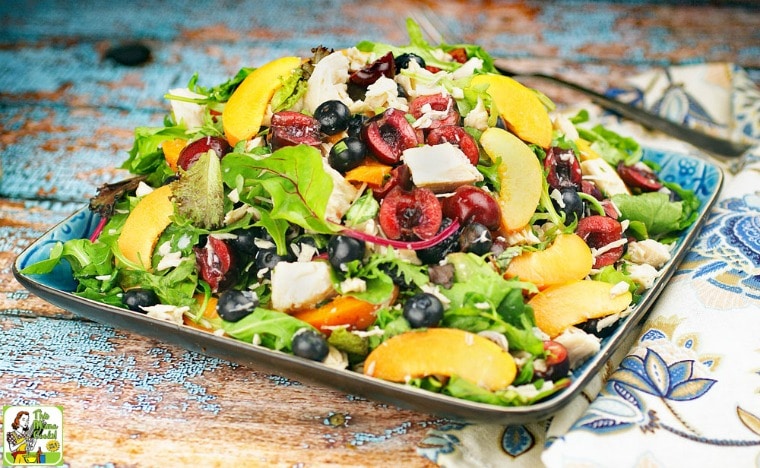 Easy Mixed Green Salad with Chicken Recipe
Ingredients
3 (5 ounce) tubs

baby lettuce greens mixes

3 (10 ounce) cans

canned chicken breast, drained

1 pint

blueberries

2 cups

Bing cherries, pitted and cut in half

3

apricots, pitted and cut into thin slices

Salad dressing for serving (optional)
Directions
Place lettuce greens in a large bowl. Put remaining ingredients (except for salad dressing) in bowl and gently toss.
Serve the easy mixed green salad with chicken recipe with dressing, if desired.
Servings
:
Serves 4 to 6 with leftovers
Serving size:

1/4 to 1/6 of recipe with leftovers
Originally published on July 20, 2015 and May 10, 2017. Updated with new pictures and information.