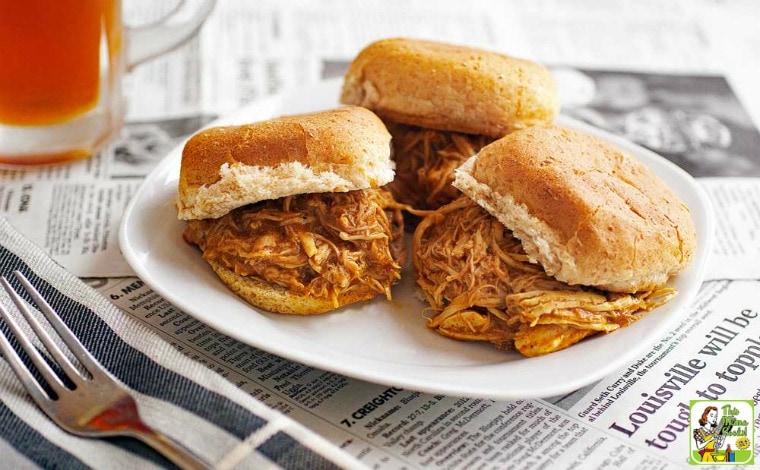 You'll love making these Slow Cooker Buffalo Chicken Sliders the next time you have friends over to watch sports on TV. It's also a terrific dish to bring to potlucks or backyard barbecues!
These buffalo chicken sliders take only 20 minutes to put together. If you start them after breakfast, cook them on high. That way you'll have them ready by the early afternoon for prime TV sports viewing!
Making these buffalo chicken sliders in a crock-pot is a breeze to clean up, too, especially if you use a slow cooker liner!
Stock up on slow cooker liners on Amazon at a great price!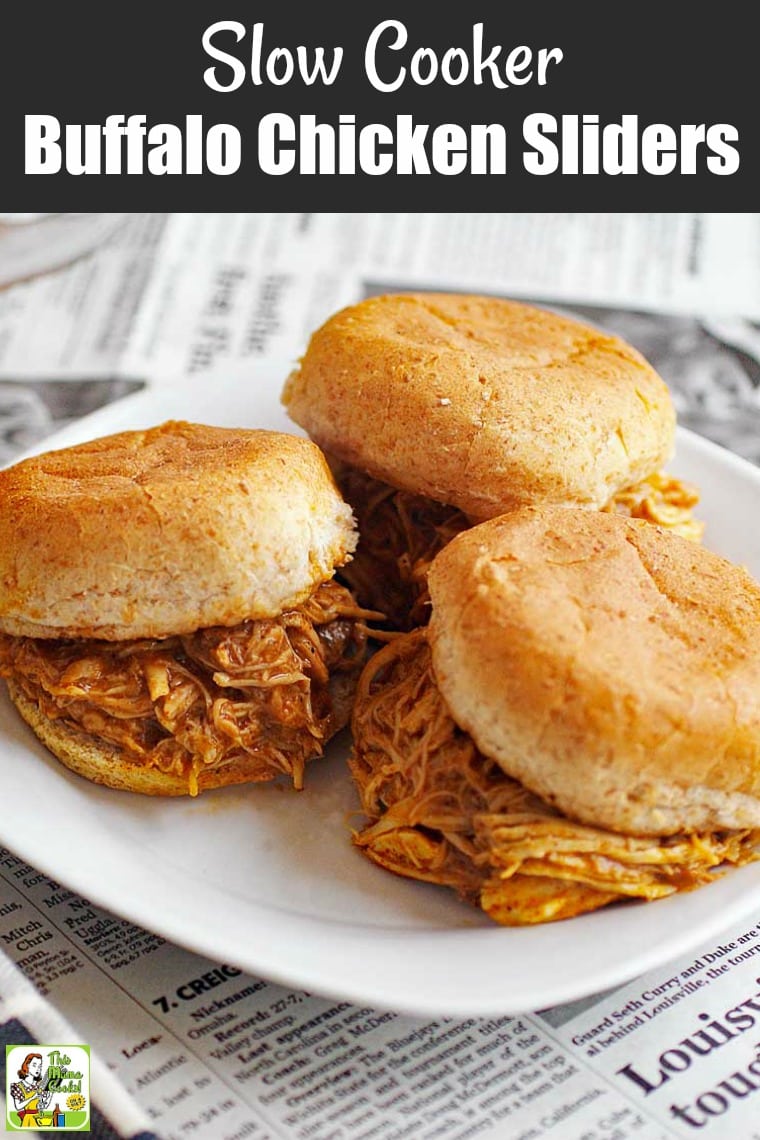 Healthing up this easy buffalo chicken recipe!
I've made my Slow Cooker Buffalo Chicken Sliders guilt free unlike a lot of other buffalo-flavored foods. (Hello, buffalo chicken wings!)
That's because these shredded buffalo chicken sliders a combination of thigh and white chicken meat.
I also made a homemade buffalo sauce so you can control what's in the sauce (no scary ingredients) like using stevia or powdered monk fruit sweetener instead of sugar.
Finally, I suggest using whole wheat slider buns instead of white. Personally, I think whole wheat tastes better. Don't you agree?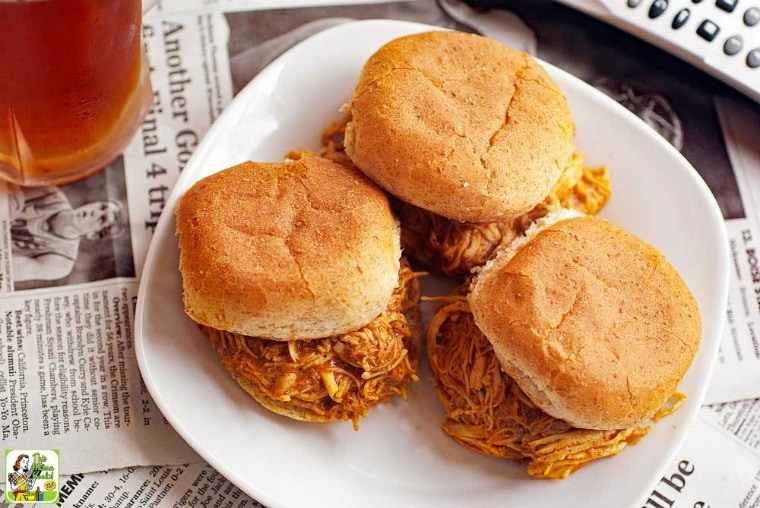 Making slow cooker buffalo chicken gluten free
This buffalo chicken recipe is naturally gluten free as long as you make sure the ranch dressing mix you're using is gluten free. Hidden Valley Original Ranch Salad Dressing & Seasoning Mix and Simply Organic Ranch Dip Mix are both gluten free.
For your gluten free guests, use GF hamburger buns. They're a little larger than slider buns, but will work just fine.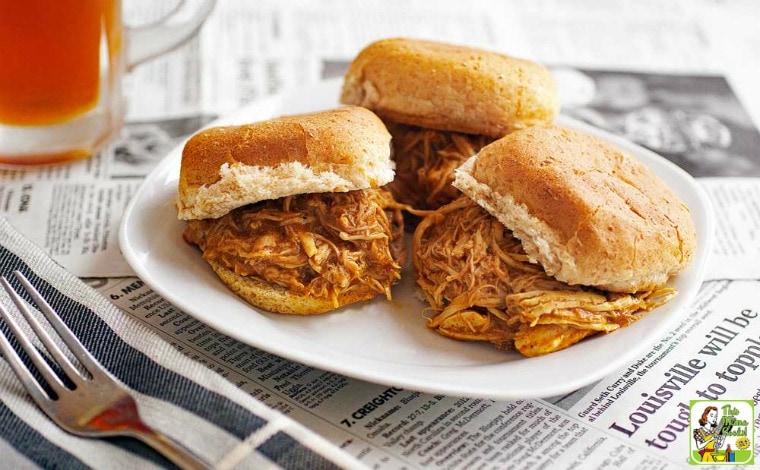 Slow Cooker Buffalo Chicken Sliders
Ingredients
1/2 cup plus 2 tablespoons

chicken broth, divided

1/2

large onion, minced

1/2 tablespoon

minced garlic

1/2 cup

rice vinegar

1 tablespoon

chili powder

1/2 teaspoon

smoked paprika

2 teaspoons

paprika

1 teaspoon

cayenne powder

1/2 teaspoon

salt

1 teaspoon

stevia

1/2 teaspoon

ground black pepper

1 tablespoon plus 1 teaspoon

canola oil

1 (1 ounce) packet

ranch seasoning mix

1 1/2 pounds

chicken breast meat

1 1/2 pounds

chicken thigh meat

2 tablespoons

corn or rice starch

2 packages

slider buns (24 buns) or gluten free hamburger buns
Directions
Place 2 tablespoons of chicken broth, onions and garlic in a sauté pan. Cook over medium high heat until golden, about 5 to 7 minutes, stirring frequently and until liquid is gone.
Add vinegar, spices, stevia, salt, and oil to sauté pan. Cook until spices blend, about 2 to 3 minutes.
Add broth and stir until combined. Remove from heat.
Place contents of ranch seasoning mix into slow cooker.
Add chicken meat. Stir thoroughly so chicken is covered.
Place lid on slow cooker and set on high for 4 hours or until chicken is cooked through.
Shred chicken with two forks and stir so chicken is covered in sauce.
In a small bowl, combine 2 tablespoons of sauce from the slow cooker with the corn starch. Mix until combined.
Add the corn starch mixture to the chicken in the slow cooker. Stir occasionally until sauce has thickened.
Serve shredded chicken on slider buns. Enjoy!
Total Time:
4 Hours 30 Minutes
Servings
:
Makes 24 sliders
Originally published on March 28, 2013. Updated with new pictures and information.