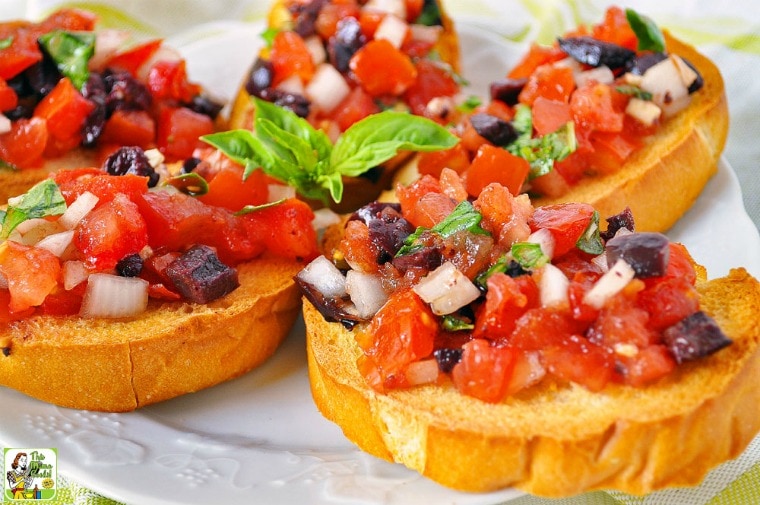 This recipe for delicious Tomato Bruschetta Appetizer comes from my frequent contributor, Holly Clegg's cookbook, Too Hot in the Kitchen.
If you love to visit your local farmer's market, you'll have many of the the ingredients at your finger tips to put together this easy to make party appetizer.
You can find more of Holly Clegg's trim& TERRIFIC® recipes at The Healthy Cooking Blog.
Check out Holly's trim & TERRIFIC™ cookbooks on Amazon, too!
Update on Holly: Holly was diagnosed with gastric cancer in 2018. For the latest on Holly's health, see her Instagram page.
You can learn more about Holly's Cancer Journey and donate to the Holly Clegg Gastric Cancer Research Fund at MD Anderson Cancer Center on her behalf.
Garden fresh tomato bruschetta appetizer
Nothing says the start of warmer weather like fresh vegetables. If you are lucky enough to have fresh veggies growing in your own yard, I commend you!
Personally, I prefer to visit produce stands bountiful with local and seasonal selections.
Every get-together needs an appetizer to appease hungry guests, and in my family, summer wouldn't be complete without Tomato Bruschetta Appetizer from the Lovin' No Oven Chapter in my Too Hot in the Kitchen cookbook.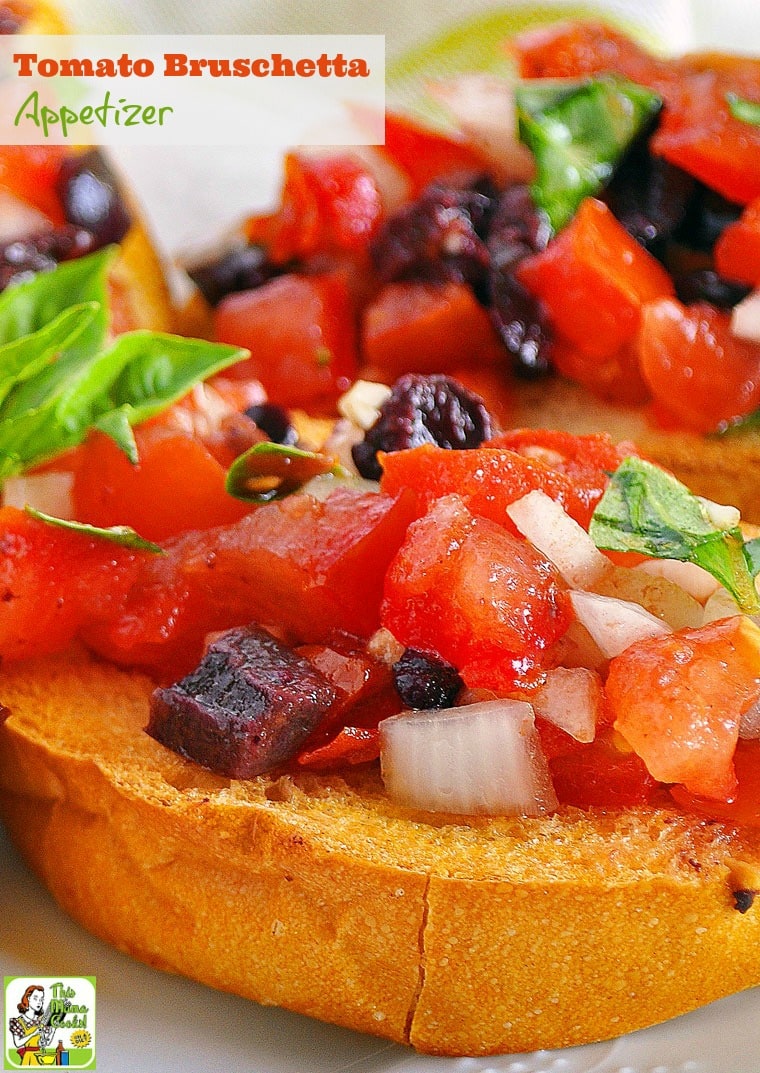 This tomato bruschetta recipe just cannot be beat, especially with home-grown tomatoes and fresh basil – and I can grow that!
Although this tomato appetizer recipe has been around for years, no one gets tired of it.
This fresh classic is a cinch to throw together – just chop, toss and spoon it on crusty bread.
It's also easily doubled or tripled so you won't have to stress about feeding a crowd.
Those bright red tomatoes get their color from lycopene, the powerhouse antioxidant proven to reduce the risk of certain cancers.
This Mama's tips for making this easy tomato bruschetta recipe
While Holly makes her easy tomato bruschetta recipe on French bread, you can easily make this gluten free by using a gluten free bread – just toast it first.
Or serve it as a dip with gluten free crackers at your next party or for the kids after school or for the family while you cook dinner. Yum!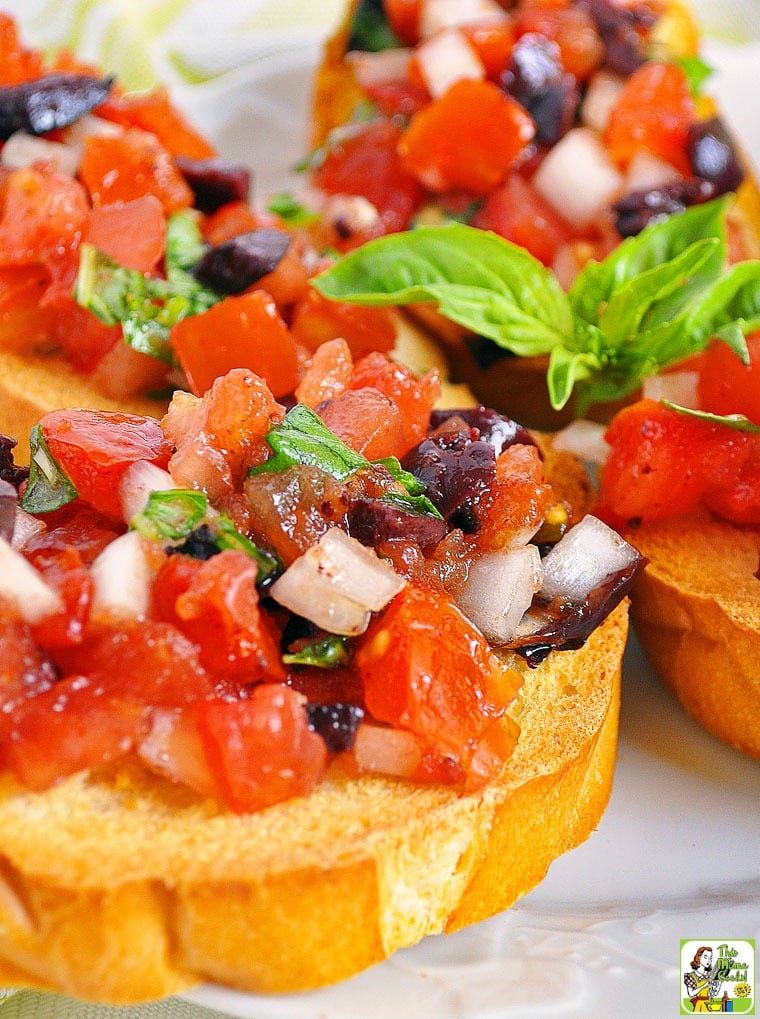 Save time when making this easy tomato bruschetta appetizer by buying already chopped Kalamata olives sold by the jar. Or find Kalamata olives at the olive bar in your grocery store.
To seed the tomatoes for the bruschetta topping, cut them in half from side to side. Then gently squeeze the tomato so seeds easily pop out.
You can use balsamic vinegar or balsamic glaze. Both would be delicious on this Tomato Bruschetta Appetizer.
More awesome recipes from Holly Clegg
● Southwestern Sweet Potato Salad
● Ultimate Double Chocolate Brownies Recipe
● Watermelon and Cantaloupe Salad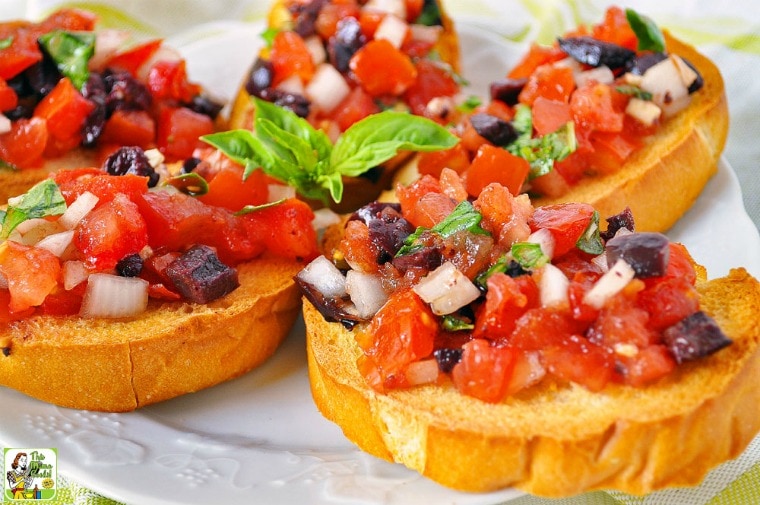 Tomato Bruschetta Appetizer
Ingredients
1 loaf

French bread

Garlic cloves or minced garlic

1 1/2 cups

finely chopped tomatoes (about 1 1/2 pounds, seeded)

1/4 cup

chopped Kalamata olives

1/4 cup

chopped onion

2 teaspoons

olive oil

1 teaspoon

balsamic vinegar or balsamic glaze

5-6

fresh basil leaves, chopped or 1 teaspoon dried basil leaves
Directions
Preheat oven 450°F. Slice French bread into thin slices and bake about 10 minutes or until crispy. Remove from oven and rub garlic clove across top.
In bowl, combine all remaining ingredients. When ready to serve, top toasted bread.
Servings
:
Makes 16 servings
Serving size:

1 piece of bread with 2 tablespoons topping

Calories:

97

Calories from Fat:

16 (16%)

Total Fat:

2g

Saturated fat:

0g

Unsaturated fat:

2g

Sodium:

221mg

Total Carbohydrates:

17g

Sugar:

1g

Fiber:

1g

Protein:

4g

Cholesterol:

0mg
Dietary Exchanges: 1 starch
Picture and recipe used with permission of author.
Originally published on July 16, 2015.