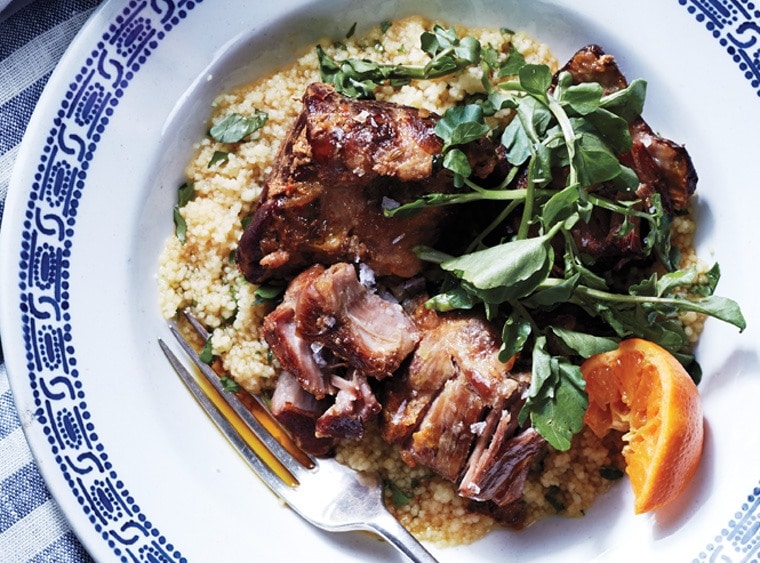 With back to school activities in full swing, it's time for quick and easy slow cooker meals. This one for Slow Cooker Marmalade & Vinegar Pork comes from the September issue of Martha Stewart Living. What I love about this slow cooker dinner recipe is that it only takes 20 minutes to prepare. You can do this in the morning before you go to work.
If that's too much time out of your morning routine, you can prepare the pork in the crock and the braising liquid in a bowl the night before. Put everything in the refrigerator overnight. In the morning, pour the braising liquid over the seasoned pork, put the slow cooker on low, and when you come back from work, your Slow Cooker Marmalade & Vinegar Pork will be ready!
To remind yourself to get everything going in the morning, leave your empty slow cooker on the kitchen table or next to the coffee pot. Yes, I've left the house totally forgetting to put the crock in the cooker and get my slow cooker dinner going. Doh!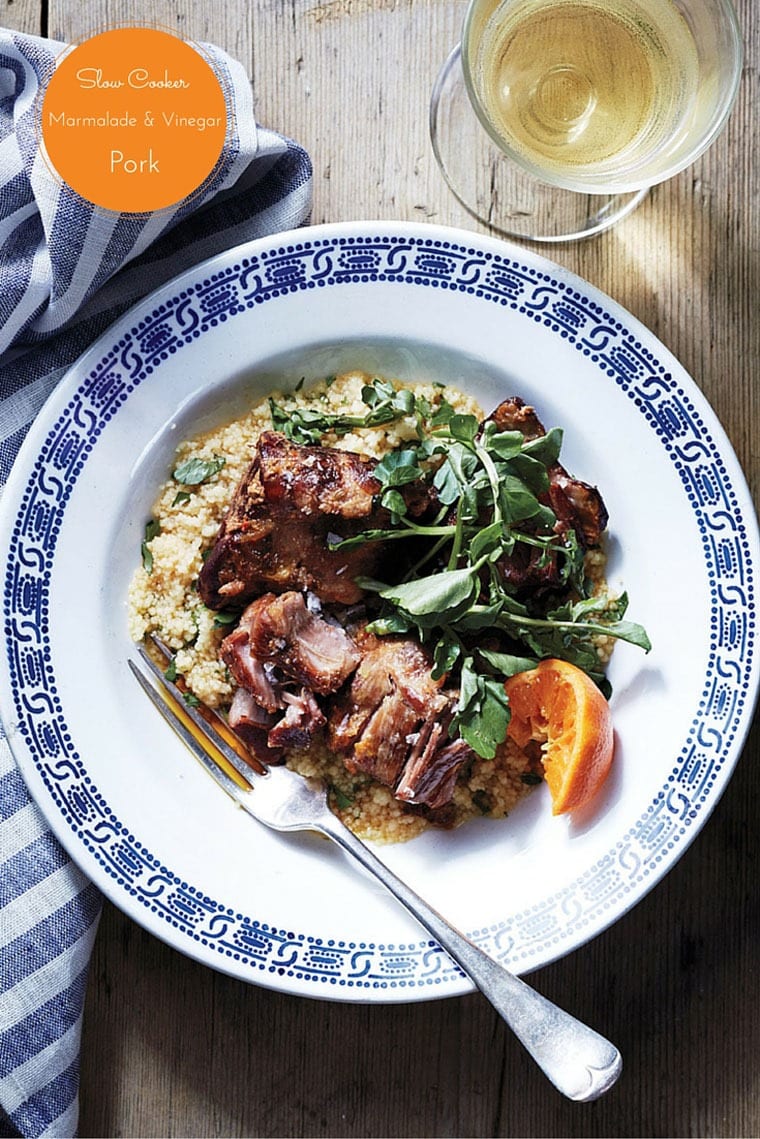 You can serve this over couscous and watercress, as shown. Or if you're gluten free, quinoa, rice or polenta is a smart substitute. If you're making quinoa, use some of the braising liquid from the slow cooker in your cooking liquid. You could also use orange juice, which would compliment the flavor of the marmalade used in the Slow Cooker Marmalade & Vinegar Pork recipe.
On the Martha Stewart Living website, there's a video demonstration of this slow cooker dinner recipe. Pay close attention to how the Slow Cooker Marmalade & Vinegar Pork is plated. I love how he squeezes some fresh oranges wedges over the pork. Such a delicious idea!
More slow cooker and easy dinner recipe ideas from Martha Stewart Living
If you're a fan of slow cooker meals like Slow Cooker Marmalade & Vinegar Pork, you should check out Martha Stewart's cookbook, One Pot: 120+ Easy Meals from Your Skillet, Slow Cooker, Stockpot, and More. It features many wonderful slow cooker dinner recipes.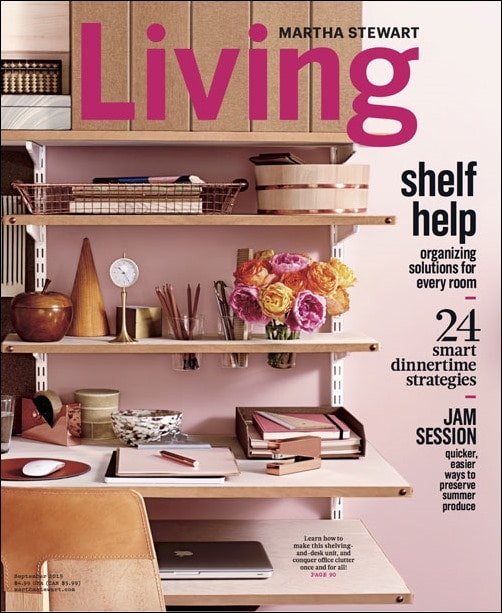 If you're looking for more dinner time recipes, the September issue of Martha Stewart Living features 24 smart dinner time strategies. Slow Cooker Marmalade & Vinegar Pork is for the "hands-off cook." There are also strategies for the "smart shopper," the "freezer cook," and the "early bird."
I have to try their recipe for Cuban Skirt Steak and Vegetables for the Smart Shopper. You see I just bought several skirt steaks on the manager's special to make carne asada, but the Cuban Steak recipe looks amazing, too!
So what's your go to slow cooker dinner recipe?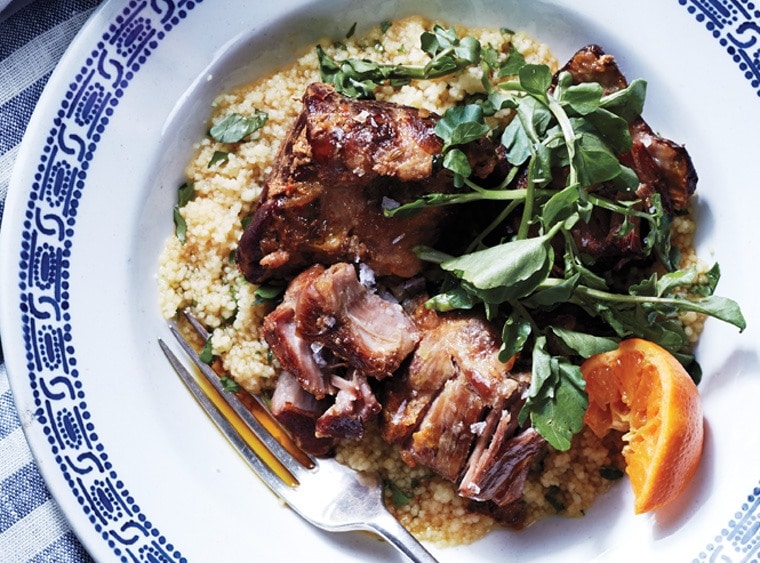 Slow Cooker Marmalade & Vinegar Pork
Ingredients
4 1/2 pounds

pork shoulder, excess fat trimmed, cut into 2-inch pieces

Coarse salt

1 teaspoon

fennel seeds, toasted

1/2 teaspoon

red pepper flakes

3/4 cup

orange marmalade

1/4 cup

red wine vinegar

1 sprig

rosemary

4 cloves

garlic, peeled and smashed

2 cups

uncooked couscous

2 teaspoons

extra virgin olive oil

2 cups

boiling water

1 bunch

watercress, tough stems removed, 1/2 cup finely chopped, the rest left in whole sprigs, for serving

Flaky sea salt for serving

1

small orange, cut into wedges, for serving
Directions
Very generously season pork with coarse salt and place in a 5- to 6-quart slow cooker. In a small bowl, mix together fennel seeds, red-pepper flakes, marmalade, vinegar, rosemary, and garlic; pour over pork. Cover and cook on low until meat is pull-apart tender, about 8 hours.
Meanwhile, combine couscous, 1/2 teaspoon coarse salt, and oil in a bowl; add boiling water. Stir, cover, and let stand 10 minutes. Fluff with a fork; stir in chopped watercress.
Transfer pork to a large bowl with a slotted spoon. Strain sauce through a fine sieve, discarding solids. Skim fat from surface of sauce.
Spoon pork and sauce over couscous in serving bowls. Sprinkle flaky salt over pork, and top with watercress sprigs. Squeeze orange wedges over dish and serve immediately.
Total Time:
8 Hours 20 Minutes
Serving size:

1/8 of recipes
Photograph by Anna Williams. Recipe and photography used with permission.