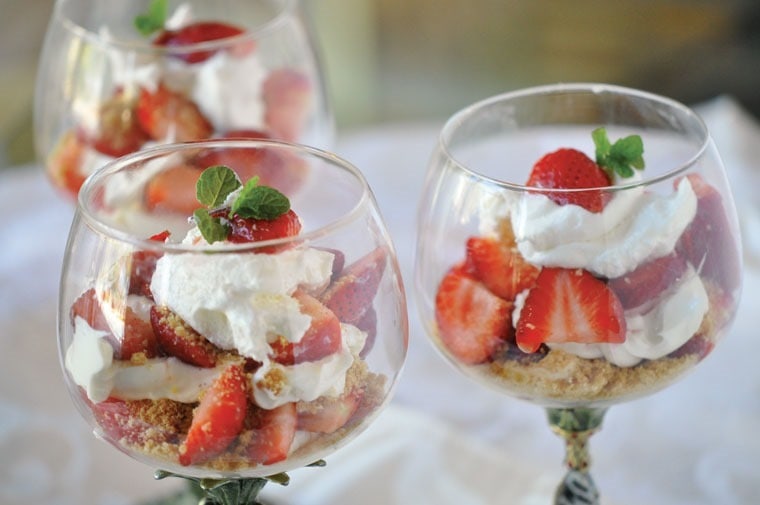 It's spring break for our family, so we've been keeping the kids busy with projects around the house and yard. Lucie's doing some spring cleaning of her closets and Nathan's working on planting our garden. Last weekend, Paul and I went to Home Depot, and we picked out tomato plants, dill, several types of basil, and lemon thyme along with some flowers for the planters. I was out in the side yard and saw the mint has wandered over there, and our rosemary and chives are coming back after last summer's disastrous rains that killed off so many of our plants, like my sage plant that survived moves from Chicago and Colorado.
My friend, Holly Clegg just emailed me a perfect dessert recipe for this time of year – Strawberry Cheesecake Parfaits, from her trim&TERRIFIC KITCHEN 101: Secrets to Cooking Confidence [affiliate code] cookbook. Perfect after a hard days work on the yard or cleaning out the closets!
If you have food sensitivities, it's easy to make a few food substitutions from Holly's original healthy berry parfait recipe:
stevia or Swerve Sweetener for the sugar
tofu cream cheese for the reduced-fat cream cheese if you're vegan or dairy free
Swerve Sweetener's confectioner's sugar [affiliate link] instead of traditional confectioner's sugar
vanilla extract instead of almond extract if you're nut free – make sure the extract is gluten free if that's an issue
non-dairy whipped topping for nonfat whipped topping if you're vegan or dairy free
gluten free graham cracker crumbs or any sort of gluten free cookie crumbs for regular graham cracker crumbs
You can find more of Holly's trim& TERRIFIC® recipes at hollyclegg.com and The Healthy Cooking Blog.
In season sensational!
I love this time of year because that means local produce is bountiful – especially the strawberries! Produce stands are bursting with local seasonal selections. I like to support our local farmers and you also get the best price and quality because it doesn't have to travel far to get to your plate. As delicious as they are picture-perfect, these Strawberry Cheesecake Parfaits are the perfect way to enjoy a creamy, berrilicious treat – no cooking required! Any time a recipe calls for yogurt or Greek yogurt, either is fine. I like Greek yogurt as it is a richer, creamier and thicker yogurt, especially in this dessert, but make sure to get vanilla flavor. Best of all, strawberries are one of the top ranking antioxidant-containing foods and research shows they may also help improve and stabilize blood sugar.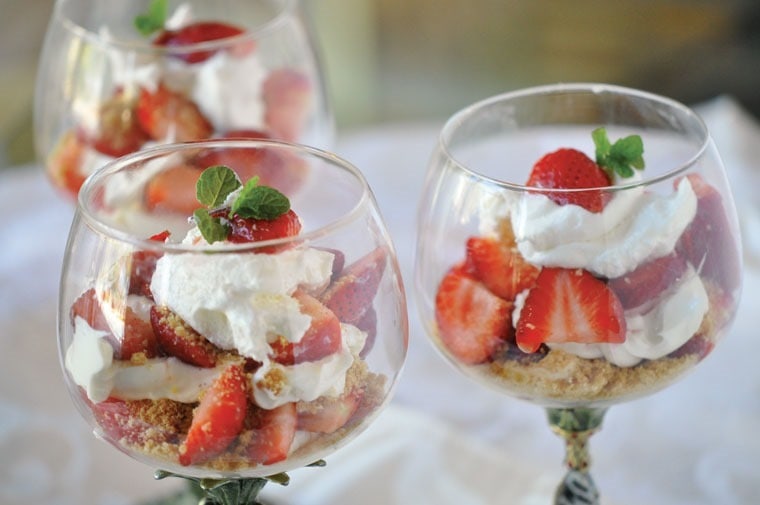 Healthy Strawberry Cheesecake Parfaits
A fabulous no-cook dessert! This berry and cheesecake combination creates an explosion of flavor for cheesecake fans. Any berries or a combination may be used.
Ingredients
1 pound

strawberries, stemmed and sliced

1 tablespoon

sugar

1 (8-ounce) container

reduced-fat cream cheese

1/2 cup

plain or vanilla nonfat Greek yogurt

1/2 cup

confectioners' sugar

1 teaspoon

almond extract

1 1/2 cups

frozen nonfat whipped topping, thawed, divided

2/3 cup

graham cracker crumbs

Mint, garnish, optional
Directions
In bowl, sprinkle strawberries with sugar, toss and set aside.
In mixing bowl, beat cream cheese, yogurt, confectioners sugar and almond extract until smooth. Fold in 1/2 cup whipped topping.
To assemble parfaits, in small dish or glass, layer graham cracker crumbs, cream cheese filling, and strawberries. Repeat layers if small enough dish and end with dollop of whipped topping. Garnish with mint, if desired.
Servings
:
Makes 8 parfaits
Serving size:

1 parfait

Calories:

188

Calories from Fat:

64 (34%)

Total Fat:

7g

Saturated fat:

4g

Unsaturated fat:

3g

Sodium:

170mg

Total Carbohydrates:

25g

Sugar:

17g

Fiber:

1g

Protein:

6g

Cholesterol:

20mg
Dietary Exchanges: 1 1/2 other carbohydrate, 1 lean meat, 1 fat
Photograph used with permission.