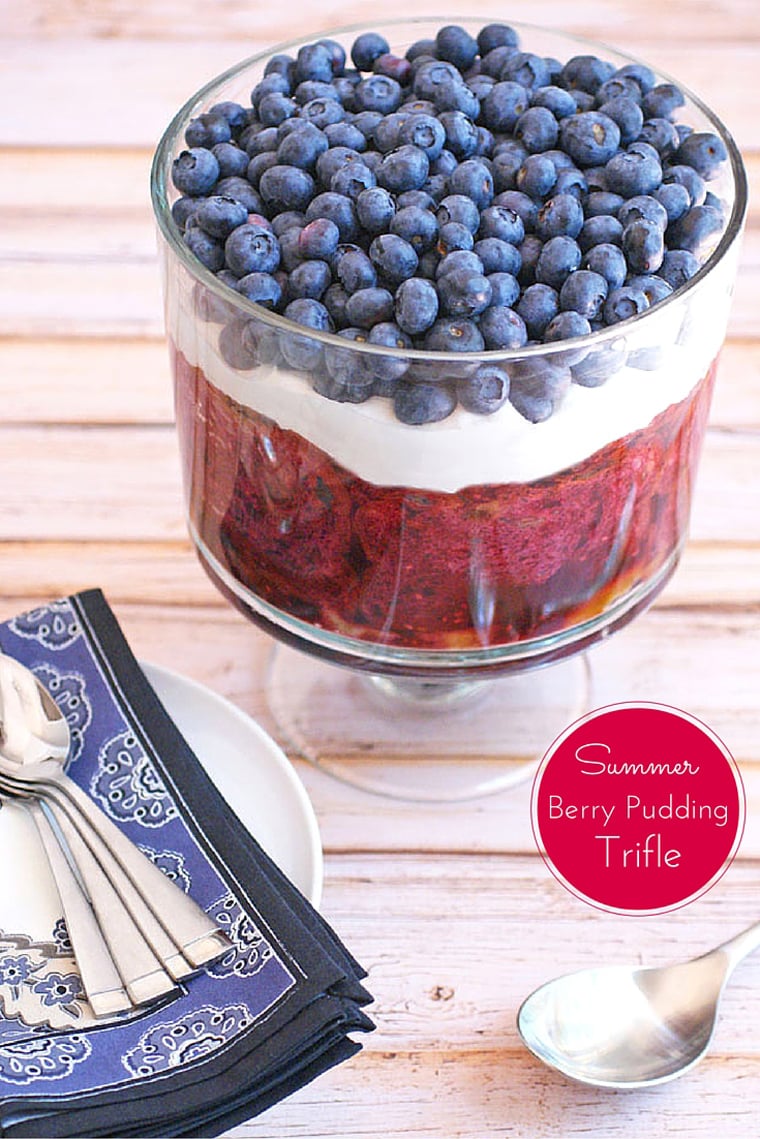 Whenever I have a chance, I turn into ABC's The Chew for a little foodie inspiration. It's one of my favorite cooking shows since it's informative and fun. 
Since I wanted to make something special for summer entertaining, I took Carla's Summer Berry Pudding and turned it into a Summer Berry Pudding Trifle so I could include a blue and white layer to match the red one.
Due to my food sensitivities, I also made it gluten free, used stevia and coconut palm sugar instead of white cane sugar, and used a non-dairy whipped topping instead of regular whipped cream. You can use regular bread and regular whip cream if you don't have any food sensitivities, of course.
The topping I used on my Summer Berry Pudding Trifle is Trader's Joe's House Whip. It has a tiny bit of milk in it that I can tolerate. If you have to stay away for even small amounts of milk, you may want to skip the whipped topping altogether. Instead, you can make whipped cream from coconut milk.  Another idea for the white layer would be vanilla coconut ice cream, vanilla soy yogurt or a layer of vanilla or lemon sorbet.
What I especially like about this Summer Berry Pudding Trifle, aside from the cool presentation, is that if you have a trifle bowl with a lid, it's very portable and easy to bring to parties and picnics! If there are any leftovers, it's easy to store them right in the bowl, too!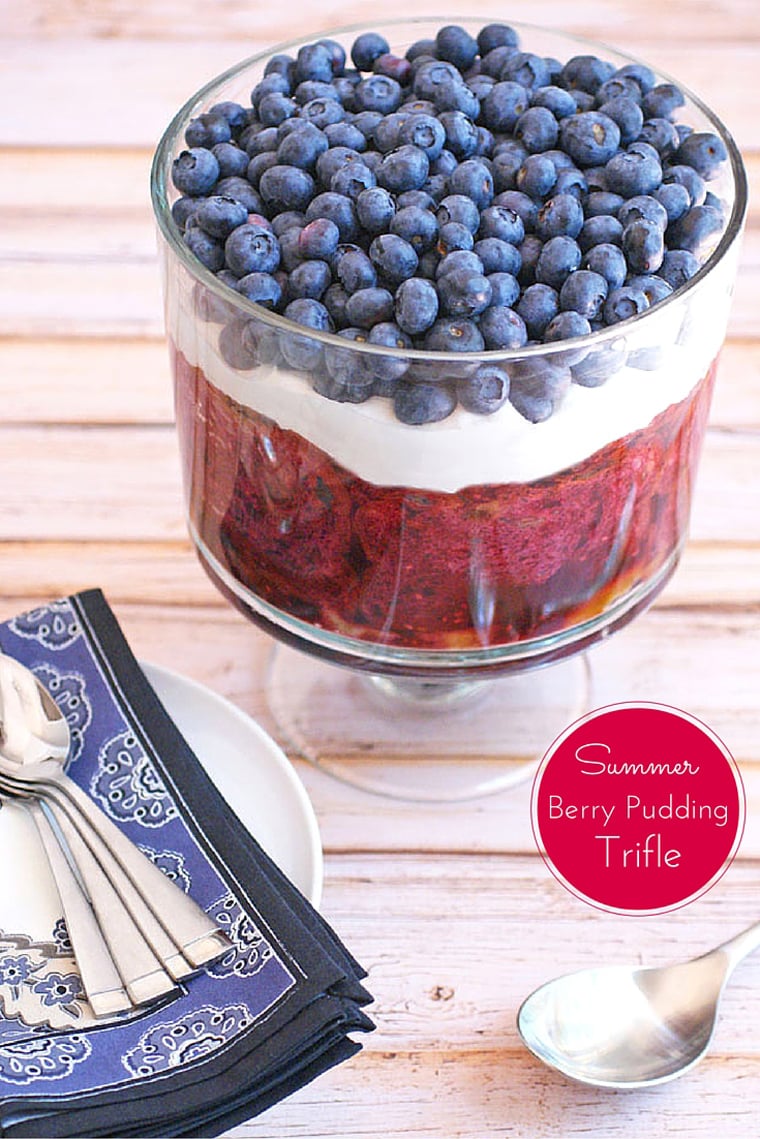 Ingredients
1

loaf of gluten free raisin bread

1 cup

low sugar apricot preserves

2 cups

raspberries

2 cups

blackberries

4 cups

blueberries, divided

2 tablespoons

lemon juice

2 tablespoons

coconut palm sugar (or brown sugar)

2 tablespoons

powdered stevia (I like Stevia Extract in the Raw.)

1 (10 ounce) tub

non-dairy whipped topping
Directions
Spread the apricot preserves on one side of each of the slices of bread.
Line the trifle bowl with the slices of bread, jam side in. If needed, cut bread into smaller pieces to make a solid wall. Leave a few inches at the top for whipped topping and blueberry layers. Reserve a few slices of the bread to use as the top layer.
Combine the raspberries, blackberries and 2 cups blueberries in a saucepot over medium heat with lemon juice, palm sugar, and stevia. Cook until the berries begin to burst, about 5 minutes, then remove from heat.
Pour the berry mixture into the well in the bread-lined trifle bowl. Cover the top with the reserved slices of the bread.
Place a layer of plastic wrap over the top of the cooked berries and bread layer. Place a few plates on top to weigh it down. Place in refrigerator and chill overnight.
Add a layer of whipped topping. Then carefully add the remaining 2 cups of blueberries.
Spoon trifle into small bowls and serve.
Prep Time:
12 Hours 30 Minutes
Total Time:
12 Hours 40 Minutes