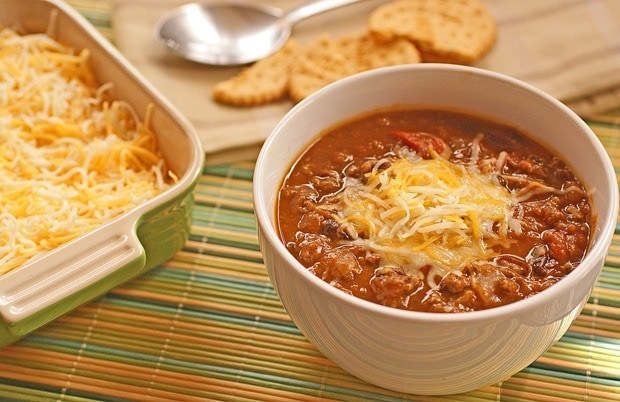 For this month's Secret Recipe Club assignment, I was partnered with Alison of Sweet Flours. As you can guess by her blog's name, Alison blogs about sweet treats and baked goods. Luckily, for this healthy, gluten free blogger, she also makes savory dishes like chili. I was so enticed by her recent post, slow cooker easy pesto meatballs, that I wondered if she had any other slow cooker recipes. Luckily for me she did - slow cooker pumpkin and bean chili.
Want to join the Secret Recipe Club? You can sign up here.
Apartment cooking for three
I was incredibly grateful that this month's Secret Recipe Club assignment would be an easy-to-make slow cooker chili recipe. You see, I sold my home last month and the kids and I are living in a furnished apartment in Boulder, Colorado to see out the school year. Then we move to Athens, Georgia where my husband will start work next month. It's been stressful and I needed to make some comfort food!
Also, while I did pack a few pans, knives and kitchen gadgets to take with me, our apartment kitchen is small and stocked with only the basics. Knowing this, one of the things I made sure to take with us was my  red, four quart Crock-Pot. Unfortunately, I dropped it when I was unloading the truck and it now bears a huge dent. It's no longer pretty, but it still works, thank goodness.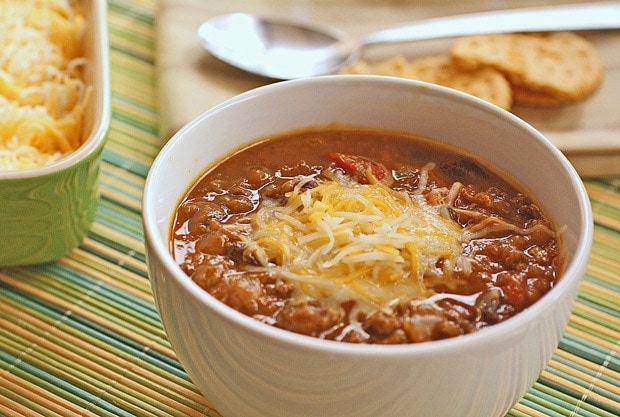 Chili substitutions
I also chose this recipe because it used canned pumpkin puree. I love the idea of using pumpkin year round as it's so healthy – full of fiber, Vitamin C, Vitamin A, carotenoids, potassium and zinc. Add it to a chili with a lean meat, high fiber beans, chopped tomatoes, and you have a super healthy dish. I also healthed up Alison's recipe by substituting ground beef for ground venison. You can also use ground turkey or chicken. If you want to use ground beef, choose the leanest kind you can find.
Other changes included using a red bell pepper instead of a green one as I find them kind of bitter. I used vegetable instead of chicken broth as it's much lower in fat and calories, and ground chipotle chile instead of cayenne pepper since that's what I had on hand. Finally, instead of plain chili powder, I used Chugwater Chili Gourmet Chili Blend. If you're ever in Chugwater, Wyoming, stop at the gas station off the freeway (there's only one, if I remember right) and pick up a jar of it!
Chili additions
You can also add some extra veggies when making chili. I had hoped to add a bag of okra that I had in the freezer. However, there was no more room in the slow cooker! Instead, I added it after we ate a few bowls. Adding extra veggies is a great way to sneak some healthy greens into your family's diet, plus it creates more chili without much added calories or cost.
Finally, I added a tablespoon of pumpkin oil. My husband brought a small bottle of this home from a trip to Germany and swears it makes pumpkin soup super delicious. So I thought I'd try it in pumpkin chili! Don't worry about tracking a bottle down – using pumpkin oil is totally optional. I've also figured out the nutritional information without the oil.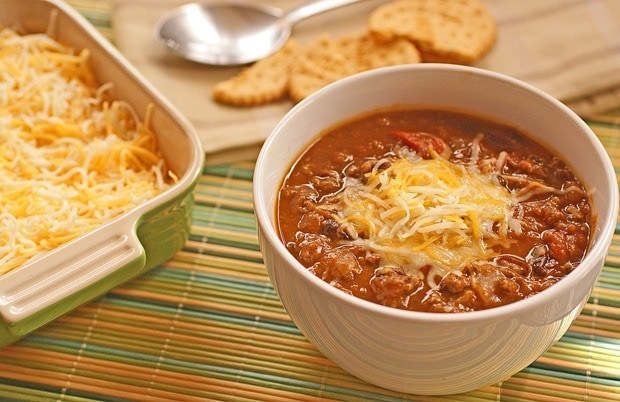 Ingredients
1

yellow onion, chopped

1

red bell pepper, chopped

1 pound

ground venison, turkey, chicken or lean beef

1/2 teaspoon

salt

3 cloves

garlic, minced

2 tablespoons

chili powder or your favorite gourmet chili blend

1/8 teaspoon

cayenne pepper or ground chipotle chile (optional)

1 teaspoon

oregano

1 1/2 teaspoon

cumin

2 1/2 cups

vegetable broth

2 15 ounce cans

black beans, drained and rinsed

1 15 ounce can

kidney beans, drained and rinsed

1 15 ounce can

pumpkin puree

1 14.5 ounce can

diced tomatoes, with juice

1 tablespoon

pumpkin oil (optional)
Directions
Cook onion, bell pepper and ground meat over medium high heat until meat is cooked through.
Add salt and garlic. Cook for 1 minute.
Add spices (chili powder through cumin) and mix thoroughly. Cook for 1 minute.
Place onion, pepper, meat, garlic and spice mixture into a slow cooker.
Add remaining ingredients.
Cook on low for 5-6 hours.
Dish chili into bowls and top with a small dollop of no fat sour cream or a large pinch of shredded cheese.
Total Time:
5 Hours 15 Minutes
Calories:

471

Calories from Fat:

48

Total Fat:

5.3g

Saturated fat:

2.0g

Unsaturated fat:

3.3g

Sodium:

311mg

Total Carbohydrates:

72.9g

Sugar:

5.4g

Fiber:

18.5g

Protein:

35.5g

Cholesterol:

37mg