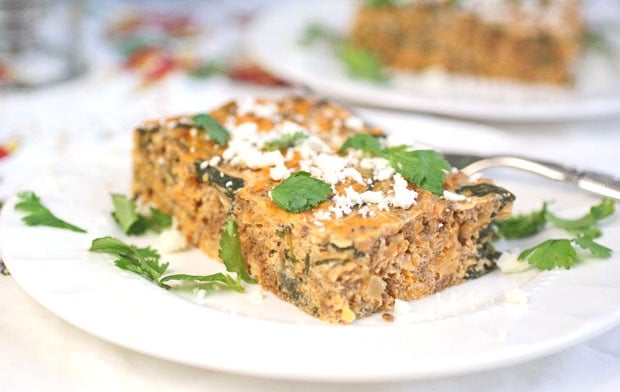 For a lot of us who eat gluten free diets, it's very important that we're getting fiber from sources like vegetables since we're not getting it from grains. Of course, even those of use who aren't gluten free have problems getting enough fiber in their diet. That's why I decided to partner with Benefiber® as a brand ambassador, because getting enough fiber in your diet is important.
What I really like about Benefiber Powder is that it can be added not only to drinks, but to your cooking! And not just the obvious things like smoothies or sprinkling it on your morning breakfast cereal. You can also use Benefiber in anything from soups to baked goods. Unlike most other fiber powders, Benefiber Powder is grit-free and non-thickening. It's also taste-free, gluten free and you can use it in hot or cold foods. The only thing you can't put Benefiber powder in is carbonated beverages!
To learn more about Benefiber, check out their FAQs at benefiber.com/faqs/. You can also connect with Benefiber on Facebook.
A Mexican brunch - Chorizo & Egg Breakfast Casserole and Healthy Horchata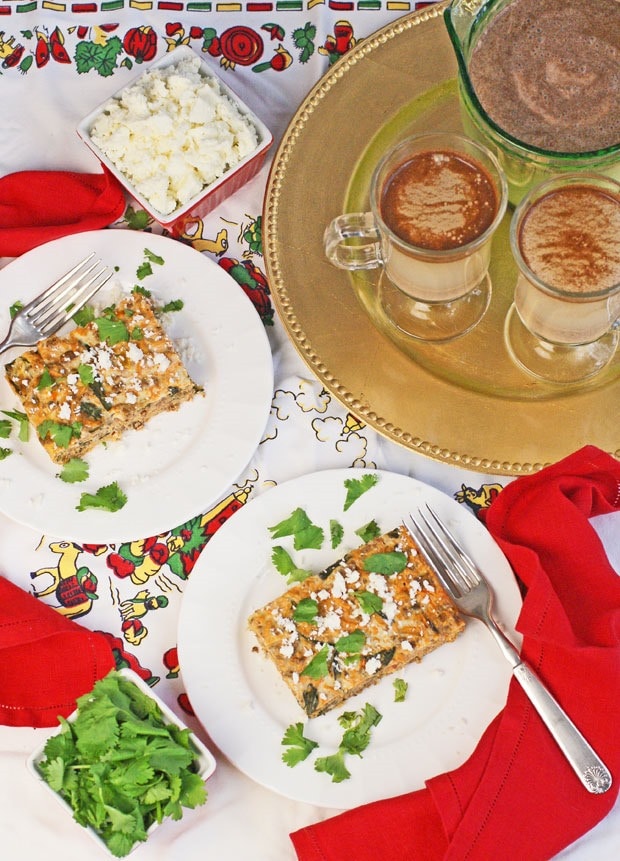 As a Benefiber Brand Ambassador, I've been asked to create some brunch  recipes using Benefiber. I wanted to keep the dishes healthy, easy to make for weekday morning work meeting or teacher appreciation party, and delicious, of course. My family loved the Chorizo & Egg Breakfast Casserole. You can prepare this the night before and bake it that morning. If you cannot find chorizo at your local grocery store, make your own homemade chorizo using ground beef, pork or something leaner like venison or buffalo.
The beauty of this dish is that there's so much flavor from the chorizo and salsa fresca that you don't have to add any seasonings to the dish – not even salt. As far as the added Benefiber? No one had any idea it was added as there was no weird texture or flavor.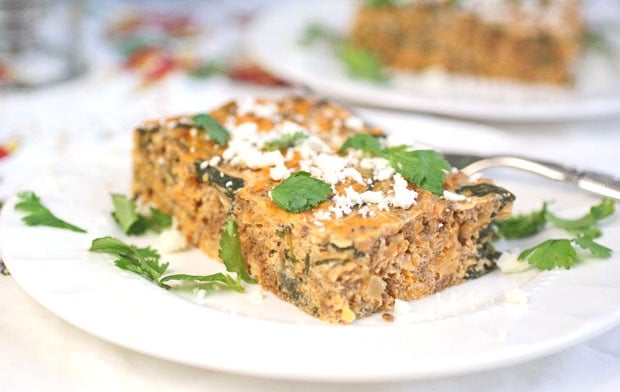 Ingredients
1 (16 ounce) container

salsa fresca

1

red onion, cubed

1

sweet potato, shredded (leave skin on)

6

eggs

8 1/2 ounces

egg whites

1/3 cup

Benefiber powder

1 pound

chorizo

3 cups

fresh baby spinach

Queso fresca, crumbled (optional garnish)

Cilantro, finely chopped (optional garnish)
Directions
Preheat oven to 375 F. Spray a 9″ x 13″ baking dish with nonstick cooking spray. Set aside.
Drain salsa fresca in a fine mesh colander. Set aside.
Shred sweet potato using a food processor with shredding attachment. You could also do it by hand with a box grater if you're strong enough! Set aside.
Place eggs, egg whites and Benefiber powder in a medium bowl. Whisk until combined. Set aside.
Removed chorizo from casings, if necessary. Cook chorizo in a large skillet over medium-high heat, using a spatula to break into small pieces. Cook until browned and cooked completely through.
Add onion and shredded sweet potato. Cook until onions are translucent, about 5 minutes.
Add salsa fresca and spinach to skillet. Cook until spinach begins to wilt, about 4 minutes.
Pour chorizo mixture into the prepared 9″ x 13″ baking dish. Using a spatula, spread evenly.
Pour whisked eggs over the top. Make sure to mix the eggs into the chorizo mixture with a spatula.
Place in preheated oven and bake for 30 to 40 minutes. When done, the casserole middle should not be wiggly in the middle and the edges should be lightly browned.
Remove from oven, garnish casserole with a light sprinkling of crumbled queso fresca and chopped cilantro if desired
Allow to cool for 5 minutes. Cut and serve.
Total Time:
1 Hour 10 Minutes
Serving size:

1/8 of casserole
Healthy Horchata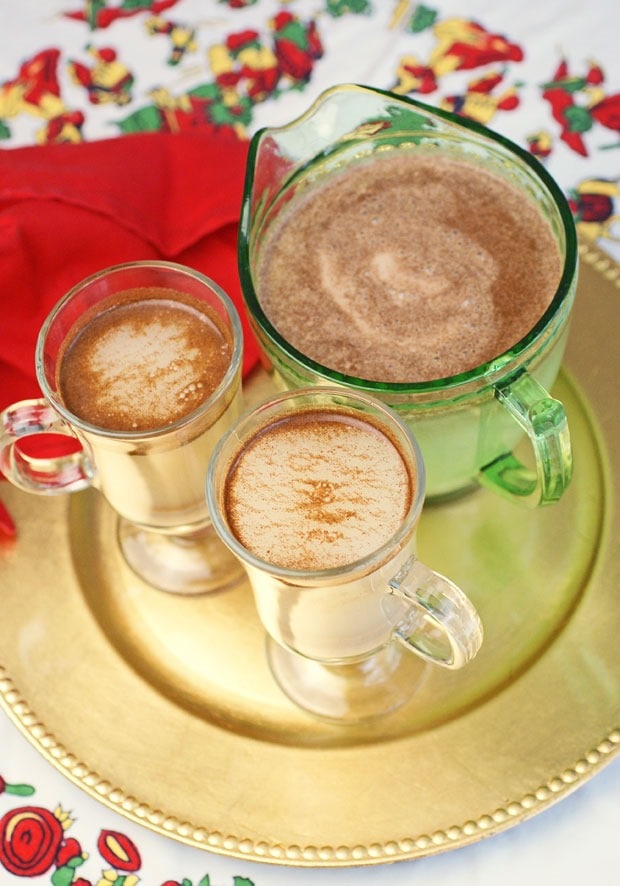 I paired the spicy Chorizo Breakfast Casserole with a traditional Mexican drink designed to cool off your palate – horchata. I made horchata the easy way – instead of soaking rice overnight I just used rice milk. Much more convenient! I also sweetened it with stevia instead of sugar or agave to reduce the calories. What I love about horchata, besides that it's dairy free, is the combination of cinnamon and vanilla. It feels sort of Christmassy even though it's a cold drink that's served all throughout the year.  If you're making this for Sunday brunch, feel free to add a little rum to it!
Healthy Horchata
Makes 4 8-ounce servings
Ingredients:
4 cups plain rice milk
1 teaspoon cinnamon
1 tablespoon vanilla
1/4 cup stevia
2 tablespoons Benefiber powder
pinch salt
Directions:
Place all ingredients in a pitcher or large measuring cup with a spout.
Whisk until combined and pour into glasses.
Drink immediately. If contents settle, stir with a spoon.
I'm a Benefiber® brand ambassador. I've been compensated for my work and all opinions are my own.