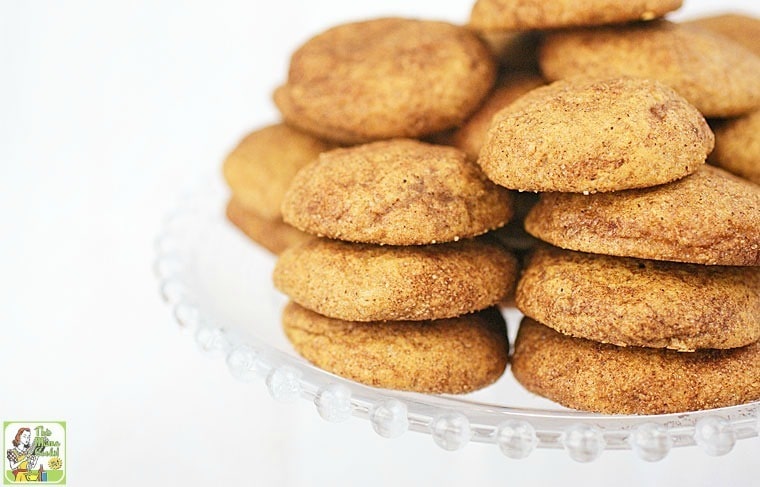 Bob's Red Mill Gluten Free White Rice Flour, 24-ounce (Pack of 4)
When I saw that this month's Secret Recipe Club recipe assignment, C Mom Cook, had a gluten free snickerdoodles cookies recipe on her blog, I went no further. I just had to make these! Shelley baked her Gluten Free Rice Flour Snickerdoodles cookies recipe for a new friend as a thank you. But little did she know that she now has made them as a thank you for me!
You see, I spend way too much money buying Udi's Gluten Free or Trader Joe's gluten free snickerdoodles. In fact, I've stopped buying their gluten free snickerdoodles cookies, because I can eat the whole box in about 30 minutes. Shelley's awesome Gluten Free Rice Flour Snickerdoodles cookies recipe that I baked up are no exception. The kids and I thought the snickerdoodles cookies were fantastic and just as good as the ones that Udi's and Trader Joe's makes. I'm sure you'll love them, too!
So what's a snickerdoodle anyway?
I bet you don't know the difference between a sugar cookie and a snickerdoodles cookie. Both cookies are made with flour, sugar, butter or oil, and sometimes eggs. However, sugar cookies are rolled in sugar. Snickerdoodles are rolled in a combination of sugar and cinnamon. Yep, that's the difference – cinnamon!
According to Wikipedia, The Joy of Cooking claims that snickerdoodles are probably German in origin, and that the name is a corruption of the German word Schneckennudel, which is a type of pastry. There's also a possibility that snickerdoodle is just a nonsense word originating from a New England tradition of wacky cookie names.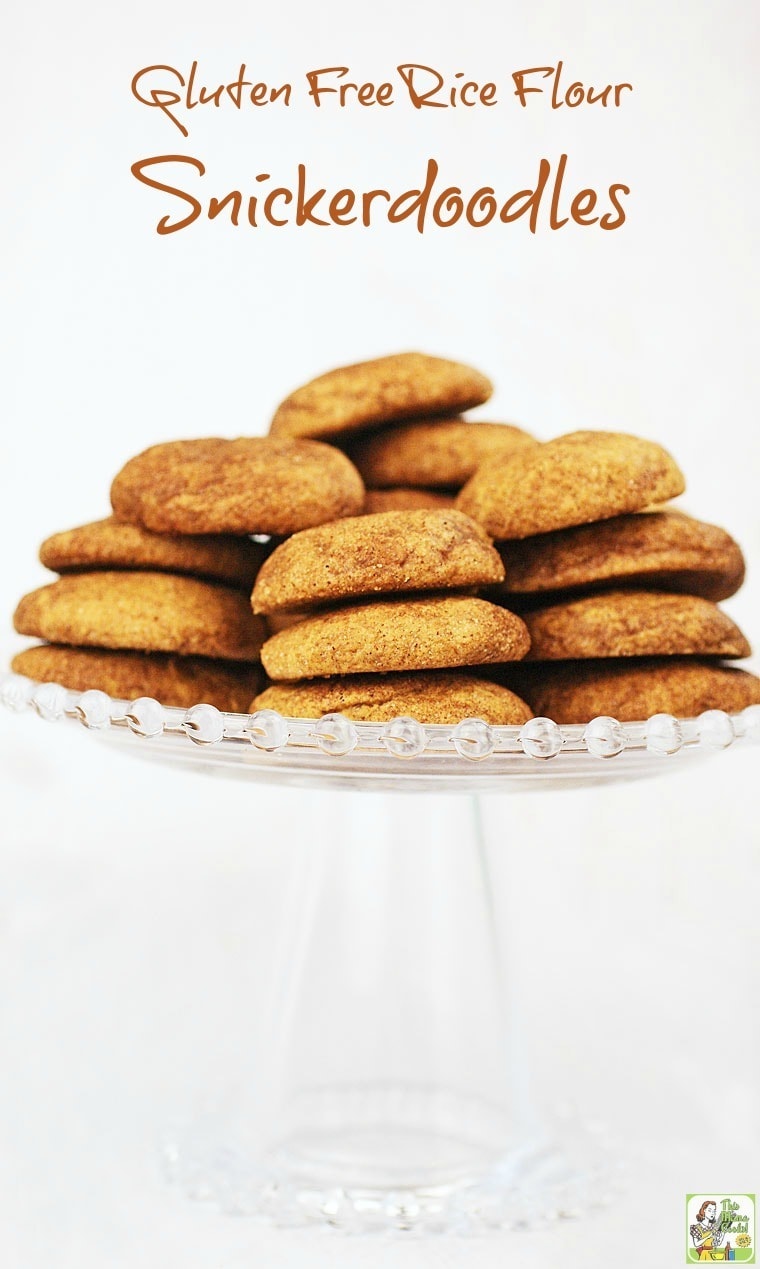 Tips for making Gluten Free Rice Flour Snickerdoodles
This gluten free snickerdoodles cookies recipe is so easy to bake up. You probably don't need to buy any special ingredients, since most of us gluten free folks have white rice flour in the pantry. If you're a baker, brown sugar is a staple and most of us always have butter, sugar, cinnamon, baking soda and eggs on hand.
The biggest change I made was making the snickerdoodles dairy free by using a buttery spread. Feel free to use your favorite non-dairy buttery spread or real butter. Either will work.
One note of caution! You must use white rice flour in this gluten free snickerdoodles cookies recipe. Shelley didn't specify in her Easy Rice-Flour Snickerdoodles cookies recipe, so I experimented and did a two-thirds gluten free white rice flour and one-thirds brown rice flour. The cookies ended up too dry unfortunately, so I did a second batch using 100% rice white flour. It's the only way to go.
Now that you know how to make gluten free snickerdoodles, keep these gluten free cookies in mind as a thank you for all your gluten free friends. They'll make great gifts and they're perfect for cookie exchanges!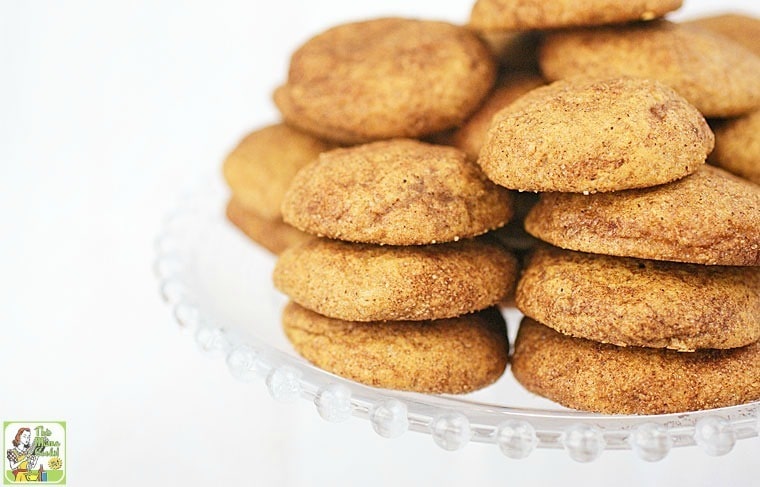 Gluten Free Rice Flour Snickerdoodles
Ingredients
1/2 cup

buttery spread (or butter), softened

1/2 cup

brown sugar, packed

1

egg

1 1/4 cup

white rice flour

1/2 teaspoon

baking soda

1/4 cup

cinnamon sugar (1/4 cup granulated sugar plus 1 tablespoon cinnamon)
Directions
Preheat oven to 375 degrees.
Line baking sheets with parchment or a silicone baking sheet. Sprinkle a little cinnamon sugar evenly on baking sheets.
Cream together the buttery spread and sugar. Beat in the egg. Stir in the white rice flour and baking soda. Stir until all ingredients are fully incorporated.
Scoop dough and roll into balls approximately one-inch in size. If dough is too sticky to handle, add a little more rice flour by the spoonful.
Roll each ball in cinnamon sugar. Flatten ball with the palm of your hand to form into a cookie, and place it on prepared baking sheet.
Bake cookies for 12 minutes until golden.
Remove baking sheets from oven. When sheets are cool enough to handle, carefully remove cookies and place on a cooling rack.
Servings
:
Makes approximately 24 cookies
Check out more Secret Recipe Club assignments.
Originally published on September 8, 2014. Updated with new pictures.
Bob's Red Mill Gluten Free White Rice Flour, 24-ounce (Pack of 4)
Wilton Recipe Right 3 Piece Cookie Pan Set
Amazon Basics Silicone Baking Mat - 2 Pack
Reynolds Cookie Baking Sheets Non-Stick Parchment Paper