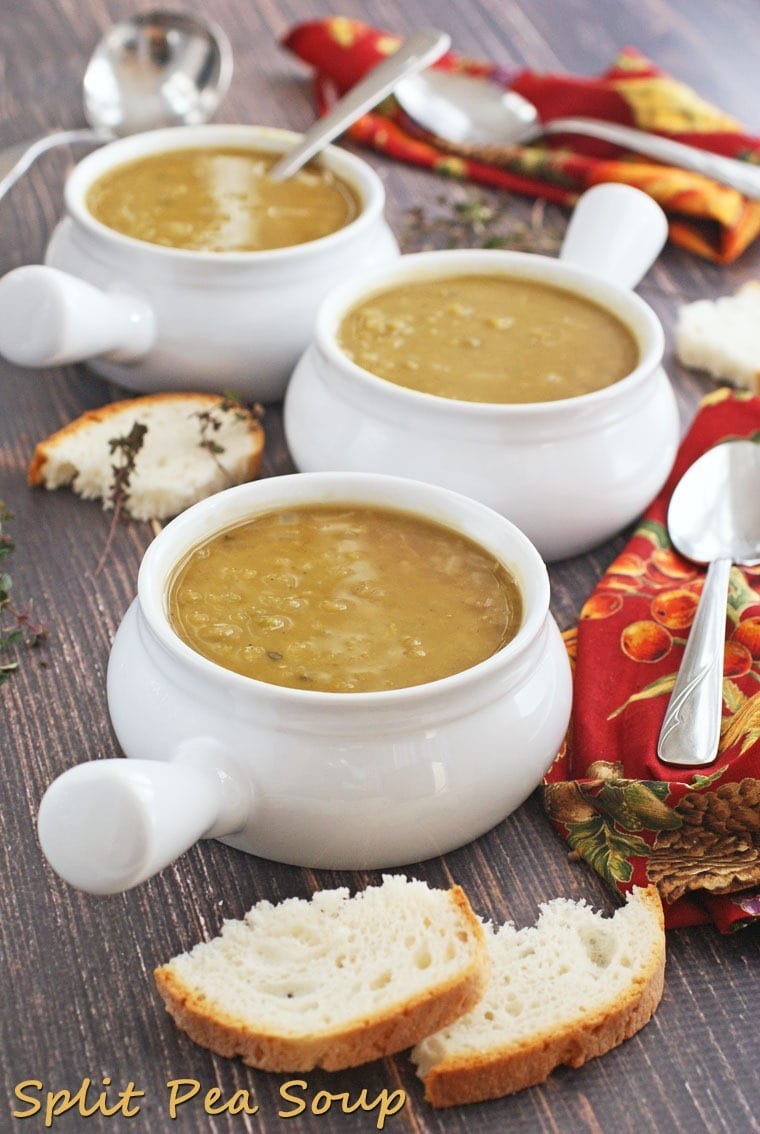 How to make homemade "cheater" stock in your slow cooker
After roasting a turkey, chicken or a pig (like at a barbecue), take the carcass or bones and place them in your slow cooker.  Cover with water.
Add some herbs to the water – thyme, oregano, sage, rosemary, etc. Dried or fresh will work.
Add some crushed garlic cloves. Cut up an onion, a couple of carrots, parsnips, and some stocks of celery and add them all to the slow cooker.
Cover and cook on low overnight or for 8 to 10 hours.
Remove large pieces from the slow cooker and strain the liquid into freezer containers. Freezer and label with date. Pour liquid into a couple of ice cube trays. Freeze and store cubes in ziplock freezer bags to use when you just need a little stock in your cooking.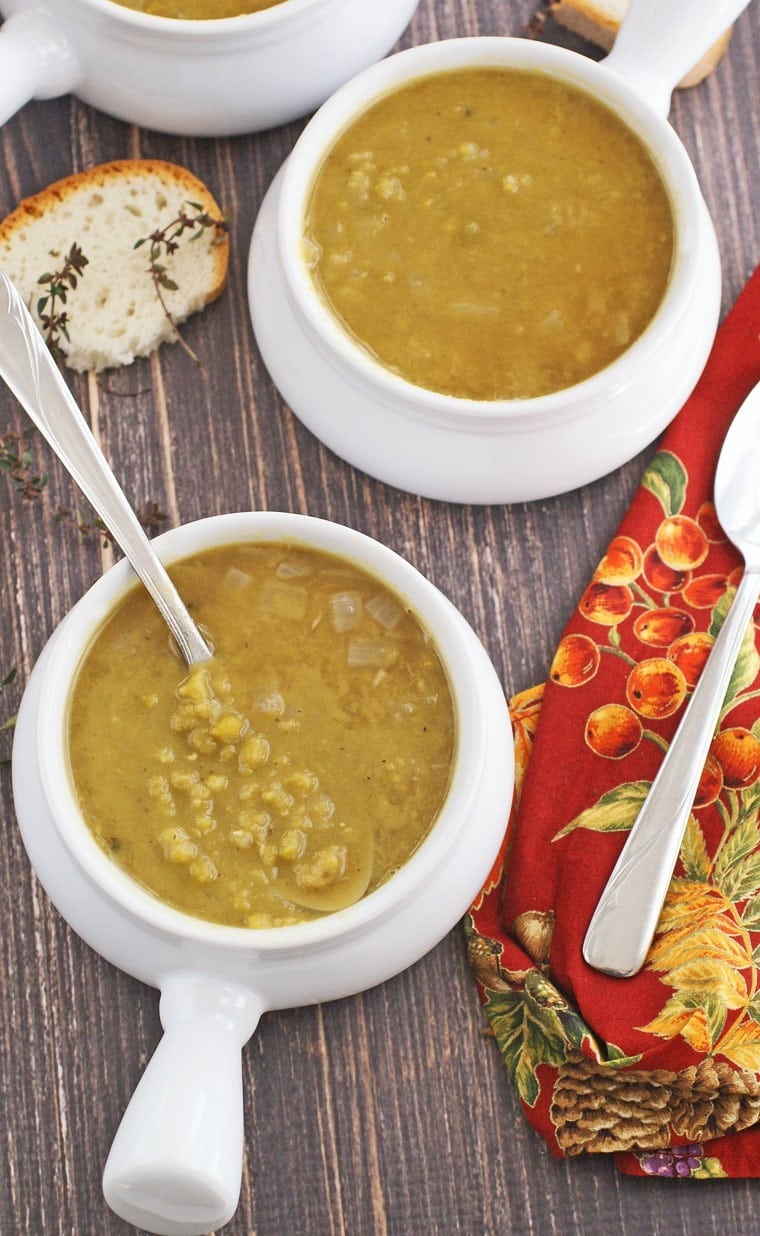 Making Grandma Loy's Warming Split Pea Soup
Besides using stock instead of bullion cubes in my Split Pea Soup (I used ham stock, not stock and water as in the original split pea recipe), I also used grocery store brand organic split peas instead of regular split peas. They're about a dollar more per pound.
I also decided to sauté and caramelize the onions to soften them up and add a little unique flavor to the Split Pea Soup. I didn't use any carrots because I forgot! Oops! You can use carrots if you wish as that would add some nice color to the soup. Otherwise, I pretty much stuck to Loy's Warming Split Pea Soup recipe and it turned out great. My husband raved about it and said I should add it my regular recipe rotation!
Next time, I'm going to make a double Split Pea Soup batch since it took very little time for this batch to disappear.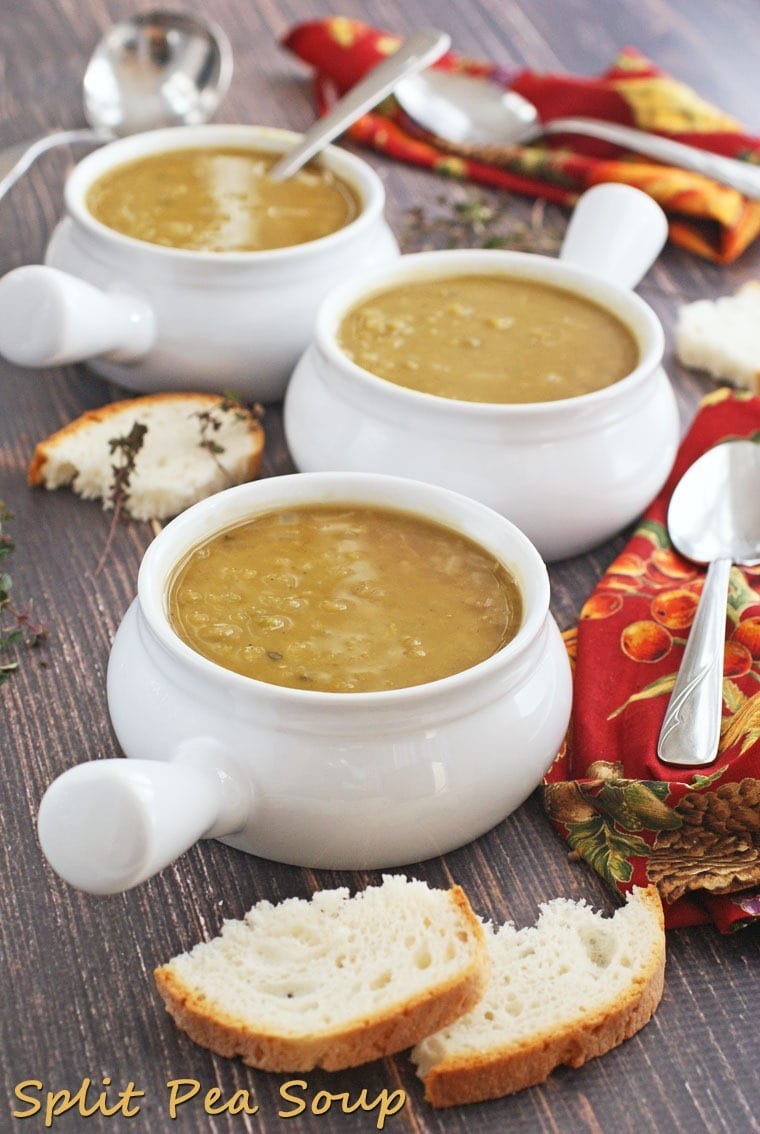 Split Pea Soup
Based on a recipe from Woman's Day magazine
Ingredients
1 pound

organic split peas

6 cups

stock (you can use beef, chicken, ham or vegetable stock)

1 tablespoon

olive oil

1

large red onion, chopped

2

large garlic cloves, minced

1/2 teaspoon

thyme leaves, chopped

1/2 teaspoon

ground pepper

3/4 teaspoon

sea salt
Directions
Pour peas on to a plate to check that there are no rocks or other foreign objects in with the peas.
Heat olive oil in a 4-quart pot over medium high heat. Add onions, minced garlic, thyme, pepper and salt. Stirring frequently, sauté until onions soften, start to brown and caramelize.
Add stock and peas. Bring to a boil, reduce heat to low, cover and simmer 60 minutes or until peas are soft. Stir occasionally.
You can puree the soup in a blender, a food processor, or with a wand blender if you wish.
Serve with gluten free bread and a nice side salad.
Cook Time:
1 Hour 10 Minutes
Total Time:
1 Hour 25 Minutes
Serving size:

1/6 of recipe
More from the Secret Recipe Club!
Want to join the Secret Recipe Club? You can sign up here.