Whenever I have a chance, I turn into ABC's The Chew (weekdays 1e|12p|c) for a little foodie inspiration. It's one of my favorite cooking shows since it's informative, fun, and not a cooking competition. (I'm a little burnt out on that type of cooking show.) The cooking by Carla Hall, Mario Batali and Michael Symon is practical, affordable and something just about anyone can make in their kitchen, like Carla's recipe for Summer Berry Pudding – take a peek below!
Since I wanted to make something special for Fourth of July entertaining, I took Carla's Summer Berry Pudding and turned it into a trifle so I could include a blue and white layer to match the red one. Due to my food sensitivities, I also made it gluten free, used stevia and coconut palm sugar instead of white cane sugar, and used a non-dairy whipped topping instead of regular whipped cream. The topping I used,  Trader's Joe's House Whip, has a tiny bit of milk in it that I can tolerate. If you have to stay away for even small amounts of milk, you may want to skip the whipped topping  altogether. Or you can try making whipped cream from coconut milk.  Another idea for the white layer would be vanilla coconut ice cream or a layer of coconut, vanilla or lemon sorbet.
What I especially like about trifles, aside from the cool presentation, is that if you have a trifle bowl with a lid, it's very portable (great for parties and picnics!) and it's easy to store leftovers right in the bowl.
Ingredients
1

loaf of gluten free raisin bread

1 cup

low sugar apricot preserves

2 cups

raspberries

2 cups

blackberries

4 cups

blueberries, divided

2 tablespoons

lemon juice

2 tablespoons

coconut palm sugar (or brown sugar)

2 tablespoons

powdered stevia (I like Stevia Extract in the Raw.)

1 (10 ounce) tub

non-dairy whipped topping
Directions
Spread the apricot preserves on one side of each of the slices of bread.
Line the trifle bowl with the slices of bread, jam side in. If needed, cut bread into smaller pieces to make a solid wall. Leave a few inches at the top for whipped topping and blueberry layers. Reserve a few slices of the bread to use as the top layer.
Combine the raspberries, blackberries and 2 cups blueberries in a saucepot over medium heat with lemon juice, palm sugar, and stevia. Cook until the berries begin to burst, about 5 minutes, then remove from heat.
Pour the berry mixture into the well in the bread-lined trifle bowl. Cover the top with the reserved slices of the bread.
Place a layer of plastic wrap over the top of the cooked berries and bread layer. Place a few plates on top to weigh it down. Place in refrigerator and chill overnight.
Add a layer of whipped topping. Then carefully add the remaining 2 cups of blueberries.
Spoon trifle into small bowls and serve.
Prep Time:
12 Hours 30 Minutes
Total Time:
12 Hours 40 Minutes
Take a summer time break with The Chew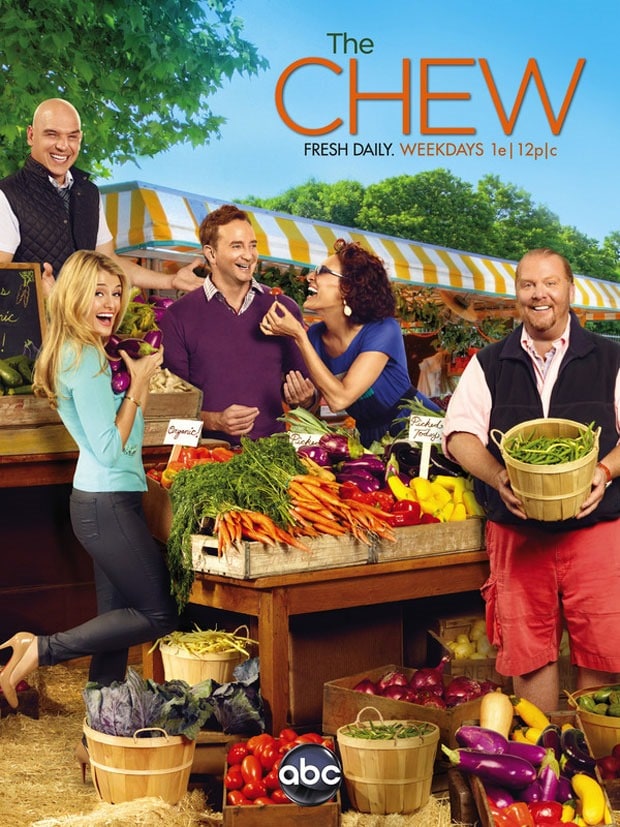 ABC's The Chew comes on at 1 pm ET, which is why I try to take my lunchtime break when the show's playing. (I also DVR it!) I've been a fan of the show from the very beginning. (Read my review of The Chew from October 2011.) I originally started watching The Chew because I adore Mario Batali and Michael Symon. I soon grew to love the other cast members like Carla Hall because her recipes are so good, Clinton Kelly because of his entertaining ideas, and Daphne Oz since she gives good health and wellness advice. I also enjoy their money saving tips and the banter between the hosts and their guests. I'm sure the cast is also why The Chew is one of my mother-in-law's favorite shows. We often watch the show together when she visits.
Here's a recent The Chew episode you can watch FREE on Hulu for a limited time. If you're growing a garden this summer, The Chew's "Field of Greens" episode should prove inspirational! Curtis Stone guest co-hosts and whips up a delicious dish straight from the garden. Michael Symon and Clinton Kelly team up for a garden inspired recipe of their own. Also, the show visits the rooftop garden of the Waldorf-Astoria hotel in New York City, which is fascinating!
I'm always looking for new ways to spice up my Summer dishes, and ABC's The Chew serves up everything from grilling and outdoor entertaining to road trips and picnics. Watch weekdays 1e|12p|c on ABC to see what celebrity chefs Mario Batali, Michael Symon, and Carla Hall, lifestyle expert Clinton Kelly and fresh face of healthy living Daphne Oz are dishing out to inspire you this Summer.
This is a sponsored conversation written by me on behalf of ABC's The Chew. The opinions and text are all mine.
This is a sponsored conversation written by me on behalf of ABC's The Chew. The opinions and text are all mine.