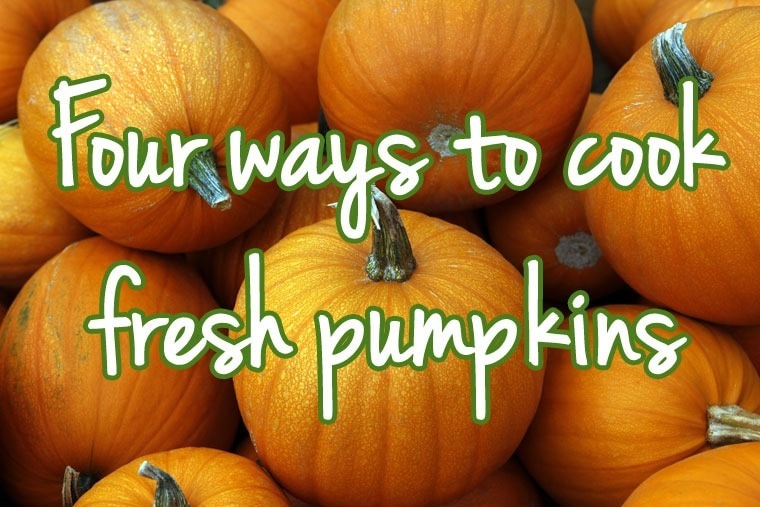 We've been having unseasonably warm weather here in Colorado. So it's only when I go to the store and see the pumpkins that I'm reminded that it's fall and Halloween and Thanksgiving are just around the corner.
Chef Kristina Vanni, a food writer and on-camera talent for BetterRecipes.com, sent me some tips on how to take a single pumpkin and transform it into a fabulous, affordable fall meal. She explains, "Pumpkins can be turned into soups, casseroles, side dishes, breads, cakes, cookies, pies, and preserves.  In addition to its wonderful flavor, pumpkin brings a host of nutrients to the table, particularly Vitamin C, beta-carotene, and potassium."
How to cook a fresh pumpkin
Start with small pumpkins, about two to three pounds. The smaller pumpkins are easier to handle and sweeter in taste.
First, wash the pumpkins over running water and pat dry with a clean dish towel or paper towel.  Next, cut the pumpkin into large chunks and scoop out all the seeds (save them for roasting!) and stringy bits.
There are several easy ways to cook the pumpkins chunks.  Use whatever method is best for you.
Oven roasting pumpkin:  Heat oven to 350 degrees.  Place pumpkin chunks, skin side up, in a glass baking dish.  Add 1/4 inch of water and bake, uncovered, for 45-60 minutes (depending on chunk sizes) until flesh is tender, checking occasionally to add more water, if needed.
Microwaving pumpkin: Place pumpkin chunks, skin side up, in a glass baking dish.  Add 1/4 inch of water and cover pan with plastic wrap or wax paper, and vent.  Microwave on high for about 10 minutes (or about 5 minutes per pound) until pumpkin is tender.
Steaming pumpkin: Heat water to boiling in a saucepan that fits a steamer.  Place pumpkin chunks in steamer container and place over pan.  Reduce heat to medium and simmer, covered, for about 15 minutes or until pumpkin is tender.
Cook pumpkin in a slow cooker: Place pumpkin chunks, skin side down, in slow cooker.  Cook on low for 3 to 3-1/2 hours or until pumpkin is tender.
How to make fresh pumpkin puree
For all methods after pumpkin is cooked, scoop out pulp and discard skin. 
Pulp can be pureed in a blender or food processor or stirred by hand until smooth. Or you can keep it chunky, if desired. 
Pulp keeps in the refrigerator for a week or it can also be frozen in airtight containers for six months. 
A two to three pound pumpkin will make about 2-1/2 cups of puree.
How to make roasted pumpkin seeds
Heat oven to 350 degrees. 
Place seeds in a colander and rinse. 
Pick out all pieces of pulp. 
Place seeds on a baking sheet and pat dry. 
Drizzle a little vegetable oil over seeds and sprinkle with some salt and toss. 
Bake for 10 minutes, stir, and return to oven. 
Bake another 10-15 minutes, stirring every 5 minutes until golden and crispy.
I'll be featuring Chef Kristina's Pumpkin Chorizo Pizza recipe tomorrow.
Connect with Chef Kristina
For more of Kristina's recipes, cooking tips and culinary adventures visit her blog The Daily Dish.  She can also be found on Facebook or @BetterRecipes on Twitter.