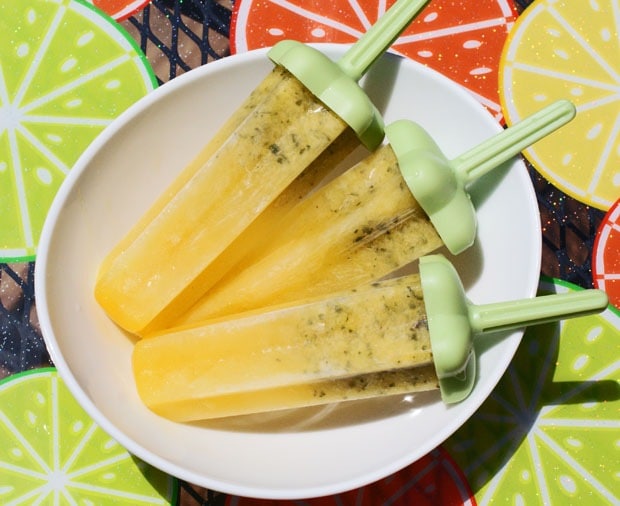 Lime is one of more popular flavors used in paletas – paletas de limón. I love lime too, especially in a mojito with mint leaves. So I used the combination, plus a little orange, and came up with a mojito flavored popsicle sans the rum.
The Mojito Popsicles are very tangy and strong, so you may want to add more water and back off on the juice unless you love lime as much as I do.
These are popsicles for grownups as well as any kiddos out there, like my daughter Lucie, who love to chew on fresh lime pieces. This mix would also make great flavored ice cubes for mojitos and other rum drinks.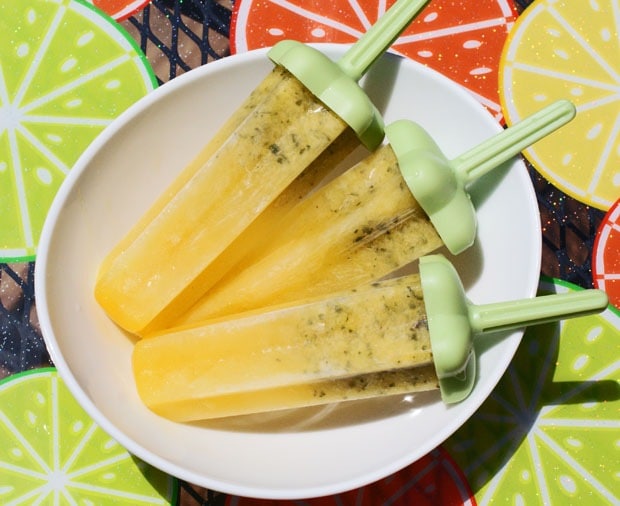 Mojito Lime Orange & Mint Popsicles
Ingredients
2

oranges, peeled and quartered

1 cup

lime juice (from approximately 6 limes)

1/2 cup

water

6 teaspoons

liquid stevia

4 sprigs

min
Directions
Combine ingredients and blend until smooth.
Pour into popsicle molds and freeze overnight.
Serving size:

1 popsicle

Calories:

39

Calories from Fat:

1

Total Fat:

0.1g

Saturated fat:

0g

Unsaturated fat:

0mg

Sodium:

1mg

Total Carbohydrates:

10.7g

Sugar:

6.4g

Fiber:

1.6g

Protein:

0.8g

Cholesterol:

0mg