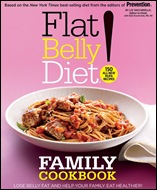 The Flat Belly Diet Family Cookbook is the latest from Liz Vaccariello. Her diet is based on weight-loss science findings that promote incorporating monounsaturdated fatty acids (MUFAs) into every meal to reduce the extra weight around your middle. You can learn more about the diet from her books, Flat Belly Diet!, Flat Belly Diet! Pocket Guide, and the Flat Belly Diet! for Men.
When you're trying to lose weight, it's the pits to have to prepare special "diet food" for yourself while the rest of the family eats "regular food." No longer with Flat Belly Diet Family Cookbook. Now the whole family can eat healthier, real food while the grownups try to lose weight.
The cookbook features 150 new, family-friendly MUFA recipes like Spaghetti and Meatballs, Fish Nuggets with Tartar Sauce, Crunchy Crust Mac and Cheese, and Maple-Pecan Cinnamon Rolls are sure to prove a hit with everyone, no matter their age.
Also, the book has great tips for getting kids to adopt healthy eating habits, including strategies for negotiating with picky eaters, advice for helping children establish a healthy relationship with food, and tips for promoting positive eating habits for all age groups.
Finally, the cookbook is filled with gorgeous, colorful pictures that will not only inspire you to eat healthier, but will hopefully get the whole family cooking together in the kitchen.
Flat Belly Diet Family breakfast
This week at This Mama Cooks! I'll be featuring some of the more classic, family fare from the Flat Belly Diet Family Cookbook. Today we start with breakfast! This would be perfect to serve on Father's Day or a lazy weekend morning with lots of seasonally fresh berries and fruit. It's full of protein and fiber, which should keep the whole family satisfied for hours, too.
Chocolate Stuffed French Toast
25 minutes / 4 servings / 416 calories / MUFA: Chocolate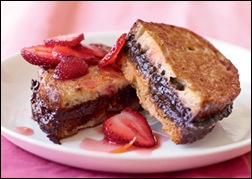 Ingredients:
4-ounce semi-sweet chocolate bar, finely chopped
3 ounces Neufchatel cheese (low fat cream cheese), softened
2 cups sliced fresh strawberries
1 tablespoon sugar
1 teaspoon grated fresh orange zest
6 ounces Italian bread, cut on an angle into 8 (1/2" thick) slices
2 large eggs
2 large egg whites
1 teaspoon vanilla extract
1 tablespoon transfat-free margarine or spread
Directions:
Combine the chocolate and cheese in a small bowl; mix well.  Combine the strawberries, sugar, and orange zest in a separate bowl.
Spread ¼ of the chocolate mixture on 4 slices of bread. Top each with remaining bread and press lightly to form a sandwich.
Combine the eggs, egg whites, and vanilla in a medium bowl. Working one a time, dip both sides of each sandwich in the egg mixture and set on a plate.
Melt the margarine in a large nonstick skillet over medium heat. When the foam subsides add the sandwiches and cook until golden and cooked through, about 4 minutes per side. Divide among 4 plates and top each with some of the strawberries. Serve immediately.
Nutritional information
416 calories
14 g protein
48 g carbs
20 g fat
10 g saturated fat 
120 mg cholesterol 420 mg sodium 5 g fiber
Weight Watchers POINTS = 9
This Mama's tips
If the number of POINTS or calories concerns you, halve the portion and add lots of fresh berries and fruits on the side.
To reduce calories, substitute stevia for sugar. Usually 1/2 teaspoon stevia equals 1 tablespoon sugar, but check the label on the box of whatever brand you're using.
Substitute one egg with the equivalent amount of egg whites (3 whites or 1/3 cup of pasteurized egg white product).
Use a whole wheat, high fiber bread instead of Italian bread – more fiber and whole grains always a good thing. If you're gluten free, a thick gluten free bread should work, too!
Try using dark chocolate instead of semi-sweet. I personally love Lindt dark chocolates though any brand will do.
More Flat Belly Diet recipes
_______________
Disclosure: I received a review copy of the cookbook in order to facilitate this review.