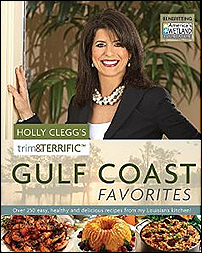 Today's guest post is by Holly Clegg, author of the soon to be released, Too Hot In The Kitchen: Secret to Sizzle at Any Age, as well as many other fabulous healthy cookbooks. You can check Holly out at The Healthy Cooking Blog, on Twitter and on Facebook.
Keep it simple: splash on flavor to summer salads
When you think of summer, Mediterranean cuisine comes to mind. Summer gardens plentiful with fresh cucumbers, tomatoes, lemons and onions combined with the powerful flavors of feta cheese and herbs make perfect light summer meals. Instead of raiding your spice cabinet for an assortment of different seasonings, keep it simple and splash on the flavors of the Mediterranean with NAKANO seasoned rice vinegars.
Here are a few easy tips for simple summer salad suggestions:
Purchase cut up watermelon, or any melons and combine with olives, feta, and mint with a splash of seasoned rice vinegar for an exceptional combination.(check out this recipe for Watermelon and Feta Salad.)
No need to mince garlic when you can savor the garlic flavor by simply splashing on Roasted Garlic Seasoned Rice Vinegar on your favorite summer veggies-roasted, sautéed or fresh for a wonderful vegetarian salad.
Need a quick marinade-try the Roasted Garlic Seasoned Rice Vinegar, with reduced sodium soy sauce and honey and your job is done! Turn your grilled meat into a salad topper.
Mediterranean main dish salads- all you need is leftover grilled chicken (or pick up rotisserie or grilled cooked and ready chicken breasts, olives, cucumbers, tomatoes, feta and the sweet and light blend of herbs in the Basil & Oregano Seasoned Rice Vinegar.
Chicken Orzo Salad
from Holly Clegg trim&TERRIFIC® Gulf Coast Favorites
A wonderful summer entrée salad that combines bold flavors with great ingredients.
Makes 10 (1-cup) servings
Ingredients:
2 cups orzo pasta
2 cups diced, rotisserie, skinless white chicken
1 cups frozen peas, thawed, or shelled edamame
1/2 cup chopped green onions
1/2 cup crumbled reduced-fat feta cheese
1 cucumber, peeled and chopped
8 ounces sun-dried tomatoes, sliced, reconstituted, reserving 1/3 cup water from reconstituting tomatoes
2 teaspoons dried dill weed
2 tablespoons roasted garlic seasoned rice vinegar
1 tablespoon lemon juice
2 tablespoons olive oil
1 teaspoon garlic
Salt and pepper to taste
Directions:
Cook orzo according to package directions. Drain.
In large bowl, combine orzo, chicken, peas, green onions, feta, cucumber, toma­toes, dill.
In another bowl, whisk together reserved sun dried tomato water with remaining ingredients.
Toss with orzo mixture. Refrigerate for at least 1 hour before serving.
Nutritional information
Calories 300, Protein (g) 19, Carbohydrate (g) 42, Fat (g) 6, Calories from Fat (%) 18, Saturated Fat (g) 2, Dietary Fiber (g) 5, Cholesterol (mg) 26, Sodium (mg) 148, Diabetic Exchanges: 2 starch, 3 vegetable. 1.5 lean meat
Weight Watchers POINTS = 6
Terrific tidbit:
To reconstitute the tomatoes, pour 1 cup boiling water over them and let sit for 15 minutes or until soft.
________________
Disclosure: NAKANO is a client of Holly's. Picture used with her permission.