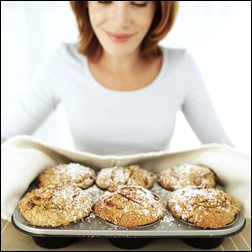 Join me for some coffee and muffins at This Mama Cooks! Reviews. I'm giving away bags of Peet's Uzuri African Blend coffee and sample coupons of FiberOne Frozen Ready-to-Eat Muffins.
The muffin giveaway ends at midnight MT on Monday, March 8, 2010. The coffee giveaway ends midnight MT on Monday, March 15, 2010.
If homemade muffins are more your thing (and if you read my Fiber One vs. Weight Watchers muffin review, I'd have to agree with you) try this recipe from Relish magazine.
Recipe by Mary Carter, The Healthy Table, March 2010
Makes 12 muffins
Ingredients:
Cooking spray
1 cup whole-wheat flour
1 cup all-purpose flour
½ cup packed brown sugar
2 ½ teaspoons baking powder
½ teaspoon ground cinnamon
1/8 teaspoon ground cloves
½ teaspoon salt
1 cup skim milk
2 egg whites
1 tablespoon canola oil
1 cup finely grated raw sweet potato
1/2 cup finely chopped dried pears
1 to 2 tablespoons turbinado sugar
Instructions:
Preheat oven to 375F. Coat 12 muffin cups with cooking spray.
Combine whole-wheat flour and next six ingredients (whole-wheat flour through salt) in a mixing bowl.
Combine milk, egg whites and oil in a separate bowl. Whisk well.
Make a well in the center of dry ingredients. Pour wet ingredients into the well and stir until just combined. Gently fold in sweet potato and pears.
Fill muffin cups two-thirds full. Sprinkle with turbinado sugar. Bake 18 to 20 minutes, until centers spring back when touched.
Nutritional Information:
Per muffin: 150 calories, 1.5g fat, 0mg chol., 4g protein, 32g carbs., 2g fiber, 240mg sodium.
Weight Watchers POINTS = 3
Tips:
Can't find dried pears? Substitute other dried fruit like cranberries, cherries, apricots or prunes.
For an extra Omega 3 boost, try adding a tablespoon full of ground flaxseed or ground or whole grain Salba.
_____________________
Disclosure: All links to Amazon.com are affiliate links. A commission may be earned from a referred sale to their website.