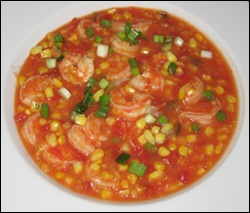 Today's guest post is from cookbook author, Holly Clegg. Holly will be sending me recipes from time to time to feature here at This Mama Cooks! I'm thrilled to be working with her!
This recipe comes from Holly's cookbook Holly Clegg's Trim & TERRIFIC Gulf Coast Favorites
.
Quick Shrimp and Corn Soup
Busy and no time to cook?  Here's a meal in minutes, an easy throw together soup, while the weather is still cool.  Everyone has a shrimp and corn soup recipe, but this recipe is only 6 ingredients and it is TRIM & TERRIFIC!!  Just open cans of corn and tomatoes, toss in shrimp for this simple yet superb soup.
Makes 12 (1-cup) servings
Ingredients:
2 (15 1/2-ounce) cans cream
2 cups frozen corn
2 (14 1/2-ounce) cans diced tomatoes and green chilies
1 (15-ounce) can tomato sauce
2 pounds medium peeled shrimp
1 bunch green onions, chopped
Directions:
In large nonstick pot, combine cream corn, corn, tomatoes and green chilies, tomato sauce, until heated.
Add shrimp, bring to boil. Lower heat, cook until shrimp is done, 5–7 minutes. Sprinkle with green onions, serve.
Nutritional information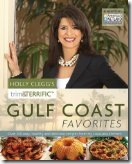 Calories 162, Calories from fat (%) 8, Fat (g) 1, Saturated Fat (g) 0, Cholesterol (mg) 112, Sodium (mg) 825, Carbohydrate (g) 24, Dietary Fiber (g) 3, Sugars (g) 6, Protein (g) 15, Diabetic Exchanges: 1 1/2 starch, 1 1/2 very lean meat
You can check Holly out at The Healthy Cooking Blog, her website HollyClegg.com, on Twitter @HollyClegg , Facebook, and her webisodes at Walmart.
Weight Watchers POINTS = 3 per serving