I like the breakfasts best on the Extreme Fat Smash Diet
because they're so satisfying. One of my favorite meals is the six egg white omelet with veggies. It's three servings but some mornings you're allowed to eat that much.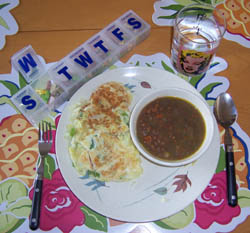 Here's my breakfast: an omelet, flavored seltzer water in my Marilyn Monroe glass, a 2/3 cup side of Amy's Organic Lentil Soup
, and vitamins. Great place settings help!
Pepper and Onion Egg-White Omelet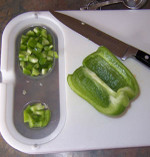 Preparation time: 10 mins
Ingredients:
6 Egg Whites
3 Tbsp. Skim Milk
6 Tbsp. Chopped Green Bell Peppers
6 Tbsp. Chopped White Onion
3 dashes Salt
3 dashes Ground Black Pepper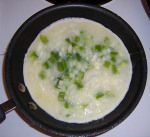 Directions:
Beat egg whites with milk, salt and pepper.
Add peppers and onions, and pour into heated omelet pan. (Coat pan with a non-stick spray first.)
Cook over medium-low heat until eggs are set.
Fold over and serve.
Nutritional Information:
Calories 53
Fat 1.8g
Sodium 268mg
Carbohydrates 4.3g
Fiber 0.6g
Protein 8.2g
Weight Watcher POINTS = 1