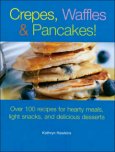 Crepes, Waffles, And Pancakes!: Over 100 Recipes for Hearty Meals, Light Snacks, And Delicious Desserts
by Kathryn Hawkins begins with a brief history of pancakes around the world, and continues with an overview of the basics (add extra eggs and melted butter to pancake batter to make crepes, and a rising agent to make waffles), including variations on the main ingredients—flour, a liquid (usually milk), eggs—and how readers can change the taste by varying the type of flour (e.g., buckwheat, chickpea, gluten–free, etc.).
Divided into breakfast, main meals (which encompass lunches and dinners), desserts, snacks and accompaniments, the recipes range from hearty (Breakfast Waffle Sandwich) to sweet (Oatmeal Pancakes with Raspberries) and salty sweet (Deep-Pan Bacon and Apple Pancakes).
What I like about this cookbook is that it's adventurous. It features recipes for unusual pancake and waffle recipes like Poppy Seed Waffles with Rattouille, Red Beet Crepes with Smoke Fish (and yes the crepes are beet colored), and even a Pancake Lasagne that the author promises will be a family favorite.
This recipe is typical of how Hawkins pushes the "pancakes are not just for breakfast" envelope. This would work well with Thanksgiving turkey leftovers, plus it's gluten free!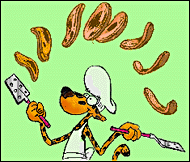 Wild rice pancakes with chicken
Serves 4
Ingredients:
1 cup (125g) rice flour
2 tsp gluten-free baking powder
½ tsp baking soda
2 Tbsp finely chopped fresh parsley plus extra for garnish
¾ cup (125g) cooked, cold wild rice
2 medium eggs, separated
1 cup (250ml) milk
¼ stick (30g) unsalted butter
1 large, ripe avocado
1 Tbsp lemon juice 12 oz (350g) smoked chicken, cut into strips
4 Tbsp mayonnaise 4 strips cooked, crispy bacon, chopped
Freshly ground black pepper
Directions:
Sift the flour, baking powder and soda into a bowl and make a well in the center. Add parsley, wild rice and egg yolks, and pour in the milk.
Gradually work into the flour using a whisk and then beat until thick and smooth, but don't over-mix.
Whisk the egg whites until stiff and carefully fold into the batter using a metal spoon.
Heat a little butter in a large frying pan until bubbling, tilting the pan to coat the sides. Ladle 4 Tbsp batter to form a thick pancake about 4in (10cm) in diameter. Cook over a low-to-moderate heat for about 2½ minutes.
Turn over and cook for a further 2½ minutes until golden. Make seven further pancakes and cover to keep moist until ready to serve.
Halve the avocado and remove the pit. Remove the skin and slice thinly. Sprinkle with lemon juice.
Serve pancakes warm, topped with chicken, avocado and a spoonful of mayonnaise and sprinkle with bacon, black pepper and parsley.