Last Updated on March 14, 2022 by Anne-Marie
Sriracha Chicken Kabobs are easy to make on the grill or in the oven. This chicken skewers recipe is tender and juicy with a spicy kick.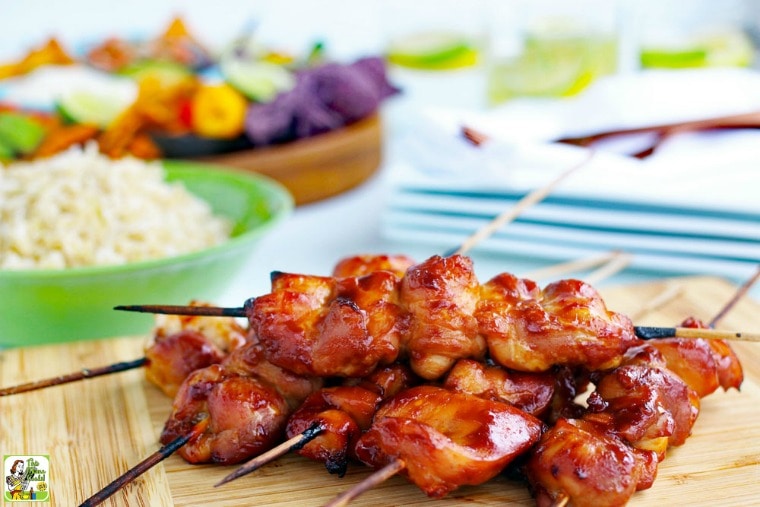 Why this recipe works
Sriracha chicken kabobs are perfect for a weeknight dinner or entertaining friends.
And there's no need to wait for summer! You can easily make this delicious chicken recipe year round since it can easily be made in the oven as well as on the grill.
This chicken kabobs marinade is a sweet, spicy, tangy flavor explosion that'll have you adding this chicken skewers recipe to your meal plan week after week.
Trying to keep the recipe fairly wholesome, I used thigh meat in my Sriracha Chicken Skewers.
You can also use chicken breast since it's leaner and lower in calories and fat.

What kind of skewers do I need to make this recipe for chicken kabobs?
You can use any kind of skewers that you like! There are metal and bamboo varieties readily available in stores and online.
If you are using bamboo skewers for this recipe, you have to prepare them appropriately.
How do I prepare the skewers to make these chicken kabobs?
Before cooking, make sure to soak your bamboo skewers in water for a minimum of 30 minutes.
However, soaking the skewers for several hours is best.
If they don't soak in water long enough they will catch on fire while you cook these chicken skewers in the oven, making a smoky mess of things!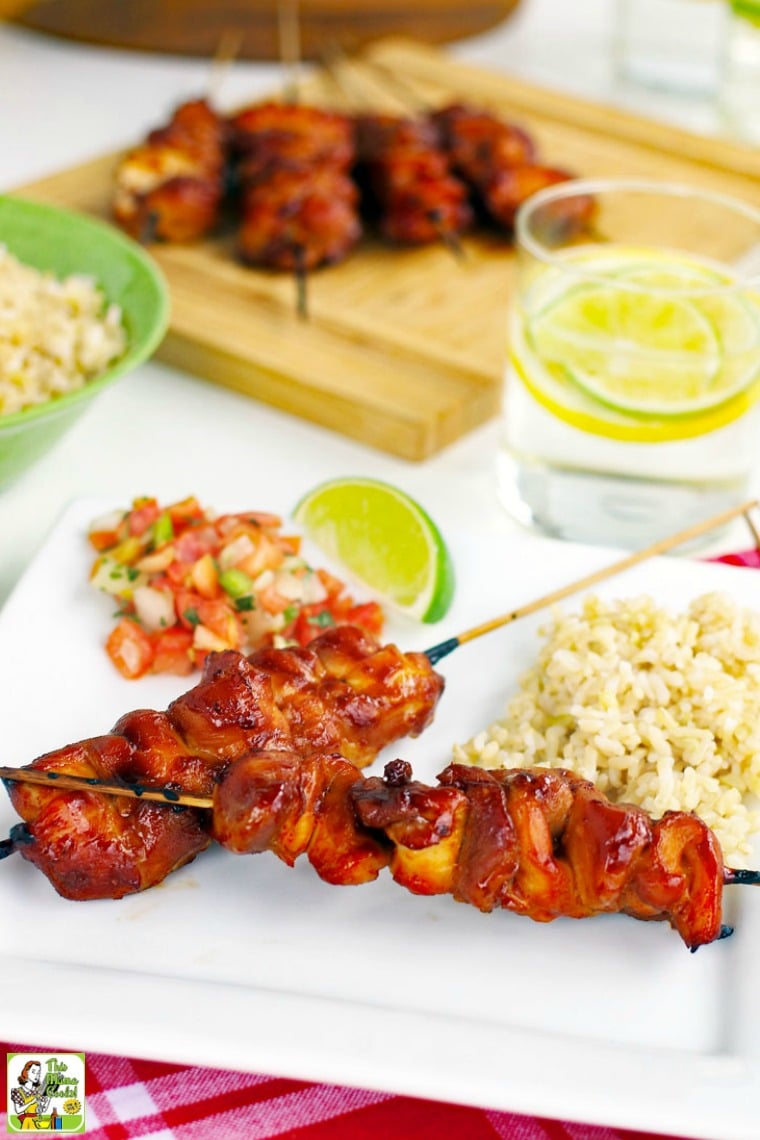 How to work with bamboo chicken kabobs
● Place the skewers in a shallow dish of water. Then place a heavy dish on top of the skewers to hold them in place under the water.
● You will need to soak your skewers even if you are making chicken kabobs in the oven. You don't want to fill your house with smoke and set all the smoke alarms off!
● This can be done overnight. While you're soaking your bamboo skewers, marinate your kabobs in the refrigerator. Then assemble the Siracha Chicken Kabobs just before dinner time when you're ready to get cooking.
How long do I need to cook chicken skewers in the oven?
Chicken needs to be cooked to an internal temperature of 165 degrees Fahrenheit.
In my opinion, there is no substitute for a good digital meat thermometer for cooking chicken (or any meat) properly.
You can order one online relatively inexpensively and it helps to make sure your chicken is cooked to a safe internal temperature without overcooking (and drying it out).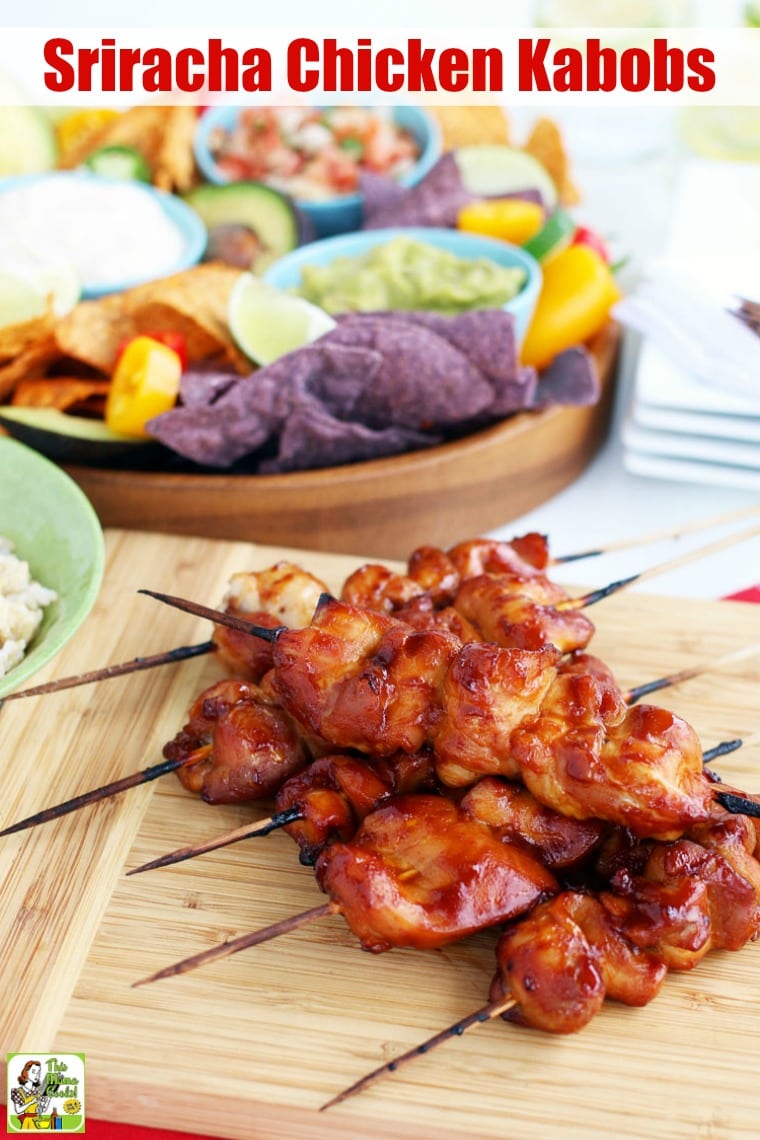 I don't like spicy food. Will I like this sriracha chicken kabobs marinade?
I'm not into spicy food and I don't think these are too spicy. But you can certainly adjust the amount of sriracha sauce to your tastes! Add more or less sriracha to your liking.
My husband is a big fan of sriracha sauce. He puts it on everything!
I wasn't until I tried my friend Jennifer's Crispy Baked Panko Sriracha Chicken Tenders on her blog, Savor the Thyme.
I made her sriracha chicken tenders for a Big Game party and loved them.
Wanting to make something a little different than chicken tenders, I was inspired to make this sriracha flavored chicken skewer recipe.
Can you use a different type of hot sauce? Wellllll, hmmmmm, maybe?
But it'll be different, so don't expect the same results. Sriracha has a unique flavor compared to other hot sauces.
There are also many varieties and brands of sriracha sauce on the market now. Use your favorite. And, as always, check the label for any food allergies or sensitivities you may have!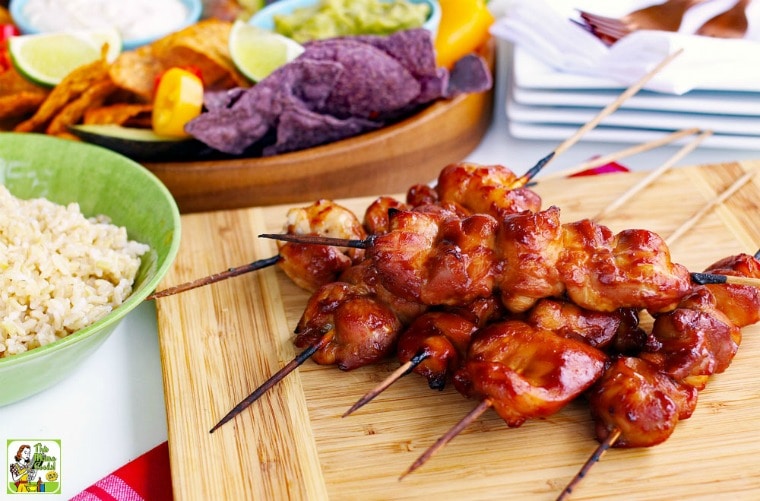 What to serve with this tasty sriracha chicken kabobs recipe
Serve the sriracha chicken with stir-fried vegetables and brown rice or quinoa.
You can also double or triple the recipe for a terrific party appetizer.
They'll be a hit for sure so make sure you are prepared to share the recipe with everyone!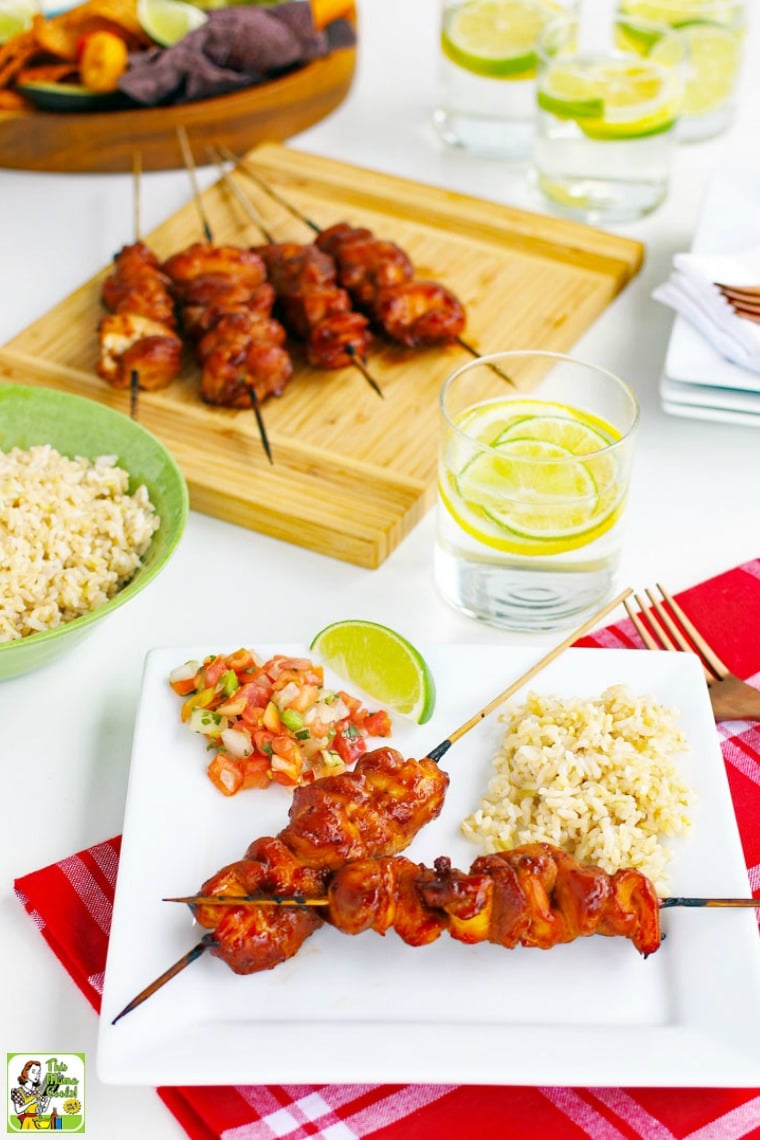 Make it a meal! Dishes to serve with sriracha chicken kabobs
Looking for a mocktail? Try this Lemonade Sangria.
These Roasted Marinated Vegetables side dish make it a well rounded meal.
If you prefer a salad, try this Asian Watermelon Fruit Salad Recipe or a Pasta Salad with Roasted Vegetables Recipe.
For dessert, try these Greek Yogurt Popsicles or Homemade Ice Cream Bars to cool down your palate.
Yield: 4 SERVINGS
Sriracha Chicken Kabobs Recipe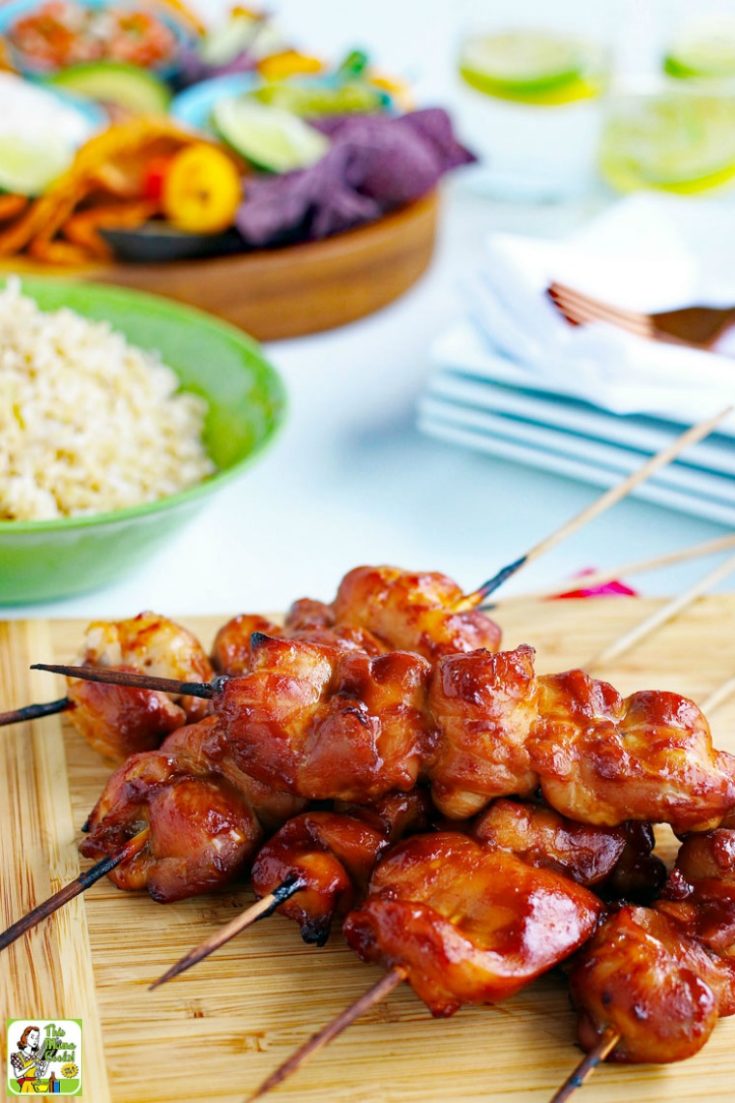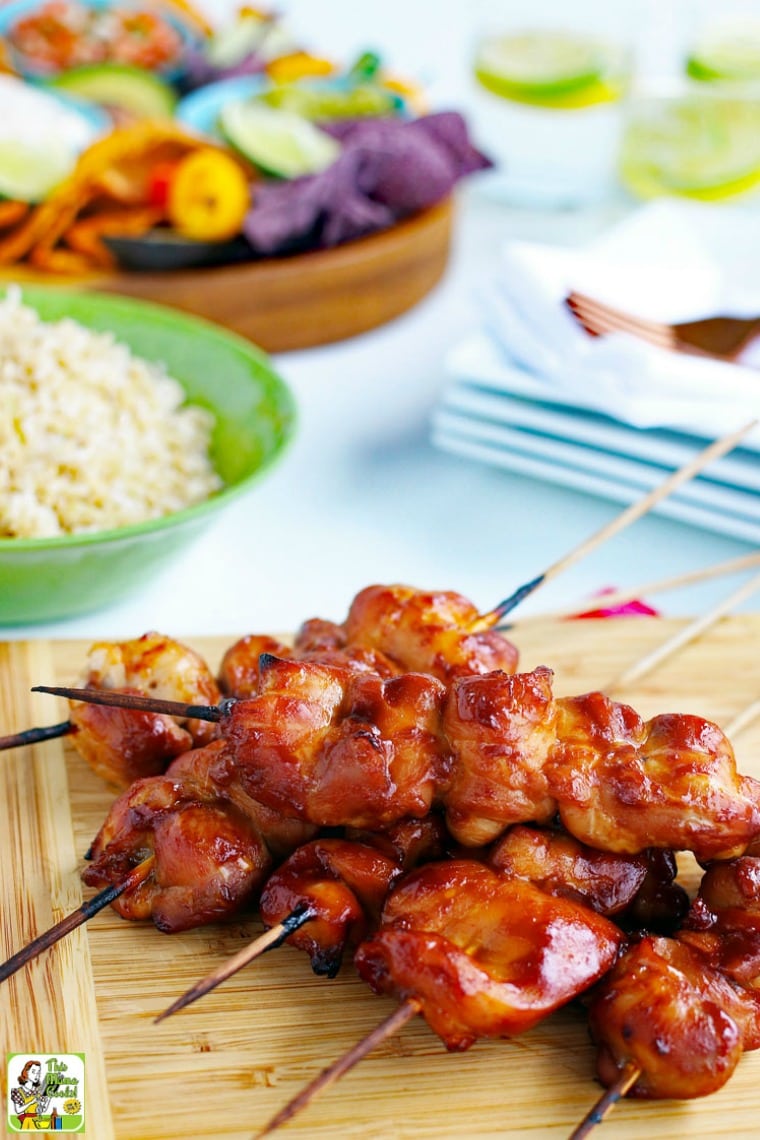 Sriracha Chicken Kabobs are easy to make on the grill or in the oven. This chicken skewers recipe is tender and juicy with a spicy kick.
Total Time
1 hour
30 minutes
Ingredients
Chicken Kabobs Marinade
1/4 cup amber agave nectar
1/4 cup low sodium, gluten free soy or tamari sauce
1 tablespoon sesame seed oil
1 1/2 teaspoons ground ginger
2 tablespoons lime juice
2 large garlic cloves, minced
2 tablespoons sriracha sauce
Chicken Kabobs Recipe
4 chicken thighs (about 1 1/2 pounds)
1 tablespoon tapioca or corn starch
Instructions
Slice chicken thigh meat into 1-inch strips. Place into a food storage container large enough for chicken and marinade.
Combine agave through sriracha ingredients in a bowl and stir until combined.
Pour over chicken and place lid on the container. Shake so the chicken is completely covered with marinade.
Place the container in the refrigerator and marinate for a minimum of one hour. Overnight is ideal for maximum flavor.
Soak 10 bamboo skewers in water for 30 minutes.
Preheat oven to 450 degrees.
Prepare the baking sheet by covering it with foil for easier cleanup. Then place an oven-safe cooling rack on it. (Cooking it on a rack helps to caramelize the marinade glaze.)
Remove meat from marinade and thread on to skewers.
Pour marinade into a small saucepan and bring to a rolling boil.
Mix one tablespoon of starch with an equal amount of water. Stir to produce a slurry. Pour slurry into the boiling marinade and stir. It should immediately thicken. Once it thickens remove from heat.
Take a pastry brush or spatula and brush thickened marinade sauce on to both sides of the skewered chicken.
Evenly place chicken skewers on racks and put the baking sheet into the oven.
Bake for 15 to 20 minutes or until cooked through.
Recommended Products
As an Amazon Associate Affiliate and member of other affiliate programs, I earn from qualifying purchases.
Nutrition Information:
Yield:
4
Serving Size:
6 ounces
Amount Per Serving:
Calories:

552
Total Fat:

23g
Saturated Fat:

6g
Trans Fat:

0g
Unsaturated Fat:

17g
Cholesterol:

166mg
Sodium:

4459mg
Carbohydrates:

50g
Fiber:

2g
Sugar:

12g
Protein:

39g
Nutritional information is automatically calculated per the ingredients list. Serving size may not be accurate. Please double-check with your preferred nutritional app for the most accurate information.
Originally published on March 6, 2011. Updated with new pictures and information.