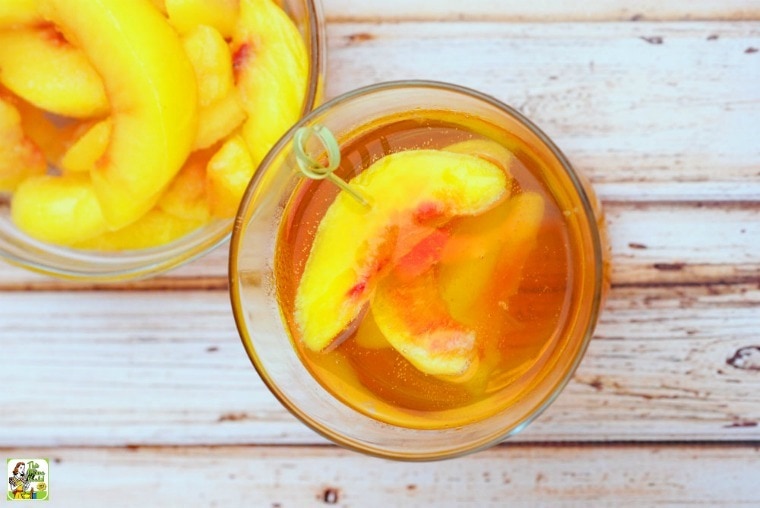 If you're looking for unique whiskey cocktail recipes, try this Peach Whiskey Cocktail.
It's made with peach flavored whiskey. There are several brands on the market that will inspire you to try some fun whiskey mixed drinks like this one.
This cocktail helps keep things light and cool with fizzy chilled seltzer and frozen fruit.
It's the perfect whiskey cocktail for sipping on the back porch on a warm summer night while watching the fireflies zip by!
(Please remember to drink responsibly.)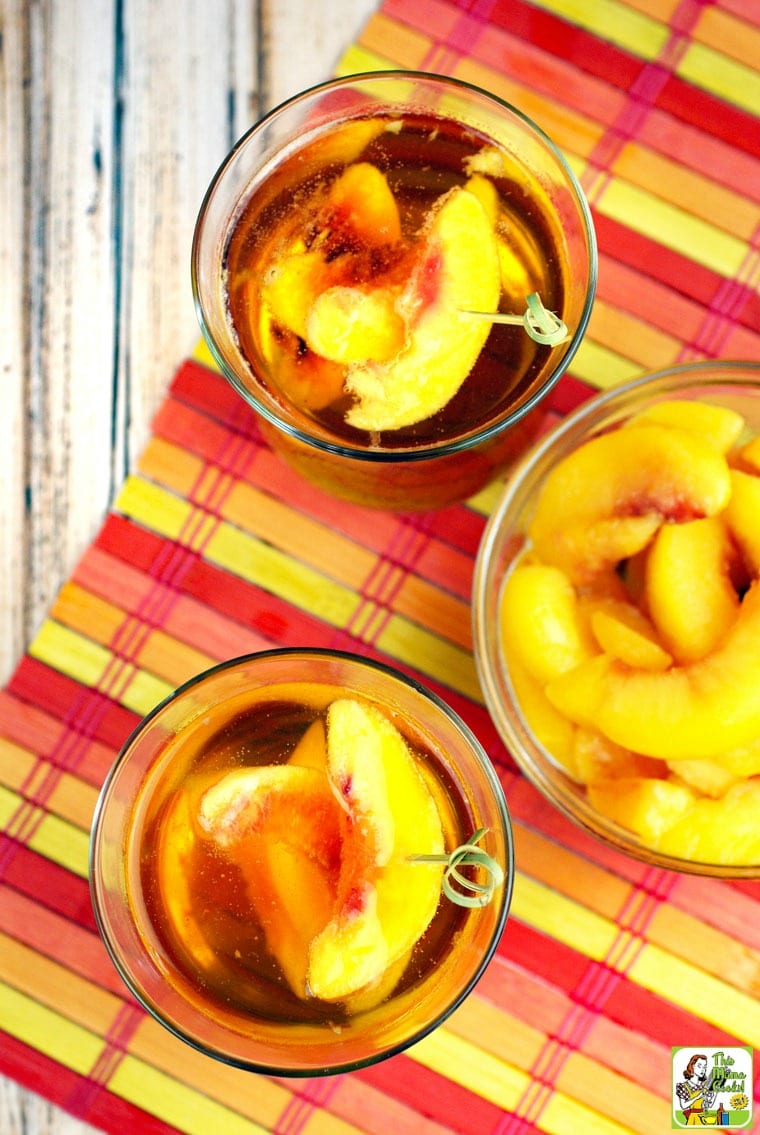 Anyone for peach cocktails?
This Peach Whiskey Cocktail is super easy because you use frozen peaches from the grocery store to keep your whiskey cocktail recipe nice and cold.
I love using frozen fruit from the grocery store since it's already cleaned, sliced, frozen and ready to add to your peach cocktails! No need to drive all over town trying to find ripe peaches, too!
Also, the frozen peaches can be used instead of ice cubes and won't water down your cocktail drinks.
If you're making Peach Whiskey Cocktails for a party, run bamboo appetizer skewers through a four or five peach slices.
Make up a dozen or so depending on the number of guests you'll be serving. Then keep them in the freezer until it's time to make your drinks. Then use the peach skewers as cocktail stirrers!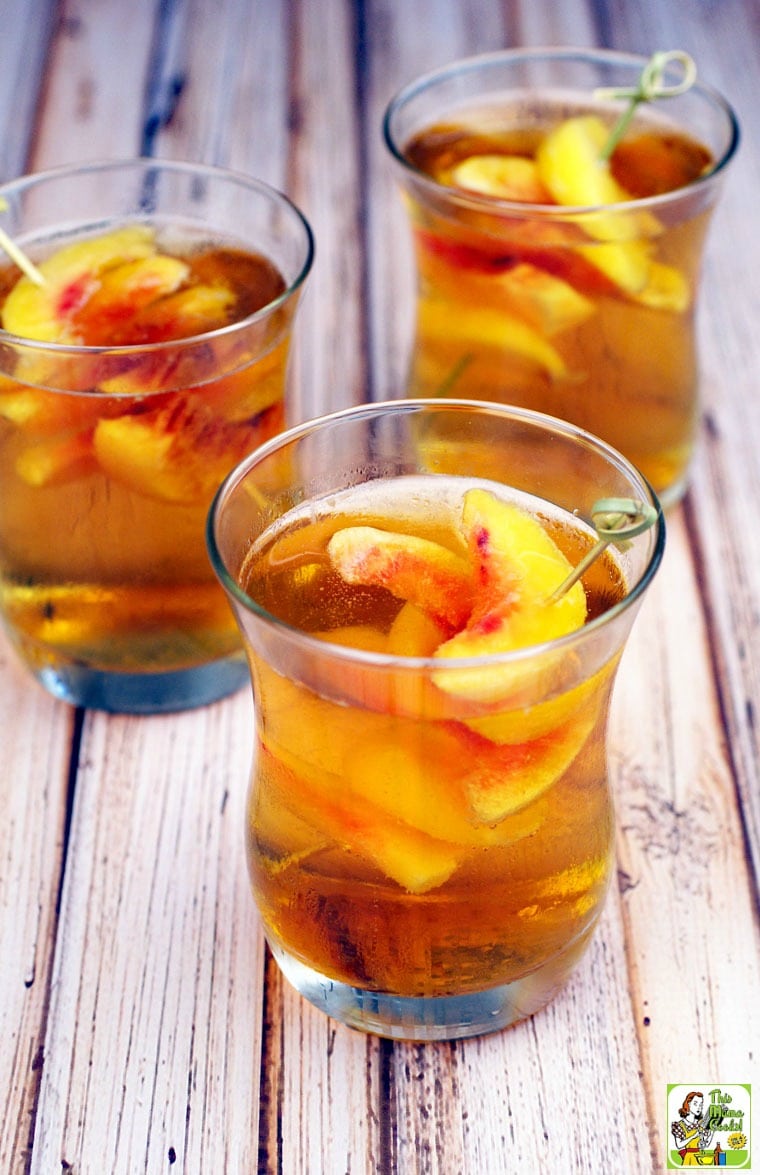 What to mix with peach whiskey?
Besides peaches, to keep this whiskey cocktail even peachier, how about using a peach flavored whiskey?
Bet you didn't know there was such a beast!
My two favorites are made by Leopold Bros. – either Georgia Peach Flavored Whiskey or Rocky Mountain Peach Whiskey.
What I like about Leopold Bros. whiskeys, besides the taste and quality, is that their product has an affordable price point.
Unfortunately, Leopold Bros. liquors aren't distributed in every state, so you may have to work with your local liquor store to find a good substitution.
Other peach flavored whiskeys are made by Crown Royal, Peach Street Colorado Straight Bourbon from Caskers, Bird Dog Peach Flavored Whiskey from Western Spirits, Ole Smokey Salted Peach Whiskey, and Old Camp Peach Pecan Whisky.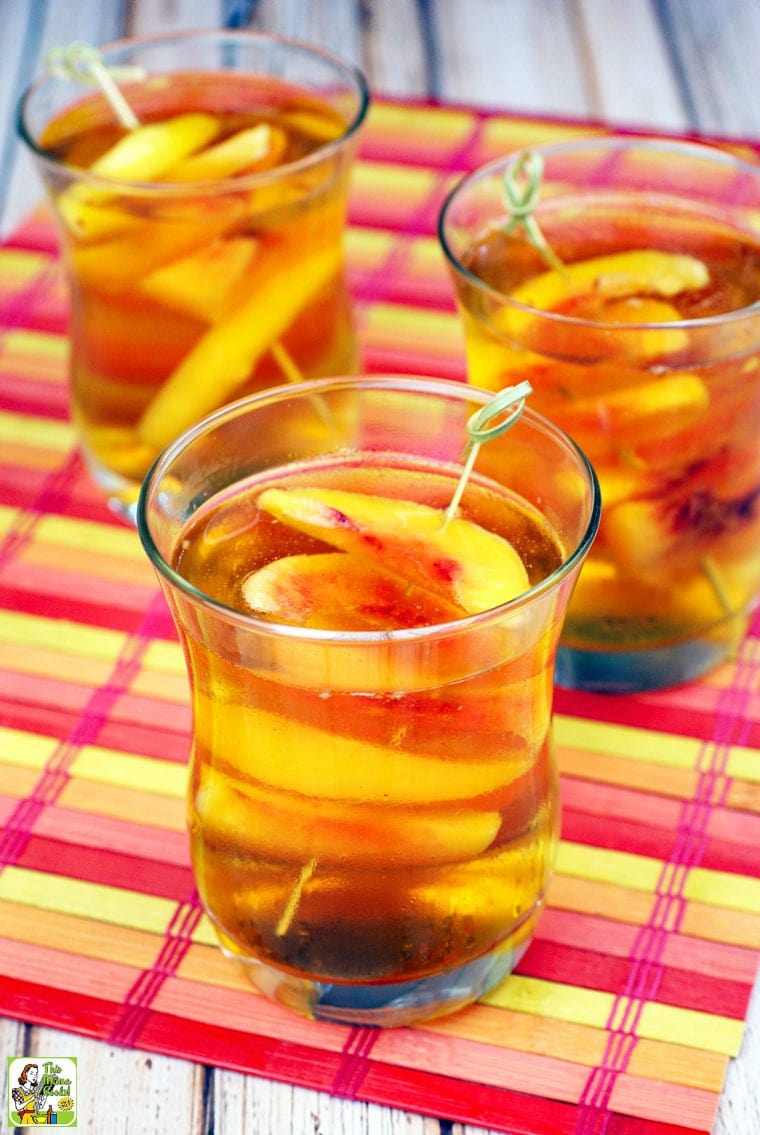 For more peachy goodness, I added Fee Brothers Peach Bitters to my whiskey cocktail. You can find their bitters at your better liquor stores or online.
Bitters and seltzer make a good fizzy drink when you don't feel like having a cocktail and don't want a diet soda or the calories of juice and seltzer.
You'll find that you'll be using these bitters in more than just this drink.
Finally, I sweetened this up a bit with monk fruit powder. Much better than adding a simple syrup (and all those calories).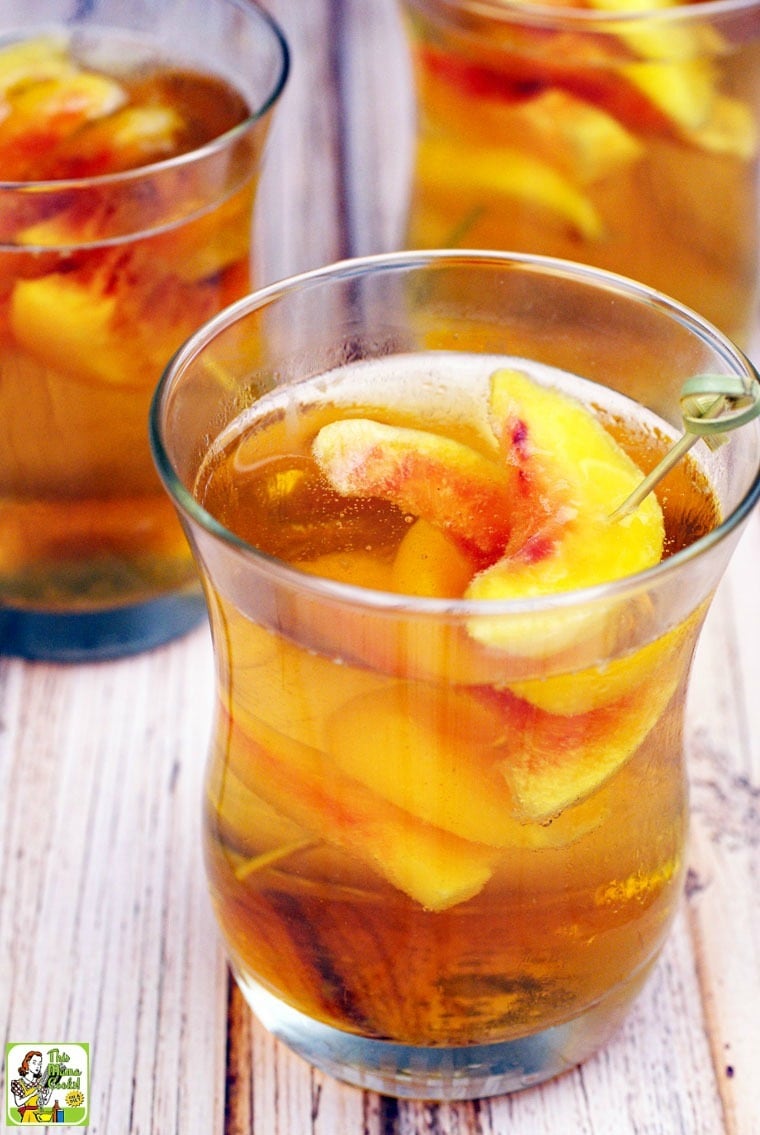 Lighten up peach whiskey cocktails with seltzer
Finally, I've used peach flavored seltzer water to freshen up this whiskey mixed drink and give it a sparkling feel.
I love no calorie seltzers like peach Le Croix and white peach Desani.
You could also try grapefruit flavored sparkling water if you don't want to make your cocktail too peachy.
When shopping for peach seltzers make sure to check that your sparkling water is no calorie and doesn't have any additional juice or sugar added.
You don't want to go too sweet or add extra calories to what's supposed to be a "lightened" drink.
Try a watermelon and peach whiskey cocktail!
Finally, if you loved this peach whiskey cocktail, try my Fruit Stand Watermelon Cocktail.
It's a watermelon drink with peach whiskey and lime. Super refreshing and delicious.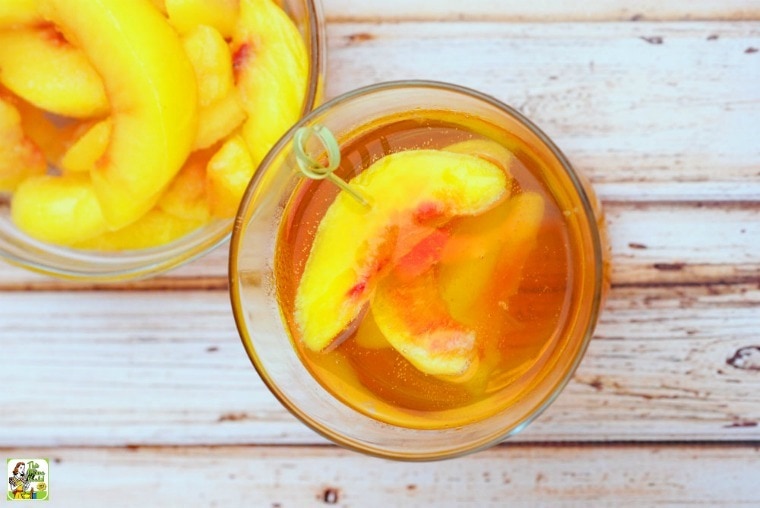 Peach Whiskey Cocktail Recipe
Ingredients
1 ounce

peach flavored whiskey

1 teaspoon

monk fruit sweetener

10 drops

peach bitters

Sliced, frozen peaches

1 (12 ounce) can

peach flavored seltzer, chilled
Directions
In a cocktail glass, mix peach whiskey, monk fruit, and bitters with a spoon.
Place frozen peaches in your glass – enough to loosely fill your glass.
Then slowly pour sparkling water over peaches until glass is full. Stir and serve.
Originally published on: August 4, 2015. Updated with new pictures and information.