Last Updated on April 7, 2022 by Anne-Marie
This chicken cordon bleu recipe makes an easy weeknight dinner. Baked chicken cordon bleu is also gluten-free.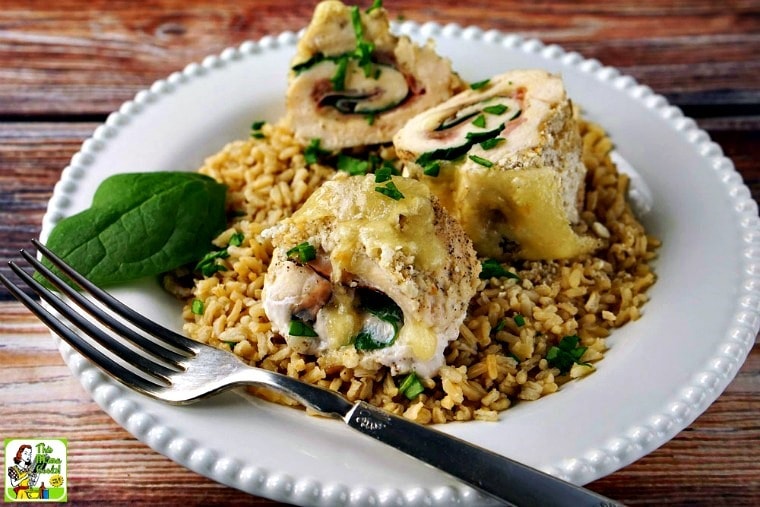 Why this recipe works
Do you think a Chicken Cordon Bleu recipe is too fussy for regular family dinners?
Maybe it's the fancy name or the process of rolling up cheese and ham inside a chicken breast that puts you off?
Well, making my chicken cordon bleu is a snap even during a busy weeknight – with plenty of leftovers for you to take to work the next day.
That's because I used a few shortcuts, like buying thinly sliced chicken breast at the store, so I didn't have to pound the chicken.
I also used deli ham slices and sliced cheese that we usually have on hand for sandwiches.
What could be easier?
Plus serve it with one of these 35 Side Dishes to Serve with Chicken Cordon Bleu.
What is chicken cordon bleu?
According to Real Food Real Kitchens, the origins of cordon bleu was a Swiss schnitzel filled with cheese around the 1940s. The recipe first appears in a cookbook in 1949. The earliest reference to "chicken cordon bleu" in The New York Times was in 1967.
Veal cordon bleu recipes date back to 1955, according to ErinNudi.com. The veal was swapped out for the chicken in Moscow. Erin writes:
"Chicken cordon bleu as we know it today consists of breaded chicken breasts pounded thin, stuffed with a slice of ham and a slice of Swiss cheese. It can be baked or fried, and often has a creamy sauce poured over it…
…The dish that likely best inspired chicken cordon bleu is Chicken Kiev. Chicken Kiev is chicken stuffed with seasoned or herbed butter, dredged in breadcrumbs, and fried."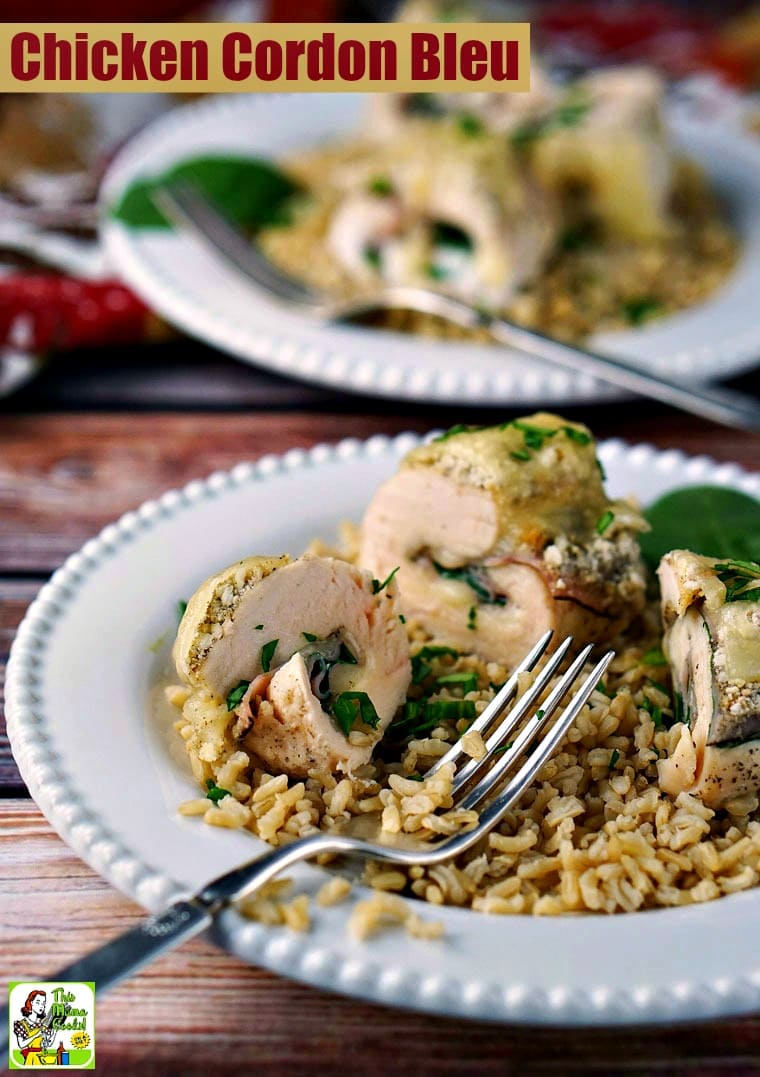 Some recipes have you butterfly the chicken breasts, then stuff them with the ham and cheese. While other recipes have you roll the chicken with the ham and cheese, pinwheel style, like my chicken cordon bleu recipe does.
Then the recipes call for dredging (that's dipping) the chicken in an egg and flour mixture then rolling them in breadcrumbs.
I kept it easy by rolling my chicken breasts in just panko style breadcrumbs and skipping the egg entirely. This way, it's easier, less messy, and it cuts back on a few calories.
Finally, some recipes call for topping the chicken cordon bleu with a cream sauce. Yummy, but that adds more work (and calories).
I felt that melting a slice of cheese on the cooked chicken cordon bleu recipe is much easier, a little more wholesome, and just as delicious.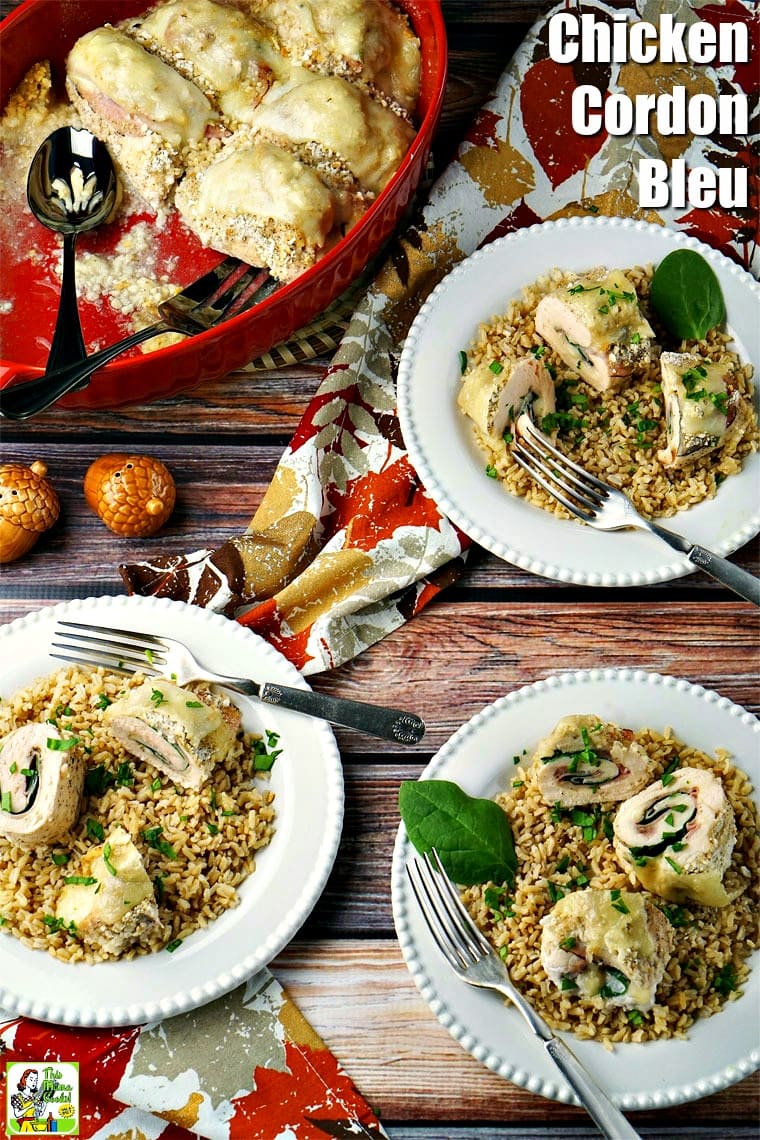 How to make chicken cordon bleu
Chicken breasts vs. chicken breast halves. A breast of chicken consists of two halves connected by a breast bone.  So what is labeled skinless, boneless chicken breast is actually a half a breast. In this recipe, each cordon bleu chicken uses half a breast.
If you cannot find thinly sliced chicken breasts, you'll need to pound each breast to 1/4 inch thickness with a meat mallet.
Placing the chicken breast in a Ziploc baggie and pounding it with a flat meat pounder (not one with sharp spikes) is probably the easiest way to do it. This way you don't have little pieces of raw chicken (YUCK!) flying all over your kitchen as you pound it.
I used black forest style ham slices. Feel free to use any variety of ham slices you like honey or brown sugar.
I used a large 9x14 casserole dish in which to bake the chicken cordon bleu. If you have a large baking dish around the same size, that should be fine.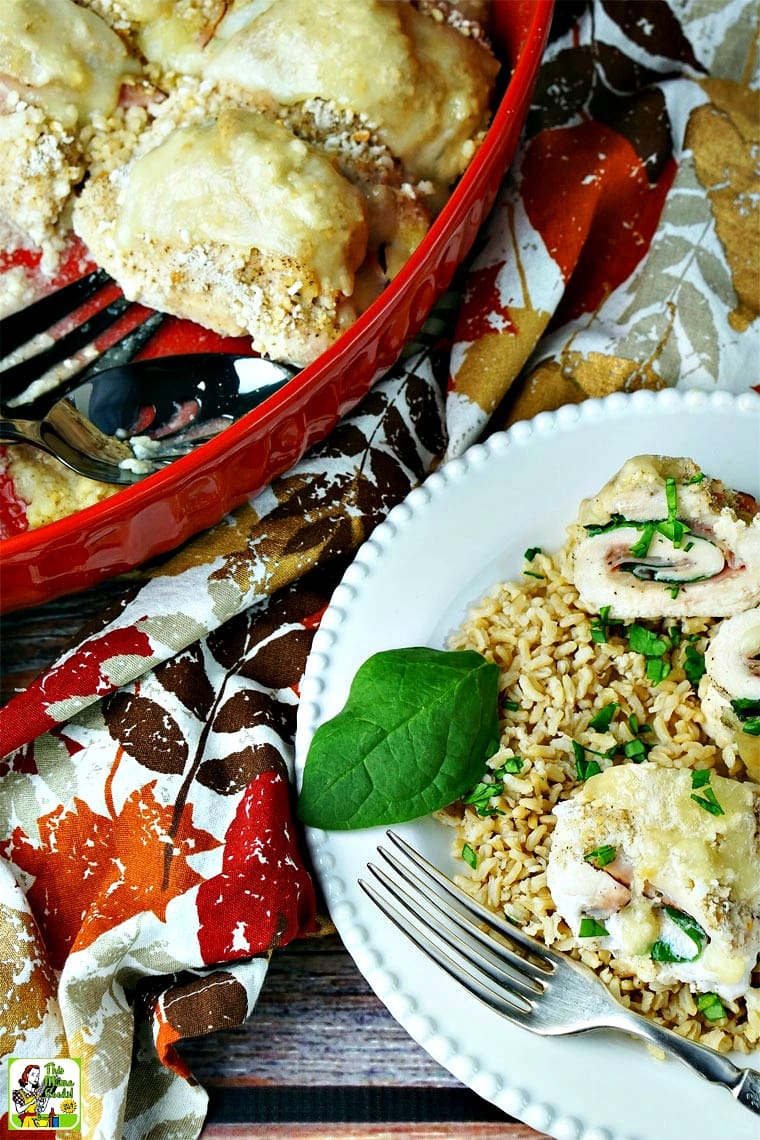 Tips for making easy chicken cordon bleu
To keep this baked chicken cordon bleu recipe gluten free, I used gluten free panko style breadcrumbs.
(I use gluten free panko to bread the chicken in my Baked Chicken and Waffles Recipe, too.)
If you can't find this product at your store or don't have time to buy online, make your own breadcrumbs with gluten free bread. Toast 3-4 slices of bread, then grind them in a food processor.
If you're not gluten free, use regular panko style bread crumbs. Panko is commonly sold at most grocery stores, but if you can't find it, using regular canned breadcrumbs is fine.
Use leftover baby spinach for a side salad. You can also julienne (slice thinly) the spinach as a garnish.
If spinach isn't your thing (or the kids can't stand it), use another vegetable they like, like shredded carrots or thinly sliced sweet peppers. Any way you can sneak in some veggies is a good thing!
I served the chicken cordon bleu on rice. But you could also serve it on quinoa or on a bed of creamy polenta. Yum!
More easy chicken recipes
There's nothing easier than cooking up a chicken recipe for dinner. Here are a few your family will love!
I love this Gluten Free Pot Pie Recipe in a Skillet because it's a one pot recipe that makes for easy clean up.
This Slow Cooker Buffalo Chicken Sliders Recipe is fun for a sports watching party or a just an every day weeknight dinner.
Try this Easy Chicken Marinade Recipe for summertime grilling or baking the chicken in the oven.
Got an Instant Pot? Try my Instant Pot Orange Chicken Recipe or Easy Instant Pot Chicken Thighs Recipe with Honey Garlic Sauce.
This easy Chicken Fajita Salad Recipe using pre-grilled chicken from your grocery store's freezer aisle.
Yield: 8 SERVINGS
Chicken Cordon Bleu Recipe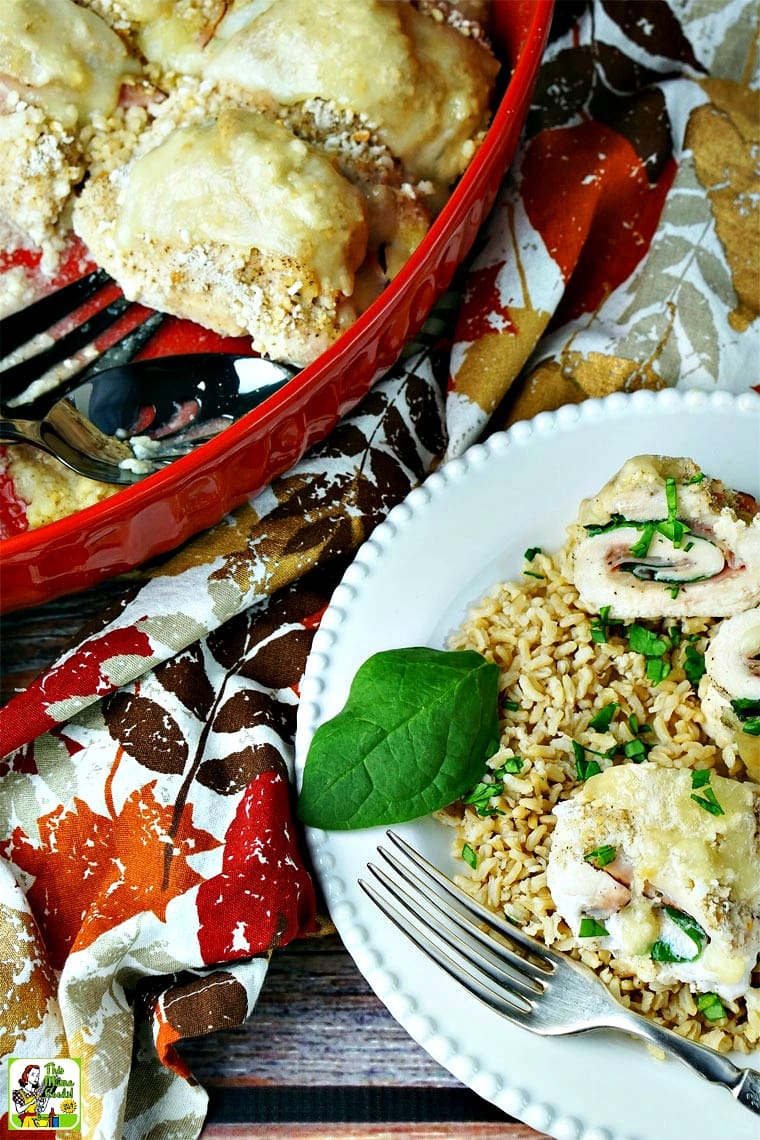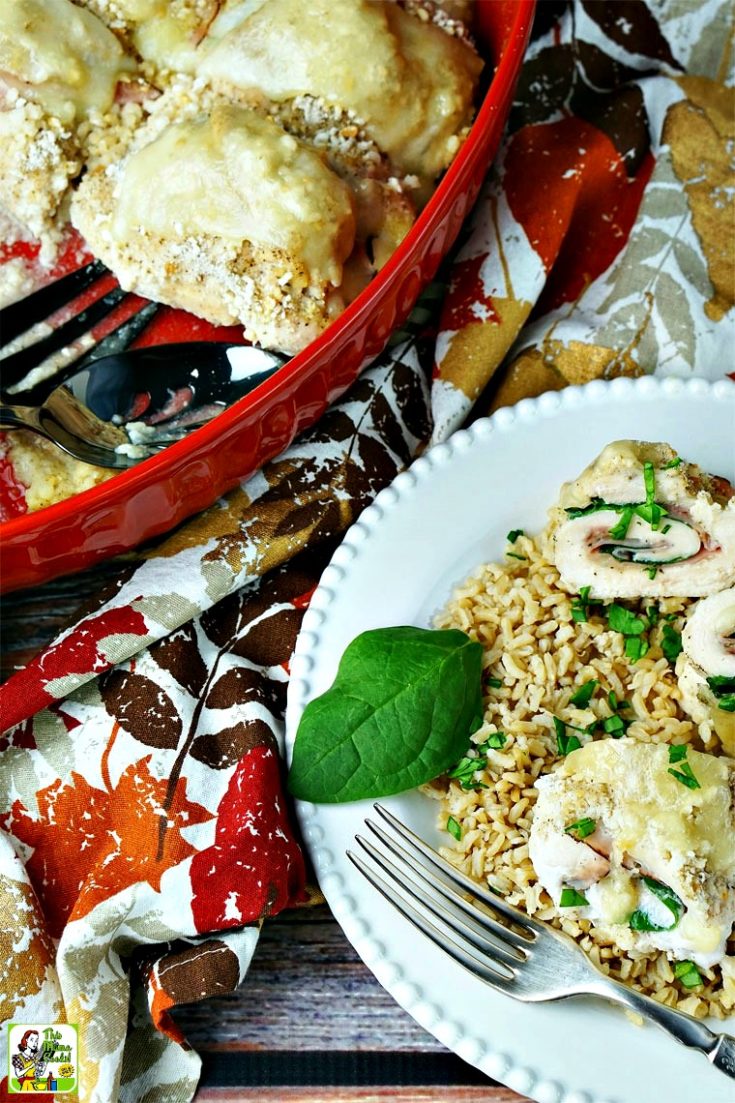 This Chicken Cordon Bleu Recipe makes an easy weeknight dinner. Baked chicken cordon bleu is also gluten-free.
Ingredients
Cooking spray
8 thinly sliced, skinless boneless chicken breast halves
Salt and ground pepper
12 slices sliced Swiss cheese of your choice (baby, ultra-thin, aged, or reduced-fat)
8 deli slices of cooked ham (any variety)
1 package baby spinach leaves
1/2 cup apple juice
1/2 cup gluten free panko style crumbs
3/4 teaspoon poultry seasoning
Instructions
Preheat oven to 350 degrees F. Spray a large baking or casserole dish with cooking spray and set aside.
Sprinkle each chicken breast half on both sides with salt and pepper. Place 1 cheese slice and then 1 ham slice on top of each breast. (Fold ham slice over to fit the cheese slice, if necessary.) Place spinach leaves (as many as will fit – 1 or 2 layers) on top of ham. Then roll up and secure the chicken breast half with a toothpick.
Arrange chicken breast halves in the baking dish. Pour apple juice over breasts.
Place panko style bread crumbs and poultry seasoning in a small bowl and mix thoroughly. Sprinkle combination evenly on top of each rolled chicken breast half.
Bake at 350 degrees F for 35 minutes until a thermometer inserted into centers reads 160 degrees F.
Cut 4 remaining cheese slices in half. Put a half a slice on each rolled chicken breast half. Place baking dish back in the oven for 5 minutes until the cheese has melted.
Remove toothpicks from the chicken cordon bleu. Serve immediately.
Recommended Products
As an Amazon Associate Affiliate and member of other affiliate programs, I earn from qualifying purchases.
Nutrition Information:
Yield:
8
Serving Size:
1 rolled chicken half
Amount Per Serving:
Calories:

324
Total Fat:

18g
Saturated Fat:

9g
Trans Fat:

0g
Unsaturated Fat:

6g
Cholesterol:

95mg
Sodium:

890mg
Carbohydrates:

9g
Fiber:

1g
Sugar:

3g
Protein:

33g
Nutritional information is automatically calculated per the ingredients list. Serving size may not be accurate. Please double-check with your preferred nutritional app for the most accurate information.
Originally published on October 28, 2016. Updated with new pictures and information.