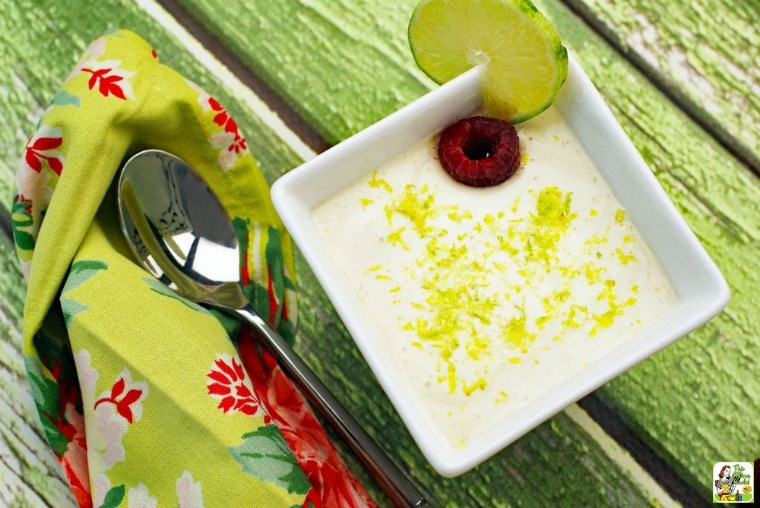 This Vegan Key Lime Mousse is tasty enough to serve to everyone and fits a variety of special dietary needs.
It's a wonderful dish to serve at parties because it's dairy free, sugar free, gluten free, vegan and more!
When I was a kid growing up in New Jersey, we'd spend our winter holidays in the Florida Keys.
I fell in love with all things key lime flavored like key lime pie, key lime ice cream, key lime pudding, key lime slushies, key lime candy – you name it!
I especially love key lime pie. However, I cannot handle the sweetened condensed milk in most key lime pie recipes. It gives me the worse tummy ache ever!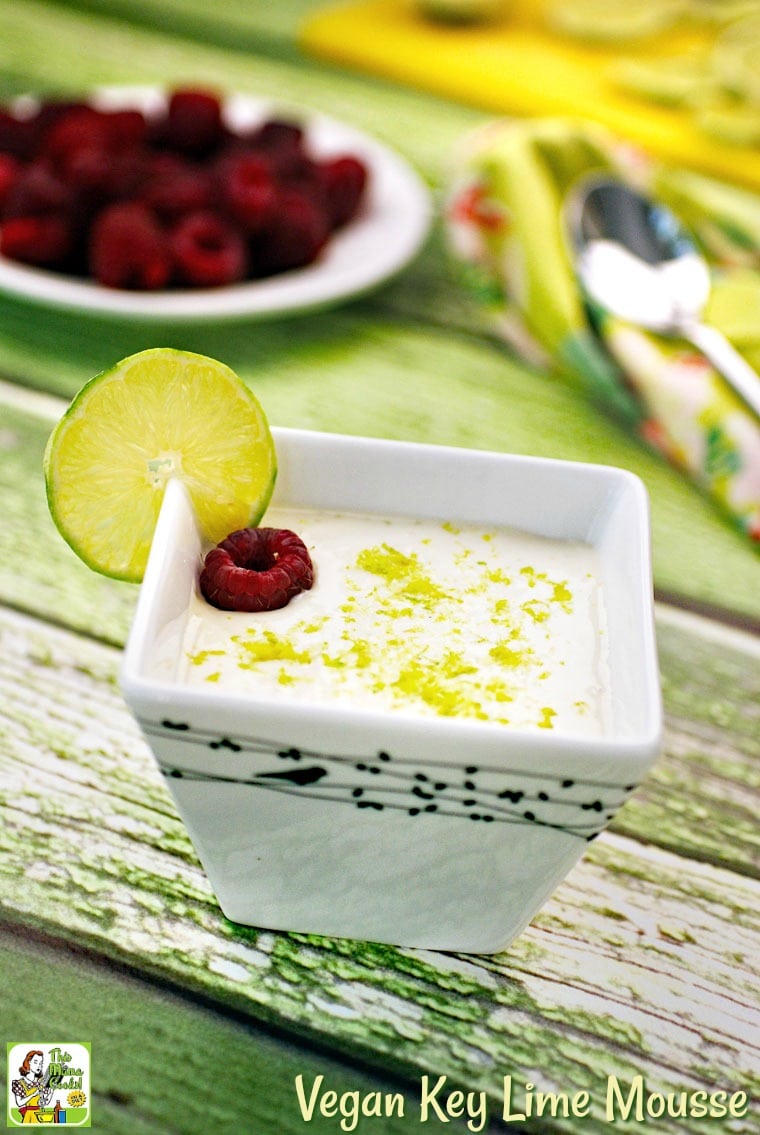 My solution was to create a key lime mousse made with tofu. It has all the great flavor and creaminess of key lime pie without the dairy!
It's super easy to make because you combine all the ingredients in your blender like you would a smoothie.
Then you pour the dairy free mousse into bowls, chill and serve. Easy!
Best of all, this is a 100% vegan mousse – no dairy, no honey, no eggs!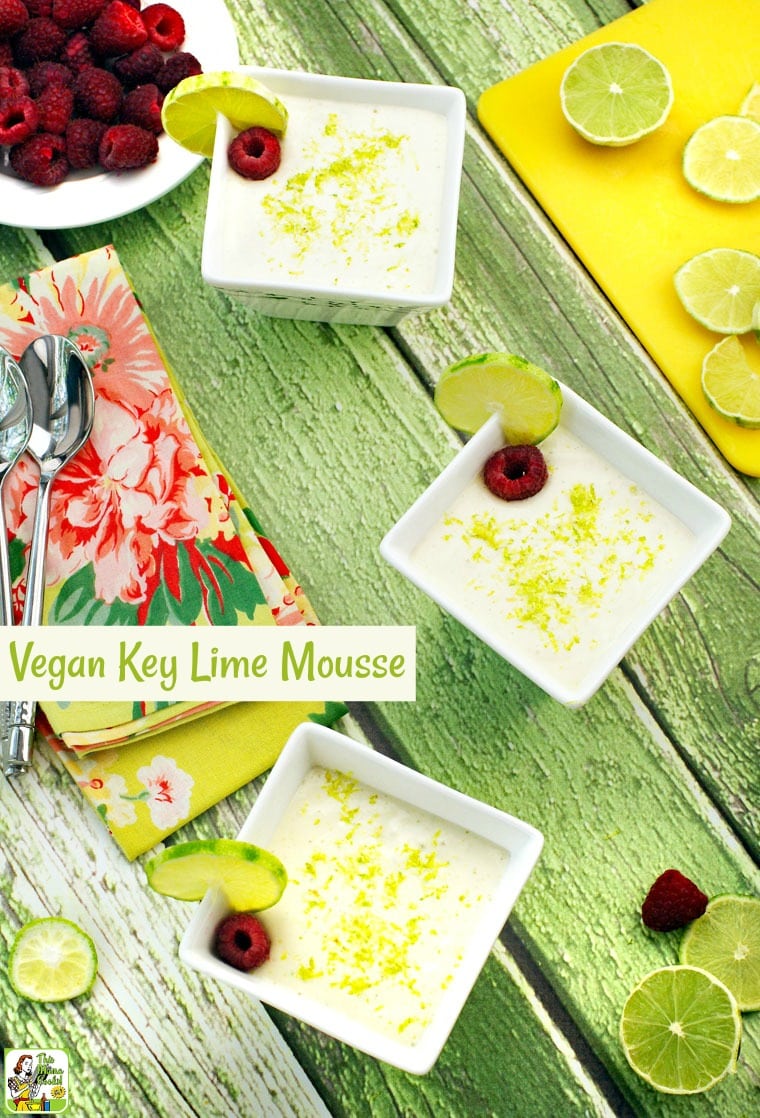 Making your vegan mousse sugar free
This is a wonderful dessert to serve at a Mother's Day brunch, especially if your mom her sugar intake. That's because I use a powdered monk fruit sweetener instead of sugar.
My favorite brand is Monk Fruit in the Raw. (You can use powdered sugar if you don't mind the calories.)
Since there's no pie crust to worry about, it's gluten free, too. However, this Vegan Key Lime Mousse makes a terrific pie filling.
To keep it gluten free, I like using Mi-Del Gluten Free Pie Crusts. These are not vegan however.
The key lime mousse 15 minutes to make, but you have to let it chill and set up for an hour or so in the refrigerator. So make it the night before or first thing in the morning.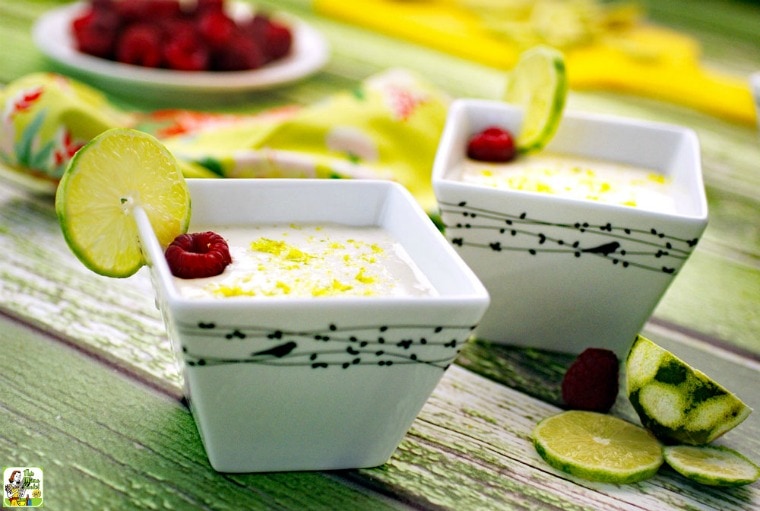 This sugar free mousse can quickly be made for a dinner party if you keep the ingredients on hand, since they keep in the refrigerator for weeks at a time.
However, don't tell anyone at the brunch that the dessert is made of tofu, unless they have a food allergy of some sort and need to know the ingredients.
That's because some people think tofu is yuck and won't eat it.
My kids thought the key lime mousse was made with it was yogurt and said it was delicious and only made "yuck faces" after I let the tofu cat out of the bag.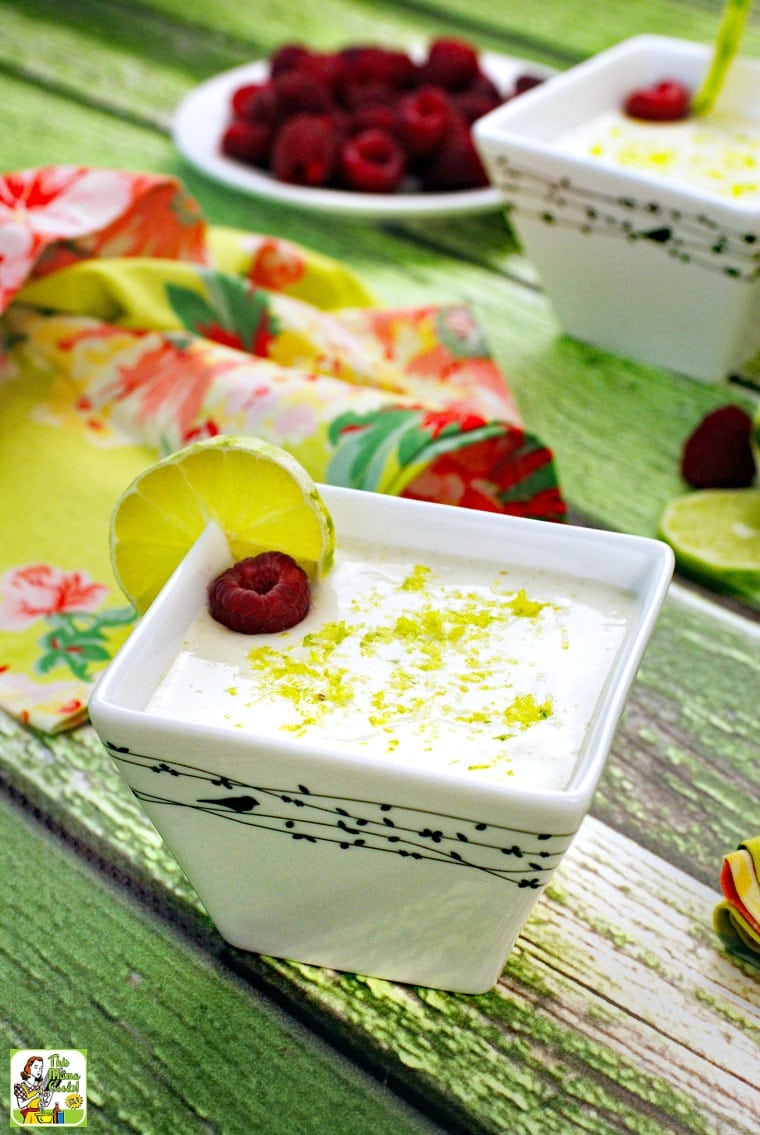 More tips making vegan key lime mousse
Nellie and Joe's Famous Key Lime Juice can be found in most grocery stores. DON'T substitute regular lime juice for it. Your results won't be the same.
For parties, serve the Vegan Key Lime Mousse in tall shot glasses topped with a single raspberry or a mint leaf. Your guests will flip over the presentation!
I served the vegan mousse at my husband's "Tofu vs. Bacon" work party. It came in second place with many accolades.
Since limes can be pricey, after zesting and using the limes as garnish, cut the leftover lime up to use in cocktails, seltzer or ice water.
Or squeeze the limes over salad or use in marinade. Don't let them go to waste!
More vegan recipes
If you're vegan and looking for more recipes, here are more dishes to enjoy:
Looking for desserts? Try these No Bake Almond Butter Pie and Vegan Chocolate Mousse recipes.
Vegan Spinach Artichoke Dip and Avocado Hummus are terrific party dips.
While Keto Pumpkin Mousse and Crock-Pot Vegan Mashed Sweet Potatoes with Parsnips are terrific for Thanksgiving, they can be enjoyed any time of the year!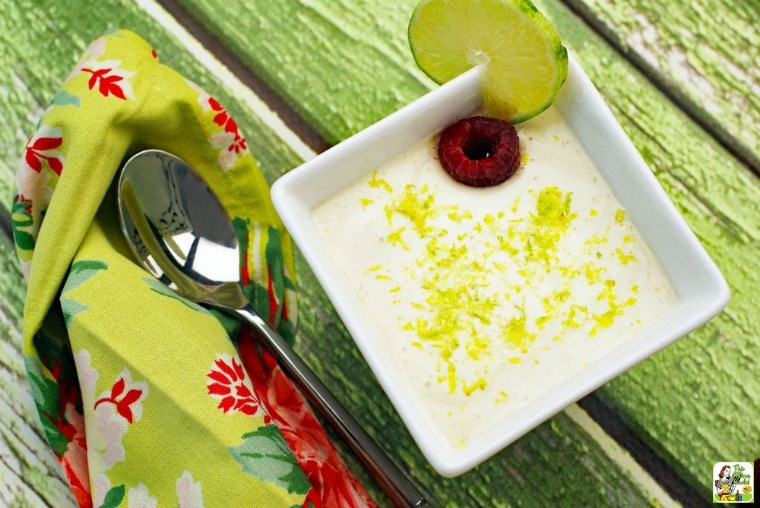 Vegan Key Lime Mousse Recipe
Ingredients
3 fluid ounces

Nellie and Joe's Famous Key Lime Juice

8 ounces

Tofutti non-dairy cream cheese

16 ounces

Nasoya Organic Silken Tofu

3/4 cup

powdered monk fruit

1 teaspoon

gluten free pure vanilla

2 tablespoons

lime zest (from approximately 3 limes) – save extra zest and lime slices for garnish

Raspberries for garnish (optional)
Directions
Combine all ingredients except garnish in blender or food processor. Blend until smooth.
Pour key lime mousse into four bowls. Chill in refrigerator for one hour.
Garnish with extra zest, lime slices and raspberries just before serving.
Serving size:

1/4 of recipe
Originally published on May 9, 2014. Updated with new pictures and information.