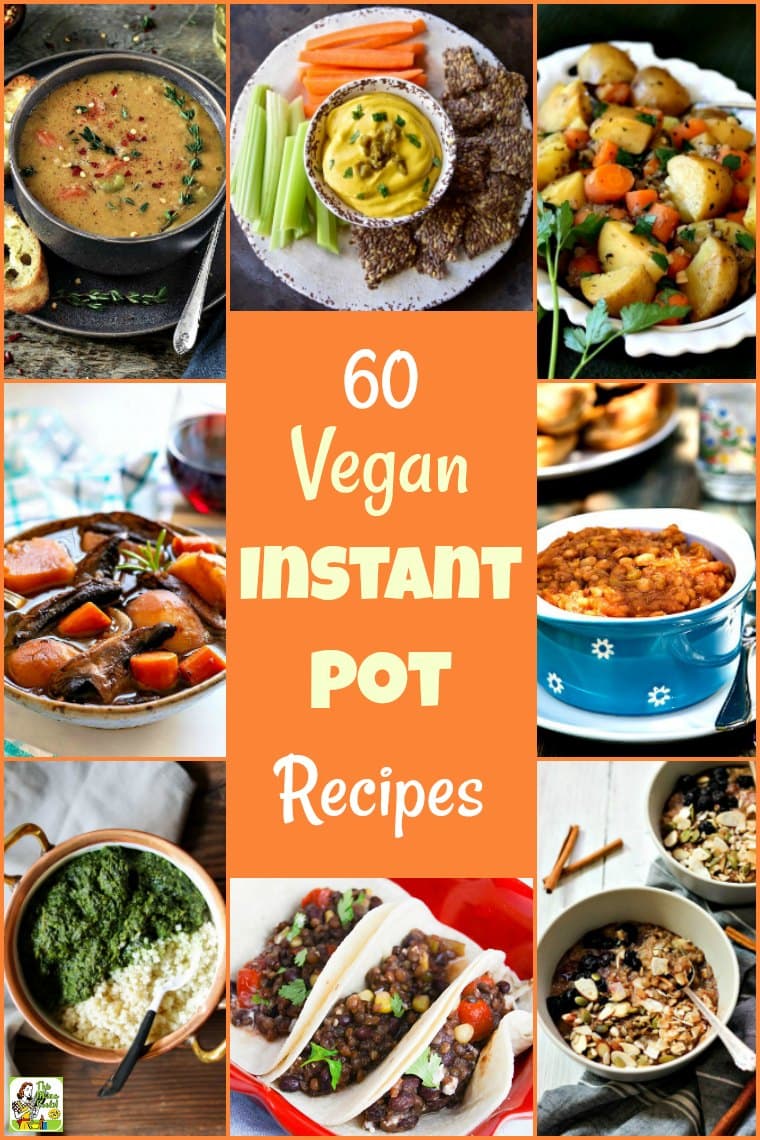 Everyone's cooking with the Instant Pot!  If you're vegan (or vegetarian), you're going to love this roundup of 60 Vegan Instant Pot Recipes!
We're talking 60 delicious plant-based recipes that are perfect for your Instant Pot pressure cooker – soups and chili, main dishes like tacos and meatballs, and more.
Click on the links below to check out Vegan Instant Pot recipes from some of my favorite food bloggers. I hope you find them delicious and fun to make!
Why you should make vegan Instant Pot recipes
Instant Pot cooking is a terrific way to help you cook healthy vegan meals.
Why? Because you can put a meal on the table faster since Instant Pots take a lot less time to cook than conventional methods. Eating vegan shouldn't be complicated!
The other benefit with Instant Pot (or pressure cooking) is that it preserves vitamins and minerals, resulting in healthier meals!
That's because the Instant Pot saturates food with steam, which retains the bright colors, nutrients, and phytochemicals in your food.
Vegan Instant Pot cooking tips
If you're a vegan Instant Pot recipe newbie, these tips will come in handy:
Don't overfill your Instant Pot. Fill your pressure cooker only about 2/3 of the way. If you overfill it, the recipe won't cook properly.
Follow Instant Pot recipes closely. For best results, don't fudge on the recipe! Don't change up the cooking times, ingredient order, or chopping sizes.
Save your fresh herbs for last. Wait until your vegan Instant Pot recipe is cooked before adding any fresh herbs. The combination of heat and moisture causes the herbs lose flavor and get mushy.
60 Vegan Instant Pot recipes you'll love!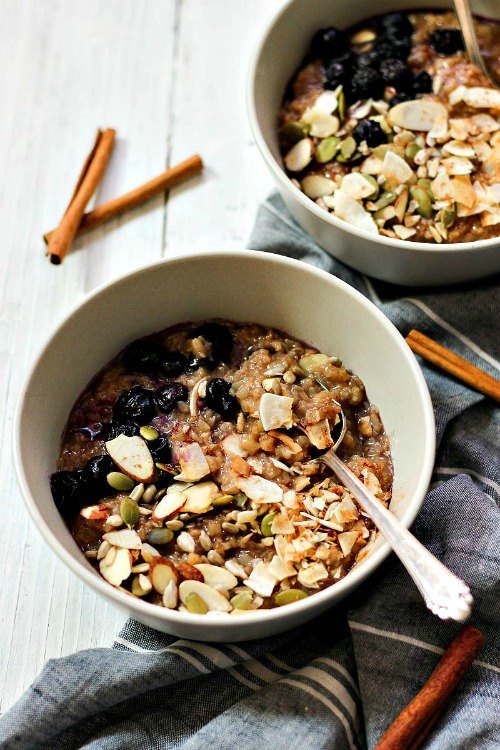 ● Instant Pot Tomato Soup from A Virtual Vegan
● Instant Pot Lentil Soup from Yummy Mummy Kitchen
● Mexican Quinoa Black Bean Enchilada Casserole from Confessions of a Fit Foodie
● Thai Green Curry with Tofu from Spice Cravings
● Instant Pot Gobi Masala – Cauliflower in Indian Spices from Easy Cooking with Molly
● Best Instant-Pot Charro Beans from The Belly Rules the Mind
● Instant Pot Mashed Potatoes from Veggies Save the Day
● Vegan Vegetable Soup from Living Freely
● Instant Pot Kale Chana Masala | Instant Pot Vegan Chickpea Curry from Cooking Carnival
● Instant Pot Butternut Squash Soup from Recipes from a Pantry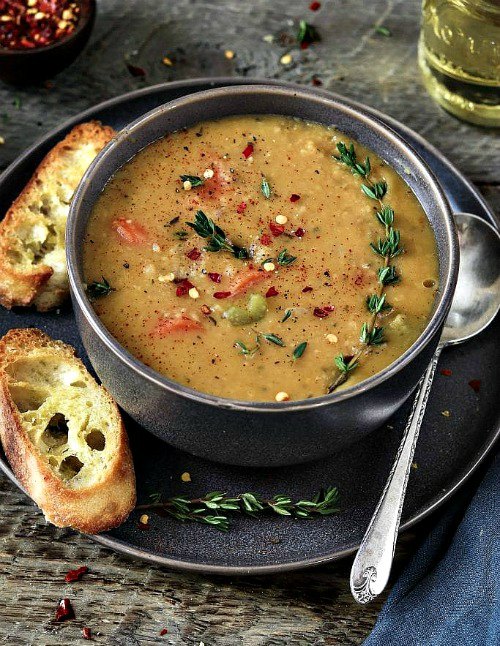 ● Yellow Split Pea Soup from from Vegan Huggs
● How to Cook Black Beans in your Instant Pot from Kristine's Kitchen
● Instant Pot Brown Rice from Kristine's Kitchen
● Tadka Dal – One Pot Lentil Soup from Simmer to Slimmer
● Instant Pot Carrot Lemongrass Soup from Soup Addict
● Instant Pot Ramen from Recipes from a Pantry
● Instant Pot Sweet Potatoes from Recipes from a Pantry
● Creamy Vegetable Soup from V Nutrition
● Teriyaki Instant Pot Rice from A Virtual Vegan
● Vegetable Chowder Recipe from My Crazy Good Life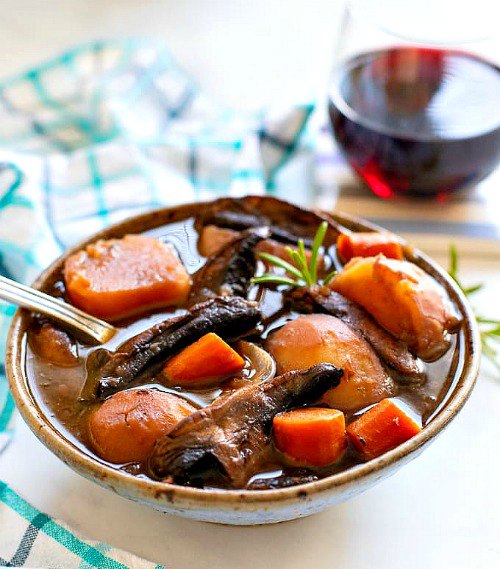 ● Vegan Instant Pot Portobello Pot Roast from A Virtual Vegan
● Moroccan Chickpea Soup from Two Sleevers
● Instant Pot Hearty Vegetable and Brown Rice Soup from Yay! For Food
● Instant Pot Black Bean Soup from A Pinch of Healthy
● Vegan Wild Rice Soup in the Instant Pot from Veggies Save the Day
● Instant Pot Paleo Cauliflower Mushroom Risotto from What Great Grandma Ate
● Hearty Vegan Instant Pot Chili from Umami Girl
● Instant Pot Borscht from Imagelicious
● Paleo Mashed Cauliflower Kale from Tasting Page
● Instant Pot Lentil Soup from Sustainable Cooks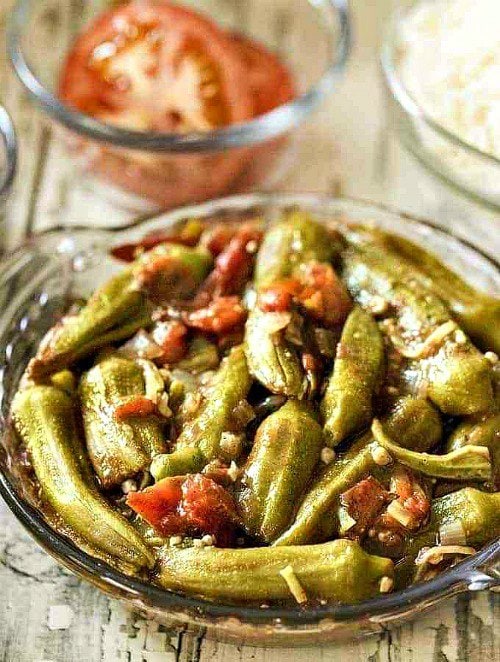 ● Mediterranean Bamyeh Okra Tomato Stew from Two Sleevers
● Instant Pot Pinto Beans (No Pre-Soaking) from A Pinch of Healthy
● Vegan Potato Corn Chowder from Veggies Save the Day
● Instant Pot Wild Rice Mushroom Soup from Cooking Carnival
● Carrot Ginger Soup from Yummy Mummy Kitchen
● Vegan Vegetable Soup from Living Freely
● Vegan Instant Pot BBQ Meatballs from Fried Dandelions
● Instant Pot Refried Beans from Vegan in the Freezer
● Instant Pot Ratatouille from Paint the Kitchen Red
● Instant Pot Pinto Beans from Healthier Steps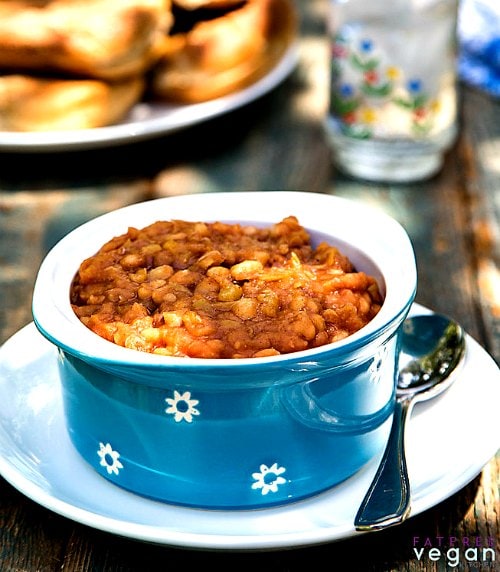 ● Hawaiian Baked Beans from Fat Free Vegan Kitchen
● Instant Pot Basmati Rice from Fried Dandelions
● Instant Pot Lentil Tacos from My Crazy Good Life
● Easy Instant Pot Vegan Chili from Carve Your Craving
● Instant Pot Chana Masala from Spice Cravings
● Vegan Cauliflower Queso in the Instant Pot from Tasting Page
● How to Make Perfect Black Beans in Your Instant Pot from Fried Dandelions
● Pressure Cooker Beets from Sustainable Cooks
● Instant Pot Vegetable Curry from Delicious Everyday
● Instant-Pot Minestrone Soup from The Belly Rules the Mind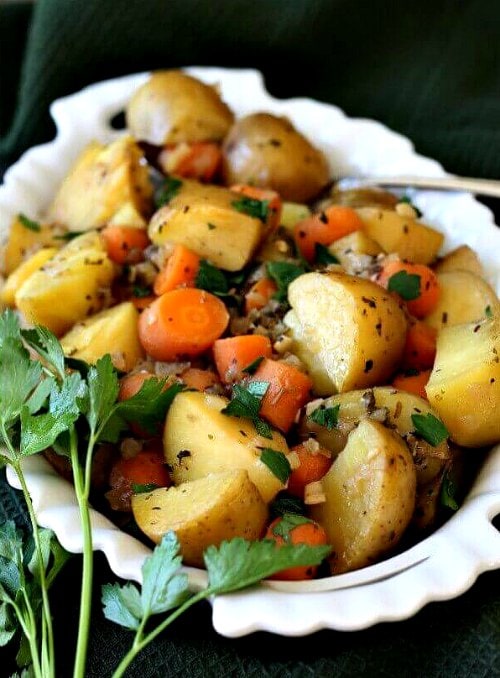 ● Instant Pot Potato Carrot Medley from Vegan in the Freezer
● Paleo Instant Pot Saag from What Great Grandma Ate
● Quinoa Tacos from My Crazy Good Life
● Instant Pot Mushroom Risotto from Vegan Huggs
● Instant Pot Ratatouille from Confessions of a Fit Foodie
● Quinoa Tabbouleh Salad from Spice Cravings
● Instant Pot Black Eyed Peas Curry Recipe from Easy Cooking with Molly
● Instant Pot Whole Roasted Cauliflower in Indian Masala from The Belly Rules the Mind
● Vegan Pumpkin Soup from Glue and Glitter
● Teriyaki Instant Pot Rice from A Virtual Vegan