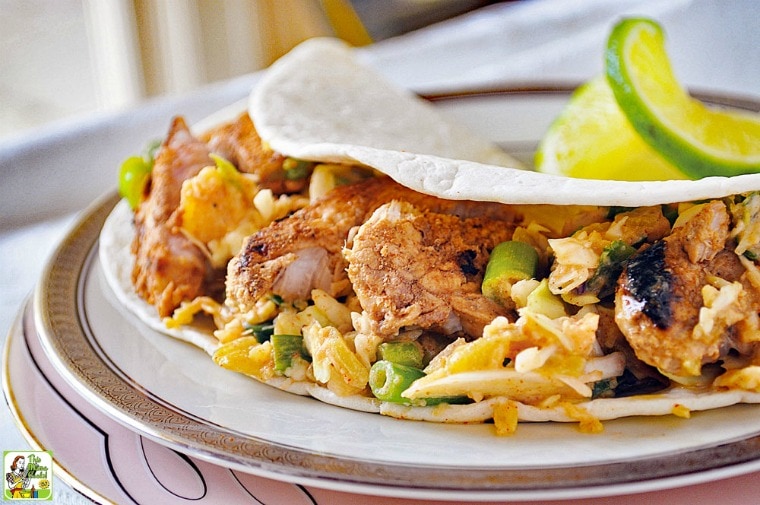 This easy pork tacos recipe comes from my frequent contributor, Holly Clegg. Coming from her Kitchen 101 cookbook, it's simple enough to put together on a busy weeknight.
Easy pork chop recipes like this one can also be done on the grill, making this perfect for summertime entertaining, too!
You can find more of Holly Clegg's trim& TERRIFIC® recipes at The Healthy Cooking Blog.
Check out Holly's trim & TERRIFIC™ cookbooks on Amazon, too!
Update on Holly: Holly was diagnosed with gastric cancer in 2018. For the latest on Holly's health, see her Instagram page.
You can learn more about Holly's Cancer Journey and donate to the Holly Clegg Gastric Cancer Research Fund at MD Anderson Cancer Center on her behalf.
These easy pork tacos are perfect for summer!
Did you say tacos?! You get all ages to come running when tacos are on the menu. That's why I'm always looking for an innovative terrific taco recipe.
If you are looking for an excuse to break in the grill this summer than look no further than this Easy Pork Tacos with Pineapple Slaw recipe.
A bite of pineapple sweetness with the pork spiced just right is so good, and is even diabetic friendly!
Try this terrific tip to heat tortillas in the microwave, and cover them with a damp paper towel for 30 seconds or until heated.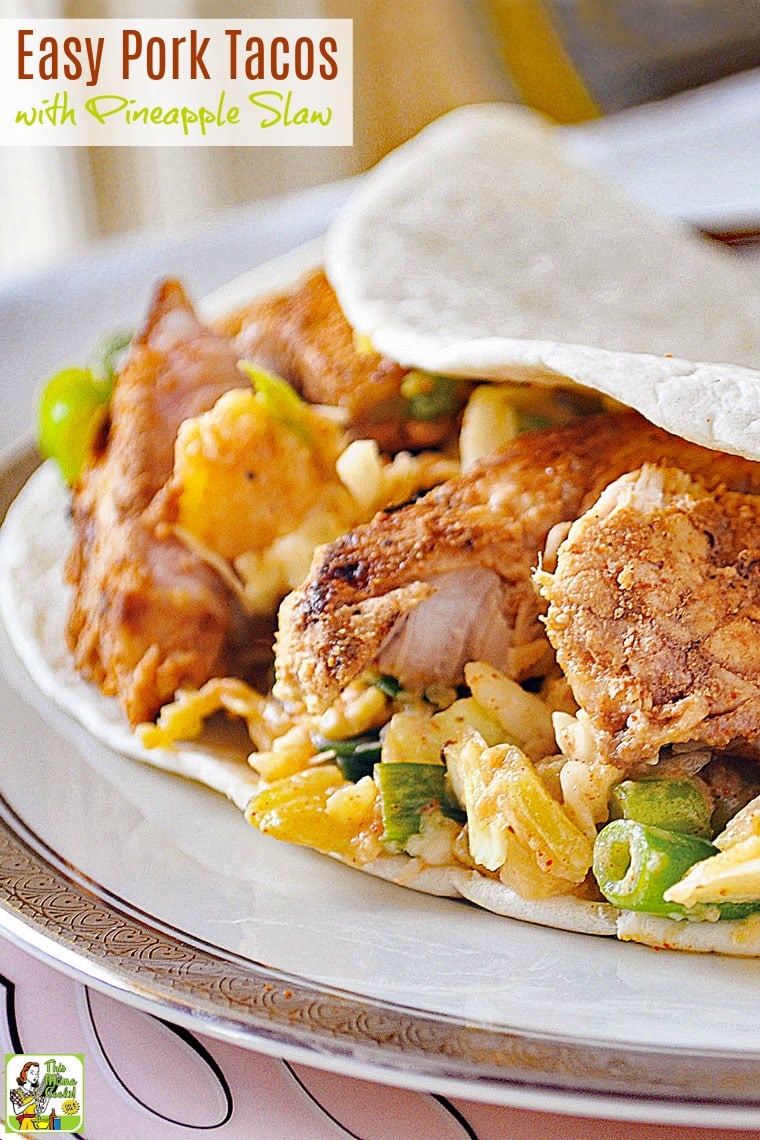 This Mama's tips for making easy pork tacos recipes
If you are dairy free, substitute a vegan sour cream for the yogurt.
You could also use a reduced fat mayonnaise that doesn't contain any dairy. (Many don't.)
If you're gluten free, serve this easy pork tacos recipe on corn tortillas.
I usually heat my corn tortillas on a griddle pan and then keep them warm in an insulated fabric pouch tortilla warmer.
I love my tortilla warmer! So much better than keeping them warm (and drying them out) in the oven!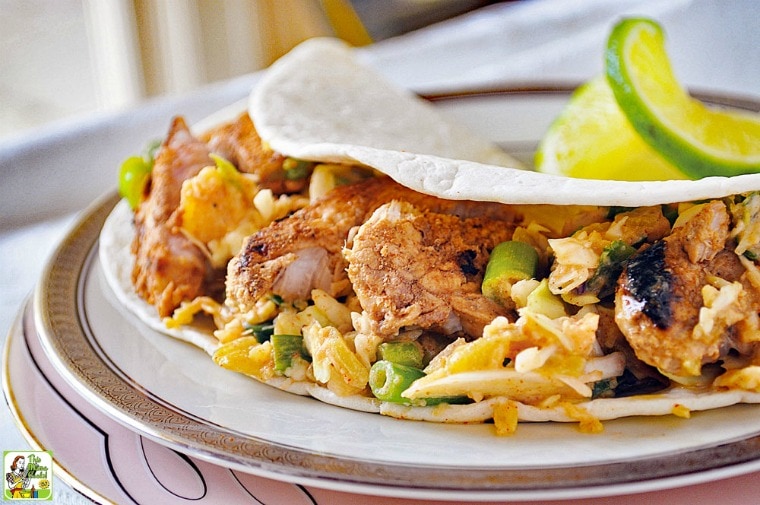 Pork Tacos with Pineapple Slaw
Ingredients
1 (8-ounce) can

crushed pineapple, drained, saving juice

1/2 cup

nonfat Greek plain yogurt

2 teaspoons

chili powder

1 teaspoon

cumin

2 tablespoons

lime juice

Salt and pepper to taste

2 pounds

pork chops, about 1/2-inch thick, trimmed of fat

4 cups

your favorite Cole slaw mix

1 bunch

green onions, chopped

1 (4-ounce) can

chopped green chilies, drained

10

flour or corn tortillas, warmed
Directions
In small bowl, combine pineapple juice (set crushed pineapple aside), yogurt, chili powder, cumin, and lime juice. Season to taste.
Remove 2/3 cup yogurt mixture and place in plastic bag or dish to marinate pork chops. Refrigerate 10-30 minutes. Set aside remaining yogurt mixture.
In large nonstick skillet coated with nonstick cooking spray, cook pork chops (discard marinade) over medium-high heat, browning on each side or until done. Slice into strips.
Combine reserved crushed pineapple, Cole slaw, green onions, chilies and remaining reserved yogurt mixture. Fill tortillas with pork slices and top with slaw.
Servings
:
Makes 10 (1 taco) servings
Serving size:

2 tacos

Calories:

243

Calories from Fat:

68 (28%)

Total Fat:

7g

Saturated fat:

5g

Unsaturated fat:

2g

Sodium:

385mg

Total Carbohydrates:

22g

Sugar:

5g

Fiber:

3g

Protein:

21g

Cholesterol:

53mg
Dietary Exchanges:  1 starch, 1/2 fruit, 2 1/2 lean meat
Recipe and photograph used with permission.