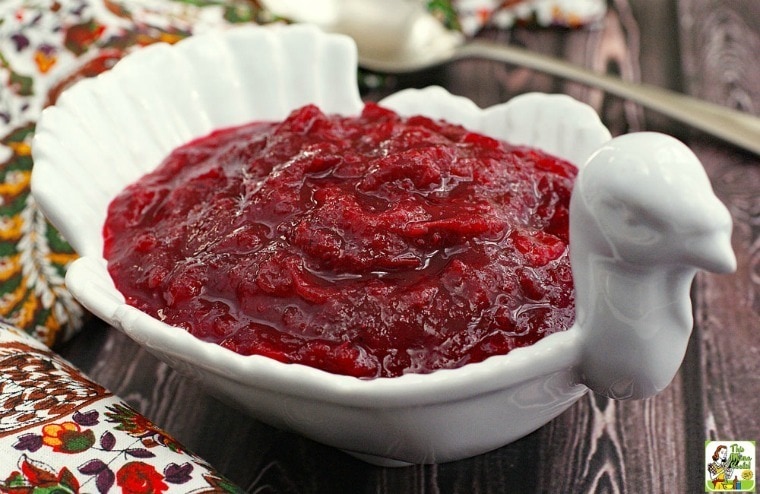 The reason I make a Sugar Free Cranberry Sauce recipe for Thanksgiving is because I'm trying to cut back on any unnecessary calories during the holidays. That's why I chose to use Swerve Sweetener in this healthy cranberry sauce recipe.
Swerve Sweetener is a natural, great tasting, no calorie sweetener that measures cup-for-cup just like sugar. I liked using Swerve so much that I used to send bags of it to Sweden when my sister lived there. I've been seeing Swerve Sweetener in some stores or you can buy Swerve sweetener online.
Another natural, no calorie sweetener I've used over the years in my Sugar Free Cranberry Sauce recipe is powdered monk fruit. It too measures like sugar and has no bitter aftertaste. You can find it at your grocery store or you buy it online.
Making Sugar Free Cranberry Sauce without adding calories
I've been using both Swerve and monk fruit in my tea and baking, but with the holidays approaching I was looking forward to using it in some Thanksgiving recipes including this Sugar Free Cranberry Sauce recipe. I don't know what it is about holiday cooking, but it seems like it's a big excuse to dump a ton of sugar into everything!
When doing my research when creating this healthy cranberry sauce recipe, can you believe I found a recipe where you would make a simple sugar syrup before adding the cranberries? Sure cranberries are tart, but that's ridiculous!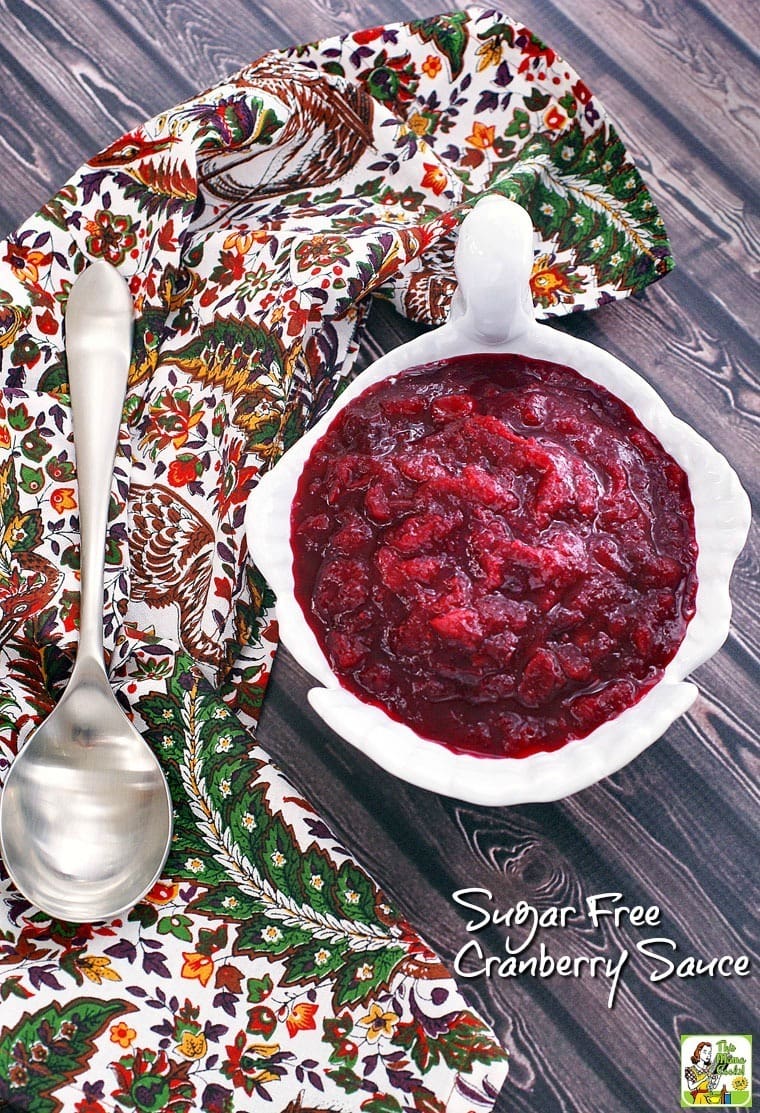 Instead, I decided to rely on the natural sweetness of cider along with a natural, no calorie sweeteners to sweeten up this homemade cranberry sauce recipe. I chose to make two batches – one with Swerve and one with monk fruit – since we always use a great deal of cranberry sauce.
You may be nervous about using sugar substitutes in cranberry sauce since sugar helps it thicken during the cooking process. Not to worry because this Sugar Free Cranberry Sauce recipe thickened up very nicely with both the Swerve and monk fruit.
As far as taste, both natural, no calorie sweeteners were delicious. So choose whatever sweetener you'd like to use in other homemade Thanksgiving baking and cooking recipes.
Check out these leftover cranberry sauce recipes
I'm a big believer in making sure that there's plenty of healthy cranberry sauce leftovers for recipes like these:
Leftover homemade healthy cranberry sauce can be used in yogurt parfaits, on top of your morning oatmeal, as a pancake or crepes topping, or even in muffins, too!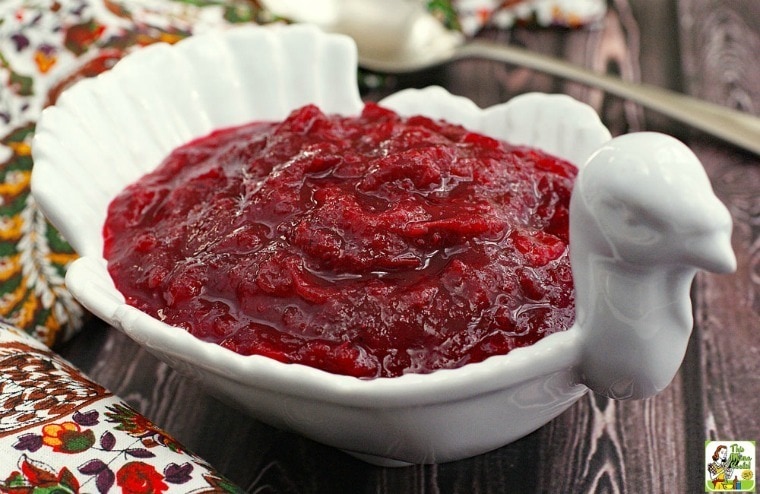 Sugar Free Cranberry Sauce
If it's too tart, feel free to add more sweetener!
Ingredients
1 1/2 cups

cider

1/2 cup

Swerve Sweetener (granular) or monk fruit

4 cups

fresh cranberries

1/2 teaspoon

ground cinnamon

1/4 teaspoon

nutmeg

pinch

salt
Directions
Combine ingredients in a saucepan over medium high heat. Bring to a rolling boil, stirring occasionally.
Lower heat to medium and continue to cook, stirring occasionally, until cranberries have popped and sauce thickens, about 10 to 15 minutes. Use the back of your spoon to help pop cranberries.
Remove from heat and pour into a serving dish. Place in the refrigerator until it's time to serve. (Can be made 24-48 hours in advance. Keep refrigerated.)
Servings
:
8 to 9 servings
Originally published on November 22, 2013. Updated with new pictures and information.