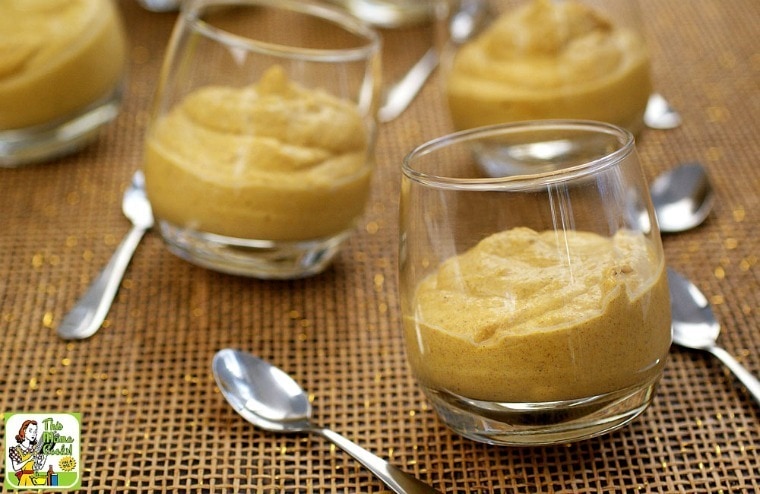 If you're looking for a pumpkin dessert recipe that's dairy free, healthy, vegan, gluten free, paleo, and sugar free, you've got to check out my Creamy Coconut Pumpkin Pie Mousse recipe.
No matter what kind of diet you or your guests are following, this is the ideal pumpkin pie mousse recipe to serve during fall holidays like Halloween and Thanksgiving.
Unfortunately, this pumpkin pie mousse recipe isn't low calorie due to the coconut cream. So watch your portions!
This Creamy Coconut Pumpkin Pie Mousse recipe is as easy to make since it only contains four ingredients and is no bake.
However, it does take a little bit of planning as you have to put the can of coconut cream in the refrigerator overnight.
If you're dairy free, just start keeping a can or two of the coconut cream in the refrigerator. That way, you always have some ready to go to make "whipped cream" for desserts or in this case for Creamy Coconut Pumpkin Pie Mousse!
Creamy Coconut Pumpkin Pie Mousse would also make a wonderful no bake pumpkin pie filling recipe! To keep it gluten free, use a gluten free pie crust.
I like Mi-Del Gluten Free Pie Crusts. Several of their pie crust flavors would be delicious for this pumpkin pie mousse recipe, such as chocolate snaps, graham, or ginger snaps.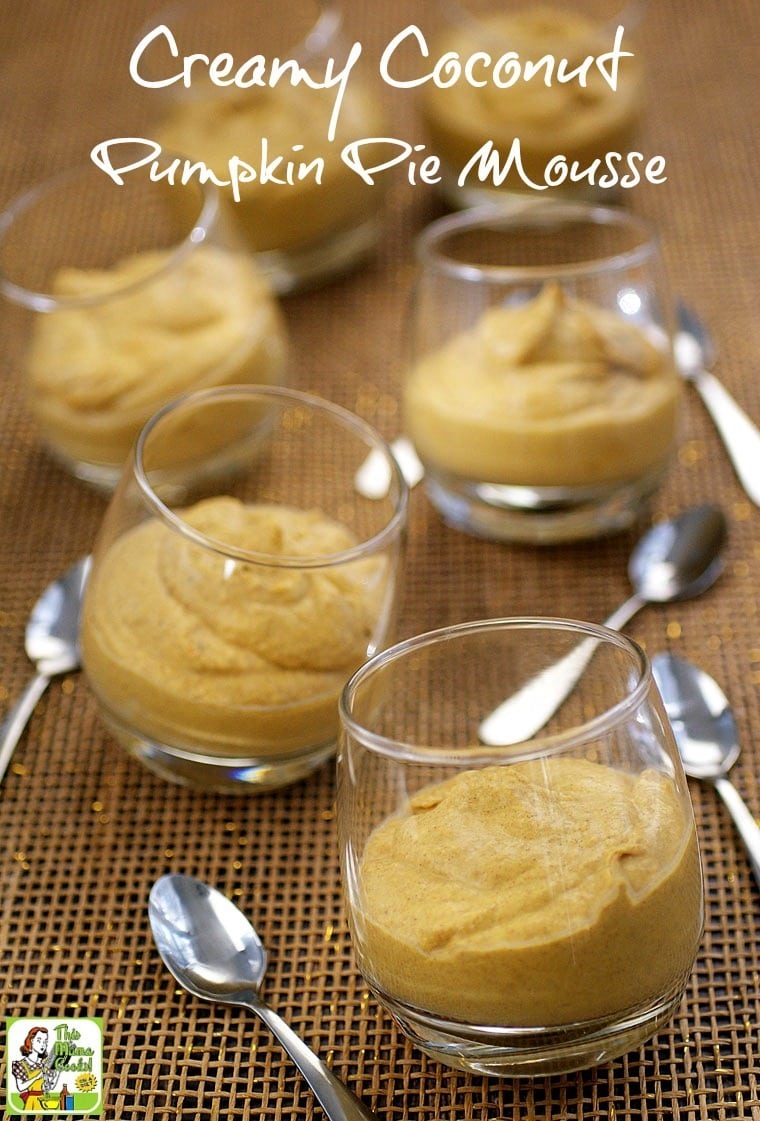 A note on using coconut cream in this dairy free pumpkin pie mousse recipe
Coconut cream is thicker than coconut milk because it contains less water. Some brands may contain thickeners like xanthan gum, which are fine. However, stay away from any brands with sugar as those are usually meant for making pina coladas.
You can also use full fat coconut milk in the Gluten Free Deep Dish Pumpkin & Coconut Cream Pie recipe.
Just pour off any coconut water you'll find after refrigerating overnight. (Save the coconut water for smoothies or soups!) You won't get as much cream as a full can of coconut cream, so use less sugar.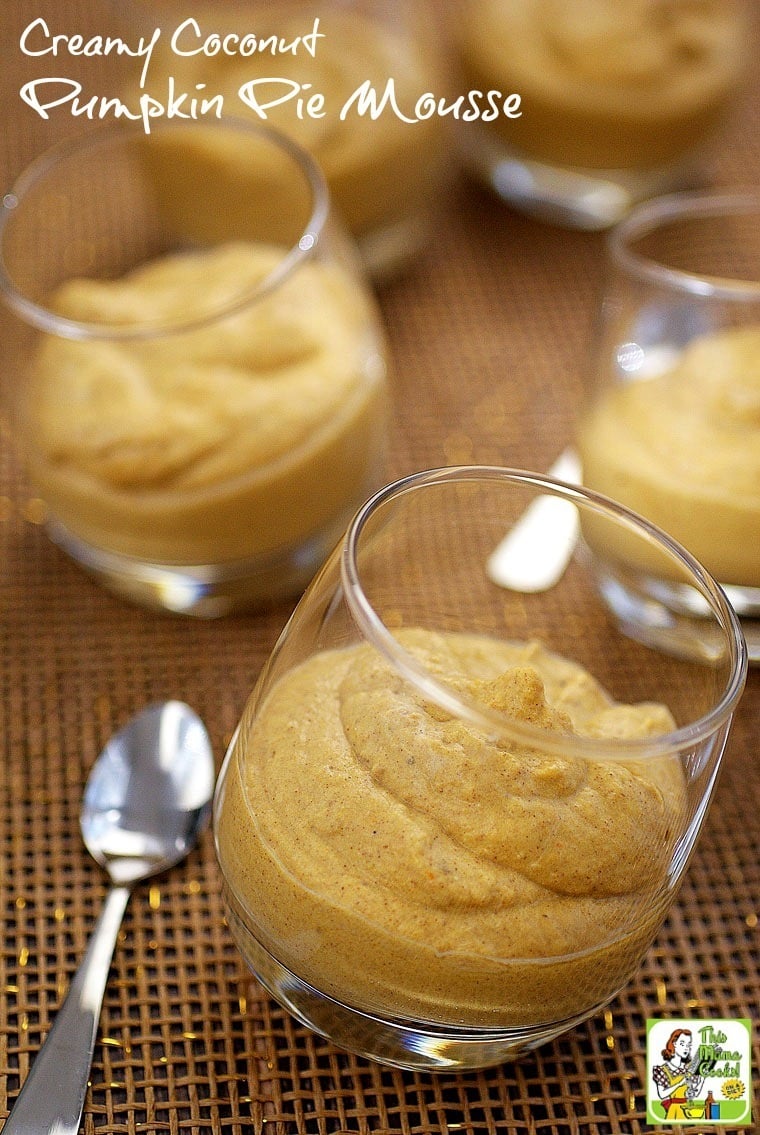 Using sugar substitutes in Creamy Coconut Pumpkin Pie Mousse
When it comes to using sugar substitutes, I'm all about using products that you feel comfortable serving to your family. I use both natural and conventional sugar substitutes in my cooking and make no judgments in what you should use at your home.
Originally, this recipe called for powdered stevia instead of sugar. Some people find stevia is somewhat bitter, but I didn't notice that in this pumpkin pie mousse recipe.
These are my favorite stevia brands:
Pyure Organic Stevia All-Purpose Blend Sweetener, 16 Ounce
Stevia In The Raw, 9.7 Ounce
PureVia Zero Calorie Sweetener, 40-Count Packets (Pack of 4)
My favorite natural no calorie sweetener is Monk Fruit in the Raw. It works just as well as sugar in baking and cooking.
Monk Fruit In The Raw Sweetener, 4.8 Ounce Bag
You could also use more conventional sugar substitutes in this pumpkin pie mousse recipe, if you wish. (I love baking with Splenda Brown Sugar blend, which is a low calorie, reduced sugar blend.)
Splenda Brown Sugar Blend, 16 Ounce Bag (Pack of 4)
Splenda No Calorie Sweetener Bulk Pack, 26.08 Ounce
Equal Spoonful Sweetener, 4-Ounce Jars (Pack of 8)
If you don't like sugar substitutes – for whatever reason – feel free to use regular sugar.
You could also experiment with agave syrup or maple syrup in this pumpkin pie mousse recipe. Start with a couple of tablespoons and add more to taste.
Speaking of adding to taste, one reader commented that she thought I used too much pumpkin pie spice in my Creamy Coconut Pumpkin Pie Mousse recipe.
You may want to start with 1 tablespoon of pumpkin pie spice. Have a taste. Then add a few more teaspoons more to your liking.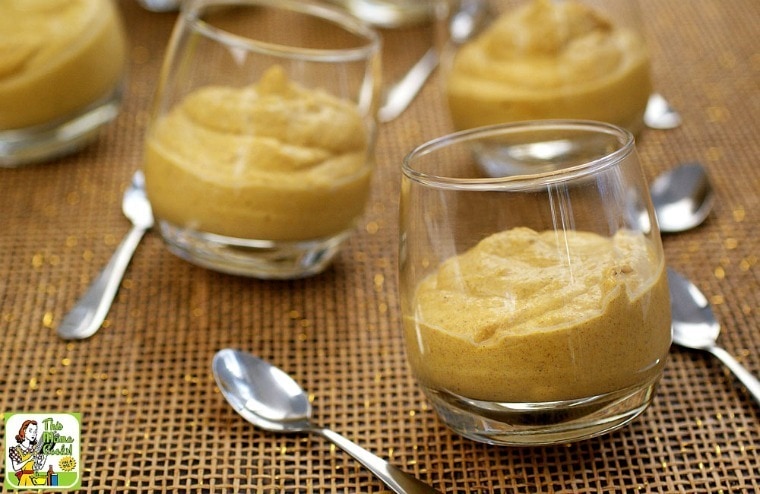 Creamy Coconut Pumpkin Pie Mousse
Ingredients
1 (15 ounce) can

organic pumpkin puree

2 tablespoons

pumpkin pie spice

1/4 cup

powdered stevia, monk fruit or sugar substitute

1 (14 ounce) can

unsweetened coconut cream
Directions
Place can of unsweetened coconut cream in refrigerator overnight.
Place bowl and wire whip beater from your stand mixer in refrigerator for 15 minutes to chill.
Put pumpkin puree, pumpkin pie spice, and sugar substitute in a large bowl. Mix until ingredients are thoroughly incorporated.
Prepare the coconut whipped cream by spooning the chilled coconut cream into the chilled bowl. Whip on medium high like you would whipping cream until it's light and fluffy and soft peaks form. Do not overbeat.
Gently fold coconut whipped cream into pumpkin mixture until well blended. Place bowl in refrigerator for 15 minutes while you clean up. Dish into bowls and serve.
Serving size:

1/6 of recipe
Originally published on November 4, 2014. Updated with new pictures and information.