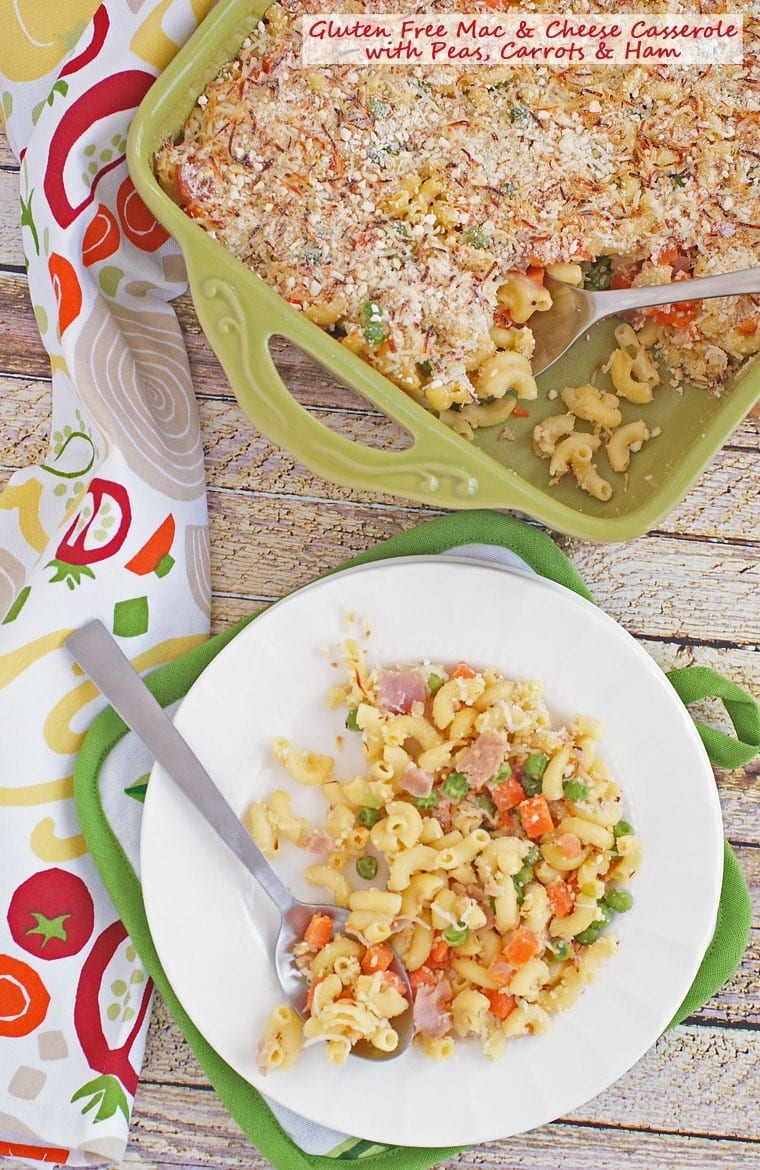 I'm a firm believer that when kids are old enough they should pack their own lunches, make their own snacks, and even cook their own meals. That's why I stock up on easy-to-prepare foods like Horizon® Mac & Cheese for my kids, Nathan and Lucie, to make when their dad is traveling and I'm taking the night off from cooking dinner. Usually I stay out of the way as the arguments over what variety of Horizon mac and cheese they should make – and who will make it – gets pretty heated.
Now my kids aren't gluten free, but for kids who are, it's very important for them not to feel left out. That's why I was thrilled to see that Horizon now offers Horizon® Gluten-Free Macaroni & White Cheddar Cheese so they can enjoy mac and cheese just like everyone else! It's also important for gluten free kids – or any child who's on a special diet – to develop cooking skills at an early age since going out to eat won't be an option when they get to college.
Get them started slowly by measuring and chopping up ingredients, opening packages, setting timers, and so on. By the time they're older and you're too tired to cook after a long day at work, having them cook up a batch of Horizon® Gluten-Free Macaroni & White Cheddar Cheese will be a blessing, right?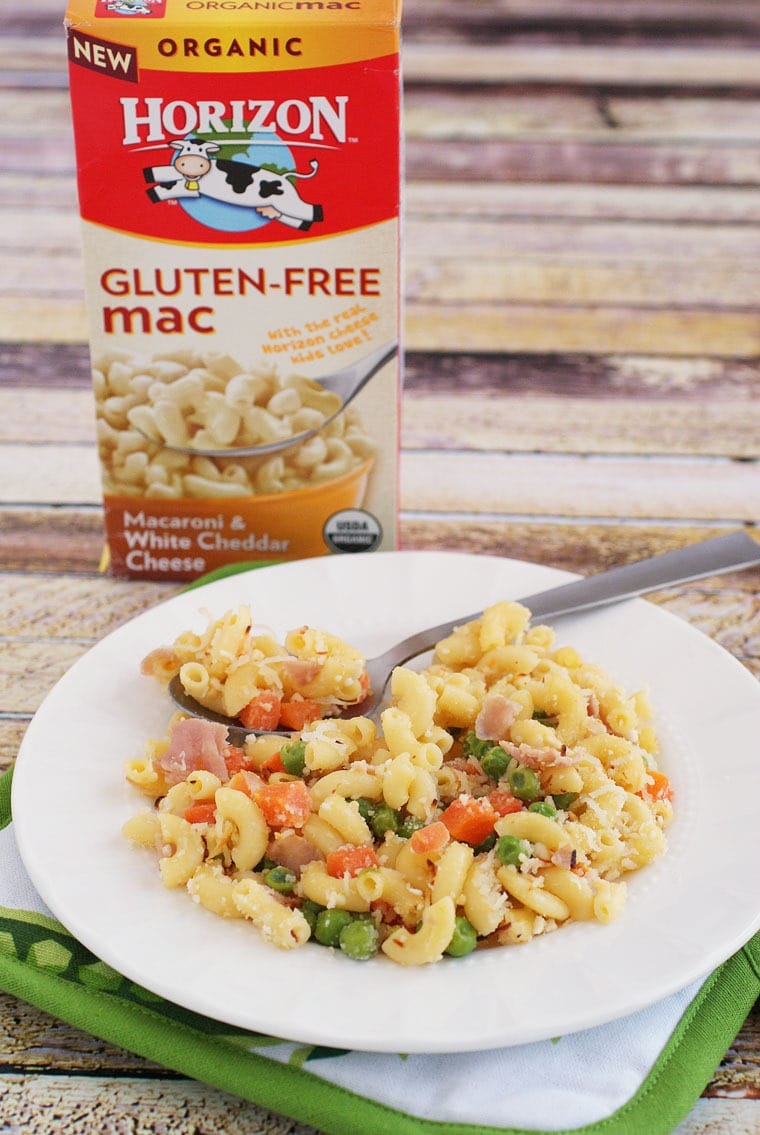 An easy gluten free mac & cheese casserole for the young chef
I've come up with a recipe for a Gluten Free Mac & Cheese Casserole with Peas, Carrots & Ham that most kids can help cook up with you or by themselves with a minimum of supervision. This is a perfect dish to use up all those Easter leftovers, too! Younger children can help measure ingredients, open the packages of vegetables, cheese, and panko, set timers, cut the ham, and sprinkle the panko and cheese mixture over the casserole dish.
Once they get the hang of this dish, they can also try my Mac & Cheese with Root Vegetables & Pancetta. Just substitute the gluten free mac and cheese for the regular kind! After all, helping gluten free kids learn how to cook for themselves will help them feel less stressed about being "different." They'll learn some valuable life skills and will be excited about the gluten free foods they're eating.
For more information on Horizon products, follow them on Twitter @horizon_organic or on Facebook.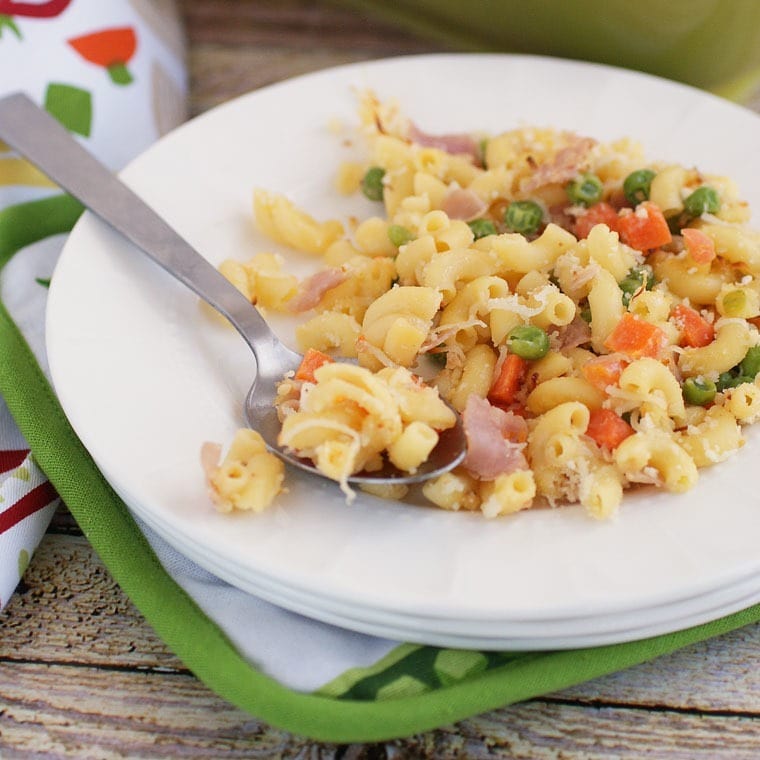 This Mama's tips on the Gluten Free Mac & Cheese Casserole with Peas, Carrots & Ham recipe
For a truly one pot meal, skip transferring the noodles, vegetables, and ham to a casserole dish. Instead, cook the mac and cheese in an oven safe pot that can be transferred from stovetop to the oven.
Gluten free panko style bread crumbs can be found at health food stores, natural grocery stores, and online. If you can't find gluten free panko, you can try gluten free bread crumbs (make your own from gluten free toast ground up in a blender). Or use gluten free cereal placed in a ziplock baggie and crushed with a rolling pin!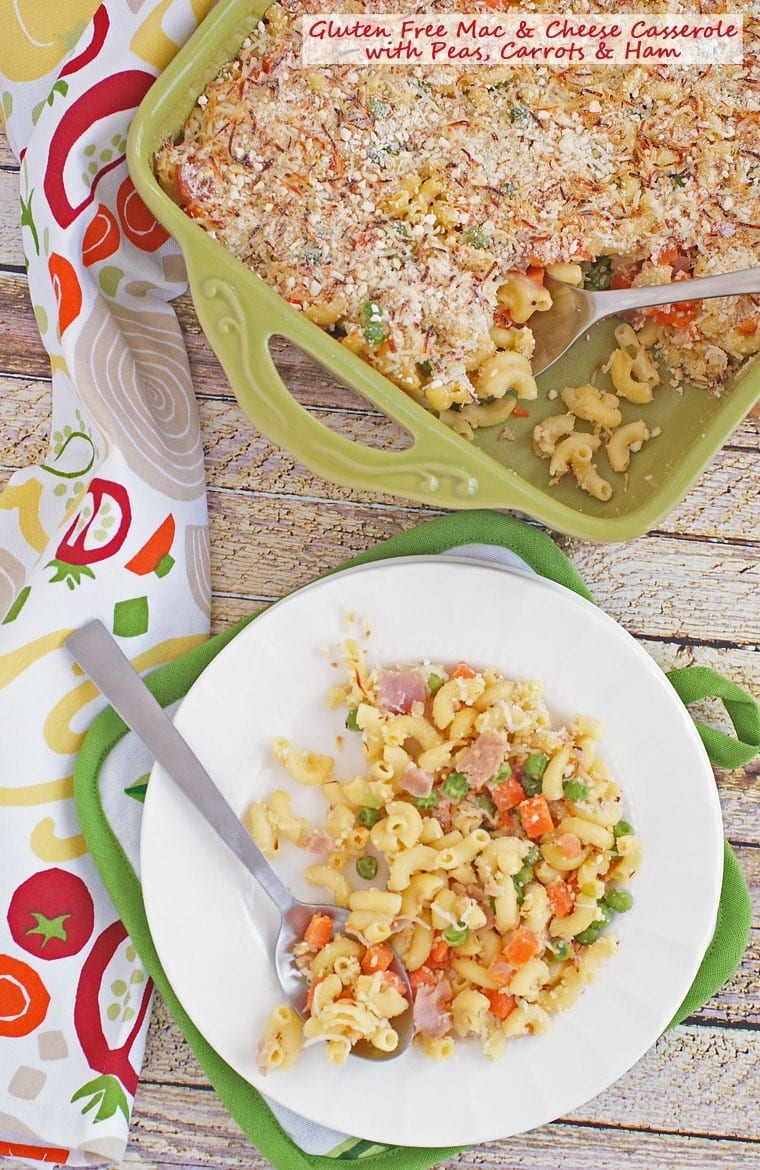 Gluten Free Mac & Cheese Casserole with Peas, Carrots & Ham
Ingredients
Cooking spray

2 boxes

Horizon Gluten-Free Macaroni & White Cheddar Cheese

1/2 cup

Horizon organic reduced fat milk

1/4 cup

Horizon organic unsalted butter

1 (12 ounce bag)

frozen peas and carrots

1/2 cup

diced, thinly sliced honey ham sandwich meat

1/2 cup

Horizon Shreds Shredded Mozzarella Cheese

1/4 cup

gluten free panko style bread crumbs
Directions
Preheat oven to 350 degrees F. Spray casserole dish with cooking spray and set aside.
Cook two boxes of Horizon Gluten-Free Macaroni & White Cheddar Cheese according to the instructions on the side of the box. Cook pasta to the al dente (firm) stage. Do not overcook!
While pasta is cooking, heat the frozen peas and carrots in the microwave. Set aside.
Dice the ham and set aside.
Combine cheese and panko in a small bowl. Stir ingredients thoroughly and set aside.
Once the Horizon Mac & Cheese is cooked, add peas and carrots and ham to the pot. Stir until all ingredients are thoroughly incorporated. Pour into casserole dish and evenly distribute.
Sprinkle panko and cheese mixture evenly over mac and cheese. Place in upper third of oven. Cook for 10-15 minutes until panko and cheese start to brown.
Remove and let sit for 5 minutes. Serve.
Serving size:

1/4 to 1/6 of recipe
This is a sponsored conversation written by me on behalf of Horizon Organics. The opinions and text are all mine.