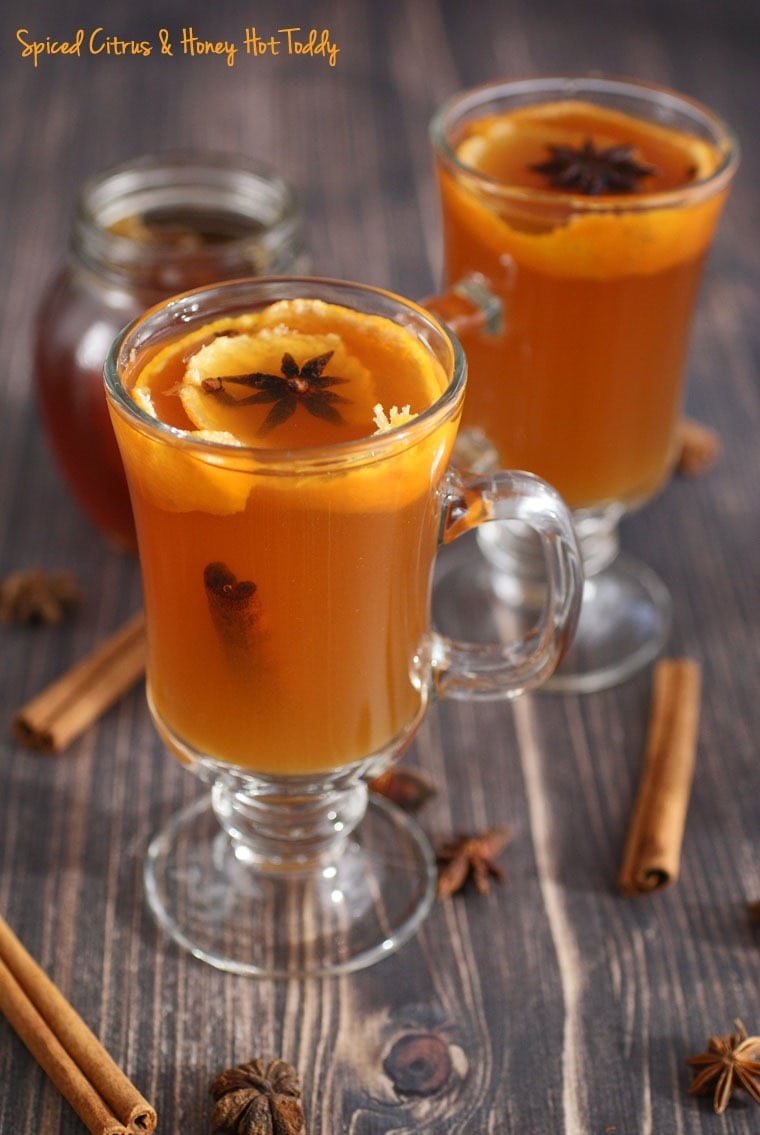 I recently was introduced to Don Victor Orange Blossom Honey. Usually I buy honey at my farmer's market during the summer. However, when I saw that Don Victor Honey has a piece of honeycomb right in the jar, I fell in love! The jar is so attractive that it would make awesome holiday or teacher gift along with a mug and a box of tea.
This gave me inspiration to create a recipe for my Spiced Citrus & Honey Hot Toddy that you'll see below.
Speaking of gifts, Don Victor Honey also has a line of whipped honey products in cinnamon, chocolate and caramel as well as olive oil in a cute cruet pitcher. All of these would make wonderful honey and oil themed hostess gifts during the holidays, too.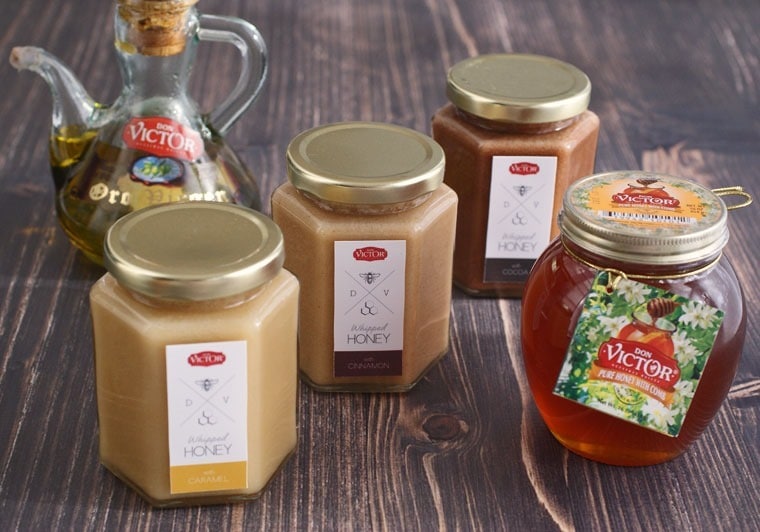 Shopping the Hispanic food aisle
Don Victor Honey is made in the USA, but it's sold in the Hispanic aisle at Walmart. Having grown up in San Diego, I often accompanied my mom on shopping trips to Tijuana to buy Hispanic brands of everything from vanilla to soup bouillon. My mom was an adventurous cook and often picked up something that looked interesting to try at home. When my husband and I moved to Colorado, we often shopped at the local carnicerias since their selections of Hispanic foods were better than what we could find at the local grocery stores.
So when I moved to the Athens, Georgia area, I was surprised to come across an amazingly well stocked Hispanic foods aisle at my local Walmart. (The dairy case also has a big selection of Hispanic cheeses and chorizo!) Not only is the variety amazing, it's huge – literally one side of almost a whole aisle. Not only can you find the usual things like hot sauce, but it's a terrific place to find inexpensive spices. I found a huge container of cinnamon sticks for only $5, which I go through like crazy during the holidays on everything from mulled wine to vanilla brined turkey.
I also found really unique food items you wouldn't normally think as "Hispanic" like coconut water, olive oil, fruit juices, and cocoa for hot chocolate or baking. Take a stroll down the Hispanic foods aisle the next time you're at Walmart for some cooking inspiration!
A hot toddy for what ails you!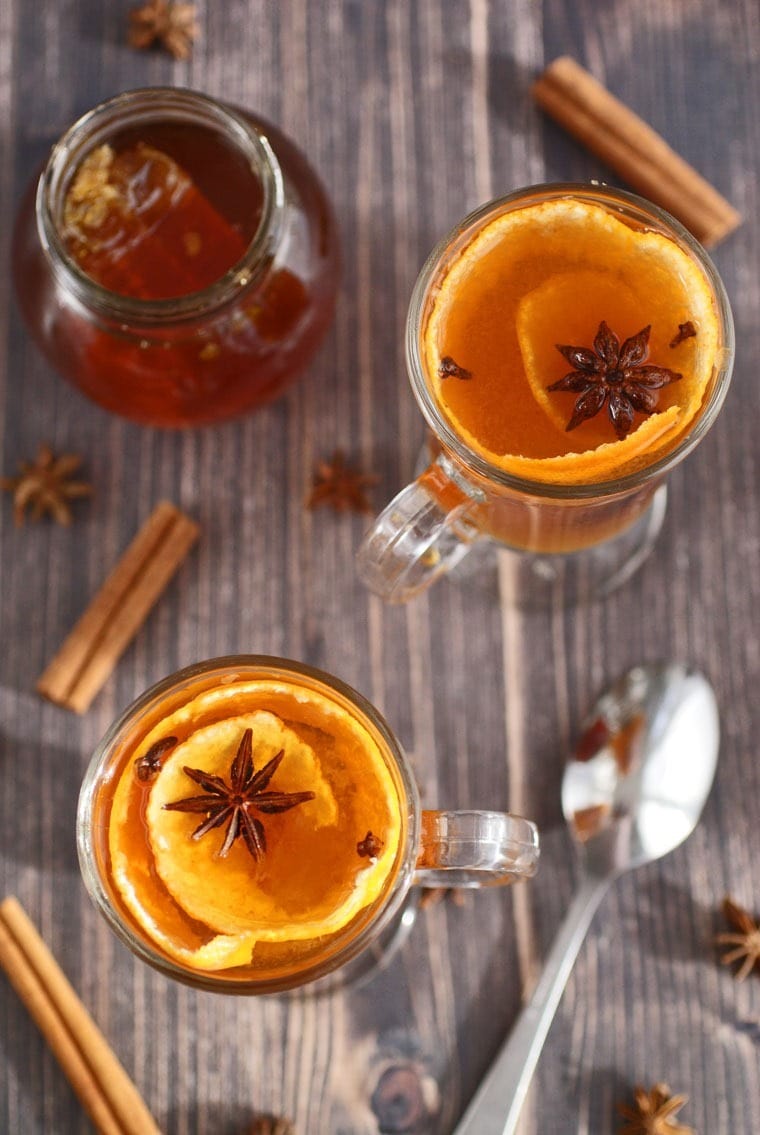 As we all know, tea, lemon and honey is such a classic combination, especially during the winter when we're all suffering from colds and sore throats. A classic hot toddy has alcohol in it, but I advise against that if you're taking any type of OTC cold relief product. You'll be zonked out enough without adding hooch to the mix! Instead, use your favorite herbal or wellness tea or for nighttime, a sleepy tea. Also, check out the Hispanic aisle at Walmart for loose mint and chamomile tea in the spice section!
Finally, while I wanted the pictures to be pretty and show off the tea and spices, usually I serve my hot toddy in a travel mug. Having recently gotten bumped into while holding a hot mug of tea – and seriously burning my chest – I strongly advise using a travel mug when sipping your Spiced Citrus & Honey Hot Toddy . Better safe than sorry!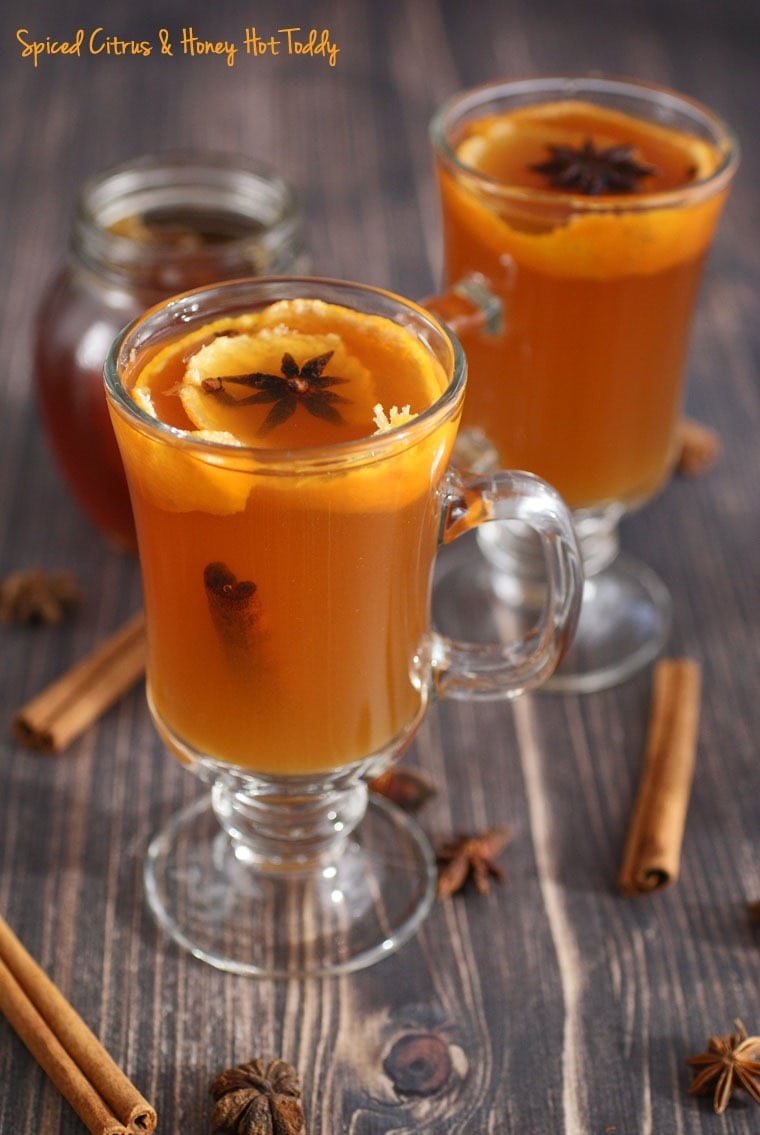 Spiced Citrus & Honey Hot Toddy
Ingredients
Hot water

1

tea bag (your favorite herbal, wellness or sleepy tea)

1 teaspoon

lemon juice

1-2 tablespoons

Don Victor Orange Blossom Honey

1

cinnamon stick

1

star anise

1

orange peel

2

whole cloves
Directions
Place tea bag in mug. Pour hot water over and let steep until sufficiently strong. Remove tea bag from mug.
Add ginger slice, lemon juice, Don Victor Honey, cinnamon stick, star anise, orange peel, and cloves. Stir to dissolve honey.
Let tea cool slightly. Sip and enjoy!
Serving size:

Makes 1 mug