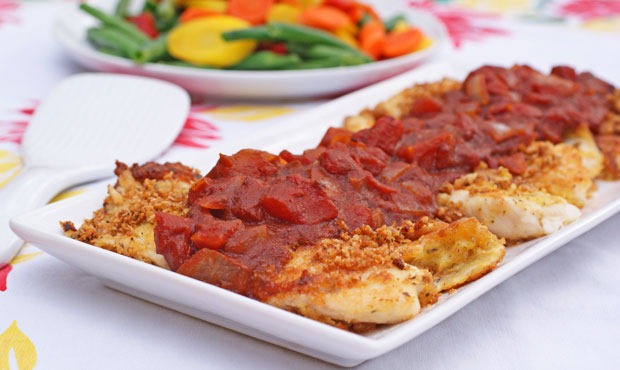 If you aren't a fish fan because, well, it's too fishy, you should give tilapia and this recipe from Hunt's – Crispy Breaded Tilapia – a try. First of all, tilapia is very mild tasting and fairly inexpensive. I buy the big frozen packs of it at my local discount warehouse store at a terrific price. Cost wise it's comparable to chicken rather than beef. What's also nice about the big freezer packs is that each fish is individually wrapped so they don't get freezer burn.
Another reason to try tilapia is that fish is low in fat and calories and a great food if you're trying to eat healthier. While this recipe is breaded and pan fried, the "bad stuff" is done on a minimal level – a little bit of bread crumbs, a little bit of egg, and a small amount of oil. Between the antioxidants in the Hunt's tomatoes and the healthy goodness of a lean protein like tilapia, this is the perfect dish for American Heart Month.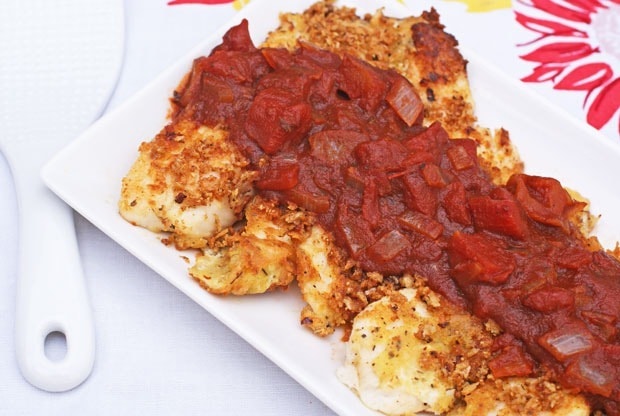 A note about bread crumbs
If you're gluten free, you can make your own bread crumbs from gluten free bread. Toast it, then chopped it up in a food processor or blender. Add some Italian seasoning, maybe a little salt and pepper, and voila!
Another alternative to traditional bread crumbs is panko, a Japanese style bread crumb. I was able to find an Italian version of panko at my grocery store, and you can order gluten free panko online. Comparing labels, I found that panko seemed a little more "natural" and healthy than regular Italian bread crumbs. Plus, I like the crunch that panko gives to fish dishes, so that's what I used when I cooked up this Hunt's Signature Recipe.
I found that this recipe creates enough sauce for twice the amount of fish, so double the amount of fish and breading ingredient. Even better, use the extra sauce on a side of heart healthy steamed vegetables or a healthy whole grain like brown rice or quinoa.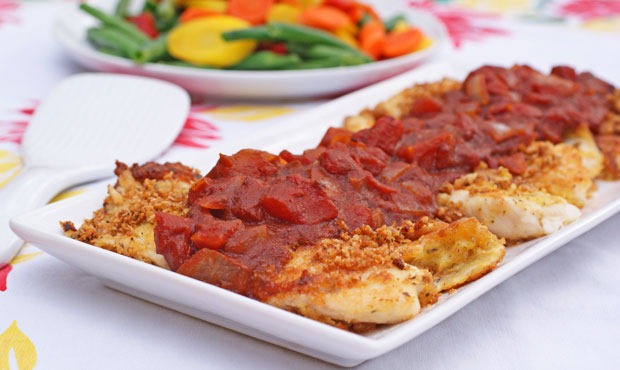 Crispy Breaded Tilapia with Balsamic Tomato Sauce
Ingredients
1/3 cup

grated Parmesan cheese

1/4 cup

Italian-style bread crumbs

1

egg, beaten

3 tablespoons

olive oil, divided

1 cup

chopped yellow onion

1 can (14.5 ounces)

Hunt's® Diced Tomatoes with Basil, Garlic and Oregano, undrained

1 can (8 ounces)

Hunt's® Tomato Sauce

2 tablespoons

balsamic vinegar

4

tilapia fillets, thawed if frozen (4 fillets = 1 pound)

1/4 teaspoon

sea salt

1/4 teaspoon

ground black pepper
Directions
Combine cheese and bread crumbs in shallow dish; set aside. Place egg in another shallow dish; set aside.
Heat 1 tablespoon oil in medium saucepan over medium-high heat. Add onion; cook 3 to 4 minutes or until tender. Add undrained tomatoes, sauce and vinegar. Bring to a boil; reduce heat and simmer 10 minutes, stirring occasionally.
Meanwhile, sprinkle fish with salt and pepper. Heat remaining 2 tablespoons oil in 12-inch nonstick skillet over medium-high heat. Dip each fillet in egg, coating both sides. Coat with cheese mixture; place in skillet.
Cook 2 to 3 minutes on each side or until fish flakes easily with fork (145°F).
Serve tomato mixture over fish.
Servings
:
Makes 4 servings
Serving size:

1 fillet with 1/2 cup sauce each

Calories:

315

Total Fat:

15g

Saturated fat:

3g

Unsaturated fat:

12g

Sodium:

982mg

Total Carbohydrates:

18g

Sugar:

8g

Fiber:

3g

Protein:

26g

Cholesterol:

82mg
_________________________________
Disclosure: I've been compensated by Hunt's for my time and efforts on their behalf. All opinions and experiences are my own.