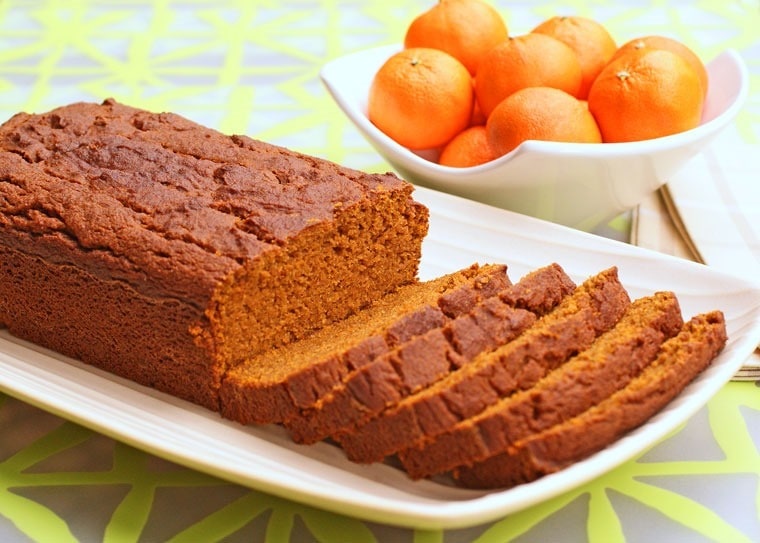 Last Christmas, my mother-in-law brought me a loaf of gluten free pumpkin bread that her neighbor made her. Frankly, I was a bit reluctant to try it, because when it comes to gluten free cooking, sometimes homemade treats can be tasteless or very dry. Much to my surprise, it was delicious – moist, flavorful and unique due to the combination of pumpkin pie spices and orange. I couldn't tell that it was gluten free at all. It was so delicious that I asked my mother-in-law to get me the recipe, which she brought with her the next time she came over.
When we were packing up for our recent move, I came across the recipe card that her neighbor printed out and thought why not try something new? Not only the recipe since I rarely make gluten free baked goods, but having pumpkin during the spring. After making a fantastic Healthy Slow Cooker Pumpkin and Bean Chili recently, I've decided that pumpkin is not just for Thanksgiving but should be enjoyed year round. After all, pumpkin is full of fiber, Vitamin C, Vitamin A, carotenoids, potassium and zinc. Also, if you stock up on cans of pumkin puree during the Thanksgiving sales, it's fairly inexpensive.
So why not join me in trying some gluten free pumpkin bread? Spring is a good time for trying something new, after all.
A healthier gluten free pumpkin bread
I'm pretty sure the original pumpkin bread recipe is from glutenfreebaking.com. However, I wanted to improve on it a bit and made some healthier substitutions. I used whole grain brown rice flour instead of white rice flour. I used tapioca starch instead of corn starch since I have a food sensitivity to corn products. Then I  used heart healthy canola oil and tangerine-orange juice instead of plain OJ.
I also used two sweeteners instead of sugar, a combination of Stevia Extract in the Raw and Madhava Organic Coconut Palm Sugar as both can be used at a 1:1 ratio as a substitute. Combining the two instead of using just stevia eliminates the bitter aftertaste stevia can sometimes bring to baked goods. Never tried stevia or coconut sugar? Check them out and maybe try something new!
What do you love most about trying something new?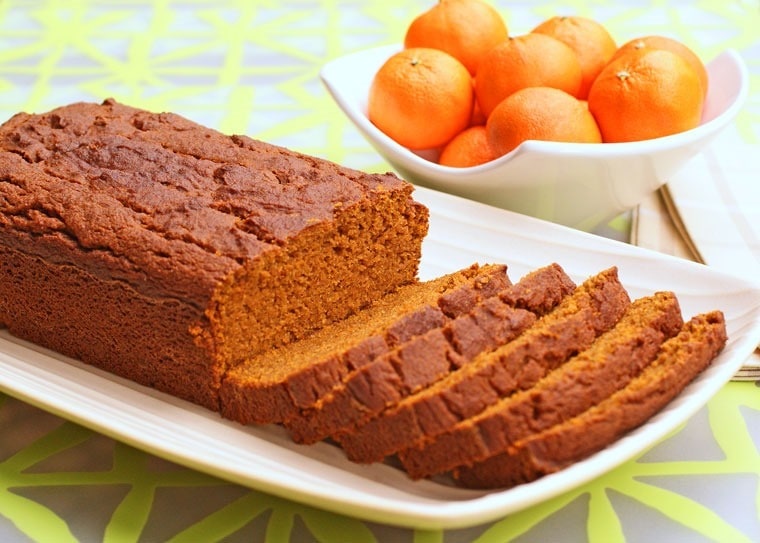 Gluten Free Orange Pumpkin Bread
Ingredients
gluten-free non-stick cooking spray

2 1/2 cups

whole grain brown rice flour

1/2 cup

cornstarch or tapioca starch

5 teaspoons

pumpkin pie spice

2 teaspoons

baking soda

1 1/2 teaspoons

salt

1 teaspoon

xanthan gum

4

large eggs

1 cup

canola oil

1/2 cup

tangerine-orange juice

1/2 cup

powdered stevia

2 1/2 cups

coconut sugar

2 cups

canned pumpkin (not pumpkin pie filling)
Directions
Place your oven rack to the middle position and preheat oven to 350 degrees.
Spray two 9-by-5-inch loaf pans lightly with a nonstick cooking spray.
In a large mixing bowl, mix together brown rice flour, cornstarch, pumpkin pie spice, baking soda, salt, and xanthan gum.
In another bowl, mix together eggs, oil, juice, stevia, coconut sugar and pumpkin puree. Stir until thoroughly combined.
Add pumpkin mixture to dry ingredients. Mix until ingredients are thoroughly combined into a smooth batter. Scrape down sides and bottom of bowl several times with a rubber spatula to make sure all ingredients are properly combined.
Divide batter evenly between the two prepared loaf pans.
Bake for 1 hour or until a toothpick inserted into the center of the loaf comes out clean.
Remove pans from the oven and place on a wire rack. Allow bread to cool completely before removing from pans.
Store bread wrapped in plastic wrap or a large zip lock plastic bag at room temperature for three to five days (if it lasts that long!). Or you can place a loaf in a freezer bag and freeze it for up to three months.
Total Time:
1 Hour 30 Minutes
Servings
:
Makes two 9x15-inch loaves
Disclosure: Amazon links are affiliate links. A commission may be earned from a referred sale to their website.