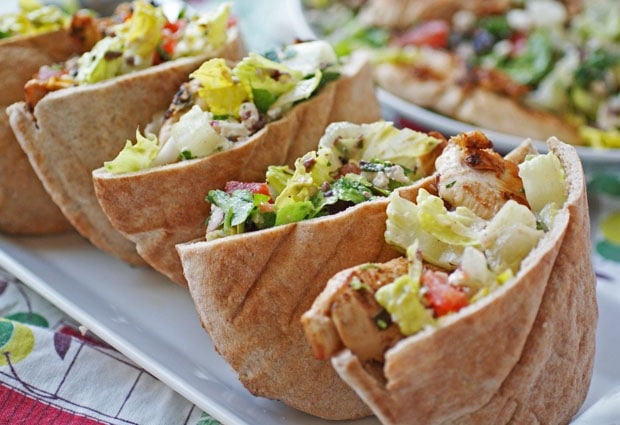 Recipe: Rachael Ray's Greek Grilled Chicken & Vegetable Salad with Pita Bread
Recipe prepared by: Anne-Marie Nichols, Photo taken by: Anne-Marie Nichols

Have you had a chance to check out Rachael Ray's FreshOver Recipe Guide on the Ziploc Facebook page? You can "like" the Ziploc Brand's page and download Rachael's exclusive FreshOver Recipe Guide. With every download, up to a maximum of 50,000 downloads, between 1/1/12 and 12/31/13, Ziploc® Brand will make a $1 donation to the organization on the fans behalf, for up to a maximum $50,000 donation. To further support Yum-O!, Rachael Ray and Ziploc will donate an additional $200,000 during the same time period, no matter how many guides are downloaded.
I've been enjoying Ziploc and Rachael's "freshed over" recipes for several reasons – they're healthy and nutritious, easy to prepare, and delicious. I was especially excited to try the Greek Grilled Chicken & Vegetable Salad on my family. We all love Greek flavors like olives and feta. Plus, I knew the kids would love it because the chicken and salad is served in pita bread. It's a really fun way to get your kids to eat healthy salad and vegetables. Plus, if you can find whole wheat pitas and reduced fat feta, even better!
Ziploc Brand Containers make recipe prep easy
With school and afterschool activities, sometimes we don't get home until dinner time. While this recipe doesn't take much time to put together once your prep is done, the prep itself is a bit extensive – lots of chopping and measuring. So I got everything ready the day before by making the dressing and chopping the vegetables and herbs, and storing them in Ziploc Brand Twist 'n Loc Containers. These containers also came in handy to bring leftovers to school and work.
You can save additional time by buying already chopped lettuce and crumbled feta cheese, instead of block feta cheese.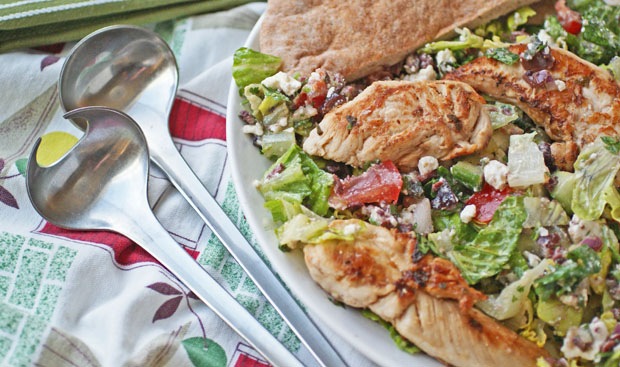 Recipe: Rachael Ray's Greek Grilled Chicken & Vegetable Salad with Pita Bread Recipe prepared by: Anne-Marie Nichols, Photo taken by: Anne-Marie Nichols
Rachael Ray's Greek Grilled Chicken & Vegetable Salad with Warm Pita Bread for Wrapping
Yield 4 servings - Level Easy
Prep 15 minutes - Cook 10 minutes
Total 25 minutes
Ingredients:
1 1/3 to 1 1/2 pounds chicken breast tenders
Salt and pepper
8 pita breads
1 ripe lemon, zested and juiced
3 tablespoon red wine vinegar, eyeball it
1/2 cup extra-virgin olive oil, eyeball it
2 tablespoons fresh chopped oregano, 4 stems, stripped of leaves and chopped
3 cloves garlic, chopped
1/2 cup pitted Kalamata olives, coarsely chopped
2 hearts Romaine lettuce, chopped
8 ounces feta cheese, crumbled
2 vine ripe tomatoes, seeded and diced
1/3 seedless or English cucumber, diced
1/2 red onion, chopped
1/2 cup flat leaf parsley leaves, chopped
Directions:
Preheat grill pan over high heat. Place chicken in shallow dish and season with salt and pepper.
Preheat oven to 275 degrees F. Wrap pita breads in foil. Place in warm oven and heat until dinner is served.
Combine lemon zest, juice and vinegar in a bowl and whisk in oil. Add oregano, garlic and whisk again to combine into dressing. Pour half the dressing over chicken tenders. Turn tenders in dressing to coat.
Combine remaining salad ingredients in a bowl. Pour remaining dressing over salad and toss well. The salad should be very lightly dressed. Season salad with salt and pepper and transfer to a large serving platter.
Grill tenders 4 to 5 minutes on each side. Transfer hot tenders to the salad lined serving platter. Remove pitas from oven and unwrap. Cut pitas in half and arrange around the edge of platter.
To serve, each person can pile grilled chicken and veggies into pita halves, wrap up on either side and enjoy!
Win a Ziploc Brand Prize Pack!
This prize pack includes kitchen gadgets, accessories for trips to a farmer's market or an eating fresh gift pack with Rachael Ray's Look + Cook cookbook, worth about $120.
Giveaway closed. Congrats to Julie H.!
How to enter to win:
In the comments below, tell me which recipe you want to try out from Rachael and Ziploc's Recipe Guide.
Sign up for This Mama Cooks! Review's RSS feed for ONE additional entry.
Sign up for my e-newsletter for ONE additional entry.
Spread the word about this giveaway by submitting a link to this post on Twitter for ONE additional entry. You must leave a link to your tweet in your comment so I can check.
Follow @amnichols on Twitter for ONE additional entry.
If you have done any of these additional activities you MUST come back here and leave a comment telling me what you did. I will be checking!
The giveaway begins on February 3, 2012 at 12:00 a.m. PST and ends on February 8, 2012 at 5 p.m. PST.

___________________
Disclosure: I have partnered with Ziploc® and am being compensated for my posts. However, my opinions on the product are my own.