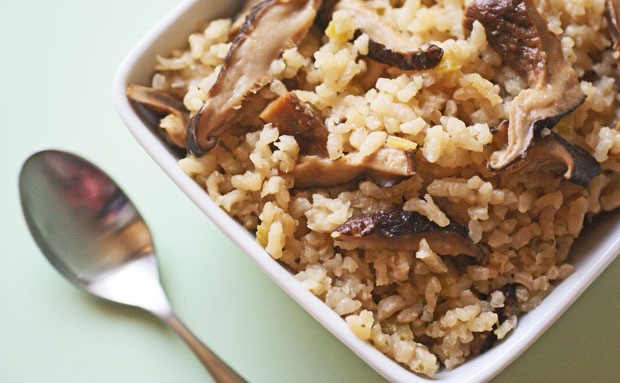 This is another rice cooker risotto made with a "fuzzy logic" rice cooker based on a recipe from The Ultimate Rice Cooker Cookbook : 250 No-Fail Recipes for Pilafs, Risottos, Polenta, Chilis, Soups, Porridges, Puddings and More, from Start to Finish in Your Rice Cooker by Beth Hensperger and Julie Kaufmann.
What I like about this risotto recipe is that it uses dried mushrooms instead of fresh ones. I always have a bag of shitake mushrooms in the cupboard and a bag of arborio rice.
As long as I have the time to make it (you have to soak the mushrooms for a hour) and a few other ingredients I can easily whip up Dried Mushroom Risotto as a side or main course. Dried Mushroom Risotto is gluten free and milk free as long as you use a non-dairy buttery spread and eliminate the Parmesan cheese (or substitute soy or rice cheese).
This risotto recipe for can also serve as a vegan dish as long as you use vegetable stock and vegan buttery spreads and cheeses.
This Mama's tips
You can use porcini, morels, chanterelles or shiitake mushrooms – or a mixture of several types.
If you're looking to lower calories in this risotto recipe, use vegetable over beef or chicken stock.
My favorite buttery spread is I Can't Believe It's Not Butter. Best Life and Good Earth are good choices as well.
Don't have any celery? Use minced onion instead.
If you don't have dry white wine on hand or are avoiding alcohol, just add a little more stock.
The risotto rice is creamy enough so adding Parmesan cheese at the end is optional. That way those with food sensitivities to milk products or those who want to reduce fat calories can eliminate it all together. I haven't tried it with vegan soy or rice cheese, but those are good alternatives to the Parmesan since both melt well.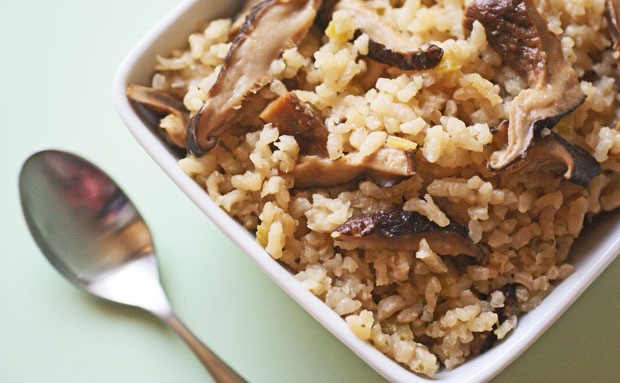 Ingredients
Equipment:
Medium (6 cup) to large (10 cup) fuzzy logic rice cooker.
Risotto:
1 ounce

dried mushrooms

2 cups

hottest possible tap water

1 1/2 cups

beef, chicken or vegetable stock

1 tablespoon

olive oil

1 tablespoon

low saturated fat buttery spread

1/2 cup

minced celery

1/4 cup

dry white wine

1 cup plus 2 tablespoons

arborio rice
To finish:
2 teaspoons

buttery spread

2 teaspoons

dried parsley

salt and pepper to taste

1/4 cup

grated Parmesan cheese (optional) plus more for serving
Directions
Place the mushrooms in a small bowl and add the hot water. Let stand for an hour or longer. (Or combine the mushrooms and water in a microwave-safe container, cover tightly with plastic wrap and microwave on high for 5 minutes. Let cool to room temperature.)
When the mushrooms are soft, remove them from the liquid squeezing gently to remove as much liquid as possible. Remember to save all the liquid!
Slice the mushrooms into pieces, about 1/4 x 1 inch. Discard any tough stems. Keep in mind that the smaller you cut the pieces, the less intense the mushroom flavor will be.
Carefully pour the mushroom soaking liquid into a measuring cup, leaving any grit behind.
Add the stock to the mushroom soaking liquid until you have 3 cups.
Set the rice cooker for the Quick Cook or regular cycle.
Place olive oil and buttery spread in the rice cooker bowl.
When the butter melts, add the celery. Cook, stirring a few times until softened – about 2 minutes.
Stir in the wine and cook for 1 to 2 minutes.
Add the rice and stir with a rice paddle until the grains are evenly coated and hot.
Cook, stirring a few times, until the grains of rice are transparent except for a white spot on each – about 3 to 5 minutes.
Add the stock mixture and mushrooms to the rice and stir to combine.
Close the cover and reset for the risotto cycle. Cook for 20 minutes.
When the machine switches to the Keep Warm cycle (or after 20 minutes are up) open the cover and stir with the rice paddle or a wooden spoon. The risotto should be al dente, tender with just a touch of tooth resistance. You can keep the risotto on Keep Warm for up to an hour.
When ready to serve, stir in the buttery spread, parsley and salt and pepper (to taste). If you're using Parmesan, soy or rice cheese add it at this time. If you have some people who want cheese and others who don't, sprinkle grated cheese on top of their risotto. Or you can serve the "no cheese please" folks first and then add cheese to the rest of the risotto.
Total Time:
1 Hour 5 Minutes
Serving size:

1/4 of recipe

Calories:

272

Calories from Fat:

57

Total Fat:

6.3g

Saturated fat:

1.3g

Sodium:

339mg

Total Carbohydrates:

44.0g

Sugar:

0.8g

Fiber:

1.8g

Protein:

5.7g

Cholesterol:

0mg
_______________
Disclosure: Amazon links are affiliate links. A commission may be earned from a referred sale to their website.