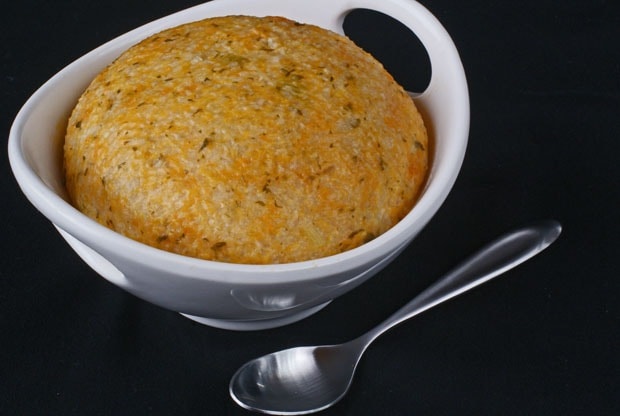 For Christmas, my husband bought me a "fuzzy logic" rice cooker. The timing couldn't have been more perfect since I found out about my food sensitivities just a few days before the holiday and knew I'd be eating a lot of rice in the months to come.
Since I've had the rice cooker, I've made brown rice congee and this risotto recipe, which comes from The Ultimate Rice Cooker Cookbook : 250 No-Fail Recipes for Pilafs, Risottos, Polenta, Chilis, Soups, Porridges, Puddings and More, from Start to Finish in Your Rice Cooker by Beth Hensperger and Julie Kaufmann. (Beth and Julie also wrote Not Your Mother's Slow Cooker Cookbook.)
After I tweaked their recipe a bit, the risotto turned out to be so creamy that I didn't need to add any cheese to it. However, if you want to add grated Parmesan cheese to your individual bowl, that's fine, too. (I'll be skipping the cheese – no milk products for me!)
This Mama's tips
This is a gluten free recipe. If you are using store bought chicken or vegetable stock, check the label for ingredients containing gluten. (I used homemade chicken stock and didn't have to worry about gluten.)
This is a casein and dairy free recipe as long as you don't use cheese, use a vegan buttery spread, and your broth doesn't contain any milk products.
You can reduce the calories – and make this a vegan recipe – if you use veggie broth. Again, check the ingredient label for ingredients containing gluten or that may not be vegan if either are a concern.
Using precut butternut squash makes this recipe quick and super convenient to make. You can find precut squash in the freezer aisle or fresh at Costco or Trader Joe's during the fall and winter.
Feel free to use fresh parsley (to taste – about 1/4 of a cup) instead of dried parsley if you have some on hand.
Bottled lime juice works almost as well as fresh.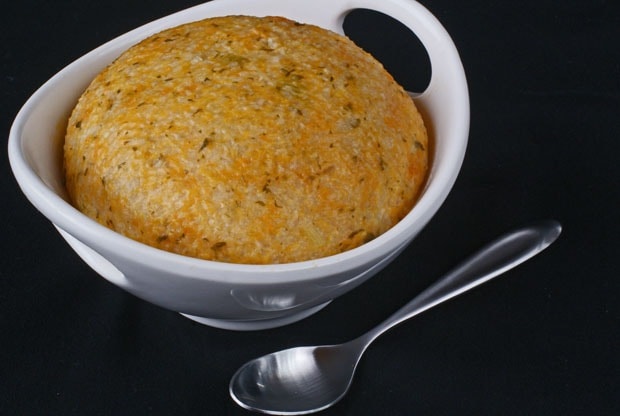 Ingredients
Equipment:
Medium (6 cup) to large (10 cup) fuzzy logic rice cooker
Risotto ingredients:
2 tablespoons

olive oil

2 tablespoons

low saturated fat soft spread or a vegan buttery spread

1/3 cup

diced celery

1/3 cup

finely chopped yellow onion

1 cup plus 2 tablespoons

arborio rice

3 cups

peeled and seeded butternut squash cut into 1/2-inch cubes

1 1/2 cups

water

1 1/2 cups

chicken or vegetable stock
Finishing ingredients:
2 tablespoons

fresh lime juice

2 tablespoons

dried Italian parsley flakes

Freshly grated Parmesan cheese (optional for serving) or vegan equivalent

Salt to taste
Directions
Set the rice cooker for the Quick Cook cycle.
Place olive oil and butter or spread in the rice cooker bowl.
When the butter melts, add the celery and onion. Cook, stirring a few times until softened – about 2 minutes.
Add the rice and stir with a rice paddle to coat the grains with the hot butter.
Cook, stirring a few times, until the grains of rice are transparent except for a white spot on each – about 3 to 5 minutes.
Add the squash, water and stock and stir to combine.
Close the cover and reset for the risotto cycle. Cook for 20 minutes.
When 20 minutes is up, stir the risotto. There should only be a little bit of risotto left and the squash should be cooked but not quite mushy.
Switch your rice cooker to the keep warm setting. Warm for 30 minutes to let the squash cook a bit more.
When ready to serve, stir in the lime juice, parsley and salt to taste.
As your stirring, mash the squash a bit to combine with the risotto.
Serve immediately. Grate cheese over individual portions of risotto if desired.
Serving size:

1/5 of recipe

Calories:

269

Calories from Fat:

71

Total Fat:

7.9g

Saturated fat:

1.3g

Unsaturated fat:

6.6g

Sodium:

310mg

Total Carbohydrates:

45.6g

Sugar:

2.6g

Fiber:

3.2g

Protein:

4.1g

Cholesterol:

0mg
Weight Watchers POINTS = 5
_______________
Disclosure: Amazon links are affiliate links. A commission may be earned from a referred sale to their website.