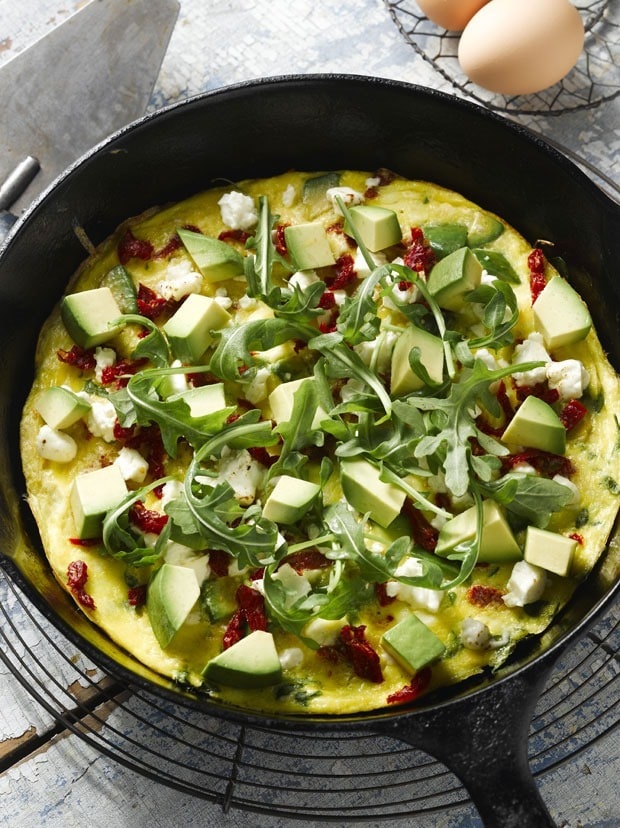 If you're a follower of my Instagram feed, you may have noticed that I make breakfast frittatas several times a week. That's why this recipe from Avocados from Mexico really appealed to me as a delicious and easy-to-make Mother's Day brunch dish.
You can make this even healthier by substituting egg whites for some of the eggs. (Use 3 tablespoons egg whites for one regular egg.) Another way to health up this dish is to used sundried tomatoes that aren't packed in oil. You'll need to soften them up by soaking in hot water for 15 to 20 minutes or so before chopping them up for the recipe.
Avocado and Feta Frittata
Recipe courtesy of Avocados of Mexico
Ingredients:
6 large eggs
1/2 teaspoon salt
1/4 teaspoon pepper
1 avocado from Mexico, halved, pitted, peeled and cubed
1/2 cup crumbled feta cheese, divided
1/3 cup oil-packed sun-dried tomatoes, chopped
1 tablespoon oil
2 cups baby arugula, divided
Directions:
Preheat broiler.
In a medium bowl, beat eggs with salt and pepper.
Stir in half of the avocado, half of the feta and half of the tomatoes, and set aside.
Heat oil (can be from the tomatoes) in a 9-inch oven-proof skillet over medium heat.  Stir in 1-1/2 cups of the arugula until wilted, about 30 seconds.
Add beaten egg mixture. Cook until eggs start to set, lifting sides a bit to let uncooked egg run underneath, about 5 minutes.
Sprinkle with remaining cheese and tomatoes.
Transfer skillet to broiler. Cook until eggs are set, 1 to 2 minutes; remove from broiler.
Sprinkle with remaining avocado and arugula. Serve hot.
Recipe and picture courtesy of Avocados from Mexico and used with permission.