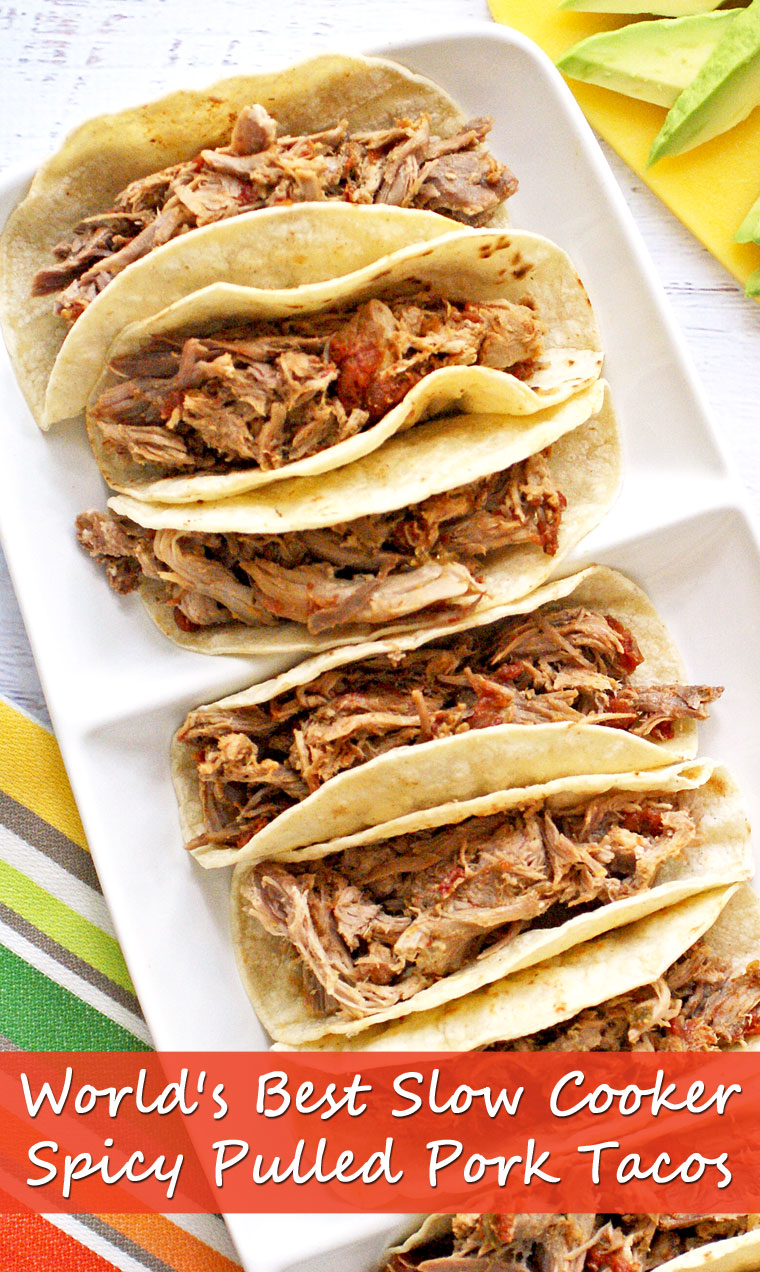 Tacos are always a go-to meal at my house when I don't know what else to make, whether it's fish tacos with a little homemade queso fresca or grilled carne asada tacos. But these slow cooker pulled pork tacos are our favorites. I even make them for guests, which is why I've come to call them the World's Best Slow Cooker Spicy Pulled Pork Tacos!
The beauty of Family Taco Night is that it's easy to make, easy to clean up, and everyone can usually find something they like to eat. With that in mind, my World's Best Slow Cooker Spicy Pulled Pork Tacos are made with inexpensive pork loin in my slow cooker using lots of my favorite spices like smoked paprika, chipotle chile pepper, and ground cumin along with garlic powder and sea salt.
You see, the smokiness of several of the spices gives the feeling of smoked pulled pork without the hassle of setting up the smoker. Plus, what could be easier to clean up than a slow cooker?
(Here's a recipe for smoked pulled pork done in a smoker that's almost as easy.)
How do you serve your World's Best Slow Cooker Spicy Pulled Pork Tacos?
I like serving my World's Best Slow Cooker Spicy Pulled Pork Tacos on warm soft corn tortillas street taco style with the following toppings:
chopped cilantro
salsa – sweet, verde and/or fresca
Mexican hot sauce
shredded Mexican-style cheese
crumbled queso fresca
wedges of lime
diced tomatoes
slices of avocado
chopped green onions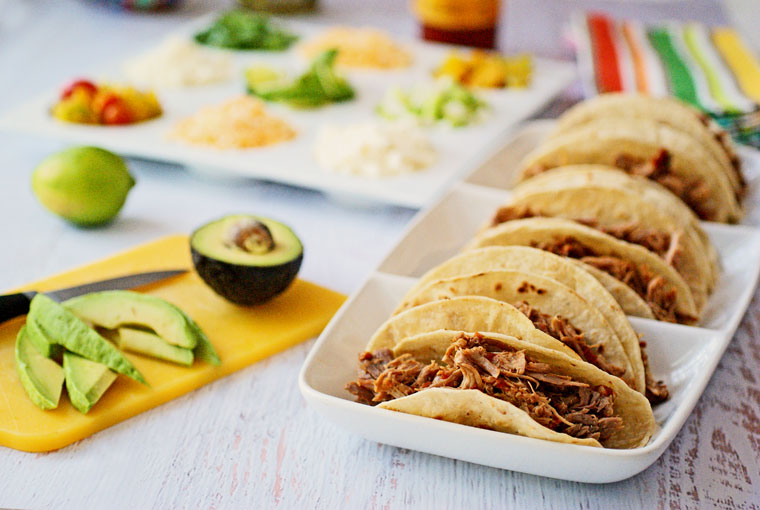 Feel free to use any or all of your favorite toppings along with my World's Best Slow Cooker Spicy Pulled Pork Tacos. Or you can make a taco bowl on white or brown rice or pulled pork burritos. Leftover pulled pork can also be reheated with eggs and potatoes in a breakfast hash style dish.
You'll probably notice that I made a huge amount of pulled pork in my large, six-quart slow cooker, since you cannot get a pork loin smaller than six pounds here in Georgia. People are serious about their pork products around these parts!
If you have the same situation in your hometown, feel free to save this recipe for when you're throwing a Taco Night party or freeze half the meat after cooking for a future Family Taco Night. You can also use the leftovers to make a big pot of Posole Soup.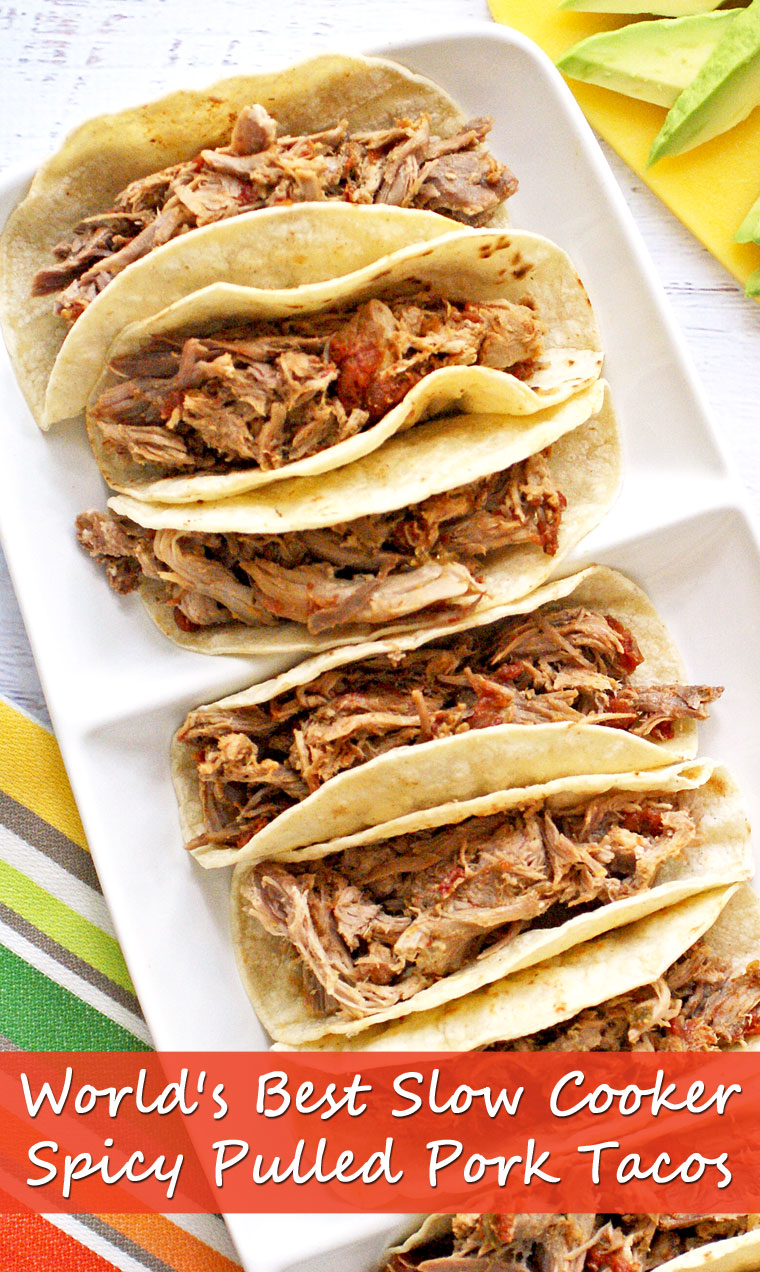 World's Best Slow Cooker Spicy Pulled Pork Tacos
Ingredients
1 (6-pound)

pork loin

2 (14.5-ounce) cans

diced tomatoes

2 (4-ounce) cans

diced green chilies

2 teaspoons

smoked paprika

2 teaspoons

chipotle chile pepper

2 teaspoons

garlic powder

1 teaspoon

ground cumin

4 tablespoons

stevia or monk fruit powder

1 teaspoon

sea salt
Directions
Cut the pork loin into 3 pieces so it will cook more quickly. Place pork in your slow cooker.
Place canned tomatoes, chilies and seasonings in a medium sized bowl. Stir until combined.
Pour spicy tomato mixture over the pork, evenly covering it.
Place lid on slow cooker and cook on low for 8 hours or until pork is tender enough to pull apart with a fork.
When cooked through, remove pork from slow cooker and place in a large casserole dish. Pull apart – or shred – pork with two forks.
Strain the liquid from the slow cooker to capture smaller pieces of pork and diced tomato. Set reserved liquid aside.
Place shredded pork and tomatoes back into crock. Taste meat. If you feel it's a bit dry add some of the reserved liquid and mix in. (Toss remaining liquid.) Cover crock with lid and turn slow cooker off.
Place pulled pork and your favorite taco fillings in corn tortillas. Enjoy!
Total Time:
8 Hours 15 Minutes
Servings
:
Serves 4 people with lots of leftovers or 8 people with hearty appetites!
Serving size:

1/4 to 1/8 of recipe